Daycare Worker's First Day | Daycare Job – Men Do Cry
According to one report published by Zippia, "88.7% of all child daycare workers are women, while 11.3% are men." And I wondered why?
So during one get-together, I brought up this topic following careers talks, and that's when one of my friend's husband revealed the tale about an attempt to run her wife's daycare facility without any daycare job experience. And her story very well explained the reason behind these statistics, at least to me.
A practical overview of how the first day of daycare goes. 3 minutes tale of agony, ideas, solutions, and tactics that actually work.
So Shall We Have Some Storytime?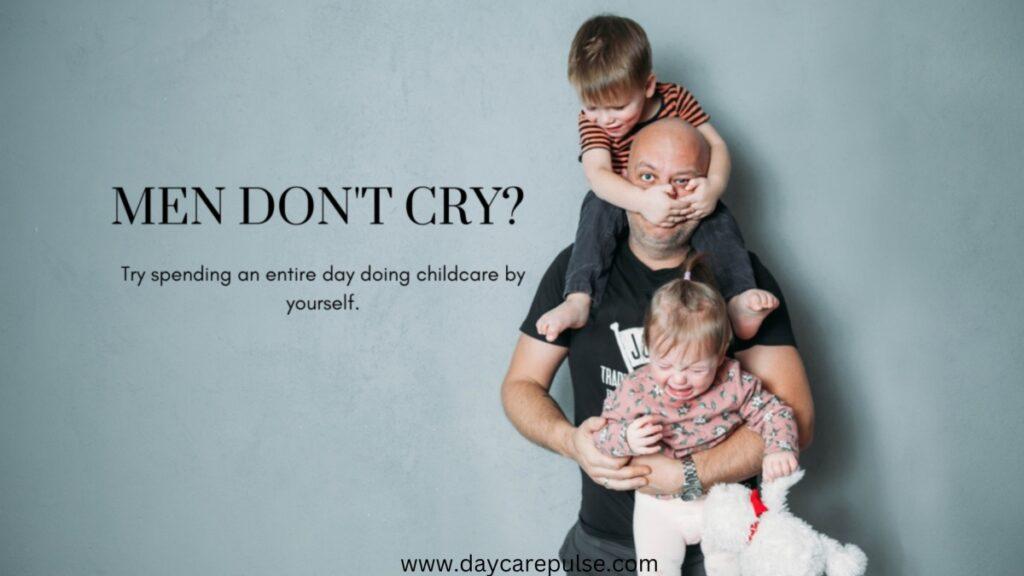 Once Upon a Time…
I was thrilled when my wife told me she had to go out of town for a business trip. No, I wasn't thrilled about being home alone though it added to my happiness (I hope Susan ain't reading this). I was more excited about the opportunity to prove myself as the ultimate stay-at-home dad, likewise, stay-at-home wonder mommy.
But little did I know my first day at the helm of our home daycare would bring me to tears. Yup, that's what I chose to contribute my skills to. My wife's home daycare entails 5 children of different age groups. On top, I decided to do the service all by myself. Praise my confidence in self-reliance.
So I started by taking a detailed look at Our daily healthy daycare schedule and did some more research about keeping kids engaged, entertained, and content throughout the day. For reference, you can take a look at this: What Do Infants Do at Daycare
Daycare Mornings: What to Expect
As the kids arrived, I felt confident and ready to take on the day. But the first one to come was the set of twins, one crying on top of his stomach And the other with a rugged annoyed look. Mother was in a rush, so voila! I had to begin my day with no coffee but shushing a baby.
Then there were the others. One 3-year-old infant and his 4 years old sister "Sophia" I would address her as my guardian angel. The last one was 2.5 years old, the future Newton.
Soon we had a blast playing games, doing crafts, and even baking cookies. Had food breaks and went to sleep and blah blah blah.
No! Nope! Nothing such happened. And from now onward, I wouldn't admit to anyone's claim of having such a smooth, calm routine on their first day of daycare. It's chaos, total absolute chaos.
Within an hour, there was a tantrum show that I had to watch, applaud, and sort out.
Here are a few of my torture episodes. Take a look and decide for yourself who named them angels.
First Half of the Day at Home Daycare
Since one of the twins arrived crying, I had started with him. But the dude was Hella annoyed and thus bit my arm in return for my favors, and to my surprise, he enjoyed and adored my painful reaction to his deed.
That's not where it ended. The other twin also found it amusing, so they both wanted to bite me and see my facial expression. Mind you, 3 years old have quite enough teeth to water your eyes.
2nd Shift of Torment
The future newton, this little inquisitive scientist, was more brilliant than his age after messing with every drawer, poking into each nook and corner, throwing off uncountable stuff to figure out which produced the loudest noise. This dude came up with a new game to play with me.
He wanted milk but in the cup. Then would ask me to add sugar into it(his mommy approved of sweetened milk), he would ask me to swirl it long enough, and then my lord asked me to take out that sugar from it intact and equally granular. Seriously! Are you kidding me, kid?
All this happened till 3 cups of milk were spoiled, and then my majesty decided to spare me and had his 3rd cup of milk with a smirk.
Typical Day of a Toddler
Humans have their way of eating food; there are animals and fishes, and then there are these little creatures. Some wanted me to feed them with my hands, and I couldn't appreciate it any less. But then there was this lad who would take his mixed veg, spread them over the floor, and then insist on eating them off the floor while asking me to follow him, pick his favorite item, and then feed him Off The Floor!
How to Discipline Toddlers: Daycare Rescue
Sophia, this sweet little critic lady, helped me, but after witnessing, my soul crumbled and drained. After seeing me failing at making peace during playtime, she finally asked me to stop being a fool and look at the tiny dummy stall standing in the corner.
That stall was a toy shop where kids would submit their empty eaten food bowls and would take their toys in exchange; wow! Anyway, things finally calmed a bit, and I sighed a sigh of relief.
Is There an End to it?
But then nap time came around, and all hell broke loose. One kid wouldn't stop crying, another kept getting out of bed, and the third wanted to sleep under his cradle. Where do such ideas come to their mind?
By the end of the day, I was exhausted and ready to pull my hair out. As I put the kids to bed, tears welled up in my eyes. I never knew caring for children could be so tricky. But as they peacefully fell asleep, I couldn't help but feel a sense of pride in my newfound patience skills.
Men Could Run a Daycare
So to all the stay-at-home dads and daycare staff, it's ok to cry. Trust me, I've been there. But just know that it will all be worth it in the end. You might even surprise yourself with your hidden talents as a daycare provider. And hey, if I can do it, so can you. Happy daycare-ing!
18 Tips – Working at a Daycare for the First Time?
Working at a daycare for the first time can be both rewarding and challenging. Here are some tips to help you navigate your first day and the early stages of your daycare career:
Be Prepared: Before your first day, familiarize yourself with the daycare's policies, procedures, and any required certifications or legal requirements.
Arrive Early: On your first day, arrive a little early to settle in and prepare for the day's activities. Punctuality is essential in childcare.
Dress Appropriately: Wear comfortable, appropriate clothing and footwear for a day of activity and potentially messy situations.
Be Patient and Flexible: Children can be unpredictable, so be prepared for changes in routine or unexpected situations. Patience and flexibility are key.
Observe and Listen: Pay close attention to how experienced daycare workers interact with children and handle various situations. Listen and learn from their expertise.
Build Rapport: Establish trust with the children in your care. Smile, use their names, and engage in their interests. Building a connection is vital.
Safety First: Always prioritize safety. Be familiar with emergency procedures and ensure the physical safety of the children.
Follow Routines: Consistency is crucial for children. Follow established schedules and routines to create a sense of security and predictability.
Communicate with Parents: Open and transparent communication with parents is essential. Share daily updates, be receptive to their feedback, and address their concerns.
Seek Guidance: Don't hesitate to ask questions and seek guidance from experienced colleagues. They can provide valuable insights and tips.
Stay Organized: Keep track of schedules, meals, and activities. Being organized helps maintain a structured and efficient daycare environment.
Take Care of Yourself: Childcare can be physically and emotionally demanding. Make sure to practice self-care to maintain your well-being.
Learn Child Development Basics: Understanding child development milestones and age-appropriate activities will be invaluable in your role.
Crisis Management: Be prepared for emergencies. Know where emergency equipment is located and what to do in case of accidents or illnesses.
Stay Informed: Stay up-to-date on changes in childcare regulations, best practices, and new educational methods.
Professional Development: Consider ongoing training and professional development to enhance your skills and knowledge in childcare.
Embrace Feedback: Welcome feedback from supervisors and colleagues. Constructive criticism can help you grow in your role.
Document Everything: Maintain thorough records of children's activities, development, and any incidents that occur during your time in their care.
Working at a daycare for the first time is a learning experience, and it's okay to make mistakes as you grow in your role. Over time, you'll become more confident and skilled in providing quality care to the children under your supervision.
FAQ's
How do I prepare for my first day of daycare?
Preparing for your first day at a daycare involves a combination of practical and mental readiness.
Familiarize yourself with the daycare's location, hours, and dress code, ensuring you're well-prepared with the right documentation and legal requirements.
Pack essentials for your day, like your ID and a notepad.
A good night's sleep is crucial to ensure you're alert and energetic.
Plan your commute so you arrive on time and take time to mentally prepare, reminding yourself of your passion for childcare.
Review child development basics safety protocols and have a professional attitude, being punctual and respectful.
Don't hesitate to ask questions if you're uncertain, and remain open to feedback.
Approach the day with a positive attitude, staying calm, and embracing the opportunity to embark on a rewarding career in childcare.