How to Describe a Daycare Job on a Resume?
Do you want to work at daycare but need help putting it on your Resume? Yeah, we've all been there.
But don't worry; I have curated 3 steps to make your resume stand out from the rest of the candidates giving the edge over your working experience at daycare. Let's dive into them.
Brainstorm & create a list of all experience
Writing the Resume
Edit & Polish up
Don't worry. In this blog post, I will provide 3 quick steps to describe a daycare job on a resume, 4 tips to craft a perfect resume, a quick checklist and a sample resume for a daycare job.
Reading this blog post will make you accurately describe a daycare job that will catch the hiring manager's eye and excite them about what kind of employee you will be!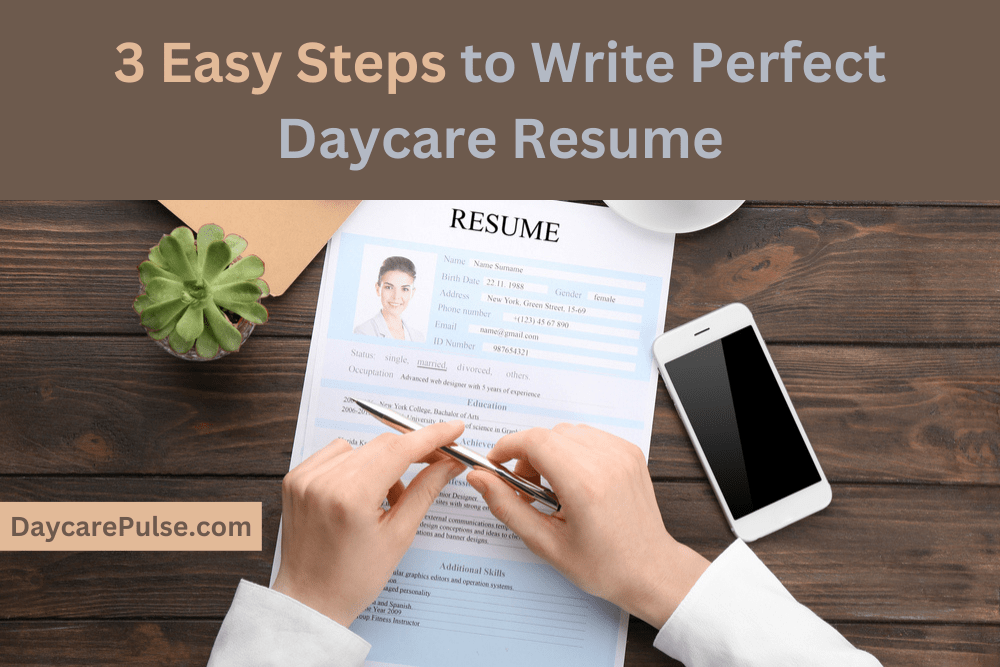 3 Quick Steps to Describe Daycare Job On Resume
Let's get into the 3 quick steps to describe daycare jobs on Resume.
Read more: How to Get a Job at Daycare?
Step 1: Brainstorm & Create a List of All Experiences
Previous Daycare Job Experience
Creating an impressive resume for daycare positions starts with listing your prior experiences.
Think through what tasks you were responsible for as a previous daycare employee, including meal planning, teaching children, enforcing discipline and other duties.
Include your work history and any noteworthy accomplishments or skills that set you apart from the competition.
List of Work History
Make sure to include all the necessary details of your work history, such as the name and address of each employer, job titles held, and dates worked.
List of Achievements / Skills
Crafting your Resume To create an engaging resume, begin with a professional summary emphasizing your expertise and proficiency in daycare jobs.
Then, list down all of your work history accomplishments and proficiencies for employers to review.
Education & Trainings & Certifications
Give your Resume an edge by including any certifications or training you're obtained relevant to daycare jobs, such as first aid, CPR certification and child psychology.
It will demonstrate that you have the necessary qualifications for a successful career in this field.
Step 2: Writing The Resume
Now that you have compiled a complete list of your experiences, it's time to begin drafting your resume. Highlight the most crucial skill sets for a daycare job, such as safety and comfort with children.
Explain how you can transfer your education and experience into this role by writing precisely what tasks you performed within each position.
Focus on emphasizing the practical applications of these abilities, from teaching kids to read or creating creative activities for them – let employers know why they should pick YOU!
To give your reader a clear idea of the type of worker you will be, use action-oriented words such as "initiated", "directed", and "oversaw" in your descriptions.
By displaying these dynamic verbs on your Resume or cover letter, it will show that you are an energetic leader who takes charge.
Step 3: Edit & Polish Up
Once you have written your Resume, it is time to edit and polish up your document. Go through your Resume and look for any typos or grammatical errors.
Make sure your descriptions are clear and concise. Double-check that all the dates, job titles and company names are accurate. Lastly, make sure you have included any relevant certifications or training related to daycare jobs.
Take a break, come back and read it another day. Revise!
Make sure your Resume will make the right impression on the hiring manager.
4 Tips to Write a Perfect Resume
If you want your daycare job description on your Resume to make a lasting impression, here are some tips that can help:
Read more: How to Write a Cover Letter For a Daycare Job?
1. Keep It Short and Sweet
Don't overwhelm readers with too many details, as they have many other applicants to consider.
2. Showcase Your Enthusiasm
Let the employer know how enthused you are about working in this role and why it is an ideal fit for both parties involved.
3. Keep Your Resume Concise
Letting the reader know of your expertise and accomplishments without bogging them down with unnecessary detail is critical to making a positive impression.
4. See How You Fit into the Job
Highlight experiences relevant to what they're looking for and any transferable skills or talents so that it becomes clear why you'd be great for this role!
Offer safe and responsible care for toddlers and kids. Develop early learning educational programs to boost their development, devise playful activities, make meals and snacks, observe hygiene routines, and foster social skills by mediating interactions between children.
Design stimulating educational opportunities- Create innovative lesson plans and activities that captivate young minds and encourage them to learn. Foster fun recreational experiences. Lead an environment of games, sports, art projects, storytelling sessions, musical events and more for children.
Prepare food and snacks- Create nutritious snacks that adhere to the daycare center's dietary regulations for your child's health and well-being.
Monitor kids' hygiene: Regular handwashing and diaper changes are essential to keep children safe and healthy throughout the day.
Encourage interpersonal skills through mediating social interactions-Teach kids the power of collaboration and conflict resolution. Utilizing these tips alongside your own experiences, you can assemble a standout resume for any daycare job.
Quick Checklist
Crafting an impactful resume that stands out among the competition? Follow this practical checklist to ensure your daycare job application is as polished and professional-looking as possible:
You may also like to read: How to Get a Job at a Daycare Without Experience?
Are all of your relevant experiences included in full detail?
Does it accurately reflect how you are a perfect fit for the position's requirements, skills & experience?
Is there valid contact information listed at the top of your document to make getting back in touch with you easy?
Have you checked over each sentence twice for typos or grammar errors that could give off a poor impression to employers?
Did you use pertinent keywords related to daycare jobs throughout your Resume so recruiters can easily locate what they need within its content quickly and efficiently?
And lastly, did any training or certifications earn a special mention on your CV when relating directly to daycare positions available?
Sample Resume for Daycare Job
Mention Your Personal Details
Name
Address
Email
Job Description-Child Care Provider
Passionate Child Care Professional with over 5 years of experience caring for children of all ages. I committed to providing a safe and nurturing environment for all children in my care.
Skills
Excellent communication, interpersonal and problem-solving skills
Good organizational and multitasking abilities
Working knowledge of child safety regulations
Proficient with basic computer applications such as Microsoft Office
CPR/First Aid certified
Experience
Child Care Associate | ABC Daycare, Anytown, USA
Jun 2015–Present
Provide care and supervision for children aged 6 weeks to 5 years of age
Create a stimulating environment by implementing developmentally appropriate activities and materials
Ensure health and safety standards are met at all times
Prepare nutritious meals as per dietary guidelines
Assist with potty training and development of socialization skills
Child Care Teacher | XYZ Daycare, Anytown, USA
Jan 2010–May 2015
Developed lesson plans and activities to engage children while helping them learn
Constructed a safe and healthy environment for children by following all safety regulations
Monitored hygiene standards of all children in my care and followed up on any health issues
Encouraged learning and socialization skills through mediating interactions between children
Education
Associate's Degree in Early Childhood Education, Anytown Community College, Anytown, USA 2009
Certifications & Trainings
Introduction to Early Childhood Education, Anytown Community College, Anytown, USA 2009
Certified Child Care Provider, American Red Cross, 2010
CPR/First Aid Certified 2017
Related: How to Be a Daycare Teacher?
Frequently Asked Questions
What Skills Should I Include On My Daycare Resume?
It is essential to list all relevant skills and experiences related to the job position.
For instance, you could include complex abilities such as curriculum designing, child's health understanding or CPR authorization, and soft capabilities like time management; you should also consider decision-making and communication expertise.
How Much Can I Expect to Earn in a Daycare Job?
The salary range for daycare workers typically ranges between $20,000-$35,000 per year, depending on experience.
Some employers may also offer additional benefits such as vacation, sick leave, or bonuses.
What Qualities Are Important For Working in a Daycare Setting?
Daycare professionals must be patient, empathetic and organized when managing children; they should also have a thorough knowledge of safety regulations, health concerns, child development and the capacity to create an affirming atmosphere for the kids.
Daycare workers must possess these capabilities and many other qualities to provide top-notch care for their wards.
Are There Any Certifications or Training I Should Include On My Resume?
Your profile should include any qualifications or training for working in a daycare center.
For example, CPR/First Aid certification, Introduction to Early Childhood Education and Certified Child Care Provider certifications are all beneficial.
Furthermore, being familiar with computer programs such as Microsoft Office is also advantageous for the role.
Conclusion
Having the essential qualifications and traits is critical when pursuing a daycare job. Displaying your credentials and training programs can go a long way in making your job application stand out from the rest of the candidates.
Furthermore, being familiar with safety requirements and health regulations while working as a childcare professional is critical.
With appropriate competence and experience, you can craft an impressive resume that will set you apart during your successful employment hunt!