How to Write Daycare Teacher Resume | Examples & Template
Are you ready to make your mark in the world of daycare teaching? Crafting the perfect resume is the key to opening doors to the childcare profession.
I have written a 9 detailed steps guide with examples, which include a Summary, Professional Experience in Daycare, Education and Training, Skills and Qualities and many more.
Read more 6 tips on creating the ideal resume, and most importantly, a daycare teacher resume template to ensure your potential employer immediately notices.
Present yourself as a top-notch candidate that any childcare center would be lucky to have!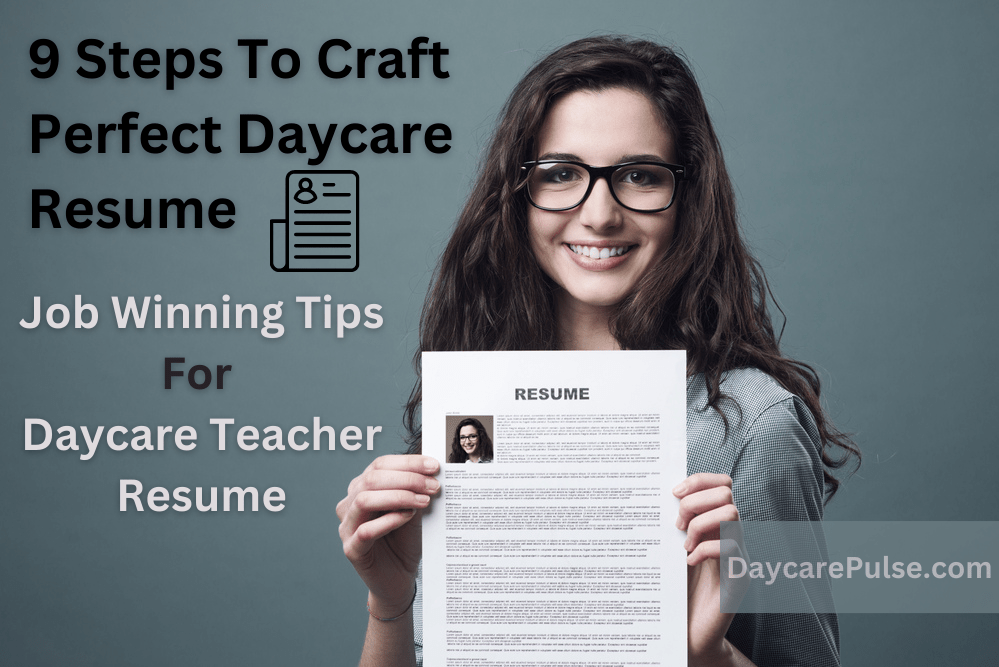 9 Steps Guide & Examples to Write Daycare Teacher Resume
Here are the steps to craft the perfect resume for a daycare teacher.
Step#1 – Summarize Your Qualifications And Experience
Let's kick off your daycare teacher resume journey with a bang! Imagine you're giving someone a quick tour of your extraordinary daycare teacher skills and experiences. First, let's create a short and snappy summary highlighting the cool stuff about you.
Think about what makes you stand out. Have you worked with little kiddos before? Are you a pro at planning fun activities? Maybe you've got some impressive daycare knowledge up your sleeve. Jot it down!
Here is how to do it.
Kick off your daycare's resume with a concise overview of yourself as a teacher.
Demonstrate why you are passionate about this profession and what makes you unique from other possible contenders.
Specify why the daycare teaching position appeals to you, also expressing all that sets you apart from other job search.
Include any particular qualifications or experience that make your candidacy stand out above the rest!
Describe your career goals as a daycare teacher, such as providing quality childcare and engaging activities for children.
List your experience working with children in daycare teaching positions or related roles.
For each class, list your duties and responsibilities in part and how long you held the position.
Examples
Here are few of examples.
Example 1:
Dedicated and compassionate daycare teacher with over 7 years of experience creating nurturing and inclusive preschool learning environments in early childhood development.
Passionate about fostering children's cognitive, social, and emotional growth through interactive lessons and creative activities. Strong commitment to cultivating a safe, stimulating space supporting each child's development journey.
Example 2:
Enthusiastic daycare teacher with a solid foundation in early childhood education and a genuine love for working with young learners.
I am skilled in designing age-appropriate curriculam that encourage exploration, problem-solving, and positive peer interactions.
We are committed to maintaining open communication with parents to ensure a seamless partnership in each child's educational journey.
Step#2 – Explain Your Objectives
Now that we've given them a taste of your daycare superhero skills, let's dive into the heart of your daycare teacher resume – your objectives! This is where you spill the beans on what you're aiming for in the world of daycare.
Think about why you want to be a daycare teacher. Do you dream of creating magical learning moments for kids? Are you excited about being the go-to person for fun and education? Tell them!
Imagine you're chatting over coffee with a buddy, and they ask, "Why do you want to be a daycare teacher?" Your answer should be just as easy-breezy and filled with excitement.
Here is how to craft daycare teacher resume objectives:
Be concise: Keep it brief, ideally within 1-2 sentences.
Tailor to the center: Customize for each daycare center's requirements.
Show enthusiasm: Express passion for working with young children.
Highlight skills: Include key Impersonal skills like classroom management and curriculum planning.
Showcase experience: Mention specific achievements if applicable.
Align with philosophy: Use language that resonates with the center's educational approach
Examples
Objective 1:
Experienced daycare teacher dedicated to fostering a nurturing and stimulating learning environment for young children.
I seek to contribute my proven classroom management, interpersonal skills and creativity to [Daycare Center Name] to support children's growth and development.
Objective 2:
Energetic daycare teacher with a solid educational background in early childhood education.
I am looking to leverage my passion for creating engaging activities and my ability to build positive relationships with children to provide an enriching experience at [Daycare Center Name].
Step#3 – Tell About Your Professional Experience in Childcare
Now, let's shine a spotlight on your daycare journey. It's like telling a captivating story about your time in the daycare world.
Highlight the cool things you've done – from leading little explorers on exciting learning quests to creating a warm and fuzzy space where kiddos feel right at home. Remember, it's not just about the job titles; it's about your impact on those tiny hearts and minds.
Imagine you're sharing your favorite daycare moments with a friend. You'd want them to feel the joy, right? So, let's turn those daycare experiences into a storytelling masterpiece!
Consider these steps to create a standout professional experience section:
Be Specific and Quantify: Mention the years you've worked as a childcare teacher and emphasize your experience with specific tasks such as supervising children, leading age-appropriate activities, and implementing developmentally appropriate curricula.
Highlight Soft Skills: Discuss your soft skills, such as your ability to provide exceptional customer service to children and parents and your talent for creating a nurturing and inclusive environment.
Incorporate Credentials: If you hold certifications like first aid training or specialized courses in early childhood education, mention them to enhance your credibility.
Demonstrate Curriculum Expertise: Describe how you've tailored age-appropriate curricula to cater to children's developmental stages, fostering their cognitive, social, and emotional growth.
Showcase Leadership: If you've participated in staff meetings or taken on leadership roles, mention how you've contributed to collaborative efforts within the daycare center.
Examples
Child Care Teacher – ABC Daycare Center, Anytown, USA
Led developmentally appropriate activities for a diverse group of children aged 2 to 4, fostering curiosity and encouraging exploration.
Utilized my expertise in early childhood development to implement an age-appropriate curriculum that aligned with individual learning needs.
Supervised children during outdoor playtime, ensuring their safety and well-being while promoting social interactions and physical activity.
Successfully completed first aid training, equipping me to handle emergencies and provide immediate care to children when needed.
Preschool Educator – Sunshine Learning Center, Cityville, USA
Crafted engaging age-appropriate activities that facilitated the development of fine motor impersonal skills, basic skills language acquisition, and social interactions in children aged 3 to 5.
Created a nurturing environment that promoted emotional growth and encouraged children to express themselves creatively.
Collaborated with parents to establish effective potty training routines, ensuring a consistent approach between home and daycare.
Actively participated in staff meetings, contributing insights that improved curriculum planning and classroom management.
Step#4 – Write About Your Education And Training
Time to share the scoop on your education and training – the superhero training ground for your daycare teacher journey! This part is like showcasing your skills and knowledge arsenal. Let's make it easy-peasy.
List the schools you rocked and the cool stuff you learned. Did you dive into early childhood education? Maybe you picked up some special daycare ninja skills? Don't forget to mention any certificates or extra training that makes you the daycare hero you are!
How to Write It:
When crafting the "Education and Training" section of your daycare teacher resume, keep the following points in mind:
Start with the Highest Degree: Begin with your most recent or highest level of education. Include the degree earned, the institution's name, location, and graduation date.
Highlight Relevant Education: If you possess a degree in early childhood education or a related field, emphasize it prominently. This shows your specialized knowledge in child development and educational approaches.
Add Certifications and Training: Include any certifications or training programs related to child care, classroom management, or teaching methodologies. This demonstrates your commitment to continuous learning.
Include Relevant Coursework: If your coursework directly relates to childcare, children's development, or educational practices, consider mentioning a few relevant courses that showcase your expertise.
Showcase Relevant Skills: While discussing your education, mention any basic skills you acquired that directly contribute to your role as a daycare teacher, such as play-based learning techniques or socialization skills and strong leadership skills.
Example
Bachelor of Science in Early Childhood Education
XYZ University, City, State
Graduated: Month Year
Relevant Coursework:
Child Development Theories
Play-Based Learning Strategies
Classroom Management Techniques
Child Care Certification Program
Institute of Child Education, City, State
Completed: Month Year
Training Highlights:
Socialization Skills and Peer Interaction
Behavior Management Strategies
Incorporating Play in Learning
Associate Degree in Child Development
Community College, City, State
Graduated: Month Year
Focus Areas:
Children's Cognitive and Emotional Development
Age-Appropriate Curriculum Design
Parent-Teacher Communication Strategies
Incorporate these guidelines and examples to communicate your educational solid background and training in your daycare teacher resume.
Step#5 – Tell About Your Skills And Qualities
Time to unleash your daycare superpowers! In this step, we're going to showcase the skills and qualities that make you the ultimate daycare hero. Think of it as your superhero cape – but in words!
What are you excellent at? Can you handle a room full of giggles and wiggles? Are you a pro at turning learning into a fun adventure?
Maybe you're a communication wizard with kiddos and parents alike. Whatever your daycare superpowers are, it's time to let them shine!
List of Skills Examples
| Skills and Qualities | Description |
| --- | --- |
| Communication | Ability to effectively communicate with children, parents, and colleagues. |
| Patience | Remaining calm and understanding, especially in challenging situations with young children. |
| Creativity | Crafting engaging and imaginative activities to make learning fun for kids. |
| Organization | Managing daily tasks, schedules, and activities to create a structured and efficient daycare environment. |
| Adaptability | Flexibility to handle unexpected situations and adapt to the evolving needs of children and the daycare setting. |
| Teamwork | Collaborating with other daycare staff to create a cohesive and supportive environment for children. |
| Child Development Knowledge | Understanding of child development principles and the ability to apply them in planning age-appropriate activities. |
| Problem-Solving | Quickly addressing issues or challenges that may arise during the day and finding effective solutions. |
| Empathy | Showing understanding and compassion towards the emotions and needs of each child in your care. |
| Leadership | Taking charge of activities, guiding children, and contributing positively to the daycare team. |
| Observational Skills | Paying attention to children's behavior and needs, and adjusting caregiving approaches accordingly. |
| Time Management | Efficiently managing time to ensure that daily routines and activities run smoothly. |
| Flexibility | Adapting to the varying needs and schedules of children and parents with a positive and open mindset. |
| Safety Consciousness | Prioritizing and maintaining a safe environment for children, implementing safety protocols, and being prepared for emergencies. |
| Interpersonal Skills | Building positive relationships with both children and parents, creating a sense of trust and comfort within the daycare community. |
| Love for Children | Genuine care, affection, and enjoyment in working with children, fostering a nurturing and supportive atmosphere. |
Step#6 – List Down Awards And Achievements
Highlighting your awards and achievements on your daycare teacher resume can further impress hiring manager. These recognitions can provide evidence of your commitment, dedication, and excellence in the field of early childhood education.
For instance, if you have been awarded "Teacher of the Year" or recognized for your excellence in teaching, include this information in the "Awards and Achievements" section of your daycare teacher resume. Such awards signify that your peers recognize you as an exemplary daycare teacher in front of the hiring manager.
If you are a daycare teacher, list any awards or accomplishments related to your work.
These may include:
Recognition from an employer
Scholarships for excellence in the field
Commendations from colleagues or parents
Other acknowledgments of success
Showing off your achievements is a great way to demonstrate your dedication and skillset as a professional educator!
Step#7 – List References From Daycares
Including references on your daycare teacher resume can give potential employers valuable insight into your facilitating learning, social skills, intellectual growth, positive feedback on your performance and dedication in previous childcare facilities.
Your references may also discuss your social skills, behavioral issues, strong background and proven track record in promoting cognitive development and your ability to organize field trips that provide children with memorable learning experiences.
Example:
[Full Name]
Position, Institution
Email: [email protected]
Phone: (123) 456-7890
Remember, these references should be people who have seen you professionally and can attest to your skills, dedication, and overall performance as a daycare teacher.
Please include at least three references with their contact information on your resume. Pick people who can vouch for your capacity as a daycare teacher, like prior employers or supervisors. By doing this, you are demonstrating the trustworthiness of your abilities and qualifications!
If applicable, be sure to highlight any specialized memberships pertinent to the realm of childcare or early childhood education.
Step#8 – List Daycare Affiliations And Memberships
Now, let's talk about your daycare alliances and memberships – basically, the cool squads you're part of in the daycare world. Affiliations and memberships show that you're not just a daycare teacher; you're part of a community committed to excellence.
Drop some names! Are you a proud member of the National Association for the Education of Young Children (NAEYC)? Or maybe you're part of state-level childcare associations? Let the world know about your daycare tribe!
Imagine you're updating your buddy on the awesome groups you've joined. You want them to go, "Wow, you're like the Avengers of daycare!" So, let's flaunt those daycare affiliations and memberships like the superhero team they are!
Step#9 – Write Closing Statement
Finish your closing statement with a sincere thank you to the potential employer for their time and consideration.
Then, state why you meet all the requirements for a daycare teacher – from your qualifications to skillset, experience level and more! Highlight everything that makes you an ideal fit in just a few sentences so they can immediately see how perfect and capable you are for this role.
With this approach, it's easy to leave them impressed enough to hire you on the spot!
For example:
I am sure that my experience, qualifications, skills and qualities as a daycare teacher would allow me to cultivate a stimulating learning atmosphere in your organization.
I'm also confident in building strong connections with students and families. It's been an absolute pleasure to present you with my resume – I eagerly await further discussion about this position!
Related: 6 Daycare Positions
6 Tips for Writing a Better Daycare Teacher Resume
Here are the 6 tips for writing daycare resumes that can stand out from the other candidates.
Catch the Attention with a Professional Profile: Start your resume by emphasizing essential abilities and credentials that directly apply to working as a daycare teacher.
Point Out Significant Experience & Knowledge: Feature any experience you have in childcare, early childhood education or related fields which proves your capacity to work well with students.
Detail Your Accomplishments: Showcase concrete illustrations of accomplishments linked to being a daycare teacher- you should also mention awards, accolades, etcetera here!
Review Your Resume: Ensure your resume is free of any grammar, spelling or punctuation errors before sending it off to employers.
Utilize Keywords From the Job Description: Incorporate appropriate keywords from the job posting into your resume for greater visibility and increased attention from potential employers.
Showcase Numbers That Reflect Your Accomplishments: Whenever possible, quantify what you have achieved, such as the number of students taught or awards won, so that recruiters can understand better how impactful you are!
By following these tips, you can create an effective daycare teacher resume that will help get your foot in the door and increase your chances of landing the job. Good luck!
Also read: How to Write a Cover Letter For a Daycare Job?
Pro Tip: Important Skills of Childcare Teacher
As a childcare teacher, good communication skills, responsibility, and understanding of child development are all essential for success.
However, the most crucial attribute is patience; remaining calm in chaotic moments when caring for children can be difficult. Moreover, creativity plays an integral role, too – creating unique ways to foster learning opportunities keeps students engaged and provides meaningful experiences!
Responsibility, effective communication, and understanding child development are critical elements to creating a nurturing learning environment for childcare teachers.
By giving clear instructions with high expectations, they ensure their students remain safe and interested at all times.
At the same time, knowledge of child psychology helps them craft lesson plans tailored specifically for each student's need – allowing children to excel academically.
Also read: How to Be a Daycare Teacher?
Pro Tip: 5 Important Qualities of Daycare Teacher
Here are the 5 crucial qualities of the daycare teacher.
Interpersonal and Communicative Proficiency: A daycare teacher must interact effectively with children and adults. By possessing solid interpersonal abilities, teachers can form relationships with pupils, guardians and directors alike; effective communication allows them to clearly explain instructions, expectations and growth reports.
Structuring Abilities: A childcare educator must stay on top of the numerous obligations that need tending each day – thus, being organized is an absolute necessity!
Innovation: A daycare teacher must be able to craft captivating activities and lessons for students while being open-minded enough to develop original ideas and approaches.
Perseverance: Patience is indispensable when teaching children, as they sometimes need to be more focused and calm.
Love for Children: A daycare teacher must genuinely love and be interested in working with children. It will help them create an engaging learning environment and foster strong relationships with their students.
With these essential qualities, you will equip daycare teachers to provide outstanding care for their students and guide them toward reaching their highest potential.
Related: Daycare Teacher Duties
Daycare Teacher Resume Description: Examples
Here is a Customized resume template to ensure that your resume stands out from the crowd.
Template 1
Name
Address
Phone Number | Email Address
Objective:
A passionate and dedicated Daycare Teacher looking to use my skills and experience in a rewarding role.
Summary of Qualifications:
– Experienced daycare teacher with 5+ years of classroom teaching experience.
– Strong interpersonal, communication, and organizational skills.
– Compassionate and patient with young children.
– Responsible for planning activities, implementing lesson plans and monitoring the progress of individual students.
– Expertise in child development principles and behavior management strategies.
Education:
Bachelor's Degree in Early Childhood Education
University of ABC – City, State
Work Experience
Daycare Teacher
ABC Daycare Center – City, State
May 2020 – Present
Developed and implemented daily lesson plans for students aged 4-5.
Created a safe, nurturing, and stimulating learning environment.
Established positive relationships with parents to ensure progress reports and updates.
Monitored individual student progress and provided feedback as needed.
Daycare Teacher
XYZ Daycare Center – City, State
June 2016 – April 2020
Designed a variety of age-appropriate learning activities.
Established rules and guidelines for classroom behavior.
Supervised students and ensured they followed safety regulations.
Met with parents to discuss student progress and behavior.
References: Available upon request.
Related: How to Be a Daycare Teacher?
Closing statement
My qualifications as an experienced and certified daycare teacher enable me to create a safe and nurturing atmosphere for young children.
I am confident that my experience will immensely benefit your institution, should you give me the opportunity. Thank you in advance for considering my application, and I eagerly await hearing from you soon.
Related: How Much Does a Daycare Teacher Make Per Hour?
Resume Builder Websites for Designing Daycare Teacher Resume
Creating a professional and visually appealing daycare teacher resume can be made easier with the help of resume builder websites. Here are a few popular platforms you can consider using to design your daycare teacher resume:
Related: How to Be a Daycare Teacher?
Frequently Asked Questions
1. What Elements Should Be Included in a Job-Winning Teacher Assistant Resume?
Ensuring an effective teacher assistant resume and child development associate is essential to securing a job. Your resume should include crucial features such as a powerful objective statement, pertinent summary of qualifications, significant work experience and educational background, plus references.
Additionally, be sure to tailor your document so that you can demonstrate how your unique skillset is best suited for the position at hand. With these strategies in place, you will be ready to shine on paper – and ultimately land the job!
2. Are You Seeking to Create a Resume for an Assistant Teacher Position in Daycare but Have No Prior Experience?
When crafting your resume for assistant teachers in daycare, you should emphasize all the experiences and skills that make you qualified.
If you need prior experience with children, consider highlighting other positions which would have developed qualities pertinent to this job, such as patience, organization and communication.
By displaying these key attributes, you can demonstrate that although inexperienced with children -you are still ideally suited for the role!
3. What Type of Resume Will Make the Best Impression on Potential Daycare Teacher Assistant Employers?
Crafting an organized and concise resume is essential if you desire to make a positive impression on potential daycare teacher assistant employers.
Furthermore, tailor your professional resume to the job description so that you can showcase how your qualifications fit what they are searching for in an applicant. With this approach, you can illustrate yourself as the ideal candidate for the role!
4. How to Align Your Resume With the Job Description?
When formulating your professional resume to work for children, analyze the job description and identify what qualifications are being sought. Make sure to illustrate how you meet those expectations through examples of experiences or skills. Demonstrate characteristics that make you stand out from the other contenders by showcasing them prominently.
Additionally, create a polished document with organized formatting and concise wording for easy reading; this will help potential employers quickly realize why you would be an outstanding selection for the role!
Conclusion
Crafting a resume to work with children that will make you stand out amongst other teacher assistant applicants is crucial for finding success in your job search.
It's essential to showcase experiences and competencies relevant to the position being applied for and structure your document according to the requirements outlined in the job posting.
By following these tips, you can create an effective resume that impresses potential employers and gives them insight into why you are their perfect candidate! Best of luck on this journey – we know it'll be successful!