How to Write a Cover Letter For a Daycare Job? – Easy Job-Winning Steps
Are you thinking about working at a daycare? Cool! Let's chat about making a super-duper cover letter for that daycare job you're eyeing.

Ready? Okay, assume crafting a letter that tells the daycare hiring manager to say, "Wow, we need this person!"

For instance, I have written 5 steps to write the perfect cover letter, including setting the foundation, showcasing childcare expertise etc.

So, if you're up for it, keep reading the steps and sample cover letter template to figure out how to make your cover letter stand out and feel as comfy as a teddy bear hug. Sound good? Let's roll!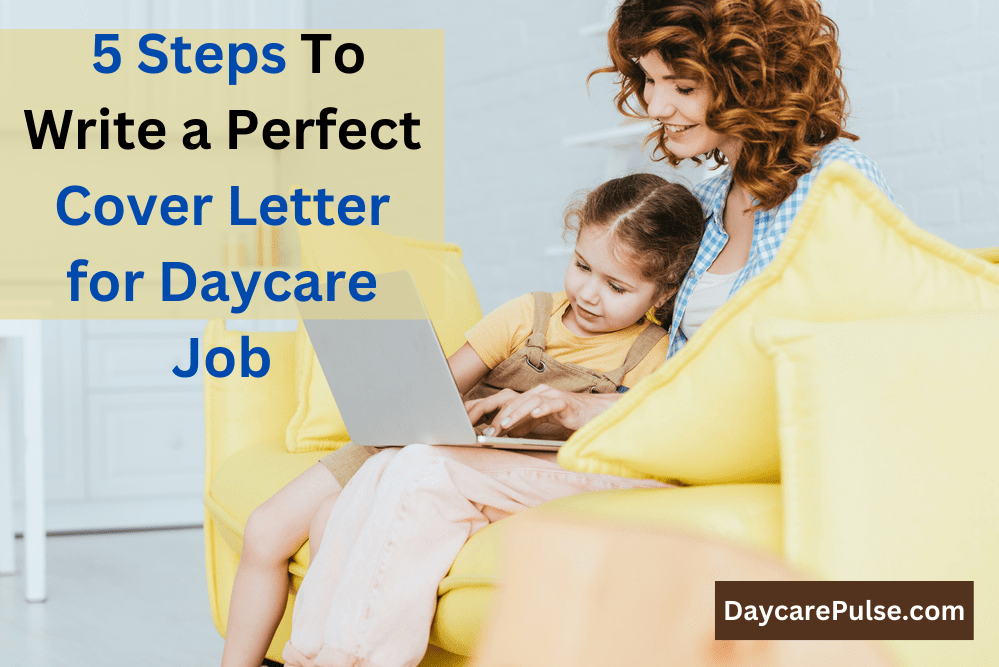 5 Steps to Write a Perfect Cover Letter For a Daycare Job
Here are 5 steps to write the perfect cover letter for a daycare job.
Step 1: Setting the Foundation
With this foundation set, you're ready to dive into the specifics of why you're the daycare superhero they've been waiting for. On to the next step!
Heading
The heading of your cover letter is like the first impression – it sets the tone for what's to come. Please keep it clean and professional. Include your name, address, phone number, and email at the top. This makes it easy for the daycare center to reach out to you.
Including Contact Information
Please don't make them hunt for how to contact you. Your contact information should be easily visible.
Double-check that your phone number and email are accurate. After all, you wouldn't want a potential job opportunity slipping through the cracks.
Introduction
Now, let's dive into the introduction. This is your chance to grab attention. Start with a friendly greeting.
Make it personal but not casual – remember, this is a professional letter. Briefly mention the purpose of your cover letter. Let them know why you're reaching out.
Purpose of the Cover Letter
Why bother with a cover letter, right? Well, this is your elevator pitch. The cover letter's purpose is to introduce yourself beyond your resume.
It's a chance to showcase your personality, highlight your passion, and explain why you're the perfect fit for the daycare position. Think of it as your written handshake – a warm welcome to who you are.
Expressing Interest in the Daycare Position
Here's the juicy part – expressing genuine interest. Let them know why this daycare job caught your eye.
Maybe it's their philosophy, the vibrant atmosphere, or the opportunity to make a difference in young lives.
This is your chance to connect your values with the daycare's mission. Be sincere; let your enthusiasm shine through.
Step 2: Showcasing Your Childcare Expertise in Early Childhood Education
With these concise points, you're laying the foundation for the daycare center to see the depth of your childcare expertise.
Ready to move on and align those skills with what the daycare center is seeking? Let's go!
Qualifications & Experience
Highlight your childcare credentials – degrees, certifications, specialized training – to establish yourself as a knowledgeable candidate.
Relevant Work Experience
Delve into your past roles, focusing on childcare-related achievements. Showcase your hands-on experience and illustrate your capability to handle the demands of a daycare setting.
Educational Background
Connect your education to your passion for childcare. Highlight relevant coursework to underline that your academic background bolsters your dedication to the field.
Passion for Working with Children
Express your genuine love for working with children. Share the driving force behind your passion, be it the joy in a child's learning journey or the fulfillment of contributing positively to their growth.
Confused if you do not have any prior daycare working experience, explore: How to Get a Job at a Daycare Without Experience?
Step 3: Aligning with the Daycare Center
Let's talk specifics. Why should they choose you? Share the unique blend of skills, experiences, and qualities that make you the ideal fit for the daycare position.
This is your opportunity to demonstrate that you've got precisely what they're looking for.
Tailoring the Letter to Job Requirements
Avoid the one-size-fits-all approach. Tailor your letter to meet the specific job requirements outlined in the posting.
Address each key point and showcase how your skills and experiences align seamlessly with their desires.
Related: How to Describe a Daycare Job on a Resume?
Aligning Personal Values with Daycare's Mission
It's more than just a job; it's about shared values. Illustrate how your values align with the daycare's mission.
This isn't just a professional match – it's a philosophical one. Make it clear that you're not just seeking a job but a meaningful connection with their mission.
Demonstrating Knowledge of the Daycare Center
Show that you've done your homework. Demonstrate your knowledge of the daycare center by referencing specific programs, initiatives, or recent successes.
This proves that you're not applying to any daycare; you're applying to this daycare, and you've taken the time to understand what makes it unique.
Step 4: Crafting a Compelling Narrative as Child Care Worker
Now, let's dive into the heart of your cover letter – the body paragraphs. This is where you have the chance to tell your story. Be authentic, be yourself, and let your personality shine. Use clear and concise language to convey your message.
Telling Personal Stories or Experiences
Share personal stories or experiences related to childcare. Maybe it's a moment with a child that left a lasting impact on you or a challenge you successfully navigated.
These stories add a human touch to your application, making you more than just a list of qualifications.
Related: How to Get a Job at Daycare?
Emphasizing Teamwork and Collaboration Skills
Highlight your teamwork and collaboration skills. Working in a daycare is like being part of a big family, and your ability to collaborate is crucial.
Share an example that showcases how you thrive in a team environment and contribute positively to the collective effort.
Connecting Past Experiences to Daycare Settings
Bridge the gap between your past experiences and the daycare setting. Explain how what you've learned in your previous roles directly translates to success in a daycare.
Whether it's your organizational skills, creativity, or ability to handle challenging situations, connect the dots for the reader.
Related: How to Be a Daycare Teacher?
Step 5: Closing Impressively
As you wrap up your cover letter, craft a strong conclusion. Summarize your key qualifications briefly, emphasizing why you're the perfect fit for the daycare role. This sets the stage for a lasting impression.
Summarizing Key Qualifications
Recap your main qualifications concisely. Remind them of the unique blend of skills and experiences you bring to the table. Make it easy for the reader to remember why you're the standout candidate.
Editing for Clarity and Professionalism
Edit your cover letter for clarity and professionalism. Ensure that your language is concise, and your points are easy to understand. A well-edited letter demonstrates attention to detail and professionalism.
Formatting for Readability
Format your cover letter for readability. Use clear fonts and spacing to make it visually appealing. A well-formatted letter is easier on the eyes and showcases your commitment to presenting a polished application.
Adding a Professional Closing and Your Signature
Wrap it up with a professional closing – "Sincerely," "Best Regards," or a similar formal sign-off. Then, add your signature. If you're sending a digital copy, you can use a scanned version of your handwritten signature for that personal touch.
With these final touches, your cover letter is ready to make a lasting impression. Hit send confidently and await the opportunity to showcase your talents in person. Best of luck!
You may also like to read: How to Write Daycare Teacher Resume
Sample Cover Letter
Here is a sample cover letter for you to be used as a template:
Dear ____,I am writing to apply for the daycare job opening at your facility. With my two years of experience in early childhood education and care, I know I would be an ideal candidate for this role. Caring for children is a passion of mine, as evidenced by my work history with infants, toddlers, preschoolers and school-aged children.As well as being an adept communicator who understands how to interact with young kids using positive reinforcement techniques effectively, patience and kindness are qualities I bring into each situation. My qualifications include a Bachelor's degree in Early Childhood Education and certification in First Aid and CPR.I have also received training to administer nutrition support and primary medical care for young children if necessary. With my expertise, qualifications, and experience, I am confident I would make an outstanding addition to your daycare facility. Not only do I possess the necessary skills for this position, but I also have a strong desire to contribute significantly to your team's success.Offering me this job opportunity could be a beneficial move for both parties involved! I am excited to discuss the possibility of this role with you. My enthusiasm and interest in this position are vital, so please do not hesitate to reach out if we can make any questions or clarifications. I sincerely appreciate your time and consideration!Sincerely,
Your Name
Frequently Asked Questions
What Should Be the Focus of the Introduction in a Daycare Cover Letter?
The introduction of your daycare cover letter should set a positive tone. Focus on expressing genuine interest in the position and briefly state the purpose of the cover letter.
This is your chance to capture the reader's attention and make a memorable first impression.
What Is the Significance of Aligning With the Daycare Center in a Cover Letter?
Aligning with the daycare center in your cover letter is crucial as it shows that you've done your homework and understand the specific needs and values of the organization.
It demonstrates your genuine interest and commitment, making you a more appealing candidate to the hiring team.
Is It Advisable to Include a Sample Cover Letter in My Application?
Yes, including a well-crafted sample cover letter in your application can be beneficial.
It gives the hiring manager a clear understanding of your writing style, attention to detail, and how effectively you can communicate your qualifications.
However, ensure that the sample is tailored to the specific daycare job you're applying for.
Explore 6 Daycare Positions where you can apply!
Conclusion
When writing a cover letter for a daycare job, it is essential to remember that the purpose of your letter is to showcase your qualifications, experience and skills.
You should ensure that your language is clear and concise and that you get all vital information. Effectively highlighting your strengths will give the employer an idea of how well you would fit in the role.
These guidelines will provide a well-written cover letter to help you land your dream daycare job. Good luck!