7 Daycare Jobs Where I Can Bring My Baby?
Hi parents! Looking for a job where your baby can come too?
Let's talk about daycare jobs that let you work and be with your little one. So you can work stress-free, keeping the baby under your supervision.
You can bring your baby to work at positions such as In-Home Daycare, Nanny Jobs or Baby Sitter etc.
To know more, keep on reading. I have written 7 Daycare Jobs Where You Can Bring Your Baby, 3 Requirements for Bringing a Baby to Work, and the Pros and Cons of Bringing a Baby to Work.
So that you can have a hassle-free experience finding the perfect role that suits you and your little one.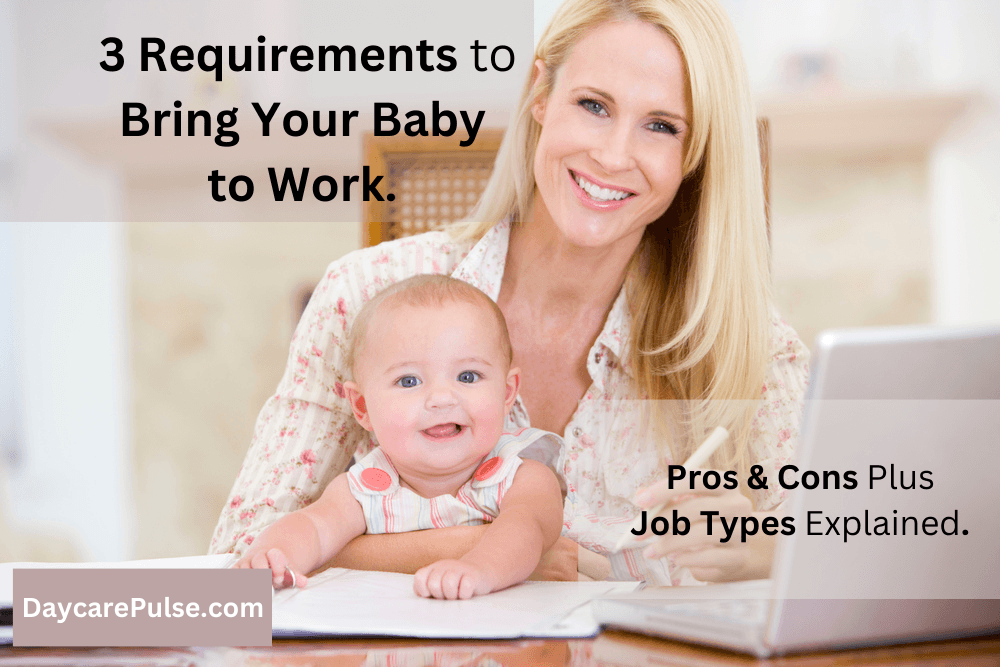 7 Daycare Jobs Where You Can Bring Your Baby
Here are 7 daycare jobs that allow you to bring your baby along:
1. In-Home Daycare
Creating an environment that feels like a second home for little ones and a workplace for you is an art; you're the artist.
A day in an in-home daycare involves engaging children in age-appropriate activities, providing meals and snacks, and ensuring their safety.
Having your baby with you is a bonus for both you and the other parents.
Why In-Home Daycare?
Family Vibes: It's not just about babysitting; it's about becoming an extended family. Your little one grows up with friends who feel like siblings, creating a bond beyond the typical daycare experience.
Comfort Zone for All: Your home becomes a haven for exploration and play. Your baby gets to nap in their knowscrib, surrounded by familiar toys and blankets. No need to worry about packing a million things every morning – everything is right at your fingertips.
Flexible Schedule: Kiss rigid work hours goodbye! In-home daycare offers the flexibility to tailor your schedule around your family's needs. Need a midday snuggle break? No problem.
Learning and Growing Together: From ABCs to sharing toys, your little one knows life skills in the comfort of a home setting. It's not just childcare; it's a nurturing space for development and growth.
Challenges and Triumphs
Balancing Act: Yes, there will be days of chaos, but also moments of pure joy. Balancing multiple little personalities can be challenging, but it's the kind of challenge that comes with immense rewards.
Building Trust: Gaining trust from parents is key. Creating an open line of communication and providing a secure and loving environment will make you the go-to person for their precious ones.
2. Nanny Jobs or Baby Sitter
Being a caretaker isn't just a job; it's an adventure filled with tiny triumphs and heartwarming connections.
Why Nanny Jobs or Babysitting?
Home Away from Home: As a nanny or babysitter, you become a second home for the little ones. Your care extends beyond routine – you're a friend, a confidant, and a comforting presence.
Tailored Care: It's not a one-size-fits-all approach. Nanny jobs allow you to tailor your care to each child's needs. From picky eaters to bedtime routines, you're the captain of their ship.
Flexible Adventures: Forget the monotony of a desk job! Your office is the playground, the living room, and sometimes, the backyard. Every day is an adventure-challenging day filled with exploration, creativity, and the joy of discovery.
Building Lasting Connections: It's not just about keeping an eye on the kids; it's about building relationships. You become a trusted figure, a source of comfort, and the one who knows all the best hiding spots in hide-and-seek.
Challenges and Triumphs
Emotional Bonds: Saying goodbye at the end of the day might tug at your heartstrings, but knowing you've positively impacted a child's day is a triumph.
Adaptable Superhero: From playtime to snack time, you wear many hats. Being versatile and ready for anything is your superpower.
3. Daycare Center Positions
Step into the heart of a bustling daycare center – a world where laughter echoes, tiny footsteps dance, and every day is an adventure in learning and love.
Whether you're considering a teacher, assistant, or administrator role, daycare center positions offer a vibrant canvas to paint the futures of little minds.
Why Daycare Center positions?
Educational Playground: Daycare centers are more than just places of care; they're education hubs. As a teacher or assistant, you get to be the guiding force in a child's early learning journey, helping them explore the world's wonders.
Teamwork and Camaraderie: Collaborating with fellow educators and caregivers creates a sense of camaraderie. The daycare team becomes a second family, sharing the joys and challenges of shaping young minds.
Structured Learning Environment: Daycare center roles provide an organized setting for learning and development. From lesson plans to playtime activities, you contribute to a structured environment that fosters growth and curiosity.
Building Foundations: As a daycare professional, you play a vital role in laying the foundations for a child's future success. It's not just about childcare; it's about being a cornerstone in their early years.
Challenges and Triumphs
Energizing Chaos: The energy of a daycare center can be exhilarating but demands adaptability. Embrace the chaos, and you'll discover a unique rhythm that brings joy to both you and the children.
Heartfelt Rewards: Every milestone achieved and every smile you inspire are your victories. The satisfaction of knowing you've positively impacted a child's life is immeasurable.
Related: 6 Daycare Positions
4. Working for a Family or Private Home
Step into the intimate world of working for a family or a private home – a realm where professionalism meets the warmth of family ties.
Whether you're a nanny, caregiver, or personal assistant, this journey is about more than just a job; it's about becoming an essential part of a family's story.
Why Working For Family or Private Home?
Personalized Connection: In a private home, you're not just a service provider but an integral part of the family dynamic. Your relationship with the family goes beyond professional duties, creating a bond built on trust and mutual respect.
Tailored Care Approach: Working for a family allows you to tailor your care approach to match their unique needs. You contribute to a harmonious and comfortable living environment by creating personalized routines to understanding individual preferences.
Flexibility and Adaptability: Private home roles often come with family's ever-changing needsflexibility. This adaptability allows you to navigate the ever-changing needs of the family, creating a balance that suits both your professional responsibilities and the family's lifestyle.
Diverse Responsibilities: Depending on the role, you might wearenriches multiple hats – from caregiver to personal assistant. This diversity adds richness to your daily tasks and provides a dynamic work experience.
Challenges and Triumphs
Navigating Personal Boundaries: Balancing professional distance with personal connection can be a challenge. Establishing clear boundaries ensures a harmonious relationship and a positive work environment.
Celebrating Milestones Together: The triumphs in this setting are shared triumphs. From a child's first steps to family milestones, you become an integral part of their journey, making your successes even more meaningful.
Related: How to Get a Job at Daycare?
5. Gym or Athletic Club
Step into the lively world of fitness and childcare where dumbbells meet building blocks, and treadmills share space with tiny tricycles.
Working in a gym or athletic club with childcare facilities isn't just about reps and sets; it's about creating an environment where both parents and kids can thrive.
Why Working For Gym or Athletic Club?
Active Playtime: As a childcare provider in a gym or athletic club, your workplace is a fitness playgroundIndividuals surround you. Kids get to experience the joy of movement, exploring physical activities that contribute to their overall development.
Health and Wellness Exposure: Growing up in a fitness-centric environment introduces children to the importance of a healthy lifestyle from an early age. It's not just childcare; it's an educational journey towards wellness.
Parental Peace of Mind: Parents hitting the gym can do so with peace of mind, knowing their little ones are in good hands. It's a win-win – parents get their workout, and kids get an active, supervised playtime.
Dynamic Work Environment: The atmosphere in a gym or athletic club is dynamic and energizing. Individuals surround youvibrant focused on health and fitness, creating a positive vibe that extends to the children under your care.
Challenges and Triumphs
Balancing Act: Juggling between ensuring child safety and accommodating the fitness routines of parents requires a delicate balance. Finding that equilibrium is the key to success.
Creating Fitness Enthusiasts: One of the triumphs in this setting is the potential to instill a love for fitness in children. Watching them engage in physical activities with enthusiasm is a victory in itself.
6. School Teacher
Step into the world of classrooms filled with curiosity, laughter, and the endless potential of young minds – the realm of a school teacher. 🍎📚 Being a teacher isn't just a profession; it's a calling to shape the future, one lesson at a time.
Why Become a School Teacher?
Impactful Education: As a school teacher, you play a pivotal role in shaping children's educational foundation. Your lessons go beyond textbooks, instilling a love for learning and fostering critical thinking.
Building Relationships: The bonds you create with your students last a lifetime. You become a source of inspiration, guidance, and support, contributing to their academic and individual growth.
Structured Learning Environment: Schools provide a structured environment for both students and teachers. From lesson plans to educational resources, you have the tools to create an engaging and effective learning experience.
Diverse Subjects and Activities: Teaching offers the opportunity to explore various subjects and engage in extracurricular activities. Whether it's science experiments, art projects, or sports, you contribute to a holistic education.
Challenges and Triumphs
Adapting to Different Learning Styles: Every student learns differently. The challenge lies in adapting your teaching style to cater to various learning needs, creating an inclusive and supportive classroom.
Witnessing Growth and Achievements: The triumphs are the "aha" moments, the academic achievements, and the personal growth of your students. Knowing you've played a part in their success is incredibly rewarding.
Related: How to Be a Daycare Teacher?
3 Requirements for Bringing a Baby to Work
If you plan on bringing your bundle of joy to work, there are a few critical requirements that you must fulfill.
These requirements are essential to ensure you and your child have the best possible experience at work.
1. Employer Approval
Obtaining approval from your employer is essential if you're considering bringing your baby to the office. Before you take any steps forward in this direction.
Thoroughly investigate the business's policies and regulations that may affect you and the childcare environment within the workspace – are there changing tables?
Are all necessities for a child present? Thinking ahead will allow for an organized workday with better results.
2. Child Safety Requirements
Child safety is a top priority in any daycare setting, so you must be aware of the specific safety regulations you must follow.
These may include essential up-to-date first aid kits, fire safety equipment, and smoke detectors to understand the expected standards of care are adequately trained in child care.
And have a good understanding of the standards of care e including safe environments for children to play, healthy meals, and proper supervision.
3. Appropriate Facilities, Space, and Equipment
When bringing your infant to work, planning is critical. Ensure the workplace has all necessary items like a changing table, cot or playpen, toys, and other essentials for childcare needs.
Additionally, it's essential to dedicate enough space to caring for babies or children in the area. Considering these factors, you can guarantee a cozy and secure atmosphere for your little one at work!
Read on: How Old Do You Have to Be to Work at a Daycare?
The Pros and Cons of Bringing a Baby to Work
Bringing your baby along with you to work can be a great way to save on childcare costs and provide you with the flexibility you need.
However, You should consider some potential drawbacks before making any decisions.
Pros of Bringing a Baby to Work
Here are some pros of bringing your baby to work that you should consider:
1. Reduced Costs for Childcare
Taking your little one with you to work can be an intelligent financial decision, especially in the face of skyrocketing childcare costs.
Not only will this save you money, but it also offers greater peace of mind knowing that your child is being taken care of in a secure and comfortable setting. Furthermore, having them nearby allows for more flexibility when scheduling tasks around necessary childcare commitments.
2. Increased flexibility in working hours
Bringing your baby to work provides increased flexibility regarding hours and the ability to adjust your schedule if childcare requirements arise.
That way, parents can be more productive while still spending quality time with their children during the day. Not only that, but this is an ideal situation for those who want or need both -career growth and taking care of their little one!
Cons of Bringing a Baby to Work
Here are some cons of bringing your baby to work that you should consider:
1. Increased Demands on Energy Levels
The advantages of having a baby in the workplace include saving money and more flexibility, but there are some drawbacks, like an amplified need for energy!
It can be challenging to juggle tending to your child while trying to work. It might mean you have no choice but to work longer hours if any time is spent caring for your newborn.
2. Child Care Regulations
Bringing an infant to work can be a great option, but you must heed specific childcare regulations. It includes having the proper facilities, space and gear available for your precious little one—and abiding by any requirements set forth by your employer or other regulatory bodies.
Frequently Asked Questions
What Job Can I Do With a Baby in Own Hours?
Several jobs accommodate working with a baby, such as in-home daycare provider, nanny, or remote work opportunities. Finding a role that aligns with your skills and allows flexibility is key.
Can You Bring Your Own Child to Work With You?
Yes, certain jobs, like in-home daycare, nannying, or roles in family or private homes, offer the flexibility to bring your baby to work. It's essential to explore positions that align with your family needs.
What Is the Job Called When You Take Care of Babies?
Jobs involving the care of babies can have various titles, including nanny, childcare provider, babysitter, or daycare teacher. The specific title may depend on the setting and responsibilities.
How Can I Work from Home With My Baby?
Working from home with a baby requires finding remote job opportunities, such as freelance work, online consulting, or telecommuting positions. Creating a suitable home office space and establishing a flexible schedule can help balance work and childcare.
Conclusion
Bringing your baby to work is a decision that requires careful consideration of the pros and cons.
While it may provide cost-saving benefits and increased flexibility in working hours, it also demands high energy levels and adherence to childcare regulations.
Finding the right job that aligns with your family's needs and skills is crucial for a successful work-life balance. With proper planning and preparation, bringing your baby to work can be a rewarding experience for both you and your little one.
So, make sure to consider all factors carefully before making any decisions and enjoy the journey of parenthood while building a successful career!