How to Be a Daycare Teacher?
To start this blog, I will mention a quote here, "Setting goals is the first step in turning the invisible into the visible." —Tony Robbins, American author and speaker.
If you are a teenager or a housewife and still want to work for experience or finances, and to be a daycare teacher is your goal, then you have landed on the right blog. I can understand the frustration you might be facing while looking for correct information on the web.
There are 4 steps to becoming a daycare teacher,
Basic educational requirements to be a daycare teacher
Approved certifications
Skills required to be a daycare teacher
Work experience
These steps comprise the important information required to be a daycare teacher. It is best to have some freelance experience in the field you will choose as your profession.
Build your daycare career with the needed early childhood education and experience. Check out the 5 top skills to help you get the job and save time. Keep on reading.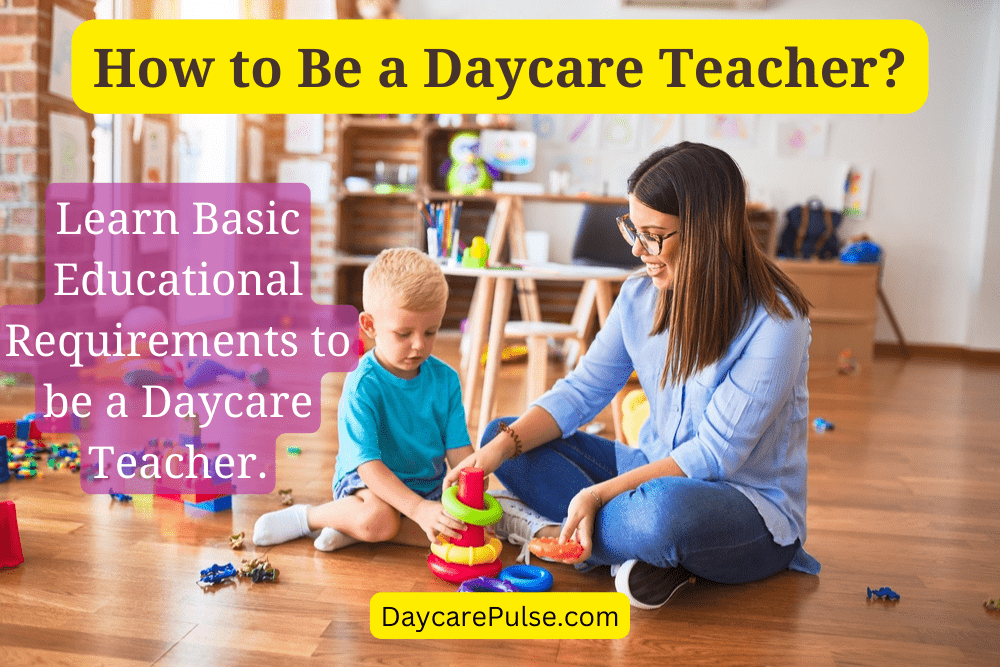 How to Be a Daycare Teacher?
Education
Although the educational requirement may vary depending on location, having a high school diploma or equivalent (e.g., GED) is usually essential for daycare centers in most areas.
While having a job experience or a high school diploma will allow you to enter the daycare facilities, a strong educational background will provide a competitive advantage for more upper-level roles.
Show your dedication to early childhood education through a comprehensive program that will provide you with essential knowledge and skills.
Daycare teachers may also be required to adhere to additional state-level regulations.
Training
Staying informed with the latest techniques and methods of teaching is essential for success in any educational environment. By investing time into furthering your training, you can better manage all activities involving students.
Parents and staff recruiters have far greater confidence in candidates with the necessary training. An ideal candidate must demonstrate knowledge of safety protocols, discipline techniques, and activity planning.
Certifications in CPR and first aid are essential; having additional skills such as sanitizing emergencies and creating escape plans is also beneficial. First aid and CPR training can help you respond to medical emergencies quickly and effectively.
In any classroom, enforcing discipline is of the utmost importance. Children playing together may engage in behavior like fighting, arguing, or even biting. Therefore, preschool teachers maintaining order in the classroom is crucial to preventing unhealthy situations.
Through activity training, kids can engage in fun activities that will enable them to learn and comprehend better. Planning activities is one of the most important tasks a daycare teacher must do to improve physical stamina in children. This is an excellent way to get organized and involved with the classroom experience.
Teacher Certification Options
Certification/Licensing
The Child Development Association (CDA) and the Certificate of Completion in Parental Education (CCP) credentials are highly regarded by daycare centers. Many organizations request a CDA certificate due to its nationwide recognition.
Demonstrating your CDA certificate is ideal for showcasing your knowledge and aptitude for teaching, managing, and caring for children. A Child Care Professional credential (CCP) could also be included on your resume to bolster its effect.
Remember that CPR certification or First Aid training may also be required in some states; it's always better to plan!
Work Experience
Want to give yourself an advantage when is job searching? Before applying for a daycare facility, consider whether your family and friends need help babysitting or a preschool teacher. A bit of voluntary work experience in early childhood education is beneficial but optional for a daycare teacher job.
Alternatively, create a profile on http://care.com to gain valuable insight as a babysitter – which will undoubtedly prepare you further!
Daycare teacher job candidates should be devoted to early childhood education and care.
Skills Required to Be a Daycare Teacher
Regardless of the daycare setting, successful childcare workers must possess organizational skills to complete their daily tasks effectively. By honing these abilities, they can be better prepared for every situation.
1. Physical Stamina
Working in a classroom full of children is an athletic task. Kids always need attention, so daycare teachers must be prepared for long hours on their feet while supervising child behavior, even engaging in outdoor activities with them.
2. Communication Skills
Communication is one of the essential skills for any worker or preschool teacher. Strong communication skills help build relationships with parents and other daycare teachers. Written communication lays a strong foundation of work ethics with everyone involved – from children to co-workers and beyond.
3. Creative Thinking
Unleashing your creativity can transform playtime into a truly enriching experience. Being an innovative thinker, you can organize learning activities, create better lesson plans, and make games more enjoyable.
Childcare workers have to be active and innovative to keep the kids busy.
4. Problem-Solving
Possessing problem-solving skills can be incredibly useful, especially when the little ones need something they may not have available. Daycare teachers must be intuitive enough to find solutions quickly.
For instance, if your child is crying for an item or food that isn't on hand, it's essential to find a way to acquire what they're asking for as quickly as possible – or think of an alternate solution like a distraction – so that their needs can be met and peace restored.
5. Patience and Compassion
Childcare professionals must empathize with children since they handle multiple roles, such as teacher, mentor, caretaker and counselor. Balancing these various responsibilities can be trying at times for one individual.
Frequently Asked Questions
What are Daycare Teacher Duties?
Ensuring a secure student environment is the most important role of any daycare worker. Some of their many duties entail:
Daycare teachers create lesson plans and curricula for children favoring learning and development.
Set a play area for the kid's physical activity each morning.
Childcare workers prepare and serve meals to the kids.
Engage children in activities that help them think out of the box.
Handling behavioral issues and resolving fights between children.
Make the place clean and sanitized.
Teaching toddlers requires a special set of duties and responsibilities. If you want to learn more about the steps necessary for becoming an instructor at daycare. Reading this article Read this article 18 Daycare Teacher Duties.
What Are the Types of Daycare Workers?
If you're considering a career as an educator at a daycare center, it's important to understand the additional opportunities beyond teaching. There are many roles in the field of childcare, and each has distinct duties and expectations.
There are 5 types of daycare workers:
1. Daycare Director:
A daycare director oversees the daycare center. They schedule programs and oversee the day-to-day activities, including licensing and child abuse issues.
2. Daycare Administrative Assistant:
An administrative assistant takes charge of communications with parents, answers queries, giving introductory tours to the parents. They perform the duties of childcare workers as well.
3. Daycare Supervisor:
These people lead the working staff and care for children in a daycare center. They are also responsible for on-the-ground authority. They implement policies.
4. Early Childhood Educator:
These teachers work with children of ages up to 6 years old and educate them according to daycare guidelines. They also ensure the classrooms are well equipped with child-friendly stuff and hazard-free.
They teach children basic eating skills, changing clothes, bathroom usage and nap time. They help with educational activities also.
5. Early Childhood Education Assistant:
They have to help ECE members with helping them to carry out planned activities.
What Makes a Good Daycare Teacher?
To be an effective Daycare Teacher, one must possess the ability to communicate with children in a friendly manner. Paying close attention, responding quickly, and adapting is paramount for any successful situation.
With Whom Does a Caretaker Work?
A Daycare Teacher usually works autonomously but can join forces with a Teacher Assistant if and when extra attention is needed.
Are Daycare Teachers Actual Teachers?
A daycare teacher is not usually a licensed teacher. Most daycare workers tend to have just a high school diploma. Read more Are Daycare Workers Teachers?
Conclusion
If you are searching for a career where you can impact the lives of children and aid in their growth, daycare teaching may be ideal. A high school diploma and certification of some kind are required for this job.
To succeed, preschool teachers must be able to learn, adjust and comprehend their students' needs. Patience and comprehension are essential for any childcare worker since young children require emotional support and direction. Even though it is demanding work, it is also gratifying.
We hope this article has shed light on what's needed to become a daycare teacher and that you will consider exploring this path seriously. Were there any queries about becoming a daycare teacher that we didn't cover here?