How to Stop a Child From Biting at Daycare?
Toddlers are adorable little human beings; they cuddle up to you when tired. Most of the time, toddlers cannot understand what teachers or parents are teaching them; in other instances, we cannot understand them, so they express themselves through various actions.
Biting is one of the most uncomfortable realities of toddler's life. Some stats say half of all the toddlers in daycare are bitten by other kids.
Although biting seemly is painful and frightening to the bitten one. There could be reasons like teething, exploration, curiosity, frustration, stress, and others mentioned in this blog.
Every parent wants their child to behave pleasantly in front of others. The concern arises when a child has to stay in a daycare for longer and adopts unfriendly behavior patterns and may feel embarrassed at the report given by the teacher from the daycare.
7 possible reasons your toddler is biting. Effective preventive steps daycare centers and parents can take to reduce the risk of hurting other children. Read more to learn on how staff and parents can intervene to stop a child from biting.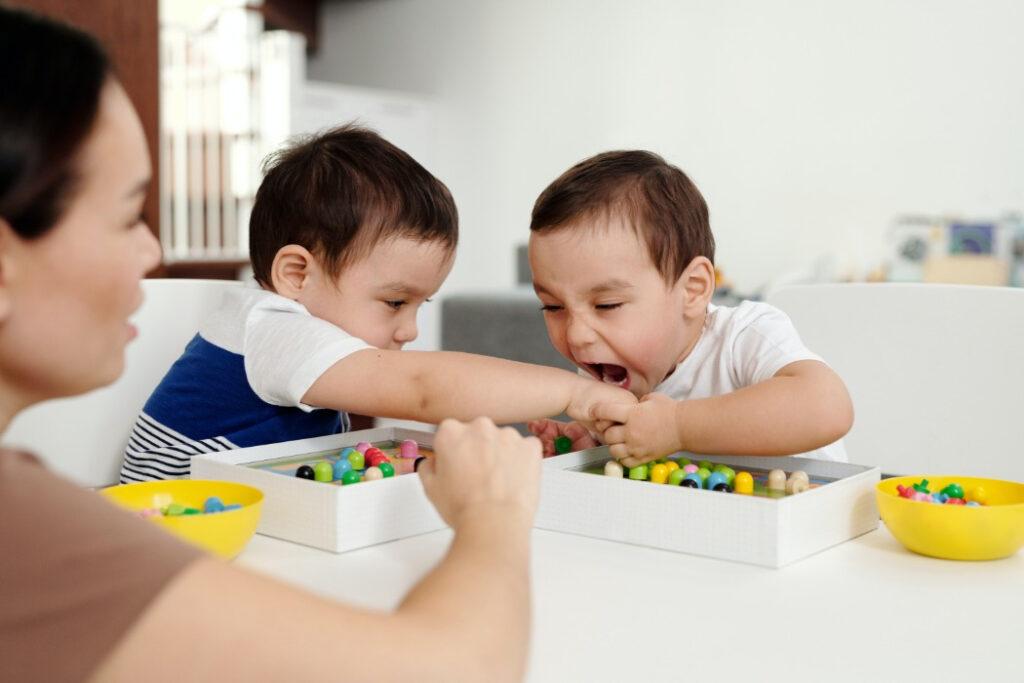 Why do toddlers bite?
Infant biting behavior is typical; toddlers aged 1 to 2 are likely to bite things or people for many different reasons. Here are some obvious reasons and solutions to the problem.
REASONS
SOLUTIONS
Teething
Give hard food to chew on it, such as rusks. Provide chewable toys so the toddler avoids biting others.
Curiosity/exploration
Help your child to understand which things are for biting. Tell them "no biting" will make them realize that biting is not an option.
Excitement
Teaching your child calm and gentle actions towards others will help them quit their biting habit.
Frustration
Monitor children when they are playing with others. Keeping short playing sessions will help your child stay sane.Watch your child when they are playing with others. Intervene when necessary in case of kids snatch the same toy.
Attention seeking


Powerlessness
If your child is in a group of kids, ensure you give one-on-one attention. Answer their questions and show them enthusiasm when they want to show you a drawing or a toy.


Children can often feel overwhelmed when playing with older kids, so they bite to have some control over them. Be mindful, and to avoid any biting cases, ensure your child's needs are met so they won't feel the urge to chew.
Stress
It may not be easy to remove stress; however, you can find ways to lessen stress by having energetic plays or stories.
As above, you read about why a toddler gets into biting activity and its solutions. Now we will discuss how well the staff and parents deal with a child with biting habits at the daycare center, keep reading.
How to Deal With Daycare Biters?
Staff members of a daycare center have to maintain discipline in the classroom. Biting is an age factor; it goes with time, but if the child is in the habit of using it as a defense mechanism, parents and teachers will have to intervene and stop the child from continuing the urge to bite.
Staff Intervention
Most certainly, toddlers are too young to be punished or given a timeout. Use these simple tactics to reinforce biting behavior.
As a teacher, keep a close eye on the child and see if they will bite anyone.
When they bite, calmly tell them, "no biting" or "biting hurts."
If they bite and get caught by the teacher, it's better to ignore them for a few minutes and move away from other children.
Keep reminding them no biting after short intervals.
When they are playing nicely, please provide them with attention and praise.
Parental Intervention
Here are simple ways to discourage biting in toddlers by parents.
Make sure your child follows predictable daily routines.
Be sure your child is having a night of proper sleep at home. Lack of sleep can cause stress and frustration leading to biting in a daycare center.
If your child is persistent at biting, it may be because they are not adjusting themselves at daycare, take the hint and look for another daycare center.
Toddlers find difficulty in sharing toys; make sure you have extra toys at home.
Offer activities that may help take their attention away from biting.
When the child bites, don't feel embarrassed. Just avoid overreacting and focus on your child.
If the child gets angry and starts to bite again, show love and empathy towards them as a parent.
When language skills develop, ask your child to express emotions with the help of words. As being parent, calm them or consult a counselor or behavioral specialist.
Together you can plan an approach to address the behavior of the child. It takes time to change the habits and behaviors of a toddler for parents to stay in touch with the teacher, and teachers should report back to parents daily.
What If Your Child is Bitten?
It is better to alert the childcare provider about the biting habit. Instruct them to be around the toddlers to avoid any biting incidents. If any toddler seems ready to bite, the childcare provider should stop immediately and arrange for an alternative for biting.
When biting happens, the childcare provider should separate the kids instantly then the provider should console the child who got bitten. First, clean the wound and put ice or a cold cloth on it. The childcare provider should report the incident immediately and call the biter's parents.
The daycare can be held liable if they knew the child has a habit of biting other children or had bitten them in the past and did nothing to stop.
You May Also Want to Know
As you notice, young children explore the world with their hands, eyes, and mouth, which is an extension of the process. Here we have some other points that some parents may want to know as we almost reach the end of the blog.
Biting is an expected childhood behavior. It's not a negative reflection on a child or the family.
Kids are still in the learning phase; don't shame them, as they will not learn any other skill.
Biting back your child won't help, nor putting something in the mouth. Don't physically punish your children.
FAQs
Why does my child bite at daycare?
Toddlers usually start biting others when they are teething, jealous, overtired, or frustrated. It's a way to show their emotion. At the same time, some curious kids will bite to see what happens.
Is biting common in childcare?
Biting is one of the most uncomfortable realities of toddler's life. Some stats say half of all the toddlers in daycare are bitten by other kids.
Is biting an issue related to sensory development?
It is not always true that a toddler bites because of frustration or teething. Sometimes kids bite due to an imbalance in the sensory system, as chewing and biting are sensory activities.
How to tell a child to stop biting?
You can train them by constantly addressing the issue by saying "NO BITING" or "STOP BITING". The child may get agitated at first but, later on, will start to understand.
Conclusion
This blog post will help you understand that biting is not a negative behavior but a part of their learning. Although biting can be an upsetting and possibly harmful behavior. In addition, working guidelines set by the childcare center, watch your child at home and figure out ways to change the habit.
Some children get kicked out of daycare centers if they are too much harm to other kids. Talk to your child's doctor if the child cannot leave the biting habit by age 4.
Hopefully, this blog post was informative and helpful for you! Share your toddler's story in the comments.