How Much Does a Daycare Teacher Make Per Hour?
Are you a daycare teacher wondering if you're paid right? Or, thinking about becoming one and wanting to know what to expect? Let's find out together!
Did You know: As per the data of Occupational Employment and Wages by U.S Bureau of Labour Statics, the May 2022 Employment estimate and mean wage estimates for Childcare Workers (Teachers) is $14.22 per hour. And the mean annual wage is $ 29,570.
For Reference Check: U.S Bureau of Labour Statics
Keep in the loop to read more about Industry Trends For Daycare Teacher Salaries, Government Regulations For Daycare Teachers Salaries, and most importantly the average salary and entry-level salaries for daycare teachers.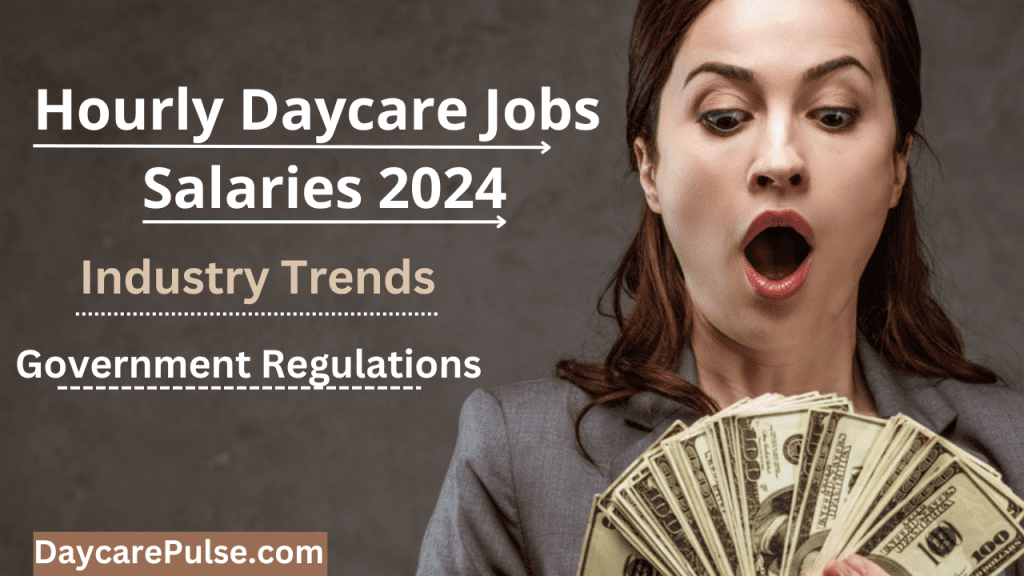 Daycare Teacher Salaries Per Hour: Analytics
Here are few of analytics recorded from average to entry level and median positions.
The Average Salary For Daycare Teachers
While the average salary for a daycare teacher is around $25,000, that number may be low depending on where you live. For example, teachers in Florida make an average of $22/hour or $45K annually. The salary jumps to $29/hour in New York City or about $55K annually.
The average yearly pay for a daycare teacher is around $25,000, but if we look at hourly earnings, it comes to roughly $13.70 per hour while working full-time (40 hours per week).
Related: Are Daycare Workers Teachers?
Entry-Level Salaries
The average preschool teacher's salary in the US is $42,000. The average daycare teacher's salary is around $31,000 per year. On average, elementary school teachers earn about $50,000 annually, while high school teachers make about $54,000 yearly.
Finally, college professors can earn anywhere from $45k to $200k+.
Salaries vary greatly depending on location, years of experience, and whether or not you teach at public or private schools. For example, some states pay teachers less than others because they have lower tax revenues.
So they cannot afford higher salaries for their staff members; however, if you move to another state where taxes are higher, your salary will be higher too!
Read on: How to Be a Daycare Teacher?
Pay Ranges for Preschool Teachers
You might expect that those with more education will pay more than those without, and you'd be right.
Preschool teachers with a Bachelor's degree earn more than those with only a high school diploma. Teachers with Master's degrees make even more than those with Bachelor's degrees, and professors with PhDs often command the highest salaries among preschool teachers.
Related: Daycare Teacher Duties
Median Salaries for Early Childhood Educators
If you want to get a sense of your potential salary and how it compares to other early childhood educators, then the median wage is the most helpful. The median is essential because it gives you a better idea of what the typical person makes in this field.
When looking at averages, it's easy for someone who earns more than others to skew those numbers making them seem higher than they are.
The median salary for early childhood educators is around $40,000 per year, according to May 2017 from the Bureau of Labor Statistics (BLS).
It means half of all early childhood teachers earn more than that amount and half earn less; there are no exceptions or outliers on either side; if you make more than $40k per year as an ECE, congratulations!
If not don't worry too much about it: we're sure you'll find something else that works out just fine!
The average yearly pay for a daycare teacher is around $25,000. How much do they make per month? The median salary for a daycare teacher is $15.93 per hour, approximately $31,928 annually.
How much do they make per week? The hourly mean wage data shows that the average hourly rate was $12.63, and the median was $12.47 in 2017. It compares with 2016, with a record of £11-13 p/h (£22-25k p/a).
Read on: Daycare Teacher Resume
Industry Trends for Daycare Teacher Salaries
In the dynamic world of daycare teaching, understanding salary trends is key.
It's essential to note that various factors influence these numbers, ranging from education and certifications to additional skills and years of experience.
The industry recognizes and values expertise, and as you climb the ladder of experience, your earning potential often follows suit.
Related: How Old Do You Have to Be to Work at a Daycare?
Regional Variances
While national averages provide a broad overview, regional variances play a crucial role. Salaries for daycare teachers can differ significantly depending on the geographical location.
Metropolitan areas may offer higher compensation to match the higher cost of living, whereas rural settings might align with local economic conditions.
Considering these regional nuances is vital for both employers and teachers when negotiating fair compensation.
States with the highest employment level in Childcare Workers:
| State | Employment | Employment per thousand jobs | Location quotient | Hourly mean wage | Annual mean wage |
| --- | --- | --- | --- | --- | --- |
| Texas | 46,230 | 3.56 | 1.15 | $ 12.46 | $ 25,910 |
| New York | 39,890 | 4.38 | 1.41 | $ 16.92 | $ 35,190 |
| California | 29,500 | 1.67 | 0.54 | $ 18.00 | $ 37,430 |
| Florida | 28,360 | 3.08 | 0.99 | $ 13.69 | $ 28,480 |
| Illinois | 22,660 | 3.85 | 1.24 | $ 14.86 | $ 30,900 |
Source: U.S Beaurae of Labor Statics
Impact of Economic Factors
Economic factors cast a considerable shadow on salary structures. The overall economic climate, inflation rates, and regional economic health can influence daycare teacher salaries.
In times of economic growth, there might be an upward push in wages. Conversely, economic downturns may lead to more stringent budgeting, affecting salary increments and bonuses.
Government Regulations for Daycare Teachers Salaries
Ensuring fair compensation minimum wage laws are fundamental to daycare teacher salaries. Federal and state regulations dictate the minimum hourly pay rate, safeguarding teachers from receiving inadequate remuneration.
Understanding and adhering to these laws is crucial for daycare providers and teachers to maintain a just and equitable work environment.

Meanwhile New Biden plan raises salary for Head Start teachers, who face meager pay and grueling work. Source: USA Today.
Licensing Requirements
Government regulations often tie daycare teacher salaries to licensing requirements.
Licensed daycare facilities must comply with specific staffing criteria, including educational qualifications and experience.
These regulations, designed to enhance the quality of childcare, contribute to setting appropriate salary standards for daycare teachers.
Related: How to Get a Job at a Daycare Without Experience?
Top Paying Industries for Childcare Workers
| Industry | Employment | Percent of industry employment | Hourly mean wage | Annual mean wage |
| --- | --- | --- | --- | --- |
| State Government, excluding schools and hospitals (OEWS Designation) | 150 | 0.01 | $ 22.99 | $ 47,820 |
| Business Schools and Computer and Management Training | 40 | 0.05 | $ 20.21 | $ 42,050 |
| Scientific Research and Development Services | 120 | 0.01 | $ 20.12 | $ 41,860 |
| Museums, Historical Sites, and Similar Institutions | 80 | 0.05 | $ 18.62 | $ 38,740 |
| Management, Scientific, and Technical Consulting Services | 90 | 0.01 | $ 18.21 | $ 37,870 |
Source: U.S Beaurae of Labor Statics
Compliance with Childcare Regulations
Beyond minimum wage and licensing, daycare teachers' salaries are intricately linked to compliance with childcare regulations.
These regulations encompass many factors, from teacher-to-child ratios to safety standards.
Meeting these requirements not only ensures the well-being of children but also influences the structure of compensation packages for daycare teachers.
Frequently Asked Questions
What are Compensation Factors for Daycare Teachers?
Various factors influence compensation for daycare teachers. Key considerations include educational qualifications, years of experience, additional certifications, and the location of the daycare facility.
Teachers with higher education and extensive experience often command higher salaries.
Factors like special certifications in early childhood education can also contribute to increased compensation.
Related: How to Write a Cover Letter For a Daycare Job?
What are Benefits and Perks for Daycare Teachers?
Daycare teachers commonly receive a range of benefits and perks. These may include health insurance, retirement plans, and paid time off.
Some facilities offer professional development opportunities, supporting teachers in expanding their skills.
Additionally, daycare teachers often enjoy the intrinsic rewards of a fulfilling profession, such as the joy of working with children and contributing to their development.
The specific benefits can vary depending on the daycare center and regional norms.
How Much Is Daycare Salary Per Hour?
The average annual salary for a daycare teacher is $27,000. The average hourly wage for a daycare teacher is around $13.50 per hour.
The highest-paid 10 percent of daycare teachers earn more than $45,000 annually, while the lowest-paid 10 percent make less than $17,120 annually.
What Are Childcare Teacher Salary Trends?
The average annual salary for a childcare worker is $19,460. The average hourly wage for a childcare worker is $9.66/hour.
What Are The Highest Paying States For Childcare Teachers?
Childcare workers are paid most in the following states.
District of Columbia ($30,430)
Maryland ($29,280)
North Dakota ($27,320)
Wyoming ($22,020)
Conclusion
In conclusion, understanding salary trends and factors influencing daycare teacher salaries is crucial for teachers and employers.
Regional variances, economic factors, government regulations, and compliance with childcare regulations all play a role in determining fair compensation packages.
Besides monetary compensation, daycare teachers also enjoy intrinsic rewards and benefits such as personal fulfillment and professional development opportunities.
It's essential to keep an eye on industry trends and continually strive for fair and just compensation standards to support the growth and success of daycare teaching professionals.