How to Prepare for First Day of Daycare
Sending your child to daycare for the first time can be nerve-wracking. It's normal to feel anxious, but there are things you can do to make the transition easier.
Here are some things your need to prepare for daycare to stay calm and organized on first day:
Start by making a checklist of everything your child will need
Ask your daycare for their specific requirements
Pack your child's daycare bag the night before
Label everything with your child's name
Double check daily essential items in bag 
Have a backup plan in case of an emergency
I've included a detailed checklist for everything your little one will need for their big debut. Some extra tips to help make the first day of your daycare a smooth and stress-free experience.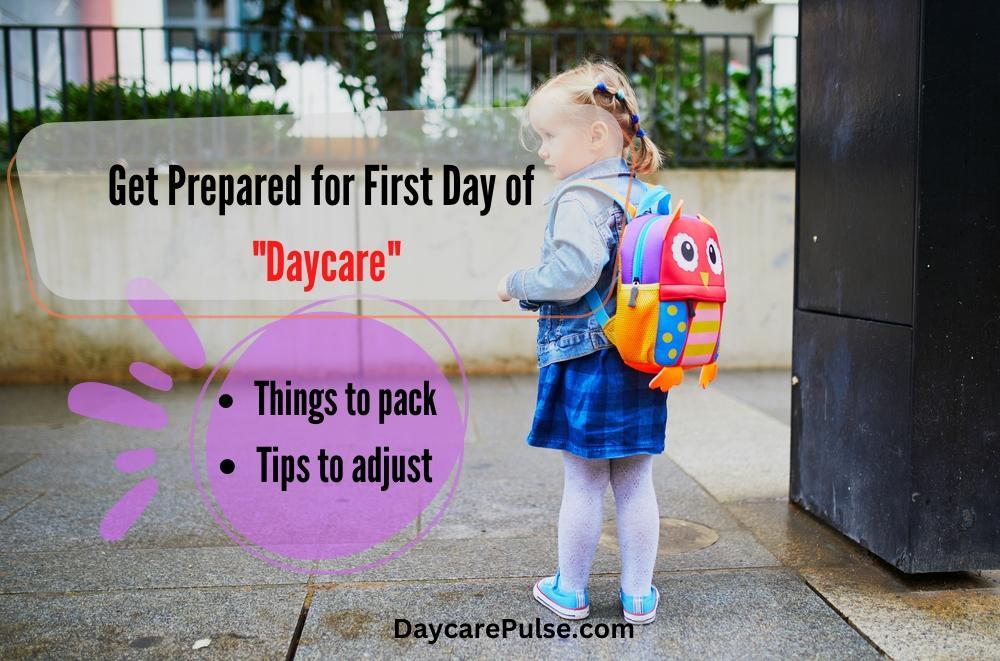 7 Packing List Items to Prepare for the First Day of Daycare
1. Daycare Bag
The first day of daycare is a momentous occasion, but it can also be quite stressful.
To make the experience easier and more enjoyable, I recommend having a bag with multiple pockets to send every possible item your child might need.
Choose a sturdy bag that can pack all your child's necessities – diapers, wipes, snacks, blankets, special toys for comfort, spare clothes, milk bottles, etc.
This will make sure this picnic trip is one they'll remember!
You might also want to read: How to Choose Best Daycare Bag
2. Label Everything
To make sure that nothing is forgotten or left off the list, it's essential to label all clothing and supplies you are sending your child with for daycare. Your daycare provider will be immensely grateful for this small but helpful gesture!
This step is also particularly critical if you want to avoid any lost-and-found stress during those early days when a lot is going on!
If need help putting labels on, let these article assist you:
3. Snack Items
When you're away from your child, there is nothing more concerning than wondering if they are safe and taken care of.
To make sure that on their first day without you, your kid still has proper nutrition, keep healthy snacks like fruits, vegetables, crackers, and cheese in their bag for easy access.
Also, in case the daycare food isn't something they're used to having, your child could at least devour their home-bought snack.
4. Extra clothes
Bring an extra set of clothes for your child in case of any accidents or spills throughout the day.
Daycare is a place for learning and growing, sometimes quite messy.
By being prepared with changes of clothes, you can have peace of mind if an incident does occur.
It's also great to ensure your child stays as comfortable as possible!
Remember to dress up your child in their most comfortable pair of clothes. I know mama's urge to dress their child best, but the first day of daycare is not a good time.
Here's a guide to choose comfort clothes for your child: What Should Baby Wear to Daycare?
5. Comfort Item
If your child has a particular blanket or stuffed toy they always cling to, don't forget to include it in your packing list!
You might also want to read: What to Pack for Daycare
Having something familiar in an unfamiliar environment can give them the comfort and security necessary for restful naps away from home.
6. Emergency items
If your child has any allergies, please keep the necessary items in a separate bag and let the daycare personnel know about it.
In case your child is a baby, you need to give this blog post a quick read: What Should You Take to Daycare for Baby
7. Payment & Documentation (If needed)
Prioritize collecting any paperwork that is required for daycare. This may include proof of enrollment or identification to verify you are an approved caretaker for dropping off and picking up your children.
You might also want to read: Daycare Enrollment Process
Get Your Child Excited About Daycare
Now that we are done with a packing list, how about I tell you some valuable tips?
Preparation for the first day of daycare has to start a little earlier than you think. Talk with your child about their new safe heaven often. Get them excited about it beforehand to reduce the chances of separation anxiety.
You can do so by visiting daycare with your child a month before their admission. This would help them get familiar with the environment they are soon to be part of.
For more tips to make your first day of daycare easier, skim through this article: How to Make First Day of Daycare Easier
4 Tips for First Day at Daycare
1. Stories
Another effective way to coop with crying and anxious child on the first day of daycare is by getting them busy with their favorite hobby.
If a hobby is not possible, a favorite story could do the job. Let the childcare provider know about their favorite story so they can comfort them while you are away.
2. Favorite Snacks
Consider sending your child's favorite snacks on their first day. Favorite food boosts the mood of both adults and children alike. It would also soothe your child's anxiety on the first day.
3. Act Happy
On their very first drop-off day at daycare, try to be as calm and cheerful as possible – this way your little one knows everything is alright!
Spend more time with them at drop-off; there's no need to rush the goodbye. Allow your child to become acquainted with their caretaker before departing.
You might also want to read: How to Make Daycare Drop-off Easier?
4. Ask for Favor
Parenting can be an intimidating task, especially when it comes to leaving your child at daycare for the first time.
But no need to fret! You can ask for a favor from the daycare provider to visit your child in between during the initial days of daycare This will not only give you some peace of mind but also help your kid adjust easily and quickly!

You might also want to read: First Day of Daycare| All you need to know
Frequently Asked Questions
How long does it take a baby to adjust to daycare?
Adapting to a daycare atmosphere can take anywhere from 1 week to 1 month for an infant, but the older a child is, the more time they will need to become comfortable.
How long will my baby cry at daycare?
It's normal for children to cry when first attending daycare. The time they take to become accustomed varies depending on their temperament. It might take a few weeks or even more until your child is comfortable being dropped off at childcare.
What are the red flags in daycare?
Lack of communication with parents
Child's overall health and interaction.
No growth or development activities
Conclusion
The first day of daycare can be stressful for parents and children. To make the transition smooth just follow the tips mentioned above and then relax. With the right attitude and preparation, this new chapter in your child's life will begin without a hitch, trust me! Oh, and Good luck!