First Day of Daycare: Parent's Ultimate Guide
Hey parents! Starting your child's daycare journey may feel like uncharted territory. It's normal not to have all the answers from day one, but don't worry, I'm here to help you navigate this new adventure together!
This blog post is filled with some insights and tips to ensure that the first day is fun and memorable. From prepping the night before to establishing a new routine, I'll guide you every step of the way.
Discover how this amazing blogpost can make parenting a breeze! Learn proven strategies for a smooth daycare transition, reducing morning chaos and anxiety. Let's make parenting easier together!
Let's turn that first day of daycare into a happy beginning! 😊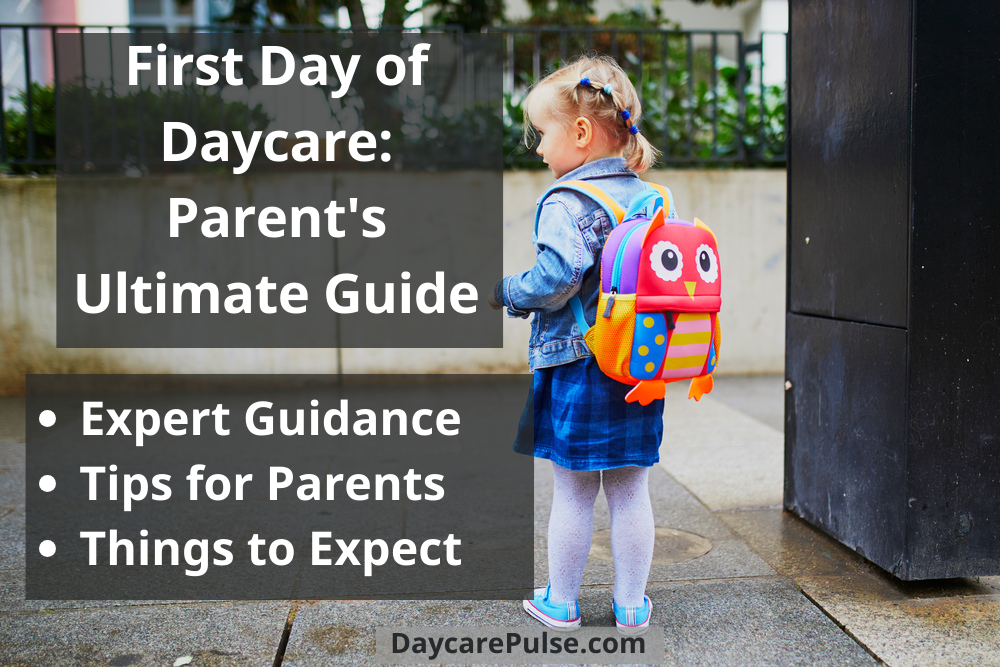 Preparing for the First Day of Daycare: A month Before
Need help transitioning your child to a new daycare center? Don't worry, I'm here to guide you through this big step.
Get practical tips for a smooth transition for both you and your child to the child care setting.
Make a Checklist
To ensure your child's transition to the new daycare setting is as smooth as possible, it's important to be well-prepared.
Here are some tasks and items you should consider:
Updating Medical Information: Daycare centers need current medical records for each child, including immunization history. Keeping this information updated helps providers better care for your child.
Enrollment Documents: During a child's first week at a new daycare center, complete and prepare enrollment documents to be handed over on the first day.
Daily Supplies: Pack essential items for your child, like diapers, wipes, extra clothes, and comforting items, to be prepared throughout the day.
Contacting the Daycare Center: To create a checklist, reach out to your daycare provider and ask for essential items for your child's first day. Tailor your preparations to meet the specific needs of your child care center. Happy planning!
Shopping List – Essential Items
Here's a list of daycare essentials that can ensure your child's smooth transition and comfortable stay in the new child care setting:
Daily Bag: Prioritize machine-washable material and convenient organization with separate compartments for a daycare bag. This simplifies drop-off routines and saves time.
Daycare Bag: Have a leave-on or weekly daycare bag with essential items like allergy medicines, diapers, wipes, burp cloths, sheets, and blankets. Opt for sturdy materials and cool dark colors.
Lunch box: Choose an insulated option with enough compartments for your child's needs throughout the day.
Diapers: Bring your own diapers, wipes, and changing pads if the daycare center doesn't provide them. Consider buying in bulk for convenience.
Bottles: Provide easily cleanable and replaceable bottles for breastfeeding infants. Avoid leaky sippy cups and choose lightweight, spill-proof bottles.
Blankets and Sheets: Label blankets, pillows, or sheets with the child's name for nap time at daycare centers.
Extra Clothes: Pack extra clothes for spills or leaks during the first few weeks at a new daycare center.
Make Visits to the Daycare
Here are steps for making visits to the daycare center prior to your child's first day:
Meet and Greet: Schedule a meeting with the daycare provider to meet and ask questions.
Familiarize with New Environment: Let your child explore under your supervision for a comfortable transition.
Observe Interaction: Watch how the provider interacts with other children for quality care.
Attend Trial Session: Let your child interact and participate to ease the first week.
Establish Goodbye Routine: Practice a quick, reassuring routine for easier drop-offs.
Practice Daycare Routine
Practicing the daycare routine at home prior to the first day can facilitate a smoother transition for both parents and children.
Here are some useful tips:
Consistent Wake-Up Time: Set a relaxed wake-up time for your child, promoting a happier and more cooperative morning routine.
Regular Meal Time: Establish routine meal times, helping your child adjust to the daycare schedule.
Introduce Nap Time: Start introducing nap time at home, preparing them for designated nap time at daycare.
Parent's Departure Routine: Develop a quick and reassuring goodbye routine, making drop-off less stressful.
Inculcate Self-Help Skills: Encourage small tasks for independence in the new environment.
Work on Communication Skills
Building strong communication skills is key to your child's smooth transition into a new daycare.
As they engage with fellow children and the daycare provider, these skills will shape their overall experience in a positive way. Some tips include:
Discuss daycare: Explain what daycare is and what to expect to ease anxieties.
Practice language skills: Encourage expressing feelings and needs for effective communication.
Read books about daycare: Reassure normalcy and visualize first experiences.
Role-play: Act out drop-off routine for understanding and reassurance.
Talk about feelings: Validate mixed emotions and provide support.
Express positivity: Highlight exciting activities and new friendships.
Preparing for the First Day of Daycare: A night before
The night before the first day of daycare can be filled with anticipation for both you and your child. It's an important time to ensure everything is in order for the big day.
Here's how you can prepare:
Get the Daycare Bag Ready
Start by referring to your checklist and make sure you have packed all the essentials in the daycare bag. It's important to double-check before your child's first day at daycare.
Involve Your Child and Generate Excitement
Engage your child in the process of preparing for daycare. Ask them about the snacks they would like to bring, let them choose their outfit, and see if there's a special toy they would like to bring along.
Having exclusive items for daycare can make them excited about this new adventure!
Talk about Drop-off
Take some time to discuss the drop-off plan with your child. Familiarize them with their caregiver and show them videos of other parents saying goodbye at daycare to make it relatable.
Highlight all the fun activities they will get to do while you're away, giving them something to look forward to. Schedule this conversation when they're feeling their best to avoid any unnecessary anxiety.
Prioritize Sleep
Ensure both you and your child get a good night's sleep before the big day. This will help your child wake up refreshed and ready to embrace new challenges at daycare.
Being well-rested will also help you stay calm and supportive, easing any first-day jitters your child may have. Keep in mind that adjusting to a new routine takes time, so be patient.
By following these preparations, you're setting the stage for a successful first day at daycare. 🎉
Handling the First-Day Morning
Start your morning off right with these practical tips to help your child feel comfortable and ready for their first day at daycare.
Rise and Shine Earlier: Wake up early for a relaxed morning routine and extra cuddles.
Pack Comforting Items: Include a favorite toy, blanket, or family picture for a sense of familiarity.
Include Favorite Snacks: Pack familiar snacks to create a bridge between home and daycare.
Dress Them Comfortably: Let your child wear their favorite and comfortable clothing.
Manage Drop-Offs: Establish a quick and comforting routine to make goodbyes less stressful.
Communicate with the Provider: Stay in touch with the daycare provider for updates and peace of mind.
Remember, the first daycare drop-off can be overwhelming, but with patience and a positive approach, your child will transition smoothly.
Here's to happy children and successful mornings at daycare! 🌟😊
What to Expect on the First Day of Daycare
First day at daycare: big step, emotions vary 😊 Excitement, nervousness. Reactions differ, some adapt seamlessly, and others need time.
Quick guide: what to expect. Every child's experience is unique, and that's okay! 🌟
Separation Anxiety: Dealing with separation anxiety during daycare drop-offs can be challenging. To make it easier, establish a consistent goodbye routine, reassure your child that you will return, and communicate with the child care provider for support.
Sleep Patterns: Adjustments in sleep patterns are common for children in new environments. To ensure enough rest, try an earlier bedtime. If nap time is challenging at daycare, work with the provider on relaxation strategies for better sleep.
Feeding Concerns: To address potential feeding issues caused by environmental changes, pack your child's favorite snacks for familiar and preferred food options. Maintain open communication with the daycare provider to address any concerns promptly.
Adapting to New Routines: Transitioning to a new routine can be challenging for children. To support them, incorporate familiar daycare routines at home, like snack times and activities. This helps them adjust and transition more smoothly.
Socializing with Other Children: Encourage your child to be empathetic and considerate of others' feelings as they interact with other children. Making new friends and learning to share and cooperate with older children at daycare are important parts of their development.
Starting daycare can be tough for kids, but most parents find that children eventually love their new routine.
Keep communication open with the daycare provider to address concerns and ensure a positive experience for your little one.
Surviving the First Day of Daycare: Tips for Parents
🌟 Parents often find the first day of daycare challenging, but don't worry, I'm here to assist! Let's explore some fantastic tips to ensure your child's first day is a breeze. 🎉
Keep Calm and Carry On 😌: Your child looks up to you for guidance. Show them that daycare is a safe and fun experience by staying calm and positive throughout the journey. You've got this!
Practice the New Routine 🌞: Before the big day, let's practice the new routine at home. By doing this, your child will feel more comfortable with the new routine and transition seamlessly into daycare.
Read Stories about Daycare 📚: Let's explore the world of daycare through colorful children's books! These stories will help your child visualize the exciting environment and ease any fears about being away from home. It's an adventure waiting to unfold!
Encourage Communication 🗣️: Let's empower your child to express their feelings. Whether they're nervous or scared, encourage open conversations.
Maintain Open Communication with Daycare Staff 📞: Stay connected with your child's daycare provider to stay in the loop about their progress. The more you know, the better you can support your child at home.
Connect with Other Parents 👪: Let's build a supportive network with other amazing parents! Share experiences, swap advice, and watch your worries melt away. Plus, your children can make lifelong friendships with their daycare buddies.
Frequently Asked Questions
How do I help my child adjust to daycare?
The best way to help your child adjust to daycare is by ensuring they feel safe and secure in their new environment. Introduce them to their teachers and peers, and ensure that their basic needs, such as food, sleep and comfort, are taken care of.
How do I leave my toddler at daycare for the first time?
When dropping your toddler off at daycare for the first time, make sure that they bring along a few familiar and comforting items, like their beloved blanket or favorite stuffed animal.
Pamper your toddler with their beloved snack upon drop-off. Familiarize them to the caregiver and their peers. Lastly, give them a fond farewell while providing comfort and reassurance.
What to expect first days of daycare?
The first days of daycare can be an adjustment period for both you and your child. Emotions may fluctuate as your child gets used to the new environment and routines.
They might feel anxious during drop-offs or nap times due to separation anxiety or unfamiliar surroundings. It's normal for children to take time to interact with others.
Keep open communication with the daycare provider to monitor your child's transition. With time, most children become comfortable, make friends, and enjoy all the activities at daycare centers.
How do I prepare for my first day of daycare?
Preparing for your child's first day at daycare involves a few important steps. Adjust their sleep schedule, establish a drop-off routine, visit the daycare beforehand, pack comfort items, and maintain open communication with the provider.
With preparation and patience, you can help your child feel comfortable and happy in their new daycare setting.
How can I help my child on the first day of preschool?
Preparing your child for preschool involves discussing the new routine, rehearsing drop-offs, visiting the preschool, and encouraging open communication.
Remember, it's normal for both you and your child to feel anxious, but with patience and support, most children soon start to enjoy preschool.
How do I get my toddler to stop crying at daycare?
It's normal for toddlers to cry when starting daycare. To help them adjust, establish a consistent drop-off routine and let them bring a comfort item. Communicate with the child care provider for additional strategies.
With patience and support, most children eventually adapt and thrive in the daycare setting.
Conclusion
Stepping into a new environment can be thrilling and nerve-wracking for your little one. But don't worry! With careful preparation, patience, and open communication, you can turn this daycare transition into an exciting adventure.
Embrace the initial jitters, they're normal for both you and your child. With each passing day, it gets easier and soon your child will wave you off with a big smile.
I must say, you're doing an incredible job! Keep up the fantastic work, and let's raise not just happy children, but positively beaming parents too! 🎉