Lunch Ideas for Daycare No Microwave
Hey Moms! Look no further if you're looking for kid-friendly lunch ideas that don't involve a microwave. Sending your little one off to daycare can be hard enough as it is, and the challenge of coming up with nutritious lunches they'll enjoy adds another layer of stress.
With creativity and planning, you can create tasty and nutritious meals that will make your daycare provider (and your little one!) happy.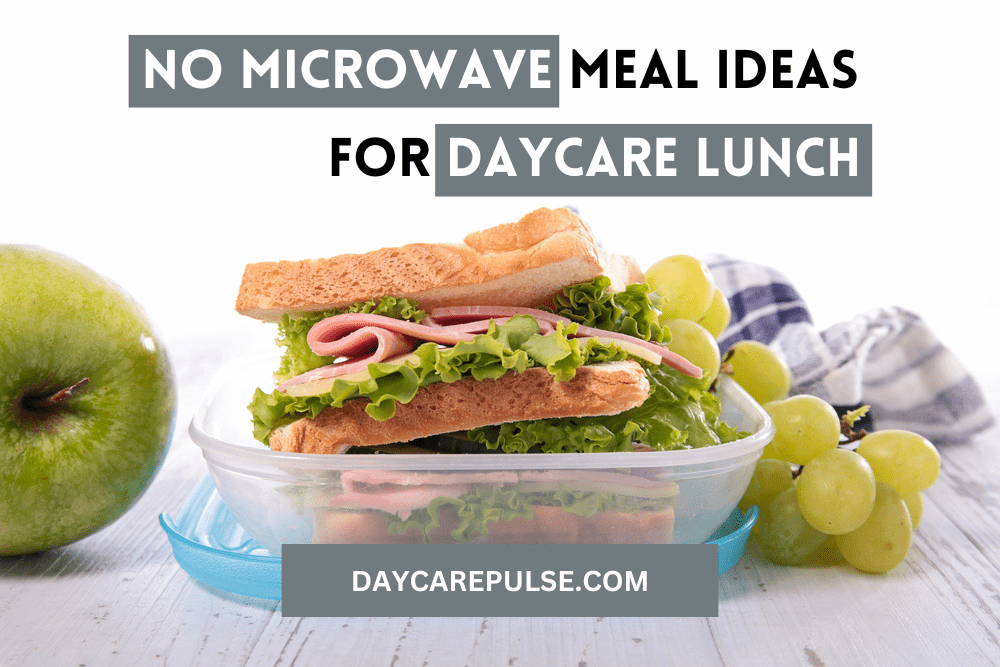 Cold Sandwiches
Idea 1: Peanut Butter and Jelly Sandwiches
Make lunchtime at daycare an enjoyable experience with classic peanut butter and jelly sandwiches! This type of meal is ideal for facilities that need access to a microwave. Peanut butter and jelly has never failed to satisfy, plus it does not require heating up—saving you valuable time during snack or lunch hour.
Feel free to get creative by trying out different flavor combinations, from traditional grape jelly down the line to honey-raspberry jam combos!
Idea 2: Cheese Sandwiches
Why not indulge in a crunchy cheese sandwich for the perfect midday meal? Layer slices of your favorite type of creamy cheese between two pieces of freshly baked bread.
This lunch idea is wonderful for daycares as it doesn't require any heating up or appliances, plus it can be quickly put together within moments if needed!
Idea 3: Turkey and Cheese Sandwiches
Turkey and cheese sandwiches offer the perfect solution to daycares without microwaves. They are effortless to pack up, easy to transport and require minimal prep work. As a bonus, turkey is high in protein for basic energy levels throughout the day; plus, it's filled with vital nutrients!
Cheese adds a delectable flavor and creamy texture that kids can't resist – you can even throw in some freshly chopped vegetables like lettuce, tomatoes, or cucumber slices for extra crunch.
Idea 4: Tuna Fish Sandwiches
Give the kids something to look forward to at daycare with a delicious tuna fish sandwich! It is an excellent combination of nutritious, satisfying, and easy for small children to eat.
Serve it on whole wheat bread or wrapped with vegetables and condiments. With its versatility, there are so many creative ways you can make this lunchtime favorite – why not come up with your twist?
Idea 5: Egg Salad Sandwiches
There's nothing better than egg salad sandwiches for easy and delicious lunches at daycare! All you need to make them is hard-boiled eggs, a few dollops of mayonnaise, and any seasonings that tickle your fancy.
Then serve it all on some slices of bread or wraps – plain or toasted – for the kids' enjoyment. There's no doubt they'll love it! Not only will adding veggies like lettuce, tomato, or cucumber give your extra dish crunch, but it will also make it more nutritious.
Furthermore, you can experiment with other ingredients like pickles, celery, onion, and apple bits to create endless possibilities!
Idea 6: Chicken Sandwiches
Satisfy your daycare kids with a flavorful lunch of chicken salad sandwiches! Save time by pre-cooking the chicken and combining it with some spices to create an exquisite filling. Then serve on slices of bread with lettuce, tomatoes, sliced pickles, or other crunchy veggies.
Not only do these delicious sandwiches provide plenty of protein and healthy fats – they also taste delightful! Give your little ones enough energy for creative playtime all day at school.
Flavorful Rice
Idea 1: Rice Salads
For a tasty and healthy daycare lunch option that doesn't require heating, serve up some delicious rice salad! Cook jasmine or brown rice, then mix in diced vegetables like tomatoes, cucumbers, peppers – whatever tickles your child's fancy.
Throw in some canned beans for added protein and flavor before dressing it with their favorite vinaigrette or dressing. Not only will they love the flavors of this customizable meal, but you can also be sure that it packs all the nutrition they need to fuel their busy days too!
Idea 2: Fried Rice
Fried rice is the perfect daycare lunch choice and doesn't require heating! Kids will be delighted by this delicious meal with some cooked brown or jasmine rice, diced veggies, canned beans, and a sprinkle of your favorite seasonings. They'll love exploring all of the fun flavors that fried rice has to offer!
Idea 3: Rice Bowls
Rice bowls serve as an excellent, tasty meal for daycare children without the need to be heated up. Begin with cooked rice. Add grilled vegetables, canned beans, and a few cubes of chicken or turkey if desired. Complement it by drizzling your favorite dressing or soy sauce – kids will savor each delectable bite!
Idea 4: Rice and Beans
This one-pot meal is great for daycares with limited supplies. Cook rice, add canned beans or cooked proteins, and season to taste.
Healthy Salads
Idea 1: Cold pasta salads
Why not whip up a delectable cold pasta salad for daycare lunchtime? Simply mix cooked elbow macaroni, vegetables like tomatoes and cucumbers, olives, and your favorite type of vinaigrette or Italian dressing.
Add some cooked bacon bits and diced ham or tuna for an extra protein punch. With all these flavorsome textures combined into one bowlful, the kids at daycare are guaranteed to love this delicious yet nutritious meal idea!
Idea 2: Egg Salad
Transform boiled eggs into a delicious, protein-packed egg salad lunch with minimal effort! Simply mash the cooked eggs with a fork, add crunchy vegetables of your choice, then season to perfection for unbeatable flavor.
For creaminess, mix in some mayonnaise or Greek yogurt before stuffing it into sandwiches or wraps – easy! This delectable meal will give your children enough energy to last them throughout daycare activities.
Idea 3: Chicken Salad
For daycare lunch without the need for a microwave, why not whip up some chicken salad? Boil chicken until cooked through, then shred it using two forks.
Mix in diced vegetables of your choice and mayonnaise or Greek yogurt to bind. Serve on crusty bread or wrap – this delicious meal will surely be a hit! Not only is it tasty, but with all the nutrient-rich ingredients, your daycare kids will be sure to stay energized.
Frequently Asked Questions
What can I pack for lunch without a microwave?
With simple preparation, you can provide daycare kids with nutritious and delicious lunch ideas that do not require a microwave. Egg salad, chicken salad, rice salads, fried rice or bowls are delightful options that will take little time to create in your kitchen.
What can kids have for lunch without refrigeration?
Some great non-refrigerated daycare lunch ideas include:
Sandwiches Salads
Wraps
Pasta dishes
Fruits and vegetables
What can I send my toddler for lunch at daycare?
Sandwiches with different fillings like cheese, tuna salad or egg salad.
Whole wheat wraps with hummus, grilled vegetables and feta cheese.
Quesadillas filled with chicken and black beans.
Greek yogurt parfaits made with fresh fruit and granola.
Mini pizza pockets using whole wheat pita bread, turkey pepperoni and shredded mozzarella cheese.
Roasted salmon or tilapia, quinoa and steamed broccoli.
Pasta salad made with rotini noodles, grilled chicken, sun-dried tomatoes and olives.
Conclusion
If your daycare facility doesn't have a microwave, that doesn't mean you're stuck with unhealthy or unappetizing lunch options for the kiddos.
With healthy ingredients and a little creativity, you can make mouth-watering lunches that will satisfy even the pickiest of eaters! Try these easy, toddler-friendly lunch ideas today!