Complete Guide to Small Home Daycare Setup in Living Room
Starting a home daycare can be a great way to earn extra income and be your own boss.
However, starting a daycare in the comfort of your living room will still require you to invest time, money and efforts in the following steps:
Licensing and Insurance
Space setup
Daily schedule
Marketing and Promotion
With so much information available, it can be challenging to find and extract the essential information needed for the initial setup of an in-home daycare.
So here's a comprehensive guide to help you plan, arrange, price, and initiate a small home daycare setup in living room step by step without a stress.
Let's explore some tips and tricks to help you get started on the right foot!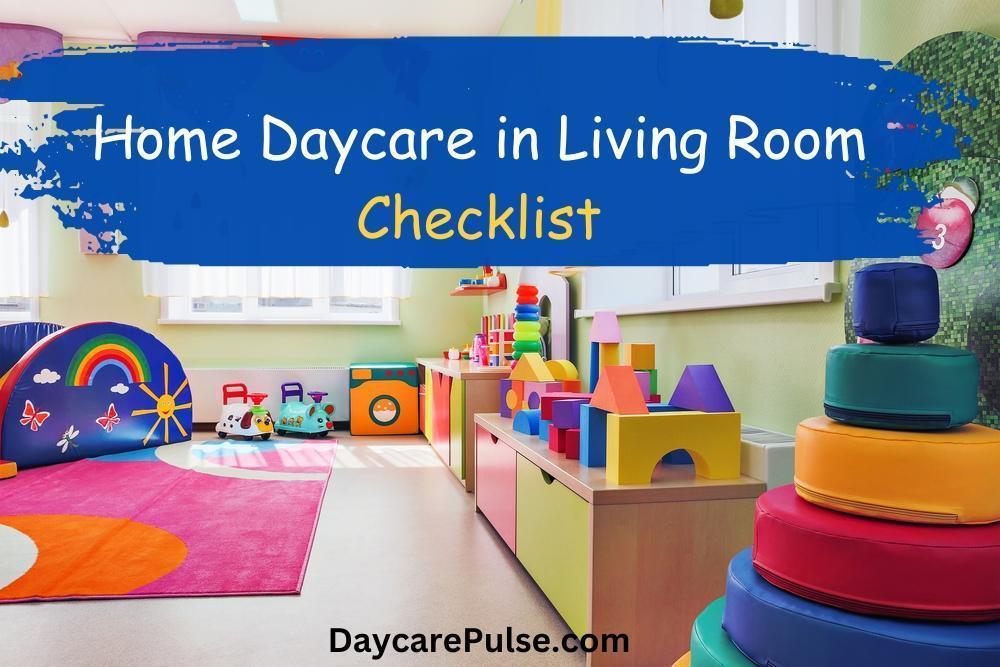 5 Steps Setup of Small Home Daycare
Starting a new business raises a slew of fresh concerns and worries. Guess what? I might have already sorted a list for you to begin with for a smooth start.
Here are basic steps you need to keep in mind to setup in-home daycare:
1. Regulations and Insurance
A childcare provider must have complete licensing and insurance policies from the state government to run a daycare facility. The government regulations and licensing policies may differ from state to state. These regulations cover many areas of daycare facilities like
Number of children in the daycare premises
Staff-to-child ratio
Safety measures
Immunization of the children
Health and nutrition facilities
Child supervision
Following are some of the daycare insurance policies depending upon the type of injury or risks the child may suffer in a daycare:
General liability insurance covers accidental injuries.
Business owner policy covers building insurance.
Professional liability insurance covers the areas where there are some injuries due to the negligence of the childcare provider.
2. Plan Your Space
The second step is to plan your space. This includes deciding how many children you want to care for, what activities you will offer, and how you will set up the furniture.
Make sure that your living room is big enough to accommodate the number of children you plan to care for. You will also need to make sure that the furniture is safe for children and that there is enough space for storage, nap and play.
3. Set Up Your Environment
In the daycare business, the only ideal environment is what keeps the children happy and healthy and their parents at ease about their child's well-being.
Once you have planned your space, you can start setting up your environment. This includes choosing toys, activities, and furniture that are appropriate for young children.
You will also need to make sure that your living room is safe for children. This means removing any hazards, such as sharp objects or electrical cords.
You'll also need to make sure that your living room has kids appropriate flooring. Keep in mind noise and light control for kids naptime.
4. Create a Schedule
Daily schedule plan can help you decide your required budget according to activities and meal plan.
Having a complete routine and activity plan can also help you promote your daycare in more organized manner
When creating a routine, consider the ages of the children you will be caring for and their individual needs.
You might also want to read: Home Daycare Schedule Ideas
5. Promote Your Daycare
Once you have set up your daycare, you need to let people know about it. Walking the extra mile for your clientele has always worked in any new big or small business, and daycares are no exception.
To get a competitive edge over previously established popular daycares, consider offering extended hours or weekend childcare services.
Make use of open house events to showcase your efforts. Call parents from your neighbor for basic tea party at your home daycare. Let them experience your efforts live and spread word of mouth.
Distribute flyers and work on your entrance using visible banners and door sign to inform people about your newly opened daycare.
Offer some discount to early birds or parents referrals. Utilize social media to market your discount offers.
Cost to Start a Home Daycare
Establishing a daycare facility might seem to be an exciting startup, but still, it needs a friendly budget to establish a well-equipped daycare facility. The average startup valuation for daycare varies from $2,000 to $3,000, which increases accordingly as the startup grows.
4 Things to Make Your Home Daycare Successful
Though there are many things a daycare should have, the most important 3 things are:
1. Focus on Benefits
Discuss the benefits of a small home daycare for parents, such as flexibility, low costs, and the ability to provide personalized care.
Also highlight what makes your home daycare unique and what benefits do you offer that other daycares don't in your marketing materials and website.
2. Security Measures at Daycare
A proper security plan is the most crucial for daycare centers.
Locked doors, specifically automatic ones, are encouraged as they give the parents a sense of security. Look out for electrical appliances and potentially dangerous things nearby your childcare area.
Also, only some should be allowed to enter the premises of daycare centers. There should be a well-defined pickup and drop-off plan for the parents, while others must ring the bell and be allowed to enter after complete clearance.
3. Health and Nutrition Facilities
A balanced diet is critical for a child's healthy growth and development. After each balanced meal, children feel more confident, more assertive, and more cheerful.
Obtaining a diet plan from a trained dietician for kids' maximal growth would give you a competitive advantage and allow parents to relax about their children's health.
4. Easy Communication Throughout the Day
Entrusting their children to others is a crucial concern for parents, So your daycare should provide adequate meeting hours throughout the day. It gives parents a sense of security and peace of mind, especially when dealing with new home-based service providers.
Let's Fit the Day Care in Your Living Room: Setup
So, you've already decided to begin your entrepreneurial venture with a home childcare business; what next?
It's about time to turn your plan into reality.
Essentials Supplies You Need
Daycare is vital to a kid's development since it helps the youngster learn new things and build social skills. However, establishing a daycare may be incredibly costly.
So, first and foremost, you must have the necessities; otherwise, the children in your care may suffer due to an improper atmosphere.
At all times, the following items must be present in your daycare:
First-aid supplies, including scissors, tweezers, antiseptics, etc.
A fire extinguisher is critical in a daycare. Check the fire extinguisher regularly and replenish it as necessary.
You might also want to read: Best First Aid Kit for Daycare
Tips for Setting Up Your Home Daycare for Minimalist Style
Starting a daycare in the living room does not rule out the possibility of entertainment and creative accents. Let's get your Livingroom daycare in order together, that too in budget.
Use bright colors and bold patterns to add interest and personality to the room without overcrowding.
Use furniture with hidden storage to store toys, games, and other supplies.
Hang cabinets or shelves on walls to provide extra storage for toys and books.
Choose a comfortable space in your living room that has plenty of natural light and can easily be cleaned.
Create a designated play area with soft surfaces and plenty of toys to keep your child entertained.
Wait! there's more. How about taking a look at these Before After pictures of Livingroom daycares along with detail?
You might also like to read: 7 Important Daycare Room Setup Ideas
Additional Resources for Home Daycare
Let me know your thoughts on this proposal; I am waiting to hear from you and learn from your experience.
Frequently Asked Questions
1. How do I set up an infant room in daycare?
Choose a safe and secure location. The infant room should be in a quiet area of the daycare where there are no hazards. Infants need plenty of space to move around and explore. So make sure that infant room is furnished with soft materials and safe things.
2. Where do babies sleep at daycare?
Babies typically sleep in cribs or bassinets at daycare. The cribs or bassinets should be placed in a safe and secure location, such as a corner of the infant room. The cribs or bassinets should also be spaced far enough apart so that the babies cannot reach each other.
3. How to design a daycare?
The design of the daycare should be functional, inviting and appropriate for the age of the children who will be attending. For example, a daycare for infants will need different features than a daycare for toddlers or preschoolers.
4. Is it safe to start daycare from home?
The answer is YES. Just keep a few simple requirements in mind. You'd have to be accountable for a child's health and safety, provide a caring, compassionate, and unbiased environment, and set norms that even the queen must follow. Be truthful about your pledges since parents want transparency from daycare providers.
Love & Support
Starting a daycare from home is a great way to take hold of your schedule, spend more time with your kids, and become your boss. It's also safe if you take the required precautions to ensure the kids' safety in your care. So if you're thinking about starting a daycare, go for it! You won't regret it.
Also, here's a guide from a person with firsthand experience in the home daycare business, and I am sure you'll equally love it: Things I wish I knew.