Daycare Waiting List: Simplified Strategies
Hello parents! I completely understand the challenges of managing daycare waiting lists, especially when it comes to finding the perfect spot for your little one amidst all the stress.
Parents, stress no more! Welcome to your go-to guide, designed just for you.
This blog is your friendly companion on this journey. Get ready for a chat about daycare waiting lists, including a helpful guide to understanding the ropes and four practical strategies to breeze through them! 😊
By the end of this blog, you'll have the knowledge to tackle daycare wait times head-on, potentially saving weeks, if not months, of uncertainty. Gain peace of mind knowing your child's care is arranged and save money by avoiding additional costs from delayed enrollment.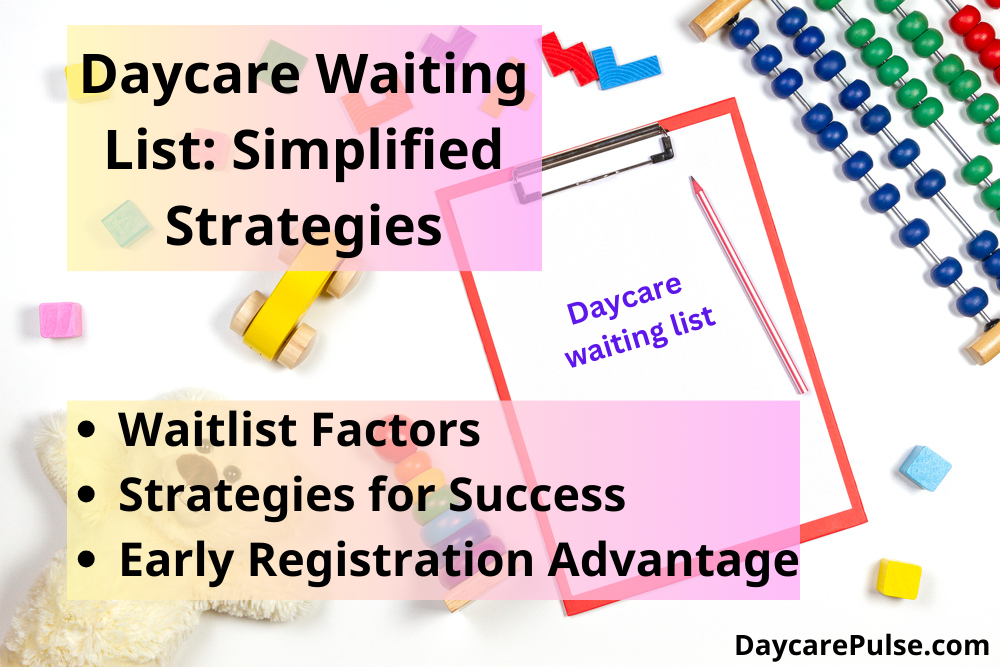 Understanding the Daycare Waiting List Process
Hey there, Parents! Navigating the world of childcare can be a bit of a maze, right? Don't worry, I totally get it and I'm here to help. Today, we're going to dive into the exciting topic of daycare waiting lists.
Yes, you heard it right! Just like many other things in life, securing a spot for your little one in your preferred daycare sometimes involves a bit of waiting. Understanding the whole process can make waiting less stressful.
I'll unpack how these waiting lists work, why they exist, and share some insights to help you manage this often challenging part of your child care journey. So, are you ready to learn more? Let's jump right in!
Why Waiting Lists Exist
Now, why are there waiting lists in the first place? The answer is pretty simple – demand!
As parents increasingly seek quality care for their children, daycare centers often have limited space. They must adhere to regulations and safety measures, accommodating a specific number of children at any given time.
This means that if you're seeking care during peak times like the start of a new school year or after a holiday break, you may need to get on the waiting list.
Types of Application Methods
First things first, let's dive into the different application methods that childcare centers use. 😊
Some daycare providers require you to fill out an online or paper form that includes all your contact information and details about your child. Others may ask for a non-refundable fee along with the application.
Let's delve a bit deeper into these application methods, shall we?
The traditional paper application method is simple! Just provide essential details about your child, such as age and desired care schedule. Some centers may inquire about soothing techniques or allergies. Be detailed to give the daycare center a first glimpse of your little one! 😊
Nowadays, online applications are popular as they work like paper applications. The best part? You can complete them from your couch, with a cup of tea. But hey, don't forget, even though it's online, be thorough. Take your time, fill out all the required fields, and remember, it's not a race!
Lastly, the non-refundable application fee. Don't worry, it's common and covers the administrative cost of processing your application. It's required regardless of your child's placement. The amount varies between centers, so ask about it upfront.
Regardless of the method you choose, the ultimate goal remains consistent: to highlight your family's needs and secure a spot on the daycare provider's waiting list. So, give each application your utmost attention!
Essential Documentation and Requirements
Ah, paperwork, the ever-present companion of ours! While it may lack the thrill factor, it plays a vital role in enrolling your child in a daycare center. So, what documents are your secret weapons? Let's dive in and unveil the essentials!
Required documents: child's birth certificate, proof of address, family's immunization records
Additional forms may be needed: medical forms, emergency contact information
Fill out a family information form: include details about family members picking up child and siblings already enrolled
Age group restrictions may apply: discuss the potential impact on wait time if the child's birthday occurs while on the waiting list
You know what? It's really not so bad! I get it, it can feel a bit overwhelming, but trust me, all these documents and requirements are there to make sure your child gets the best care possible. You've got this, parents!
When Your Local Daycare Has a Waiting List
Hey there! Now that I have discussed daycare waiting lists, let's address the main challenge: what to do when your local daycare has a waiting list.
It can be overwhelming, right? Especially if you have limited time until you need to return to work or when the next school year is approaching. But don't worry, I've got you covered with some strategies to help you out!
Be proactive! Start your search early and reach out to your preferred daycare centers in advance. Get a sense of the demand, waiting lists, and put your name on those lists.
Have backup options. I know it's not ideal, but having a Plan B (or even C) can save you stress. Research other quality childcare centers in your area and get on their waiting lists too. More options increase your chances of securing a spot.
Feel free to talk to the daycare provider if the waiting list is long. Inquire about flexibility based on age groups. Consider moving your child to a different age group with a shorter waiting list, if possible.
Stay updated! Keep in regular contact with the daycare centers where you've applied. Stay on their radar and increase your chances of receiving news about openings and changes.
And remember, patience is key here. Waiting lists are just a part of the daycare enrollment process. So, take a deep breath, parents! Just like every other parenting challenge, this too shall pass.
Daycare Waitlist Factors and Considerations
Let's discover the factors that impact your daycare waitlist time. Each list is unique, so understanding the variables can help set realistic expectations and reduce waiting stress.
Age and Enrollment Policies
Finding the right daycare can be challenging due to age restrictions. Some centers cater to children aged 2 and up, while others also accommodate infants. Availability fluctuates, adding competition among parents. Stay persistent and patient in your search for the perfect daycare!
Enrollment policies are crucial for daycare centers. Each center may have its own requirements, from one working or studying parent to a first-come, first-serve approach. As a stay-at-home parent or part-time worker, consider these factors as they shape your waiting journey.
Get ready for an adventure of patience and anticipation!
Families with Siblings Already Enrolled
Fun fact: Childcare centers often prioritize families with siblings already enrolled. It's not just convenient for parents, but also helps maintain consistency for the children. So, if you have another little one attending daycare, it could be your secret weapon to beat the wait times!
Start Dates and School Year
Daycare centers usually have specific start dates that align with the beginning of a new school year. So, if you're applying during the middle of the school year, you might experience a longer wait time, as openings are more likely to occur on the next scheduled start date.
Hang in there, though, because your patience will pay off!
Timing is Key – When to Get on a Daycare Waiting List
Starting your childcare search as early as possible is absolutely crucial. ⏰ The race to secure a spot begins even before your little one arrives, or better yet, as soon as you find out you're expecting! 🤰👶
Childcare centers, especially those with stellar reputations, have waitlists that can stretch over a year. ⏳⌛ By getting a head start, you maximize the chances of landing a spot in your dream daycare center. 🌟
Remember, it's never too early to embark on your child's educational journey – so let's get those planning hats on, parents! 🎓🧢
Early Registration Benefits
It's clear that an early start is advantageous when it comes to daycare waiting lists, but let's break down exactly why this is so important:
Securing a Spot: Early registration increases your chances of getting a spot in your preferred daycare. Act quickly as spots fill up fast!
Less Stress: Having a spot on the waiting list can bring a sense of relief to parents, alleviating stress. Knowing that you've taken all the necessary steps and now it's simply a waiting game.
More Preparation Time: Early registration allows for ample preparation time and ensures that you have enough time to fulfill any additional daycare requirements or submit necessary documents.
Transition Ease: Securing an early spot can facilitate the transition for your child, allowing time to prepare them by adjusting sleep schedules or introducing the concept of daycare.
Plan B: Being on the early waiting list gives you the opportunity to consider other options if your first choice is unavailable. This can help you avoid a last-minute rush to find child care.
Hey there, parents! As you can see, the early bird really does catch the worm when it comes to daycare waiting lists. So don't wait any longer – get your little one on those lists as soon as possible!
Factors Affecting Waitlist Priority
Securing a spot on the waiting lists is a great first step, but understanding the factors that influence admission order can help manage expectations. Here are a few key components to consider:
Daycare's Admission Policy: Admission policies vary among daycare centers and greatly impact the order of admission. Factors such as age, sibling enrollment, and staff affiliation often determine priority. When enrolling your child, it's essential to inquire about the daycare center's specific admission policy.
Child's Age: The age of your child can affect daycare waiting times. Centers often have specific age group slots with varying demand and preferences. Consider these factors when choosing the right enrollment time and location for your child.
Date of Application: Application date impacts priority on the list. Longer wait times increase admission chances. Early applicants have an advantage.
Specific Needs or Circumstances: Daycare centers may prioritize admission based on specific needs or circumstances. This could include children from low-income families, children with special needs, or children of single parents.
Now, onto some tips for inquiring about wait times at different daycare centers:
Open Communication: Don't hesitate to ask direct questions about the estimated wait time during the enrollment process. Being proactive can provide you with a better understanding of what to expect.
Regular Follow-ups: Keep in touch with the daycare centers where you've applied. Regular follow-ups show your continued interest and can sometimes speed up the process.
Ask Other Parents: Parents whose children are already enrolled in the daycare center can often provide valuable insights about their own wait times and experiences.
Check Other Sources: Online parent forums and local community groups can also be a good source of information about the average wait times for daycare centers in your area.
Strategies to Move Off the Childcare Waiting List
Learn how to navigate the daycare waiting list with confidence! Discover key strategies to increase your chances of getting your little one into their new daycare center sooner.
From staying in touch with providers to sharing family updates, every step counts. Let's make the process smoother and get your little one off the waiting list!
Start Early and Research Thoroughly
When it comes to getting off the daycare waiting list, starting early and thoroughly researching potential childcare centers is key. Begin your search well in advance of your child's projected start date to increase your chances of securing a spot. Apply to multiple centers to improve the likelihood of enrollment, considering that some may have shorter waiting lists than others.
In your research, delve into each center's enrollment process. Understand their criteria for prioritizing children on the waiting list, such as siblings of current enrollees or proximity to the center. This understanding will help you strategize and improve your chances of moving up the list.
Additionally, familiarize yourself with the age groups each daycare center caters to, their cost structure, and their capacity. These factors can significantly impact wait times.
By being proactive and informed, you can navigate the daycare waiting list more effectively and increase your chances of finding the right childcare center for your child.
Consider Alternative Childcare Options
Sometimes, the waiting lists for daycare centers can feel endless. But don't lose hope, parents! There are some alternative childcare options you might want to consider:
Nannies:
For parents looking for personalized care for their children, hiring a nanny is a great option. Nannies offer individual attention and ensure all your child's needs are met. They also provide more flexibility with schedules compared to daycare centers.
However, nannies can be more expensive than other childcare options, and finding a reliable, trustworthy nanny may require time and patience.
Home-Based Care:
Home-based or family childcare offers a cozy, intimate environment for your child. With fewer children and flexible hours, it's a great option. Plus, the mixed age group is beneficial for siblings.
But, like with any childcare option, home-based care varies in quality. It also may not offer the same level of structured learning and socialization opportunities found in daycare centers.
Group Care Settings:
Group care settings, such as co-ops or playgroups, are excellent alternatives to daycare centers. They promote parent involvement and foster a strong community. Additionally, kids can socialize with a wider range of peers.
However, they may require more involvement from parents compared to other childcare options, which can be challenging if you have a tight work schedule.
Remember, every family is unique, and what works for one might not work for another. Take the time to weigh all the pros and cons of each alternative, and you'll find the one that fits best for your family!
Stay positive and remember: this is just one chapter in your child's exciting journey to early childhood education. 🎈
Regularly Check Waiting Lists and Network with Enrolled Families
Staying connected is crucial when on a daycare waiting list. Regularly check in with your chosen centers, reminding them of your interest and confirming your child's spot. This keeps you fresh in their minds and shows your enthusiasm.
Networking with families already enrolled is a smart move. They can offer valuable insights and support. Attend open houses and community events to meet these families and build a sense of community. They may even have tips or updates on available spots.
Remember, building relationships and communication are key in the daycare enrollment process. Make your presence known and forge those connections. Keep going, parents! The best care for your child is worth the wait.
Utilize Online Resources and Stay Persistent
Hey! Did you know the internet is a great tool for navigating daycare waiting lists? You can gain an advantage by using online resources to find key information about daycare centers and their wait times.
Many daycare websites provide insights into their enrollment process, age group preferences, and waitlist length. So, make sure to explore these sites!
And that's not all! Parents also share their experiences with childcare centers on review platforms like Google Reviews, Yelp, and local parent forums. These platforms offer valuable insights into waiting lists and enrollment processes.
Persistence is key! Waiting lists can be discouraging, but don't worry. Stay in touch with daycare providers to show your ongoing interest and potentially move your child up the list. Shoot them a friendly email, give them a call, or visit. You've got this!
With these online tools and a persistent attitude, you'll be better equipped to navigate daycare waiting lists and find the perfect care for your child.
Frequently Asked Questions
How long are most daycare waitlists?
The length of daycare waitlists can vary greatly, depending primarily on the location and reputation of the daycare center. In high-demand urban areas, waitlists can be quite long, with some stretching to over a year.
In suburban or rural areas, or at lesser-known centers, the wait time can be shorter or even nonexistent. Start your search early and stay in touch with multiple daycare centers to get a clear idea of wait times.
When to get on daycare waiting list?
To secure a spot at a daycare, it's advisable to join the waiting list as early as possible, particularly for child care centers. Ideally, begin the process when you start searching for a daycare, which can be as early as during pregnancy or at least six months to a year before you require the services.
Starting early increases your chances of securing a spot by your desired start date, even as a single parent. Wait times may vary based on daycare popularity, location, and the time of the school year.
How to manage a daycare wait list?
Managing a daycare waitlist requires being proactive, organized, and persistent. Start by maintaining a list of preferred childcare centers, including their contact details and the date of application or waitlist enrollment.
To maintain an active application, regularly follow up with each center to show your interest. Keep your contact information updated to avoid missing any communication. Utilize online resources and network with enrolled families to stay informed about openings or changes.
Remember, it's crucial to explore alternatives and not limit yourself to one center. Your ultimate goal is to find the best care for your child, which may come from a place you hadn't initially considered.
Conclusion
And there you have it, dear parents – a few helpful strategies to navigate the daycare waitlist journey. It might feel overwhelming at times, but remember, this is a testament to your dedication to securing the best early childhood education for your child.
You're doing a marvelous job, and every effort you put in now is an investment in your little one's future. Keep the faith, stay persistent, and know that your child's perfect daycare spot will be worth the wait. You've got this!