How May a Daycare Affect Your Toddlers' Eating Routine?
Plenty of research tells us a toddlers can resist eating when they experience controlling feeding practices. A child can only eat when they feel the freedom in whichever way they enjoy; it can be messy or take a lot of time to finish the first meal.
Commonly toddlers can eat better at the daycare center than home because of daily routine, if they are:
Eating at an expected time.
Limited options for lunch.
Peer pressure.
Suitable time of the day.
Hunger strikes.
There are negative factors affecting your toddler's routine,
Adjusting to new environment
Rushing the child to finish food
Paying more attention to other kids
Besides, you can use 7 helpful tips for improving the routine your toddler can become a better eater from this blog post. So read more.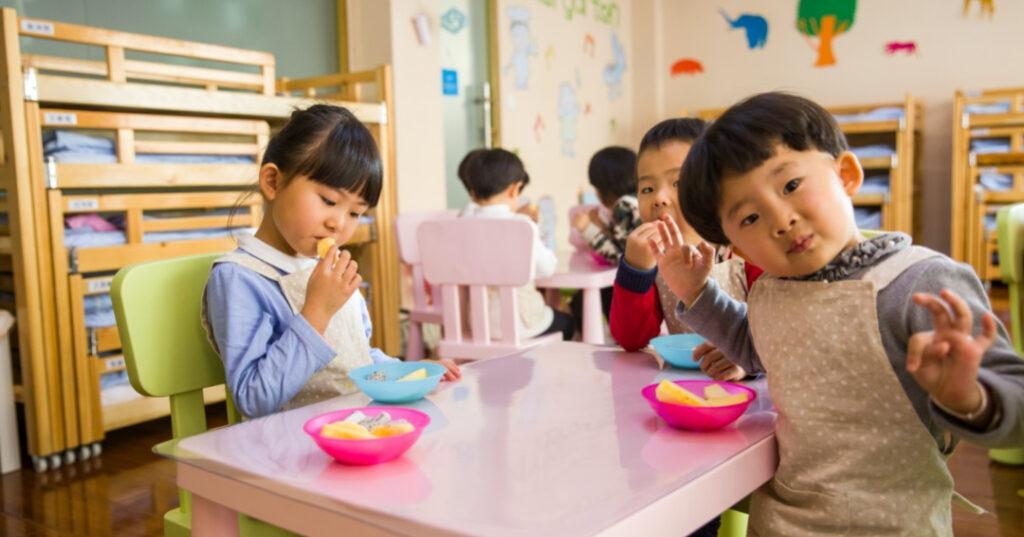 Does a Toddler Develop a Change in Eating Routine at Daycare Centers?
How to know eating routine is set on a compromise? Probably one of the teachers will report this issue; there are reasons eating patterns can go both ways. You will see positive or adverse effects.
Toddlers tend to develop a change in their habits when they feel overly comfortable or uncomfortable.
Sometimes, they may go opposite to what you expect. The 2 scenarios are your toddler can adopt manners and be good at finishing the meals, or they could get worse at it. Let's discuss it in more detail.
6 Ways a Toddler Can Be a Better Eater
Toddlers become better eaters when they are in their comfort zones. A child is only happy when they have entire space and attention. Below are a few points we'll be discussing
1. Daily Routine
Routines create discipline in a person, child, or environment. Daycares have predictable patterns that can help your child eat better.
It means they are not eating throughout the day and are not taking any solid food or snacks at an inappropriate time. It helps save them an appetite to eat appropriately.
2. Eating Time
While teachers at daycares set time for every activity, the child pays more attention to eating, playing, and sleeping at the given time. They will fill up nicely when they know there won't be another break to eat.
3. Limited Options for Lunch
Children behave differently at home and may whine or go to the pantry to eat anything other than prepared food.
The childcare centers provide 3 to 4 options, but there is no walk-in pantry, so they eat from what is available at the table.
4. Peer Pressure
Toddlers learn from their surroundings. They are known for their observing qualities. Usually, they eat because everyone around them is eating meals. They get intrigued to try different options and tastes.
Kids are more inclined to eat anything like a vegetable when they see their friends eating it because they feel comfortable around them.
5. Suitable Time of the Day
Kids usually eat when they feel like eating, so sometimes they stuff themselves so much that they don't feel hungry for another.
That 1 meal fills the calories required by the body, and it's alright if they are not eating anything else; don't force feed them.
6. Hunger Strikes
Kids may get hungrier at the daycare center than home because of all the physical activities. It's good for them to play outside or inside as it helps increase their appetite for the next meal.
3 factors affecting your child's eating routine
A new place can bring anxiety and eating disorders in a toddler's behavior; they eat less or none.
1. New Environment
It takes a couple of weeks for a toddler to adjust to the environment. They are being introduced to new faces and places outside the house, so it's normal for them to feel emotionally distressed. During this transitioning period, a child may lose appetite.
2. Shortage of Time
Usually, there is less time in a break to finish eating. Still, for slow eaters, it can become a problem as they eat even lesser than what they are capable of eating. Feeling rushed to finish food can result in no desire to eat.
3. Socializing More Than Eating
Some kids get distracted in the presence of other children around them. They pay more attention to socializing rather than eating food. If the teacher observes such behavior, the child must be seated in a quieter room and help them focus on food.
5 Ways to Deal With Picky Eaters
Every family consists of a picky eater. Toddlers at their age are beginning to develop new preferences sometimes. They like to eat one food item the next day and try another taste. Frustration is not an option in dealing with a toddler, have patience and try making nutritious food for them.
Here are some tips you can use to tackle a picky eater
Let your child eat as they like. You don't have to feed them another meal if they eat a big breakfast. Following their natural hunger will help them from being selective to non-selective in eating meals.
Don't try to bribe your child to finish their meal with treats. It will only worsen it, and you will never make them leave this habit.
If your child refuses once, don't worry and keep offering new food and the ones they didn't like before. It may take as many as 10 times before they agree to eat.
If your toddler is interested in eating meals as they wish, involve your child in planning the menu for the day. Let the child pick their favorite fruit or vegetable to make for dinner or lunch.
Toddlers are open to trying new flavors as they develop new taste buds. When you try fun recipes along with your child, it will begin to catch their interest. Arrange food in different shapes, colors, and sizes to boost their curiosity and craving.
Offering 7 Tips to Help Toddlers Adjust to a New Eating Routine
It has been a struggle for parents to make toddlers eat a healthy and proper diet. Let us take a closer look at tips that may make it an easy job for parents to adjust their toddlers to a new eating routine.
Keep a carefree approach when feeding a toddler. Staying calm is the best option because if you get furious, so will they, and you will be left alone with the meal.
Don't give your child a pack of snacks 1- 2 hours before dinner or lunch. A hungry child is open to trying something new.
Make a routine to sit together as a family and eat 3 meals daily. This way, the toddler will adopt an eating habit.
Do not insist your little one eat an entire serving at once. Sometimes they eat more at one time and do not pay attention to the next meal time. Let them play until they are hungry again.
Don't offer any substitute meal as they will get to know that you may give them chicken instead of vegetables or a snack. Make them eat that same meal whenever time they feel hungry.
Make exciting expressions or impressions of the meal you will serve them, as it will get them excited, and they may also want to eat it.
If the child enjoyed one of your meals, try twisting that recipe by adding something else, like a different fruit or vegetable.
Conclusion
Toddlers are very tricky to deal with their curiosity to explore things. Foods and flavors are over the roof. Handling a child belonging to a toddler age group, as a parent, you need to quit being frustrated and act with them as their age fellow.
It will bring a sense of comfort around you as they feel at daycare centers around their friends and teachers. We hope you enjoyed reading our blog post!