Are you looking for fun and creative ideas for painting your daycare space? If so, you've come to the right place! Here are some important points to keep in mind when you paint your daycare walls,
Use bright, primary colors to stimulate young minds.
Paint murals or patterns on the walls to create visual interest.
Use washable paint in case of accidents.
Ask the children what they want to see on the walls and incorporate their ideas.
Remember to include storage space for art supplies and toys.
This blog post will share 5 wall painting ideas that will brighten any daycare. We've got you covered whether you want to create a mural or add some simple accents. So grab your paintbrush, and let's get started!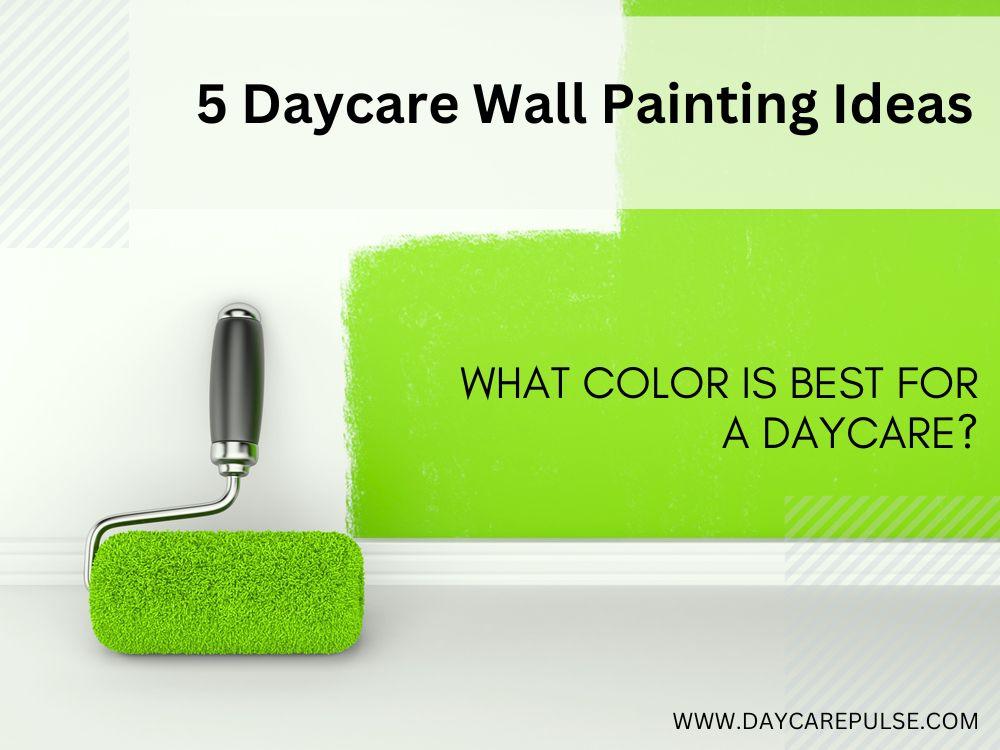 5 Daycare Wall Painting Ideas
1. Chalkboard Paint
Paint your walls with chalkboard paint to create an interactive learning space for kids. If you're looking for a fun and interactive way to spice up daycare walls, why not try chalkboard paint? It's an easy and convenient way to spark creativity in children.
Not only will the kids enjoy writing and drawing with chalk on the walls, but having an interactive learning space encourages little ones to express their emotions, think critically, solve problems, and stimulate their imaginations!
Plus, if you get tired of seeing the same pictures day after day, you can always wipe it all away in no time and start over fresh. With a few coats of chalkboard paint, daycare centers (or any space) can become an inviting and educational environment that stimulates curiosity in children.
2. Bright and Cheery Colors
Use bright and cheery colors to create a fun and inviting atmosphere, creating a daycare environment that is both fun and inviting can be achieved by cleverly utilizing bright and cheerful colors.
Whether it is a mural, carpets or furniture, incorporating a color pallet of bright and inviting shades can work wonders to create an atmosphere that will put children at ease.
From yellows to blues, reds and purples, incorporating these colors combined with dedicated daycare staff will ensure an experience filled with joy, excitement and diverse learning opportunities.
3. Wall Decals or Stickers
Add some wall decals or stickers that relate to your daycare's theme. Decorating your daycare can be an exciting part of creating a fun and inviting atmosphere for the children in your care. Adding wall decals or stickers is an easy and effective way to bring your daycare's theme to life.
Not only are decals easy to apply, but their bright colors and designs will create a vibrant atmosphere that will captivate the interest of the little ones! They look great, but with wall decals, you can quickly change them up from time to time when it's time for something new.
So make sure to explore all the possibilities as you design your daycare – adding wall decal visuals could be just what your daycare needs for a welcoming environment.
4. Hanging Artwork on Walls
Hang artwork created by the kids in your daycare center on the walls. Adding artwork created by the daycare children to the walls is a great way to provide an interactive and creative learning atmosphere. More importantly, it helps instill confidence in our young artists for their amazing skills and hard work!
Displaying their artwork also brings a sense of accomplishment to the daycare staff working diligently with our kids to make this happen. The excitement is unmistakable when parents see their kid's creativity on full show in daycare – creating those long-lasting memories. So don't hesitate any longer; let's get decorating!
5. Use Non-Toxic Colors for Kids
Ensure all the paint colors you use are non-toxic and safe for children. When it comes to daycare, safety is of the utmost importance. All daycares should ensure that the paint they use is non-toxic and safe for children — this includes wall paints, furniture paints and any playroom materials!
The last thing you want is for your daycare's environment to contain any potentially harmful chemicals. Always double-check with your paint supplier to ensure that all the colors you choose are toxins-free. Your daycare and its patrons will thank you later!
What Color Is Best for a Daycare?
The color selection phase is tricky and needs to be clarified. Here are some ideas that will make your daycare look calm and brighter.
Pick lighter or pastel colors, making the room appear bigger and brighter, for example, white or off-white. Dark colors will make your room look smaller.
The use of cool colors makes the place look calm and open. Colors like light blue, light green, white, lavender etc., are ideal.
Most importantly, make sure the ceiling is light-colored. Painting the ceiling glossy will help reflect light in all corners of the room.
Be sure to use fewer colors. Multi-colored rooms appear smaller and less bright.
Lastly, avoid filling the room with items and unnecessary decorations that may block the light.
What Are 5 Types of Painting Art Activities?
Unleash your young charges' imaginations and empower them to express themselves through painting! Here are five captivating activities guaranteed to spark creativity in the daycare center:
Finger Painting – Finger painting allows kids to embrace their creative side with an array of colorful hues while providing them with a fun, exciting, messy experience.
Watercolor Painting – Bright hues can effortlessly be blended together to craft a stunning work of art with watercolors.
Sponge Painting – Painting with sponges is an incredibly stimulating experience for kids, as they can explore the texture and properties of paint by dabbing and spreading it on paper in imaginative ways.
Oil Pastels – Unleash your creativity with oil pastels! These unique drawing tools can be used to add a splash of color and life to any surface, from paper and cardboard to rocks and more.
Tempera Paint – Using Tempera paints is a great way to create eye-catching abstract pieces with bold, vivid colors. Plus, the paint dries quite quickly so it makes for easy cleanup afterward!
With all these painting activities, the possibilities are endless! Each activity promotes imagination and exploration in a fun way that keeps kids entertained. Painting art activities can also teach children about color theory, composition, and other elements of visual arts.
Painting Tips
If you are running a daycare center, the walls of your space need to do more than just look good. The correct wall painting can form an atmosphere that is both stimulating and secure for the children under your supervision. To help with this task, here are some tips on how to paint walls in daycare centers:
Chalkboard Paint – Daycare centers will benefit immensely from this paint since it provides a hassle-free way for kids to draw and write on the walls. In addition to convenience, chalkboard paint adds an exciting interactive touch that's sure to keep children entertained!
Washable Paint – This paint is the perfect choice for rooms that face frequent contact from young hands and bodies, as it repels stains with ease and can be quickly wiped away.
Primer – Applying primer to the walls of a daycare center prior to painting is essential for lasting results and superior aesthetic appeal. The primer acts as a protective barrier between the paint and wall, providing longevity that not only looks great but also stands up over time.
Wall Decals – Wall decals are an effortless way to inject life and vibrancy into your walls – it's the ultimate method for adding a splash of lively colors in any room! With wall decals, you can create a unique atmosphere that reflects both your style and personality.
High-Gloss Paint – Make your daycare center walls shine with high-gloss paint! Not only is this type of finish easy to clean, but it will retain its glossy beauty for years. Give the space a vibrant and inviting look that children are sure to love!
Non-Toxic Paint – Above all, be sure to employ non-toxic paints when painting the walls of your daycare center. Not only is it more environmentally friendly, but also much healthier for the children in your facility as well.
FAQs
What Colors Attract Kids Attention?
When selecting hues for your daycare center, you'll want to consider shades that will both draw and captivate children. Kids are drawn to radiant and intense colors, so if you utilize them strategically throughout the walls of your facility, it can help cultivate a stimulating space. Here are some eye-catching paint color ideas:
Bright Red – If you want to boost energy in a room, this bright and vibrant hue is the perfect selection since it's known for its stimulating properties.
Orange – Radiant and comforting, this hue evokes a sense of joy and delight in youngsters. It's the ideal shade for playrooms or classrooms where children spend plenty of time, fostering an atmosphere that is sure to bring smiles all around!
Yellow – This vibrant color has been known to foster better communication and inspire creativity in kids. It's perfect for any room that seeks to promote the use of their little minds!
Green – Green is a fantastic hue choice for learning spaces, as it symbolizes and encourages growth.
Blue – Using this tranquil hue can help cultivate a soothing atmosphere in which kids can take it easy and de-stress.
Purple – As purple is associated with creativity and inspiration, it's perfect for classrooms or playrooms where kids can nurture their imaginations.
What Children Learn From Painting Activity?
Painting activities are a great way to encourage exploration and learning in children. Painting can help kids develop their creative skills, explore colors, practice hand-eye coordination, and more!
Here are some positive things children learn from painting activities:
Problem-Solving – Painting allows kids to think critically about how to create the desired effect. They must decide what materials and techniques will work best to create their desired artwork.
Color Theory – Kids can learn to mix different colors and create unique hues and shades through painting activities. It is a great way for children to understand the basics of color theory!
Self-Expression – Painting is a great way for kids to express themselves, whether it's through abstract shapes and lines or recognizable images.
Fine Motor Skills – With painting activities, children must use their fine motor skills to paint with precision and accuracy. It helps promote hand-eye coordination and dexterity.
Imagination – Painting encourages kids to be creative and explore their imagination. Kids can create anything, from abstract art pieces to landscapes and 3D objects.
Why Is Painting Important in Childcare?
Engaging in painting activities with children has tremendous benefits! Not only does it allow kids to express themselves creatively, but it also builds their confidence as they learn problem-solving.
Painting helps develop coordination and fine motor skills and encourages collaboration, teaching children how to share, interact and work together on art pieces. In other words: painting is a fun way for kids to blossom into creative thinkers!
What Can Toddlers Use to Paint?
Painting is a great activity for kids. Because it brings out big imaginations in a little one, to make it more fun, toddlers can use multiple pieces of equipment to paint, like:
Fingers for finger painting
Washable paints
Some paint brushes
Markers
Watercolor paints
Crayons
Pencil colors
What Are Some Daycare Setup Ideas?
Daycare centers should be designed to provide a safe and stimulating environment for the children in your care. Here are some daycare setup ideas that you can use:
Flexible Furniture – Using flexible furniture, such as chairs on wheels or adjustable tables, will make it easier to rearrange the daycare space as needed.
Designated Play Areas – Setting up activity rooms such as free play, arts and crafts, physical activity, and storytime.
Workspaces – Provide students with workspaces, such as desks or tables, for more focused activities.
Quiet Spaces – Daycare centers need quiet spaces where children can go if they need some time away from the group. These spaces should be inviting and comfortable, with books or puzzles available for the kids.
Natural Light – Let in as much natural light as possible by keeping windows and doors open during the day. It helps create a bright and cheerful atmosphere conducive to learning.
By incorporating these setup ideas into your daycare center, you can create an environment that encourages learning and exploration. Read more about Daycare setup ideas.
Conclusion
Creating a learning space that is both fun and inviting for young children can be achieved by following the steps in this blog post. By painting the walls with chalkboard paint and adding colorful wall decals, you will create an atmosphere perfect for kids to learn and play in.
Remember to hang artwork created by the kids in your daycare center on the walls too!
And last but not least, ensure all the paint colors you use are non-toxic and safe for children. Implementing these tips will undoubtedly create a happy and healthy environment for all involved.