Why Does Daycare Need Social Security Number: Safeguarding Your Child
When enrolling kids in daycare, parents often face the decision of providing their child's Social Security Number. While there is no federal law requiring SSN collection, some childcare centers may still request it during enrollment.
Social security number is required by daycare businesses for standard identification checks. For instance:
To authenticate the child's age and relationship with the parent.
To enroll in government food programs and for tax purposes.
To track the parent if the parent leaves owing them money.
This blog post provides an in-depth explanation, tackling all aspects concerning the requirement and usage of a child's Social Security Number (SSN) in daycare settings.
Keep reading to discover the potential risks of providing social security numbers to daycares. And learn easy alternatives and tricks to avoid any security problems and stress.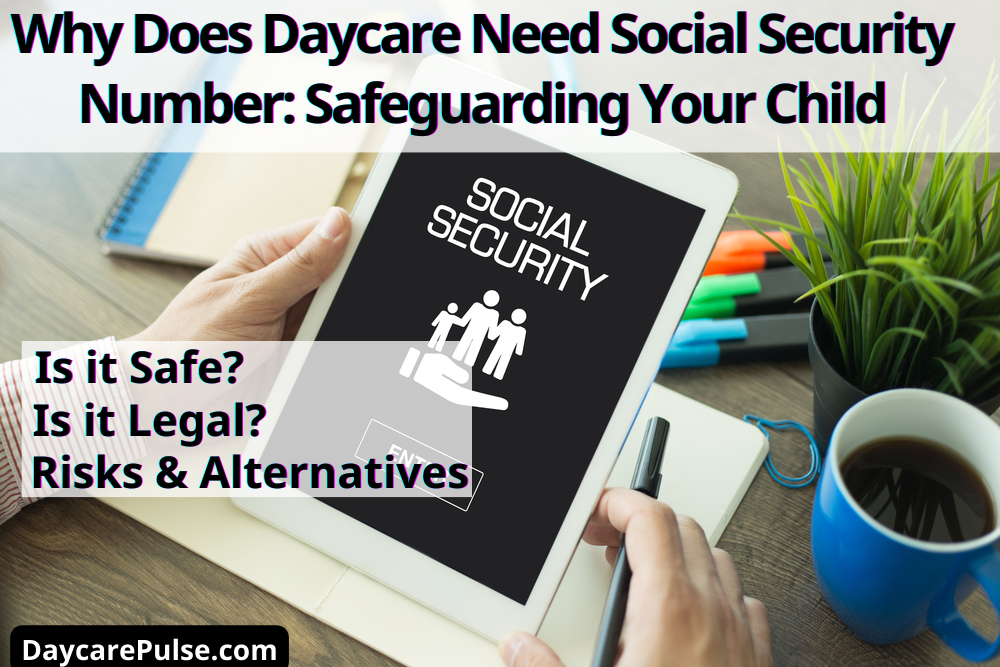 Why Does Daycare Need Social Security Number
Daycare providers rely on the Social Security Number (SSN) as a crucial component of efficient operations.
SSN as an Administrative Identifier ensures accurate record-keeping and becomes an integral part of emergency protocols.
Compliance with government regulations, streamlined communication with parents, and secure financial transactions all depend on the SSN.
It acts as a guardian of order, allowing daycare centers and family child care providers to uphold standards, maintain security, and provide seamless services.
Skipping background check can put this essential process at risk.
Why is SSN of Child Needed at Daycare
Purpose
Daycares often demand a child's SNN (Social Security Number) or birth certificate for enrollment purposes. Such documentation is required to:
Authenticate the child's age and relationship with the parent.
SNN is also necessary to claim any government assistance for that child, such as the USDA food program.
Daycares may ask for the SSN of the child in order to claim the child as a dependent on their taxes. This can help the daycare to receive tax credits or deductions.
You might also want to read: Can Daycare Refuse to Release a Child to Parent?
Some daycares use the child's SNN as a unique identifier for security concerns. This distinct identification enables guardian parents to visit the childcare facility and access confidential information in person and online.
Related Article: Do I need my child's birth certificate for daycare?
Potential Risks
One of the biggest risks of providing Social Security Number to anyone is identity theft.
The child's SNN number should only be shared with the authorized childcare employee (the daycare licensee) to reduce the risks of identity theft.
However, no one is entirely immune to data breaches.
According to one Experian report, child identity theft is easier than adult identity theft since parents don't maintain track of their children's credit histories until they reach college age. As a result, the offender has a blank slate for obtaining loans or credit cards in the children's names. How to Protect Your Child From Identity Theft
Some of the other risks include:
There are several instances when a child is incorrectly listed as a dependent on someone's (other than their parent's) tax return.
Someone who is not entitled to work can also use a child's SSN for employment illegally.
Alternatives to Social Security Number
Ask if daycare can use a birth certificate instead.
Ask if they can use driving license number as a unique identifier.
Ask if they can use the parent's SNN instead of the child's SNN.
Get a security freeze on the child's credit report.
You might also want to read: Daycare Enrollment Process
Why SSN of Parents Is Needed at Daycare
Purpose
Daycare facilities may require a parent's SNN (Social Security Number). The most common reason are:
If the parents are unwilling to give away their child's SNN.
When bills are not paid, SNN is used to report a person to credit bureaus.
You might also want to read: Can You Claim Daycare on Taxes?
Potential Risks
Careless handling of your data by daycare or a dishonest person with your Social Security number can use it to obtain additional personal information about you. Identity thieves can use your phone number and credit to apply for credit in your name.
Alternative
Consider submitting your driving license for security check at pick-up and drop-off. You can provide the birth certificate of your child or passport for relationship verification at the time of enrollment.
Why SSN of Employees Is Needed at Daycare
Purpose
Employees must provide SNN numbers to employers in most states for:
Taxation and security reasons.
The employee's SSN is needed to verify that the individual is legally permitted to work and has not been convicted of a crime.
SNN is used by employers to report an employee's salary and other income information to the Internal Revenue Service (IRS).
Potential Risks
Giving an employee's SSN to the daycare can have serious risks. It could lead to identity theft and unauthorized access to sensitive information.
If the daycare's storage systems are not secure, there's a chance of data breaches. This could expose the employee's SSN and result in fraudulent activities.
Mishandling the SSN could lead to unlawful employment, fraudulent tax refunds, or even selling it to other criminals.
Alternative
Instead of an SSN, employees can use a state-issued ID number.
In certain situations, a Taxpayer Identification Number (TIN) can be accepted instead of an SSN.
For tax reporting, an Individual Taxpayer Identification Number (ITIN) can be used instead of an SSN.
To conduct background checks, employees can authorize the release of their records directly from relevant authorities instead of providing an SSN.
Secure data encryption tools can be used to store sensitive information, reducing the need for employees to frequently provide their SSN.
Background Search with Social Security Number
A daycare must meet various safety rules to be licensed. Criminal background checks and child abuse history checks are part of the safety standard checks.
Thus daycare childcare providers or employees need to provide their SNN (Social Security Number) to the daycare provider as per government regulation.
You might also want to read: Daycare Inspection Report
4 Useful Tips
Demand to check the daycare's license to verify their legitimacy. Also, an employer identification number (EIN).
Always ask the daycare why it's needed, and only provide it if you are comfortable with the explanation.
Ask the daycare if it's required by the state to have it on file. It is your right to know if providing SSN is mandatory or voluntary.
Ask them what preventive steps they take to protect your info and who will have access to your data.
Quick Tip: In case if you have not applied for Social Security Number for your baby, here are some additional quick steps to get it done.
What Do You Need to Get Social Security Card
Commonly required documents include the following:
Document proving the child's age, identity and citizenship i.e. birth certificate.
Document proving child and parent relationship.
For the SNN of a child aged 12 or more, you would need to bring your child in person for an interview.
Adoption certificate in case of an adopted child.
Apply for Social Security Number for Baby
It is preferred to apply for a child's SNN in the hospital at the time of birth. If you haven't yet applied, you can also apply for SNN online.
For more details regarding the process, refer to this article: Social security number for children.
In some states, daycares are required by law to get children's social security numbers. Therefore in order to use licensed daycare services, you need to provide your child's SSN.
You may also require your child's SNN to secure healthcare benefits or other government services for your child.
Frequently Asked Questions
Should I give SSN to the Daycare?
Caution is advised when giving out your Social Security Number (SSN) due to identity theft risks. Daycares may require it for tax purposes or identification purposes, like claiming childcare expense deductions.
However, alternative identification methods, such as driver's licenses, may be acceptable. Always inquire about the need, access, and protection of your SSN. Skipping its provision is common if other means are available.
Can I refuse to Give my SSN?
People skip this option usually and anyone can refuse to provide their social security number. But a non-government daycare provider can lawfully refuse you the service as well.
Daycare's SNN requirement could be a state-regulated demand. If such is the case, it is advisable to confirm it by calling the agency supervising childcare services and licensing in your area.
Conclusion
It is crucial to carefully consider the risks and alternatives before providing your SSN to a daycare. Understand why it is needed, how it will be used, and protected!
Daycares should secure sensitive information and only request SSN when absolutely necessary. Parents can consider alternative methods, like state-issued IDs or direct record release from relevant authorities, to safeguard personal information.
Remember, when in doubt, always ask questions and do your research before making any decisions!!! With knowledge and caution, protect your child's personal information. Stay vigilant and safe!