Can a Daycare Refuse to Release a Child to a Parent?
You drop your child off at daycare, feeling confident that they'll be well-cared for until you return to pick them up. But what if the daycare refuses to release your child to you?
It's a scary thought, but it can happen.
The childcare facility has the right to refuse to release a child to a parent under certain circumstances. For instance
The parent is not on the approved authorized pick-up list.
If parents have signed a daycare policy to not pick up their child under the influence of drugs or alcohol.
One of the parents has a legal order prohibiting another parent from contacting the child.
In this blog, we have provided practical solutions to help you deal with such situations and an insight into your legal daycare rights that you should know to avoid future stress.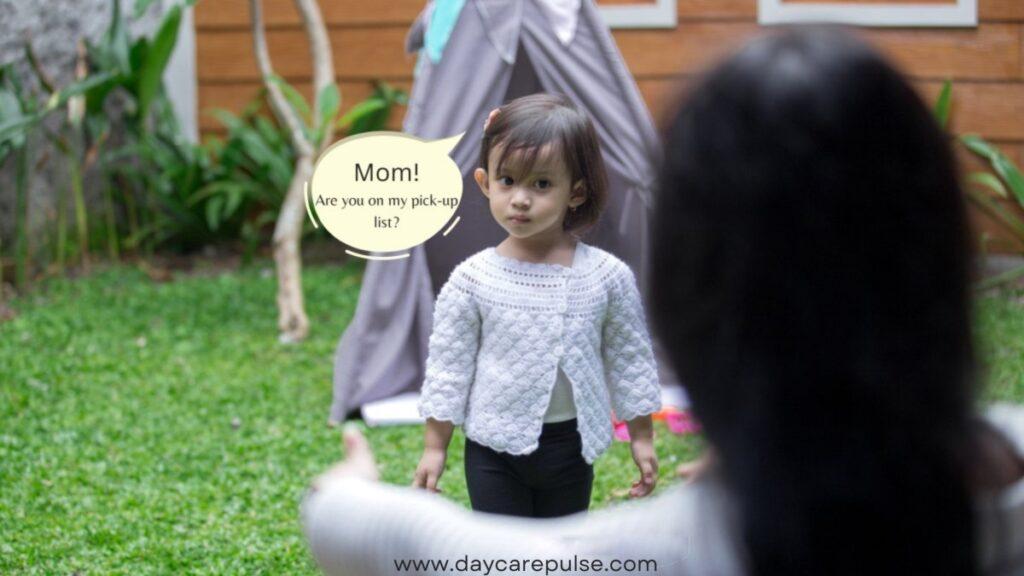 What to Do If Daycare Refuses to Release a Child?
If a daycare refuses to release your child to you, it's important to stay calm and try to understand why.
If you're unsure why the daycare refuses to release your child, ask them to explain their reasons. Once you understand the reasons, you can try to address them.
For example, if the daycare refuses to release your child because you're not on the approved pick-up list, you can ask them to add you. If the daycare is refusing to release your child because they believe you're under the influence of drugs or alcohol, you can offer to take a drug test.
You might also want to read: Can Daycare Refuse a Child with Disability?
If you cannot get your child released, you may need to contact the police. The police can help you determine if the daycare is legally justified in refusing to release your child.
It's important to remember that daycares are responsible for the safety of the children in their care. If they believe that a child is in danger, they have the right to refuse to release the child to anyone, even the parent.
Parents Daycare Rights
As a parent, you have certain rights when it comes to your child's daycare experience.
Some of these include being informed about any changes in the schedule or policies, having regular access to updates on your child's progress and behavior, and knowing what types of disciplinary measures may be taken in case of misbehavior.
While daycares do their best to accommodate the needs of all parents and children, sometimes difficult situations may arise. For example, if your child becomes sick or experiences an injury while at daycare, you will need to take appropriate action.
In such cases, the daycare may need to contact you to pick up your child at an odd or unexpected hour or could ask your child's pediatrician for medical assistance.
At times, the unavailability of one parent or both can complicate the situation, especially if an unauthorized person comes in to pick up a child.
Which raises similar questions in your mind that I am about to discuss:
Tip: Ask your daycare service for over-the-phone approvals for authorized kid pick-ups at the time of enrollment.
Is It Necessary for a Parent to be on a Pickup list?
Yes, the parents do need to be on the pickup list; however, the childcare facility cannot refuse to provide the kid to the parent unless a particular legal order forbids them from doing so.
Also, by law, daycare is not required to have a list of parents who can pick up their children or to have any particular rules regarding parent pick-ups. But to protect the security of all the kids in their care, most childcare centers have set policies and guidelines.
You might also want to read: Daycare Enrollment Process
As a result, it is typically advised that parents give notice in advance when they want to pick up their kids from daycare. This includes getting the names of both parents on the child pick-up list as well.
Why Can't Parents Just Come Whenever They Want?
Imagine you have a bunch of infants in your care, and your staff is coming in and out dropping off and overseeing last-minute pick-up calls. The entire area would be in disarray. Because there was no defined timetable, none of the children received adequate care and attention.
Daycares need to manage their schedules since they care for several kids carefully. As a result, they usually cannot accommodate same-day requests or last-minute scheduling changes.
But all this is beneficial to your child. It ensures that all children are looked after effectively and receive the care they require regularly without any constant interruptions.
What if a Child is Released to an Unauthorized Person?
Daycare centers are allowed to release children only to a parent or a person designated by the parent.
Authorized persons generally must be over the age of 18 and have valid photo identification with the written consent of the parent or guardian.
If an unauthorized person arrives at the entrance to pick up a kid, an administrator or other full-time staff member would communicate with the custodial parent immediately. Most likely, permission won't be granted to any unauthorized person over a mere phone call from a parent.

If a person who is not authorized or listed by the parent as permitted to pick up the kid claims to be the child's parent or legal guardian, the daycare will usually follow the following procedure:
The parent is alerted promptly if the non-custodial parent or other unauthorized individual does not have the parent's authorization.
Examine the child's file. Follow the directions on any court orders in the file.
Staff will call the police if an authorized person attempts to take the kid away.
Daycare Pick-up Policies
At many daycare centers, it is necessary for parents to be on a pickup list to safely and legally pick up their children.
As parents, it is critical to understand the daycare pickup policy to know your rights and what to anticipate when picking up your kid, whether it is a routine or emergency pickup.
You might also want to read Daycare Policies Handbook
Routine Pickups
Children must be signed in and out on the daily attendance sheet by their guardians.
Individuals picking up the child must be on the authorized people list.
The authorized person or parent must show a valid ID.
Emergency Pickups
In an emergency, your daycare provider must call you or your authorized substitute in order to pick up your kid. If a parent needs to make an emergency pick-up, they must notify the administration in advance to ensure a seamless and safe pick-up procedure.
Tip: You can ask your daycare provider for a limited number of monthly special permits to pick up your child off schedule or pay a surcharge for a late pick-up service.
Conclusion
In today's bustling environment, many parents rely on childcare facilities to care for their children while they are at work or running errands.
As a parent, you must know the daycare pickup regulations and procedures. This will help ensure that your children are picked up and returned safely and that any issues or emergencies are addressed as quickly as possible.

Ultimately, just remember that these procedures are in place to keep everyone safe and to protect your own child's well-being, not to make you uncomfortable.