Can a Daycare Refuse a Child with a Disability
Since special needs children require more attention at daycare, making it more challenging for parents.
But this search becomes much more difficult when daycares deny admitting disabled children.
But is it legal for a daycare center to refuse to enroll a disabled child?
The answer is yes. This is a difficult decision for daycares as well. But it is important to remember that childcare centers are responsible for the safety and well-being of all of the children in their care.
If they do not have the resources to meet the needs of a child with special needs, they may not be able to provide the child with the care they deserve.
This article will cover your child's legal rights and daycare rejection grounds. You'll also find information about right platforms for your special child's care.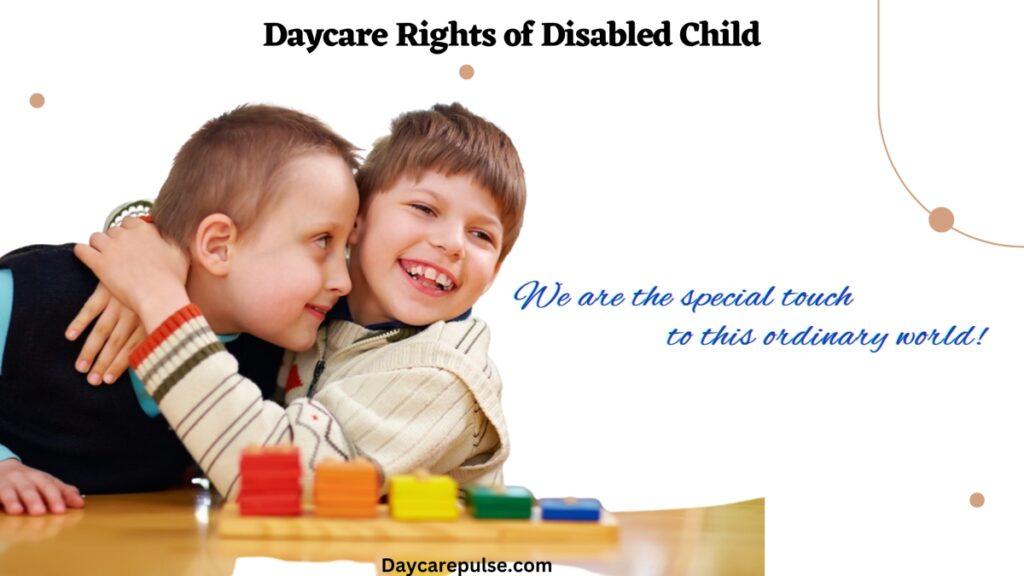 Why Might a Daycare Refuse to Accept a Disabled Child?
A daycare center may legally refuse to accept a disabled child if they have to change their system to accommodate the child.
Other than these circumstances, they can't refuse to accommodate a disabled child. For example, they might not have a ramp or an elevator to allow a child in a wheelchair to access the building. 
You might also want to read: How to Look Up Daycare Violations?
In general, a daycare has right to deny admission of a child with special needs if it believes it does not have the resources available to meet its particular needs. Daycare can also refuse admission if the child's presence would interfere with the ability of other children to receive care.
Daycares can refuse to accept a special children if their presence threatens others. Some daycares simply might not be comfortable or familiar with caring for children with disabilities. Such a response can result from a lack of understanding or awareness about disabilities.
You might also want to read: Can a Child Get kicked Out of Daycare for Biting?
It is advantageous for parents to avoid facilities that are reluctant to cater to their child's particular needs.
Most of the time, inexperienced staff can create an environment that is not welcoming or inclusive for children with disabilities and their families, thus causing inconveniences for kids and parents in the future.
You might also want to read: Nanny Vs Daycare
Legal Obligations for Daycare Concerning Children with Disabilities?
It is essential to note that a daycare cannot refuse to accept a child based on their disability alone; they must also be able to show that admitting the child would pose an undue burden or hardship.
According to ADA (Americans with Disabilities Act), parents can ask the daycare for special measures and changes such as removing barriers, moving things to the child's reach, and hiring trained staff according to the needs of their disabled child. 
You might also want to read: How to Report a Daycare to the State?
3 Types Disabilities and Appropriate Service Provider
Several different types of child disabilities can impact a child's development and ability to function in daily life. This could either be some developmental delays or physical disabilities.
Each type of child's disability requires different services and support to reach their full potential. Working with a qualified and experienced service provider familiar with your child's specific type of disability is essential.
The service provider should be able to develop an individualized plan to address your child's needs and help them to reach their goals. The child's disability may be categorized as:
1. Temporary Disability
Temporary disability includes behavior problems caused by trauma or an accident. It might also entail temporary physical impairment as a result of an injury.
Attention problems, anger difficulties, impulsive conduct, and hyperactivity are among the temporary psychological concerns. Such temporary disabilities can be remedied by providing the kid with adequate care and attention.
2. Physical Disability
Physical disability includes blindness, deafness, mutism, and other handicapped conditions. Having a physical disability can affect every aspect of a child's life. It can impact their ability to move, communicate, eat, and breathe.
Many children with physical disabilities require special medical care and equipment to live as normally as possible. Children with physical disabilities would need more medically equipped and dedicated daycare centers.
3. Psychological Disability
Psychological disabilities include bipolar disease, Autism, obsessive-compulsive disorder, etc. In addition to the challenges they face in school and social situations, children with psychological disabilities may also have difficulty forming and maintaining relationships.
You might also want to read: Will Daycare Help My Child Talk?
Children with psychological disabilities may also be at increased risk for mental health problems such as anxiety and depression. A daycare facility entailing professional psychologists as part of its staff would be a better option for parents.
Child's Rights According to the ADA?
Americans with disability act (ADA) states that daycare centers are legally responsible for arranging a healthy environment with special arrangements for special children. They are obliged to hire professional staff for every kind of particular need.
Disabled children are more prone to being bullied and neglected, so daycare centers must pay special attention to the children.
You might also want to read: Can a Daycare Kick a Child Out?
Under the ADA, daycare must provide children with disabilities the opportunity to participate in the general curriculum. They must also make reasonable accommodations to ensure that children with disabilities have an equal opportunity to participate in different activities.
Checklist for Parents to Pick the Right Daycare
Finding the right daycare for your child is a sensitive task, and it is more prudent if your child needs special treatment. I have listed some points to consider while searching for a daycare:
Make sure the facility is clean and well-maintained to assure the health and safety of your child.
The staff must be qualified and caring enough to make your child comfortable.
Check for the extraordinary arrangements that fulfill your child's unique needs.
Make sure the daycare is providing a nurturing environment for your child.
Find a daycare that fits your budget and meets your child's needs.
There are also a number of resources available to help parents find inclusive daycares that are welcoming to children with special needs. The National Association for the Education of Young Children (NAEYC) has a website with a searchable database of child care providers that are disability-friendly.
You might also want to read: What is the Ratio of Child to Staff in Daycare
Strategies for Caregivers to Provide Adequate Support
Every child is unique, so caregivers should opt for different techniques to approach children with additional needs. This can be done by observing the child, talking to their parents or guardians, and consulting with professionals familiar with the child.
Once caregivers understand the child's needs, they can develop a plan to best support them. This plan should be tailored to the individual child and may need to be adjusted over time as the child's needs change. 
You might also want to read: Fundraising Ideas for Daycare
Caregivers can approach children by arranging different activities and promoting communication.
It is also essential to involve the child's parents or guardians in their care, as they are the ones who know the child best. Caregivers should also be aware of their limits and seek support from others when needed.
Conclusion: Resources and Support Systems
As a parent of a disabled child, you may feel like you are the only one who understands your child's special needs. But you are not alone.
Many resources and support systems are available for parents of children with disabilities like UNICEF's online platform for disabled children.
Some of these include online forums and support groups, special education services or programs, early intervention programs, respite care services, assistive technology devices or apps, therapeutic services or therapies such as physical or occupational therapy, and disability advocacy organizations.
The Individuals with Disabilities Education Act (IDEA) provides free education and related services to children with disabilities. Daycares are strictly ordered to practice equality among special children and other children to boost their confidence and self-esteem.