6 Vital Questions for Daycare Providers to Ask Parents | Provider Questions
Imagine a child in your care developing acute anxiety, with all eyes on you.
What if a child's psychological trait turns risky to another child, or what if a child in your care falls ill unexpectedly, and you have no clue what went wrong?
These scary scenarios are realistic and as preventable as choking on a cantaloupe!

Parents are primarily concerned about their child's safety and comfort at any daycare. Your questionnaire needs to include private, personal, health and security-related queries. The most important fields of questions in a daycare questionnaire for parents include:
Family dynamic
Medical History
Educational Background
Finances and daycare policies
Food Priorities
But, beware of counter concerns and communication methods mentioned in this blog.
Which daycare do parents prefer? I have sorted interview questions for you in 5 important areas to win parents' trust and deliver outstanding service.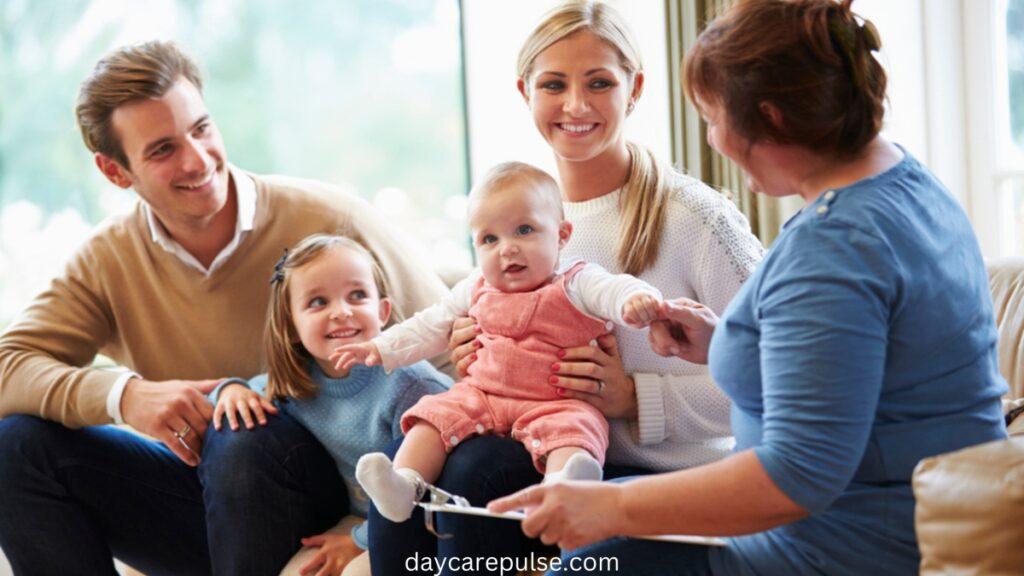 The Importance of Asking Questions From Parents
Asking all essential questions from parents during the registration process allows you to care for a kid effectively and demonstrates your general professionalism and profound concern for someone's child. 
So, from a professional and moral standpoint, ironing out a few details beforehand could spare you from future problems and add more credibility to your daycare's image.
5 Important Categories for Parent Interview
1. Family Dynamics
Having a basic know-how about how a child's family functions would allow you to put forward the most appropriate package in front of parents according to their needs.
Also, knowing pertinent details about the child's family helps you navigate the Child's everyday journey. Some essential questions regarding family dynamics could be:
Does the child have any siblings or not?
How much attention does the child get at home?
Parents' marital status? In case of separation, ask about the custody agreement.
Who will be responsible for picking up your child?
Who are the primary and backup emergency contacts?
Are there any religious concerns that they want you to consider?
2. Medical History
When considering a kid for enrollment in a daycare or childcare facility, providers should acquire as much information about the child's medical history as feasible.
Doing so can help them better understand and timely detect any possible health hazards. When obtaining a child's medical history, some crucial questions to ask include:
Is your child vaccinated?
Does your child have any health issues?
Does your child have any psychological conditions?
Is your child allergic to food or has a dietary restriction?
Is your child on any kind of medication?
Would you want us to cater to the daily medicine routine of your child?
Are there any special requests or needs you would like us to work on?
You might also want to read: Can Daycare Give Medicine?
3. Educational Background
Learning about educational background may only sometimes include academic qualifications. It would help if you asked about the child's social, emotional, physical, and cognitive learning progress.
This information will help you select what daycare activities will aid your child's development and growth. So here are some vital questions to consider:
What age-appropriate personality traits does your child have or lack?
What activities would you like to involve your child in during playtime?
What learning methods work best for your child?
What learning activities does the child follow at home?
How is discipline being taught at home?
Any habits or traits about the child that are of concern, like biting habits etc.?
You might also want to read Daycare Handbook Examples
4. Finances and Daycare Policies
Providers need to gather as much information as possible about the parent's employment and financial status when considering a child for enrollment in a daycare or childcare program.
This can help daycares better understand parents' needs and the potential challenges in meeting their child-related expenses. Some key questions to ask when gathering this information include:
What's your budget plan for daycare outdoor activities and workshops?
Do you have your child's medical insurance updates?
Will the kid be attending daycare full-time or part-time?
Are they comfortable with your holiday schedule?
Do they recognize the additional fees for special needs services?
Would they like to get paid daily for baby necessities like diapers, milk and food?
You might also want to read Daycare Payment Policy – Easy & Time Saving Guide
5. Food Priorities
Kids could sometimes be picky about their food, which is completely normal. Preparing about kids' food routines and preferences beforehand could save you from daily food fuss. Ask parents the following questions to make an individual food chart according to the child's well-being:
Food allergies a child may have?
Nutritional food essentials according to a pediatrician?
What is the Daily eating schedule of the child?
Food likes and dislikes?
Would the child have home-brought food or daycare food?
You might also like to read: What Food Do Daycare Centers Provide to Children
How to Ask Questions Respectfully
Many of the above-mentioned questions might have sounded way too direct and personal to ask. So, to avoid the fear of losing clients while yet being able to ask for necessary details, the following tips could come in handy:
· Use open-ended language.
· Ask parents to address any of their concerns first.
· Clarifying any misunderstandings then and there.
· Avoid asking any offensive questions about cultural beliefs or political affiliation
Prioritize Important Questions
One way to begin interviewing parents in a more friendly and warm way could be prioritizing questions that would be of equal concern for parents as well, for instance:
· Safety concerns
· Allergies and special needs
· Emergency Contacts for Instant Pickups
· Authorized pickup individuals
You might also want to read: Can Daycare Workers Kiss Babies?
Least-considered 6 Vital Questions
It just takes a little step to win a parent's heart. Make their concerns yours, ask them their troubles, assure them about your parallel efforts, and make them feel heard. Just 6 questions and you are done having parents' trust:
What are your expectations and boundaries for caregiving?
Has your child ever attended daycare?
What nap time routine would work for your work schedule?
What are you currently seeking daycare for?
What were your previous daycare concerns?
Do you have any queries for us?
You might also want to read: Daycare Nap Room Ideas
Conclusion: You Are Helping Parents
Since daycare providers have better knowledge about the child in their care, they can use their knowledge to aid parents. Parents can use their observation of each child's behavior and progress to interact better with their children.
One way daycare providers can do this is by giving feedback to parents about how their child behaves in daycare. For example, if a child is often playing alone or has trouble making friends with other kids, the provider could suggest how parents could work on this at home.
You can offer input on how parenting styles affect child behavior at daycare. For instance, if a child reacts well to more structured parenting but not so well to more relaxed parenting methods, the provider may advise the parent on what to focus on at home to help their child flourish.
Share these perks with parents to make the interview process go more smoothly. Sharing interview advantages with parents would increases customer satisfaction and help them understand why your facility is a good fit for their child's needs.