Best daycare lunch box | Tiny Bites, Big Delights
Being a parent you want to make sure your child get to eat healthy and delicious meal everyday at daycare, but you also don't want to deal with a mess.
Insulated lunch boxes and bento boxes are two popular options for packing daycare lunch. Insulated lunch boxes are a good choice for preventing leaks and spills, while bento boxes offer more space for food variety.
But how can you be sure that your lunch box will actually work as advertised?
This guide covers detailed information regarding the best daycare lunch box, including:
Expert advice on what to consider when selecting a lunch box.
Our testing process, and top choices for different types of lunch boxes.
Keep reading to make a confident shopping decision.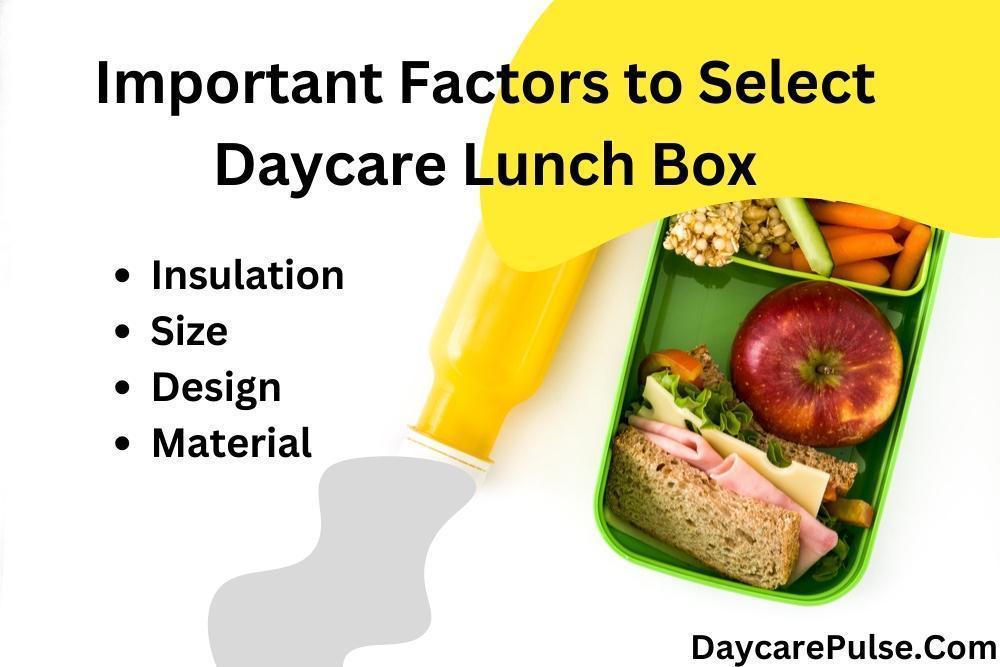 Why You Can Trust Us
We are not casual bloggers, writing about lunch boxes without any serious thought or purpose.
We are a dedicated team of researchers, writers, and parents who focus on addressing daycare-related issues and concerns for both parents and service providers.
It isn't easy to pack healthy and yummy snacks for kids every day. We also know how frustrating it is to deal with lunch boxes that are hard to clean, easy to break, prone to spills, or simply boring to look at.
That's why we decided to do something about it.
We spent several hours researching lunch boxes for toddlers, comparing their features, prices, sizes, designs, and customer reviews. Additionally, we thoroughly looked into the opinions of experts such as pediatricians, nutritionists, and teachers on what qualities make a good lunch box for kids.
How We Tested
We tested each lunch box before picking it as the best daycare lunch box based on the following criteria:
1. Care and Maintenance
How easy is it to clean and store the lunch box? Is it dishwasher-safe, machine-washable or wipeable? Does it have any parts that can break or get lost?
2. Price
How much does the lunch box cost? Is it worth the money? Does it offer good value for the quality and features?
3. Usability
How convenient is it to use the lunch box? Does the material contain any toxic chemicals? Is it easy to open and close for toddlers? Does it have enough compartments or containers to fit different types of food? Does it come with any accessories, such as utensils, ice packs, or stickers?
4. Durability
How sturdy is the lunch box? Is it made of high-quality materials that can withstand drops, bumps, and spills? Does it have any warranty or guarantee?
What to Look for in a Lunch Box
Choosing the right lunch box depends on your specific needs and preferences. Here are some factors to consider when looking for a lunch box:
Size and Capacity
Consider how much food you typically bring for lunch. Make sure the lunch box has enough capacity to accommodate your meal, snacks, and any additional items.
Insulation
If you need to keep your food hot or cold, look for a lunch box with insulation. Insulated lunch boxes help maintain the temperature of your food, preventing it from spoiling or getting too cold.
Material
Lunch boxes come in various materials, including plastic, metal, fabric, and more. Choose a material that suits your preferences in terms of durability, ease of cleaning, and whether it's free from harmful chemicals.
Compartments and Dividers
If you prefer to keep different types of food separate, look for a lunch box with compartments or dividers. This can help prevent your food from mixing and maintain its freshness.
Ease of Cleaning
Consider how easy the lunch box is to clean. Some materials and designs are more dishwasher-friendly, while others may need to be hand-washed.
Leak-Proof and Spill-Proof
If you plan to carry liquids like soups or dressings, make sure the lunch box is leak-proof or spill-proof to prevent messes inside your bag.
Closure Mechanism
Check the closure mechanism of the lunch box. Some have zippers, while others have clasps or snaps. Choose one that is secure and easy for you to open and close.
Portability
Consider how easy it is to carry the lunch box. Look for features like handles, shoulder straps, or the ability to fit into your bag comfortably.
Microwave and Freezer Compatibility
If you plan to heat or freeze your meals, ensure that the lunch box is microwave and freezer-safe. Check if any included containers or compartments are safe for these purposes as well.
Durability
Invest in a lunch box that is durable and can withstand daily use. This is especially important if you carry it in a backpack with other items.
Style and Design
Choose a lunch box that fits your personal style. There are various designs, colors, and patterns available to suit different preferences.
Brand Reputation and Reviews
Research the reputation of the brand and read reviews from other users. This can give you insights into the quality and performance of the lunch box.
By considering these factors, you can find a lunch box that meets your specific needs and enhances your overall lunchtime experience.
Our Top 6 Picks
Based on our testing criteria, we selected the following products as our top picks for different categories of toddler lunch boxes:
1. Best Insulated Toddler Lunch Box
Our Pick: Insulated Daycare Lunch Bag
This classic lunch bag from Hydro Flask is one of the best-insulated lunch bags for toddlers.
This lunch bag has a sturdy yet flexible handle that fits small hands.
What makes it special are the two layers of insulation to keep food chilled or hot for hours.
Why we love it:
Easy to clean, fully lined interior
Available in various vibrant colors
BPA-Free material
Sturdy and roomy enough.
Interior Band to hold ice-pack
What could be better:
Has a zipper opening which can be difficult for toddlers to deal with.
The size is similar to that of a small backpack for a toddler.
Slightly heavy for a toddler to carry comfortably.
You might also want to read: How to Send Oatmeal to Daycare?
2. Best Bento Toddler Lunch Box
Our pick: Bentgo Kids Brights Leak-Proof Lunch Box
If you're looking for a great bento lunch box for toddlers, consider the Bentgo Boxes.
They're highly regarded for their kid-friendly design.
This purchase would solve your lunch box problem by providing options for a variety of food items such as sandwiches, salads, fruits, and dips.
Why we love it:
5 Spill and leak-proof compartments
Microwave-safe and dishwasher-safe removable tray.
Ideal portion size for toddlers.
BPA-free material.
Available in four bright colors that your little one will surely love.
What could be better:
If the lunch box is not washed within a day in hot temperatures, silicone seals can develop mold.
2 customers have reported that it can only last leak-proof for a year.
3. Best Stainless Steel Lunch Box
Our pick: PlanetBox Rover Stainless Steel Lunch Box
If you want a durable and eco-friendly lunch box for your toddler, you can't go wrong with this stainless steel option from PlanetBox.
This lunch box has five compartments that can hold various foods without mixing them up. It also has two dipper containers with silicone lids perfect for sauces, dressings or yogurt. It comes with a magnet set that you can use to decorate the lid with different themes. You can also buy a matching carry bag with an insulated pocket.
Why we love it:
Durable and eco-friendly
Easy to pack and handle
Lead, PVC, and BPA material free.
Easy to clean. Just be mindful of magnets.
2 leak-proof containers, 2 big and small round dippers.
What could be better:
Expensive
All compartments are not leak or spill-proof
Not microwave-safe
Not ideal for thick sandwiches
If the lunch box falls by mistake, the clip on the Rover does not stay closed.
Could be heavy for a toddler to carry
4. Best Freezable Toddler Lunch Box
Our pick: PackIt Freezable Snack Box
This freezable snack Box incorporates Eco-Freeze technology, which consists of a gel that can be frozen and is integrated into the walls of the snack box.
With the ability to be frozen and reused, it is an ideal product for frozen daycare snacks.
To keep your food chilled until lunchtime, simply freeze the entire lunch box overnight and fill it with food in the morning.
Why we love it:
Eco-friendly freezable gel liners
A small size that can easily fit in a diaper bag
Easy zipper opening
Affordable price, just $17.99
What could be better:
It would occupy freezer space.
Could develop condensation outside and wet other things in the diaper bag.
According to one user, the bag stayed cool for a few hours only.
5. Best Toddler Food Jar
Our pick: Thermos Funtainer Food Jar
This food jar is an excellent choice for sending hot soups, stews, or pasta dishes to daycare. It has double-wall vacuum insulation that can maintain the food's temperature for up to five hours or keep it cold for up to seven hours. Additionally, it features a wide mouth which makes it simple to fill, eat from, and clean.
Why we love it:
Double-wall vacuum insulation
Temperature retention is up to 7 hours for cold food and 5 hours for hot snacks
A wide mouth makes it easy to clean and use
Multiple colors available
The perfect serving size for a toddler
Durable due to stainless steal material
You might also want to read: Daycare Hot Lunch Ideas
What could be better:
Stickers on the outside are likely to come off if washed often.
Stainless steel makes it prone to dents
Could leak if not closed properly
6. Best Toddler Lunch Box Set
Our pick: Insulated Bento Lunch Box Set
This lunch box set is our top choice for daycare toddlers and for all the right reasons.
Why?
The set includes reusable utensils with a case, a thermos for hot, cold, liquid, and semi-liquid food, and a leak-proof silicone container that fits tightly.
Furthermore, this lunch box is not only functional but also visually pleasing. It is absolutely adorable!
Why we love it:
Removable thermos container
Using silicon containers makes it easy to fit them snugly in a lunch box
Reusable utensils pack add-on
Spacious and leak-proof
Easy to clean, carry and use
It is cute, kids would love it
What could be better:
The only drawback it could have is overall insulation time. But it can get sorted by keeping the temperature slightly warmer than usual.
Our Favorite Lunch-Packing Gear
If you are still trying to decide which lunch box to choose, you have the option of creating a custom lunch box set as well. Here's how!
1. Reusable Sandwich Bags
Pick a good quality, reusable sandwich bag or container that is eco-friendly, leak-proof, and can be easily washed. You can also add a colorful design to make it unique.
2. Insulated Lunch Bags
Choose an insulated lunch bag with optimal height and enough space to contain multiple containers. Also, pick one with an easy-to-wipe inner lining to avoid stubborn spill spots.
3. Easy-to-clean containers
When choosing containers for kids, it's important to select ones that are easy to open and close, as well as safe and easy to clean. Consider opting for containers made of silicone, as they are leak-proof and microwave-friendly.
4. Cutlery Set
Choose a cutlery set that is durable, easy to use by toddlers, and comes with a portable case. A stainless steel set is always a good choice as it can easily be washed and reused for many years.
5. Cookie Cutters
This one won't really go into your toddler's lunch box, but it will help you prepare appealing snacks for the lunch box. Try using cookie cutters to shape vegetables, fruits, sandwiches, and cookies into fun and interesting shapes each day without effort.
You Might Also Like to Read: Lunch Ideas for Daycare
Frequently Asked Questions
What is the best lunchbox toddler?
The best lunchbox for toddlers is one that is made of durable materials, comes with insulated walls to keep food warm or cold, and includes a wide range of accessories like utensils and containers. Examples include the Thermos Food Jar for hot and cold foods, Insulated Bento Boxes, and Insulated Sandwich Bags.
Which company is best for lunch boxes?
There are many companies that offer quality and reliable lunch boxes for toddlers, such as Thermos, OXO Tot, Hydro Flask, Omie Box, and Bentgo. Each company offers different designs and features, so it is important to research each one carefully before making a purchase.
Are lunch boxes safe for toddlers?
Yes, lunch boxes are generally safe for toddlers. Just make sure the containers and utensils are not made of toxic materials and can be washed easily and safely without any harsh chemicals.
Do preschoolers need a lunch box?
Yes, preschoolers need a lunch box. A lunch box is essential for them to transport their meals and snacks in a safe and secure manner. Plus, having a fun and colorful lunch box can often encourage healthy eating habits among young children.
Conclusion
A good lunch box for toddlers is a must-have item. Not only will it keep their food fresh and secure, but the fun designs can also make eating exciting.
When selecting a lunchbox set, make sure to think about factors such as how long it keeps things warm or cold, how sturdy it is, whether it's made of safe material, and how easy it is to clean.
With the right gear, you'll be able to pack healthy lunches every day without worry.
And that's all there is to know about choosing the best lunchbox set for toddlers!