Lunch Ideas for Daycare: Quick and Healthy Meals
I understand it can be quite a challenge sorting out the toddler meals in a daycare environment. Crafting easy toddler lunch ideas that cater to various food groups is indeed a tricky task, isn't it?
Don't worry, this blog is here to help! We've gathered a variety of delicious and nutritious toddler lunch ideas for your daycare meal program. Our guide includes ideas based on seasons and age groups, bringing new options to your meal planning.
By the end of this blog, you'll have a practical, nut-free, and child-friendly meal plan that will also give you a variety of high-quality options, will save you time, and ensure your kids enjoy healthy lunches!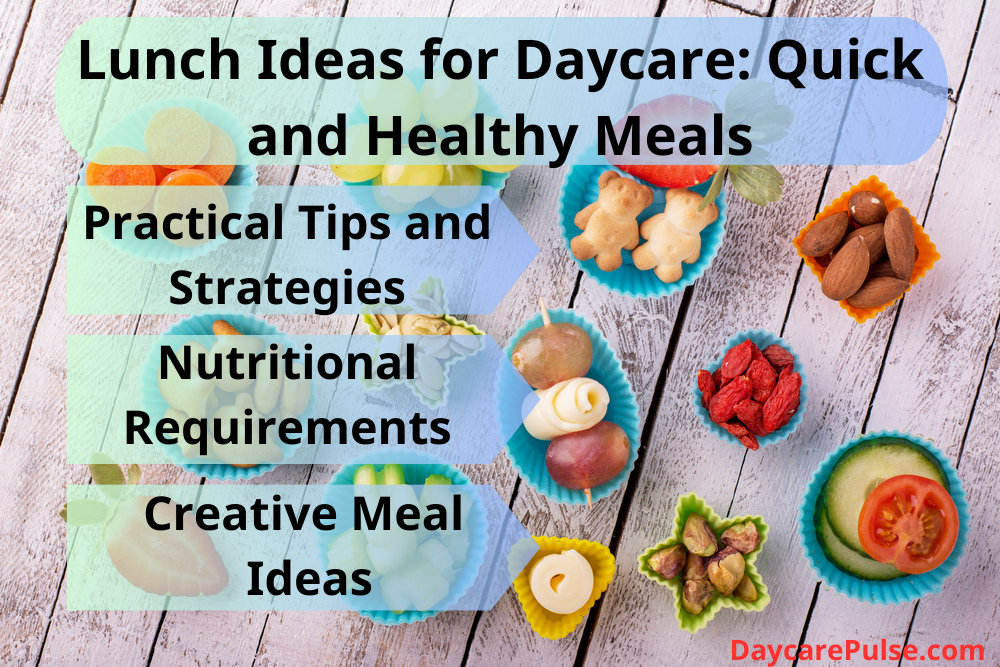 Creative and Nutritious Lunch Ideas for Daycare
Hey there! Ever run out of ideas on what to offer for your little ones' lunch at daycare? Don't worry, I've got you covered.
In this section, we'll go through some creative and nutritious toddler lunch ideas that are easy to prepare and will keep those tiny tummies satisfied.
Finger Foods and Snacks
Nut Butter and Banana Sandwiches: These are an easy toddler lunch idea. Simply spread some nut butter on whole wheat bread, add sliced bananas, and voila! A protein and potassium-packed sandwich that toddlers love. 🥪🥜🍌
Veggie Sticks with Hummus: This is a fun twist on the traditional carrots and dip. Serve a variety of soft veggies, like steamed carrots and sweet potatoes, with some mild hummus for a healthy, colorful, and tasty toddler lunch. 🥕🥦🍠
Cheese Cubes and Whole-Grain Crackers: Offering a balanced snack is as easy as pairing cubed cheese with whole-grain crackers. It's a great way to incorporate dairy and grains into your toddler's lunch. 🧀🍪
Yogurt Parfaits with Fruits and Granola: Layer some yogurt with fruits of your child's choice and sprinkle with granola. Not only does it tick the boxes for dairy, grains, and fruit food groups, but it's also a yummy toddler food that feels like a treat! 🥣🍓🍌🍇🍯
Main Course Ideas
Mini Turkey and Cheese Wraps: These are a hit with the kiddos! Just take some soft bread, add a layer of cream cheese, some turkey slices, and roll it up. Cut into bite-size pieces for an easy, protein-rich toddler lunch idea. 🍞🧀🍗
Veggie-Packed Pasta Salad: This colorful feast is a great way to get those veggies in. Toss some whole wheat pasta with cherry tomatoes, green beans, and shredded cheese. Add a little pesto for a fun twist on a classic toddler lunch. 🍝🥦🧀🍅
Grilled Chicken Strips with Dipping Sauce: What toddler doesn't love a good dip? Serve some grilled chicken strips with a mild dipping sauce. It's a fun, interactive, and healthy lunch idea for toddlers. 🍗🍯👌
Quinoa and Vegetable Stir-Fry: This is a nutrient-dense, easy toddler lunch idea. Quick-cook quinoa and stir-fry with some soft veggies. The sweet potato gives a sweet touch that kids eat right up. Great for those daycare lunch boxes! 🥦🍠🍚🥕
Creative Food Art
Sandwich Shapes and Food Cutouts:
Adding a fun twist to your child's lunch, sandwich shapes and food cutouts can make mealtime exciting and encourage them to try more foods.
You can use cookie cutters to transform a typical grilled cheese sandwich on whole grain bread into stars, hearts, or animal shapes. Cheese slices and soft bread are also great for cutouts, sparking your child's imagination and appetite. 🍞🧀🐻🌟
Fruit Skewers and Kabobs:
Kabobs aren't just for barbecues! Fruit skewers are a colorful, fun, and healthy lunch idea. Thread a variety of bite-sized pieces of fruits onto skewers (make sure to remove any sharp ends).
It's a rainbow-on-a-stick that ticks the fruit food group box! Options are endless from sweet strawberries to juicy grapes and everything in between.🍓🍇🍏🍡
Funny Face Sandwiches and Salads:
Here's a fun, creative, and easy toddler lunch idea. Use whole wheat bread, cream cheese, or hummus for the face, cherry tomatoes, cucumbers, and olives for the features, and lettuces or shredded cheese for the hair.
It's an art project and a meal all in one, perfect for your toddler's lunch at their daycare. 🍞🍅🥒🥬🎨
DIY Lunchables
Whole-Grain Crackers, Cheese, and Deli Meats:
Here's a fun toddler lunch that they can build themselves. Pack some whole-grain crackers, cheese slices, and deli meats like turkey or ham in their lunch box.
This is not only a great source of protein and whole grains, but it also allows them to create their own little sandwiches, adding a fun twist to their regular daycare lunch. 🥪🧀🍗
Mini Pizzas with Whole-Wheat Crust:
Give your toddler's lunch an Italian twist with mini whole-wheat crust pizzas. Spread tomato sauce, add shredded cheese and their favorite toppings, then bake until the cheese is bubbly and slightly browned. Cut into bite-sized pieces for a tasty and convenient meal, perfect at any temperature.
It's just the perfect, easy, and yummy toddler food for daycare. 🍕🧀🍅
Drinks and Hydration
Infused Water with Fruits and Herbs: Hydration is crucial for active kids, especially at daycare. Make water exciting by infusing it with fruits and herbs like strawberries, oranges, mint, and basil. It's a refreshing, healthy twist that toddlers love. Use up leftover fruits and make it colorful in their lunch boxes. 🍓🍊🍃💦
Low-Sugar Fruit Juices and Smoothies: Low-sugar fruit juices and smoothies are a healthy option for your toddler's lunch, made by blending fruits with yogurt or milk or diluting 100% fruit juice with water. These delicious options help incorporate fruits into your child's diet. Who doesn't love a tasty smoothie? 🍏🍍🍓🥤
Milk and Milk Alternatives: Milk and milk alternatives (almond, soy) are excellent sources of calcium and vitamin D for your toddler's growing bones. Opt for unsweetened versions to reduce sugar intake. Flavored milk (strawberry, chocolate) can be offered occasionally as a treat. 🥛🌰🍫🍓
Keep in mind, as with food, introduce new drinks gradually and always be aware of potential food allergies. Here's to fun, creative, and nutritious lunch ideas for your toddler's daycare! 🥳👶🎉
Seasonal Lunch Ideas for Daycare
Are you in need of fresh and exciting lunch ideas for your daycare? Look no further, we've got you covered!
These ideas will not only incorporate fresh and locally available fruits and veggies into your child's meals but also make them super nutritious and appealing.
By tailoring your toddler's lunch to the season, you'll not only add variety but also ensure they get a wide range of nutrients throughout the year.
So, let's make meal prep easy and fun with these seasonal and healthy toddler lunch ideas for your daycare center!
Spring
Main Course

Spring Vegetable Risotto with Peas and Asparagus: Delightful toddler lunch idea! Creamy risotto with sweet peas, tender asparagus, and wholesome brown rice. Packed with nutrition and bursting with flavor, it's perfect for little ones. 🍚🥦🌱
Grilled Chicken Wraps with Fresh Greens and Light Vinaigrette: Delicious and nutritious toddler lunch idea for spring: grilled chicken wrap. Packed with protein, fresh greens, and a tangy vinaigrette. Kids love it! 🍗🥗🌯

Snacks

Fresh Strawberries and Blueberries with Yogurt Dip: In spring, indulge your toddler with a tasty snack of fresh strawberries and blueberries paired with a creamy yogurt dip. This colorful treat not only looks appealing but also provides a fun and nutritious source of dairy.🍓💙🥣
Carrot and Cucumber Sticks with Tzatziki Sauce: Carrot and cucumber sticks with tzatziki sauce make a nutritious and enjoyable snack for toddlers. It's a great way to meet their daily vegetable intake and is ideal for daycare. 🥕🥒🥣

Drinks

Refreshing Mint Lemonade: Try this refreshing mint lemonade for a hydrating drink in springtime. The zesty combination of lemon and mint is perfect to keep your toddler refreshed. Adjust the sweetness with natural sweeteners like honey to suit their taste. 🍋🌿🍹
Herbal Iced Tea with Natural Sweeteners: Introduce herbal teas to toddlers above 2 years old for a caffeine-free and hydrating option. Sweeten with natural sweeteners like stevia or honey for a refreshing drink. Serve at room temperature for little kids.🌿🍹🍯
Summer
Main Course

Chicken Salad Pita Pockets: Try this tasty chicken salad pita pocket for a light and refreshing summer meal. It's packed with protein, healthy fats, and fiber from the creamy chicken salad with grapes and celery. Perfect for a quick and easy meal at your child's daycare.🍇🐔🥙
Taco Salad: Turn lunchtime into a fiesta with a tasty taco salad! This colorful and fun lunch combines cubed chicken or ground turkey with lettuce, tomatoes, avocado, shredded cheese, and optional corn chips. It's nutritious, delicious, and perfect for daycare lunches. 🌮🥗🍅

Snacks

Watermelon and Cucumber Sticks: Watermelons are a great summer snack for toddlers at daycare centers. Cut them into bite-sized pieces and add cucumber sticks for a refreshing and nutritious treat. It's hydrating, nutritious, and delicious! 🍉🥒💦
Hummus Sandwich with Soft Bread: Hummus is a nutritious option for growing toddlers. Make a hummus sandwich with soft bread and add veggies like cucumbers, tomatoes, and carrots for a complete, allergen-friendly meal.🍞🥕🍅

Drinks

Strawberry Lemonade: Enjoy a refreshing glass of lemonade with a twist! Add fresh strawberries for a delicious and nutritious drink. Boosted with vitamin C, it's perfect for hot summer days. For added fun, use frozen strawberry slices as ice cubes. 🍓🍋🧊
Iced Rooibos Tea with Fresh Lemon: Rooibos tea, a caffeine-free herbal tea, has gained popularity due to its rich antioxidants. It serves as a healthy substitute for traditional iced teas, and for an added zesty flavor, try adding fresh lemon slices. 🌱🍋☕
Fall
Main Course

Creamy Pumpkin Pasta Bake: Try a creamy pumpkin pasta bake for your child's fall lunches. Packed with vitamins and minerals from pumpkin puree and energy from complex carbs in the pasta. Add protein with chicken or tofu and a tasty twist with shredded cheese. Yum! 🎃🍝🧀
Baked Sweet Potato Fries with Chicken Nuggets: Make healthier chicken nuggets for a toddler's lunch with whole-grain bread crumbs and baking instead of frying. Pair with baked sweet potato fries for a nutritious and delicious meal!🍟🐔🥔

Snacks

Avocado Egg Salad on Whole Wheat Crackers: Avocados are a nutritious choice for toddlers, with healthy fats. Mash avocado and hard-boiled eggs, spread on whole-grain crackers, and add a squeeze of lemon juice for a tangy twist. This snack is also suitable for babies starting solid food.🥑🥚🍋
Baked Oatmeal Bars with Raisins and Cranberries: Simplify your week with homemade oatmeal bars. They're made with rolled oats, raisins, cranberries, coconut, and honey. These naturally sweet snacks are perfect for kids who prefer softer treats. Enjoy them at room temperature for a convenient and nourishing option.🍯🌾🍇

Drinks

Pesto Pasta Salad: This versatile pesto pasta salad is perfect for packed lunches. The pesto adds a delicious twist to regular pasta, and the veggies (like cherry tomatoes and steamed carrots) provide nutrition and color. You can also add cubed cheese or chicken for extra protein. Enjoy!🌿🍝🍅
Green Smoothie: Try this tasty green smoothie to sneak in some greens into your toddler's diet! Blend spinach, banana, avocado, and milk for a nutritious drink. Your child won't even know they're getting vegetables! Serve chilled for a refreshing pick-me-up.🥬🍌🥑
Winter
Main Course

Some leftover rice in the fridge: Reheat rice, add steamed veggies (green beans or carrots) and cubed chicken on top. Drizzle with soy sauce or lemon juice for flavor. Serve warm in a thermos for a comforting lunch on a cold winter day.🍚🐔🥕
Grilled Cheese and Tomato Soup: This classic lunch combo is perfect for a winter day. Make it healthier with whole-grain bread and shredded carrots in the grilled cheese sandwich. Serve with homemade or store-bought tomato soup in a thermos for a satisfying meal at daycare.🍅🧀🥣

Snacks

Cheese Slices and Whole Grain Crackers: Keep it simple and nutritious with this snack idea. Cut cheese into bite-sized pieces and serve with whole-grain crackers for an energy-boosting and calcium-packed snack. Perfect for picky eaters who prefer straightforward options. 🧀🥖
Apple Slices and Nut Butter: During winter, take advantage of abundant apples for your toddler's lunches. Slice apples and pair with nut butter (like almond or cashew) for protein and healthy fats. Ideal snack for little ones who struggle with harder fruits.🍎🥜

Drinks

Warm Milk with Honey: Warm milk with honey is a cozy and nutritious winter drink. It's perfect for toddlers at daycare and can be made even more delicious by adding cocoa powder. Serve it warm in a thermos for a comforting treat. 🥛🍯🌡️
Fruit and Yogurt Smoothie: This protein smoothie combines yogurt, fruits, and honey to create a nutritious treat for your child. Customize with options like bananas, berries, and mango, and add spinach or kale for extra nutrition without compromising taste. 🍓🍌🥛
Age-Group Wise Lunch Ideas for Daycare
A. Toddlers (upto 3 years)
Mini Veggie & Cheese Quesadillas: Tasty, bite-sized toddler food with soft veggies & shredded cheese. Perfect for little hands! 🥦🧀🌮
Bite-sized Pasta with Marinara & Veggies: Nutrient-dense lunch idea for toddlers. Easy to eat, packed with goodness. 🍝🥦🍅
Avocado Slices & Banana Chunks: Simple, healthy toddler lunch. Soft, chewable, and full of essential nutrients. 🥑🍌
Steamed Carrot Sticks & Peas: Colorful finger food for toddlers. Fun and healthy addition to any meal. 🥕🍲
Whole Milk or Fortified Plant-Based Milk: Hydrate your little ones with calcium-rich drinks. Choose whole milk or fortified plant-based options. 🥛
Fruit-Infused Water: Refreshing and flavorful hydration for toddlers. Add a splash of natural fruit juice to water. 🥤🍏
Read for more: Daycare lunch ideas for an 8-month-old.
Read for more: Daycare lunch ideas for a 10-month-old.
B. Preschoolers (3-5 years)
Quinoa and Veggie Stir-Fry: Introduce your child to the protein-packed superfood, quinoa, mixed with a vibrant medley of veggies. A nutritious and tasty lunch idea for preschoolers. 🍲🥦🥕
Bento Box with Cubed Cheese, Ham, and Fruit: A fun and interactive lunch idea! Fill a bento box with cubed cheese, ham, and fruit for a balanced meal. Perfect for the picky preschooler. 🍱🧀🍎
Pesto Pasta with Cherry Tomatoes: A pasta dish that is both yummy and healthy. The pesto adds a fun twist to the familiar pasta, and cherry tomatoes bring in a sweet and juicy element. A hit with kids! 🍝🍅
Steamed Sweet Potatoes and Green Beans: A colorful and nutrient-dense side. Sweet potatoes are a great source of vitamins and fiber, and green beans add a nice crunch. Easy to eat and enjoy. 🍠🥦
Whole Wheat Bread and Nut-Free Butter Sandwiches: A classic sandwich made allergen-friendly. Nut-free butter on whole wheat bread – simple, safe, and satisfying.🍞🌰
Water or 100% Fruit Juice: Keep your preschooler well-hydrated with water or 100% fruit juice. A refreshing complement to their lunch. 🥤🍊
Yogurt and Fruit Parfait: Layer yogurt and fruit in a cup for a fun and tasty dessert. A sweet end to their meal. 🍨🍓
C. Kindergartens (5-6 years)
Chicken Avocado Wrap: A nutritious and satisfying lunch option for kindergarteners. The chicken and avocado provide essential protein and healthy fats, while the whole grain wrap adds a delicious crunch. 🐔🥑🌯
Veggie Pinwheels: These bite-sized pinwheels filled with colorful veggies are a fun and healthy twist on a sandwich. Packed with fiber and vitamins, they keep your little ones energized throughout the day. 🥕🥦🌯
Quinoa Veggie Bowl: An easy and wholesome lunch idea packed with nutrients. Quinoa offers a good source of protein and fiber, while the vibrant veggies make it visually appealing and delicious. 🍚🌽🥦
Rainbow Salad: Introduce your kids to a variety of flavors with this vibrant and nutritious salad. It includes mixed greens, cherry tomatoes, cucumber, and shredded carrots. A delightful and colorful meal for kindergarteners. 🥗🍅🥒
Roasted Veggies: A simple and tasty side dish. Assorted veggies roasted to perfection, offering a burst of flavors and essential nutrients. 🥕🥦🍆
Turkey and Cheese Roll-Ups: A lunch box favorite! Roll up slices of turkey and cheese for a protein-packed and satisfying meal. Add some lettuce or cucumber for extra freshness. 🦃🧀🥬
Homemade Energy Bites: A healthy and tasty lunchbox treat. Made with oats, nut butter, and dried fruits, these energy bites provide a burst of flavor and natural sweetness. Perfect for a midday snack. 🍯🥜🍓
Additional Considerations
The Temperature of Meals Before Serving
When preparing lunches for daycare, it's critical to take into account the temperature at which meals will be served. For hot dishes like chicken nuggets, pasta, and grilled cheese sandwiches, ensure they're cooled to room temperature before packing to avoid spoilage.
Cold food items like cubed cheese, cherry tomatoes, and steamed carrots should be chilled in the refrigerator before being packed. To keep food cold until lunchtime, consider using an insulated lunch box or add a frozen juice box or small ice pack.
For meals that can be enjoyed lukewarm or at room temperature like pesto pasta salad, avocado egg salad, or hummus sandwich, there's a bit more flexibility. However, it's still important to store these items in a thermos or an insulated bento box to maintain their freshness.
Always remember to check your daycare center's policies about bringing food from home. Some centers might have restrictions due to food allergies, or they might require that food be ready to eat with no need for refrigeration or heating.
These considerations will help ensure that your child's packed lunch is safe, delicious, and nutritious.
Proper Labeling and Date Noting
Proper labeling and date noting is essential when prepping toddler meals for the week. Clearly mark each packed lunch with your child's name, the date, and any special instructions (e.g., 'Heat for 2 minutes', 'Serve at room temp').
Rotate the main items in your toddler's lunch for a variety of nutrients. Include proteins (chicken, eggs), carbohydrates (brown rice, whole grain bread), and fruits/veggies (carrots, sweet potato). Ensure a balanced meal!
Remember, daycare lunches don't have to be complicated. Simple foods often go over best with toddlers. A grilled cheese sandwich on whole wheat bread, some cherry tomatoes, and a few pieces of cubed cheese can make a perfectly balanced meal.
Meal prepping for the week can save you lots of time in the mornings. Make a big batch of pesto pasta salad, lemon juice sprinkled avocado egg salad, or baked oatmeal bars, and portion them out into individual servings for easy grab-and-go options.
Lastly, always consider your child's age and eating abilities. Soft bread and finely shredded chicken might be easier for younger toddlers to handle, while preschoolers might be able to manage a hummus sandwich or a taco salad with a bit more texture.
Remember to stay creative and give a fun twist to the food to make it more appealing for your toddlers. Happy meal planning!
Storing Leftovers to Be Used Later in the Week
Maximizing leftovers can be a smart way to prepare healthy toddler lunch ideas for daycare. A baked batch of chicken nuggets can serve as a protein-packed lunch for one day, and the leftovers could be used to whip up a fun twist on a chicken salad for the next.
Leftover rice can be transformed into a tasty taco salad, while brown rice and cubed chicken make for a simple yet satisfying lunch. Soft steamed veggies like carrots or green beans can be added to pasta salads or served as a side with a grilled cheese sandwich.
Leftovers can be a convenient and nutritious option for your toddler's meals. Remember to store them properly, following the daycare center's policies and ensuring the food is safe to consume. With leftovers, meal planning becomes easier, providing a variety of meals from different food groups.
Frequently Asked Questions
How do you pack lunch and snacks for daycare?
When packing lunch and snacks for daycare, planning is key. Use an insulated lunch box to keep the food safe. For toddler lunch ideas, consider prepping meals that can be eaten at room temperature, such as a hummus sandwich or avocado egg salad.
Add bite-sized fruits or cherry tomatoes as a side snack and label your child's lunch boxes with their name and the date. Meal prepping for the week saves time on busy mornings. Consider your child's daycare's food policies and any allergies when packing their lunch.
What Are Some Hot Lunch Ideas for Daycare?
Hot lunches can be a comforting and nutritious choice for your toddler's daycare meal. A simple idea is a grilled cheese sandwich made with whole wheat bread and shredded cheese, offering a good source of protein and carbs.
Chicken nuggets made from cubed chicken can be baked instead of fried for a healthier twist. Pair them with steamed carrots or green beans for a balanced meal.
Another option is whole grain pasta with a mild tomato sauce and finely ground meat. Remember to cool these meals to room temperature before packing. Adding variety to daycare lunch ideas keeps meals interesting for your little one.
Read for more: http://www.daycarepulse.com/daycare-hot-lunch-ideas/
What Are Some Cold Lunch Ideas for Daycare?
Make lunchtime more fun by adding meals that can be eaten cold. The most appropriate ideas would be sandwiches. You can create different sandwich recipes like:
Peanut butter jelly sandwich.
Egg salad sandwich.
Fish sandwich.
Chicken sandwich.
Daycare Lunches Requiring No Microwave?
Simple and easy daycare lunches that don't require a microwave are:
Sandwiches.
Rice Bowls.
Salads.
Read more: http://www.daycarepulse.com/lunch-ideas-for-daycare-no-microwave/
What are good things to eat for lunch for kids?
There are plenty of healthy and convenient lunch options for toddlers at daycare. Popular choices include pita bread sandwiches with hummus, avocado, or soft cheese, cubed cheese and fruit, and pasta salads with a mix of veggies.
You could also consider quesadillas with shredded cheese, scrambled eggs, or baked oatmeal bars for a change. It's important to ensure that the meals are balanced and comprise all food groups.
As for school lunches, options like whole grain bread sandwiches, bento boxes with bite-sized pieces of chicken, steamed vegetables, and a portion of fruit can be great.
Remember, the key to a successful toddler lunch is to offer variety while ensuring the food is safe, nutritious, and easy for your child to eat.
Conclusion
Preparing toddler lunches for daycare doesn't need to be overwhelming. With some planning and creativity, you can provide nutritious and tasty meals that your child will enjoy.
Simple and healthy lunch ideas like whole grain pasta salads, turkey sandwiches, and veggie muffins can offer a well-rounded diet for your child.
Don't shy away from trying out new recipes and adding your twist to them. Remember, the goal is to make meals that are easy, enjoyable, and beneficial for your little one's growth and development.
Here's to creating an array of amazing and easy toddler lunch ideas! Happy meal prepping!