Cold Lunch Ideas for Toddlers at Daycare: 18 Wholesome Delights
Having trouble coming up with toddler daycare lunch ideas? Don't worry, we've all been there! We totally get it – you need quick, nutritious, and most importantly, delicious food options for your little one's packed lunch.
This blog post offers creative cold lunch ideas that add a fun twist to your daily routine. It also provides eight simple tips for preparing and packing delicious cold lunches your little one will enjoy.
Check out this awesome blog post to find easy and innovative toddler cold lunch ideas. You'll save time in the kitchen and add a fun twist to your little one's daycare lunches.
Say goodbye to meal prep guesswork and reduce stress. Keep your toddler's lunch box packed with healthy, yummy food! 😊🍱
Sit back, relax, and let's dive into the wonderful world of cold toddler lunch ideas! 😊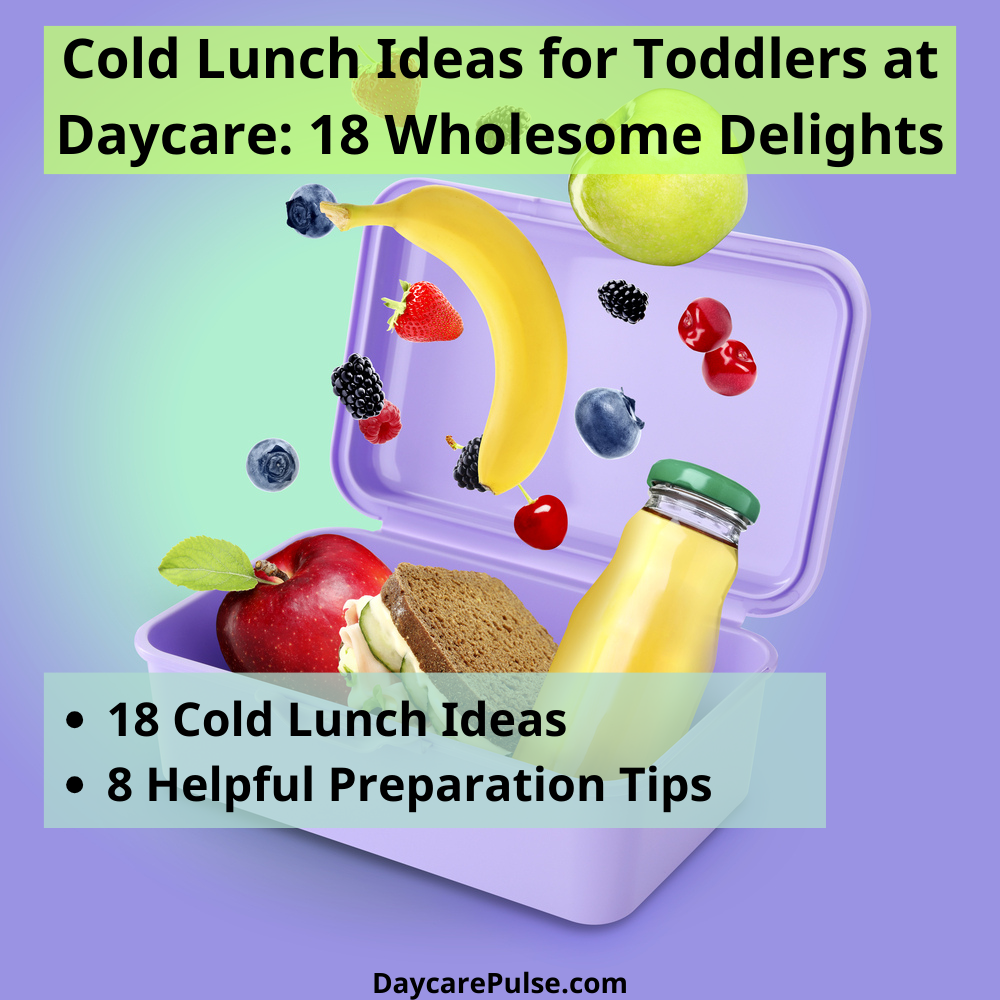 Benefits of Cold Lunch ideas for Toddlers at Daycare
Cold lunches can be a game-changer for your little one's daycare meal prep.
Easy toddler lunch ideas that are served cold are often a hit – they're simple to prepare, packed with nutrition, and perfect for those picky eaters.
As we dive into the world of toddler lunches, let's summarize the benefits of these easy toddler lunch ideas:
Variety: By combining various food groups in your toddler's lunch, you can ensure a balanced and nutritious meal.
Fun and Engaging: Cutting food into bite-sized pieces or arranging it in a fun way can make meals more appealing for toddlers.
Convenience: These lunch ideas are perfect for meal prep. Prepare them in advance and pack them in your toddler's lunch box. They stay fresh and ready-to-eat at room temperature, making them ideal for daycare.
Healthy and Yummy: These toddler daycare lunch ideas are nutritious and tasty!
Flexibility: You can think beyond sandwiches or cooked pasta for toddler lunches. Get creative with endless options for healthy and cold lunch ideas.
Food Safety: Cold lunches are a convenient option that eliminates temperature worries. Easy toddler lunch ideas can be prepared in advance and eaten straight from the fridge, ensuring freshness and avoiding food spoilage in your child's lunchbox.
Cost-Effective: Using simple, nutritious ingredients in creative ways can create an affordable lunch option. Making your toddler's lunches at home saves money compared to buying pre-packaged meals or eating out.
Nutritious and Easy-to-Prepare Cold Lunch Ideas
Here are some friendly, nutrient-packed toddler lunch ideas that are a breeze to prepare:
Sandwiches and Wraps
Peanut Butter and Jelly Sandwich on Whole Wheat Bread
A classic favorite, the peanut butter and jelly sandwich, never fails to delight toddlers. Made with nutritious whole wheat bread, this sandwich provides a good source of fiber and can keep your little one feeling full for longer.
Jazz it up by using cookie cutters to create fun shapes that make lunchtime exciting.
Cucumber and Cream Cheese Sandwiches
Cucumber and cream cheese sandwiches are a refreshing choice, particularly in warmer weather.
Opt for whole grain bread for additional fiber and nutrients, and slice the cucumbers into thin, bite-sized pieces for easy toddler enjoyment.
You can even create a fun twist by using fun-shaped food cutters.
Cheese Pinwheels
Cheese pinwheels are a fantastic and fun twist to the usual sandwich. Simply spread some cream cheese on a tortilla, add some shredded cheese, and roll it up.
Slice into bite-sized pieces perfect for those tiny hands. This makes a quick, yummy, and protein-packed lunch idea that your toddler will love.
Protein-Packed Lunch Boxes
Cubed Chicken and Cheese Snack Box
For a protein-rich toddler lunch idea, try a snack box with cubed chicken, cubed cheese, and some grain crackers.
The cheese provides calcium for strong bones, while chicken is an excellent source of protein and essential nutrients for growing children.
You can also add in some cherry tomatoes or hard-boiled eggs for added nutrition.
Turkey and Cheese Roll-Ups
Roll up some slices of deli turkey with a slice of cheese to create a tasty and easy lunch choice.
Turkey is a great source of lean protein and iron, while cheese adds flavor and calcium. You can also include some steamed carrots or green beans for a nutritious side.
Chicken Nuggets with Sweet Potato Fries
For a fun and delicious twist on the classic chicken nuggets, try baking them at home. Cut chicken breast into bite-sized pieces, bread with whole wheat flour or Panko crumbs, and bake until golden brown.
Serve alongside some sweet potato fries for a tasty and nutritious lunch.
Bento Boxes and Snack Trays
Fruity Yogurt Parfait
Create a delicious and healthy parfait in a small glass jar or reusable container. Layer yogurt with fresh fruit, such as strawberries, blueberries, or banana slices.
You can even add in some granola for added crunch and flavor.
Cheese and Cracker Bento Box
This is an easy toddler lunch idea that's fun and packed with nutrients. Fill a bento box with cheese slices, a variety of whole grain crackers, and an assortment of fruits like grapes or cherry tomatoes.
You could also include a hard-boiled egg for added protein.
Veggie Delight Snack Tray
A Veggie Delight Snack Tray can be a hit for your toddler. Include bite-sized pieces of steamed carrots and green beans along with some pita bread and a side of cream cheese for dipping.
It's a healthy toddler lunch idea that introduces them to different textures and flavors.
Sweet Treats
Baked Oatmeal Bars
For a sweet yet healthy treat, baked oatmeal bars are a great option. You can make them in advance and pack them for daycare lunch.
They're also perfect for meal prep, so you have a quick snack option on hand during busy days.
Apple Sandwiches
For a quick and easy sweet treat, make apple "sandwiches" by spreading peanut butter on two slices of apple and pressing them together like a sandwich.
You could also sprinkle some granola or raisins in between for added crunch and flavor.
Fruit and Yogurt Gummies
For a fun and nutritious sweet treat, try making fruit and yogurt gummies.
Blend your toddler's favorite fruits with some yogurt and a little bit of gelatin, then pour the mixture into fun-shaped molds and let them set in the refrigerator.
These gummies are not only delicious, but also packed with vitamins and calcium, making them a perfect addition to your toddler's lunch box.
Dairy and Yogurt Options
Yogurt-Covered Blueberries
Yogurt-covered blueberries are not just a delightful and healthy toddler lunch idea, but they're also an easy treat you can prepare ahead of time. Simply dip fresh blueberries in yogurt, then freeze.
They're bite-sized and perfect for little hands. Plus, they provide a good dose of probiotics from the yogurt and antioxidants from the blueberries.
This is a tasty way to add a fun twist to your toddler's lunch, and you'll feel good knowing they're getting a nutritious treat.
String Cheese and Apple Slices
A simple yet tasty toddler lunch idea is a combination of string cheese and apple slices. This food pairing provides the perfect balance of proteins from the cheese and vitamins from the apples, all in bite-sized pieces perfect for little hands.
Not only is it packed with nutrients, but it also offers a delightful blend of flavors that toddlers love.
Cottage Cheese and Pineapple Cups
For a tropical twist on your toddler's lunch, try cottage cheese and pineapple cups.
The creaminess of the cottage cheese pairs perfectly with the sweet, tangy flavor of pineapple chunks. This lunch idea is a fantastic source of protein from the cottage cheese and vitamin C from the pineapple.
Finger Foods and Dips
Crunchy Carrots with Creamy Ranch Dip
This easy toddler lunch idea is all about fun and crunch! All you need is some bite-sized pieces of crunchy carrots and a side of creamy ranch dip that toddlers love.
Carrots are a great source of vitamins for your little one's growth and development – plus, they're fun to eat! The creamy ranch dip adds a savory twist that can help encourage your toddler to enjoy their veggies.
This simple, healthy lunch idea is perfect for a packed lunch and can be served cold, making it a great choice for daycare.
Crunchy Celery with Creamy Peanut Butter Dip
Here is a classic that never fails to delight – celery sticks with peanut butter! Cut celery into bite-sized pieces and serve with a side of creamy peanut butter for dipping.
The peanut butter adds a fun twist to the crunchy celery, providing healthy fats and protein to your toddler's lunch.
It's a tasty, nutritious, and easy toddler lunch idea that can also be packed cold for daycare.
Banana Dippers
Banana Dippers are a fun and nutritious addition to your toddler's lunch box. Slice a ripe banana into bite-sized pieces and serve with a side of creamy yogurt for dipping.
an extra fun twist, you can add some cubed cheese or grain crackers to the mix.
Not only will this make the lunch more appealing for your toddler, but it also ensures they get a balanced meal consisting of different food groups.
Easy to prepare and pack, these Banana Dippers are a great choice for your toddler's daycare lunch, especially since they can be enjoyed cold.
Tips for Preparing and Packing Cold Lunches
Be Creative and Fun with Shapes
Remember, we eat with our eyes first, especially toddlers! Use cookie cutters to create fun shapes with sandwiches, fruits, and cheese.
This makes meals more appealing and sparks curiosity, encouraging your toddler to try new foods.
Mix Things Up
To keep your toddler's interest, try not to repeat the same lunch too often.
Rotate between different proteins, fruits, vegetables, and grains each day. Variety is the spice of life!
Involve Your Toddler in the Process –
If your toddler is part of the meal prep process, they are more likely to eat what they helped create.
Let them pick what fruit or veggie goes in their lunch box or let them help pack it up.
Keep It Simple
Don't stress about making elaborate meals.
Simple foods like sliced turkey or cubed cheese are perfect for a toddler's lunch. Remember, what matters most is that it's healthy and your little one enjoys it.
Pack Appropriately
When packing your toddler's lunch, make sure the foods you pack will stay fresh until lunchtime.
If you're packing a lunch that needs to stay cold, consider including an ice pack. Alternatively, choose foods that are safe to eat at room temperature.
Remember Hydration
Along with a nutritious meal, don't forget about hydration. A small water bottle or a milk yogurt drink can be a good addition to their lunch box.
Balance
Try to include something from each food group. A balanced meal will provide all the necessary nutrients your toddler needs and will keep them full and satisfied till pick-up time.
Size Matters
Finally, remember that toddler portions are much smaller than adult ones.
A whole sandwich might be too much, but half or quarter might be just right.
Cut foods into small, manageable pieces to prevent choking and make it easier for them to eat.
Remember, the goal is to make mealtime enjoyable and stress-free for both you and your little one.
With these tips, you'll be packing fun, healthy lunches your toddler will be excited to eat!
Frequently Asked Questions
What Is a Good Cold Lunch for Kids?
A good cold lunch for kids, especially toddlers, should be balanced, nutritious, and appealing. It can include a variety of food groups presented in bite-sized pieces for easy eating.
For instance, a cream cheese sandwich with cubed chicken or sliced turkey makes an excellent main dish. Pair it with steamed carrots or green beans for veggies, and serve with a cheese snack box filled with cheese slices or a cheese stick for dairy..
For a sweet ending, consider adding baked oatmeal bars or hard-boiled eggs. If it's for a daycare center, ensure the food can be served cold. Remember, it's not just about the food; presenting it in a fun way can make the toddler's lunch more exciting.
What Finger Foods to Send to Daycare?
Finger foods are excellent picks for daycare lunches because they're easy for toddlers to handle and eat.
Consider sending foods like bite-sized pieces of cooked pasta, cubed cheese, or sliced turkey. Steamed carrots or green beans are also great veggie options.
For a fun twist, you can send grain crackers or pita bread for some whole grain goodness. If you want to add a sweet note, try small apple or banana slices.
Remember, variety is key! Offering different types of foods from various food groups not only ensures a balanced diet but also keeps lunchtime exciting for your little one.
What Are Healthy Snack Ideas for Daycare?
Healthy snack ideas for daycare should combine nutritional value and fun elements that make eating enjoyable for toddlers.
Consider fruit and cheese kabobs using cubed cheese and grapes – they're fun to eat and packed with vitamins and calcium.
Mini sandwiches with lunch meat, cream cheese and shredded cheese offer a great balance of protein and carb.
For a veggie option, steamed green beans or cherry tomatoes can be served cold and are bite-sized. Grain crackers are a great source of whole grains and can be paired with milk or yogurt for added calcium.
Lastly, baked oatmeal bars or bite-sized pieces of sweet potato offer a nutritious and yummy treat.
These snack ideas cover various food groups, are easy to eat, and can be served cold – perfect for a toddler's daycare packed lunch!
Read more: https://www.daycarepulse.com/lunch-ideas-for-daycare/
What is a simple lunch for a 2 year old?
A simple lunch for a 2-year-old can be a fun twist on classic favorites.
Consider a cheese snack box with cubed cheese and whole grain crackers, served alongside cherry tomatoes and sliced turkey or cooked pasta.
Toddler meals like these are easy to prepare and packed with nutrition.
You could also include a side of bite-sized fruits like banana slices or cubed sweet potato for a healthy dessert.
The key is to ensure that the food is toddler-friendly, which means it should be served in bite-sized pieces and be safe and easy for your toddler to eat.
Remember to pack a balanced meal with varied food groups, and choose foods that can be served cold if the lunch is for daycare. Happy meal prepping!
Read more: https://www.daycarepulse.com/lunch-ideas-for-daycare/
Conclusion
Planning healthy and exciting school lunches for your little one doesn't have to be a daunting task!
With just a sprinkle of creativity and a handful of simple ingredients, you can whip up a delightful array of easy and nutritious meals that your little one will absolutely adore!
By packing these healthy toddler lunch ideas, not only would you be ensuring your child's health and growth, but you would also be instilling good eating habits from a young age.
Happy meal prepping, and here's to healthy, happy, and satisfied little tummies!