How to Apply for Daycare Vouchers in MD? Step-By-Step Process
So you want to get daycare vouchers in Maryland, but you're overwhelmed by the complexity of the process. Don't scratch your head. We are answering the question of how to apply for daycare vouchers in MD.
Maryland's official childcare voucher program is called Child Care Scholarship (CCS), previously known as Child Care Subsidy. You can get daycare vouchers through this program if you qualify.
Let's simplify the eligibility criteria and application process with step-by-step instructions. Plus, we've mentioned all the resources you'll need, so you don't have to search anymore.
Disclaimer: All the information in this article is taken from the official government site of Maryland and from the Maryland State Department of Education.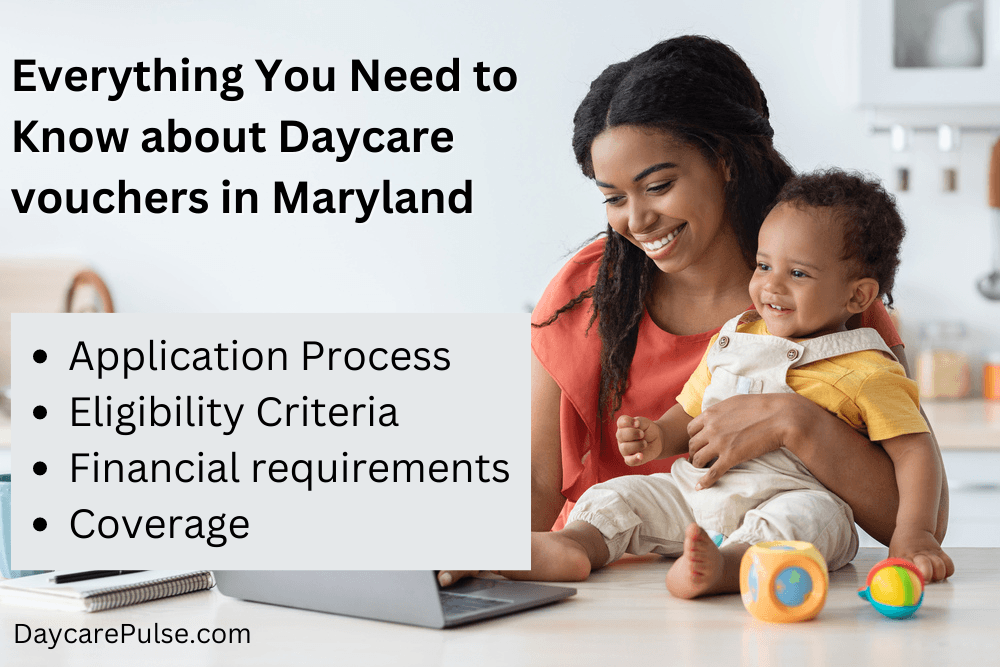 How to Get Daycare Vouchers Through Child Care Scholarship Program in Maryland?
Child care scholarship (CCS) is managed by Child care subsidy central (CCS central) and is the official program of Maryland's government. It provides financial assistance to low-income working families.
According to the Maryland State Department of Education, it's an agreement between the state, parents and providers.
Don't hesitate by listening to the word agreement. It's not like an actual agreement. It's called so because all the 3 stakeholders, parents, providers and the state, come along and agree to provide quality care to kids.
There are 2 types of childcare scholarships
Formal Scholarship: It's for licensed care providers and home/commercial daycare centers.
Informal Scholarship: It's used if your care provider is a relative or a non-relative individual.
Let's quickly go through how the cash flow works, and then we'll discuss the eligibility criteria.
The state pays a certain percentage of your childcare expenses. It's called Scholarship Rate. You'll have to chip in the remaining percentage, called a co-payment. It's usually a small amount and is decided considering the family size and income.
One more important thing. You won't receive the scholarship amount. It's paid directly to the provider.
Eligibility Criteria to Apply for Daycare Vouchers in Maryland (CCS)
Let's see who can claim daycare vouchers on the Child Care Scholarship program.
You should be a Maryland resident working or involved in an educational activity.
You should fall into CCS income guidelines. (We'll discuss this in the next heading)
Immunize your child according to Maryland's standards.
The parents aren't required to be US nationals, but the child should be a national or a qualified alien.
The child should be under 13 years.
For disabled kids, the age limit is 19 years.
Provide proof of identity of all house members.
Provide a photo I.D. (Only of house head)
What Are the Income Limits for Childcare Assistance in Maryland?
Below is a chart showing the CCS income guidelines provided by the official website. If your annual income is equal to or less than the stated value, you can apply for the Maryland Child Care Scholarship program.
Family Size
Initial Income (Maximum Annual Income)
For new applications
Continuation Income (Maximum annual income)
For changes/reassess
2
61,222$
73,899$
3
75,627$
91,287$
4
90,033$
108,675$
5
104,438$
126,063$
6
118,843$
143,451$
7
121,544$
146,712$
8
124,245$
149,972$
9
126,946$
153,232$
10
129,647$
156,492$
11
132,348$
12
135,049$
How to Apply for the Child Care Scholarship Program?
The application process for daycare vouchers in Maryland is simple and cost-free. Let's see the step-by-step process to apply for the Child Care Scholarship program.
Fill out the application form. This form is 10 pages long, so fill it out when you have 20 to 30 minutes on hand. You can print it or fill it out online.
Submit the application form to CCS Central 2. You can either fax or email them.
Email: [email protected]
Fax: 202-478-2102
PO BOX 346031
Bethesda, MD 20827
Another option is to apply through the family portal. Sign in or create a new account if you don't have one. You'll find the same form there and can apply directly.
The form is pretty lengthy, and some sections might be confusing. Maryland's education department has a guideline video for completing the application form. This 20-minute video can save you from a great hassle.
If you're facing any other issue in your application process, call 1 877-227-0125. Press 3 when asked to. Inform the respondent that you need help with your Child Care Scholarship application. They'll guide you further.
Document Requirements
Document requirements can vary depending on your situation. However, some basic documents that you'll have to submit are:
Proof of income
Proof of address (Utility Bills)
Proof of nationality or qualified alien
Proof of identity (Birth certificate/ ID card/ Driving license)
Proof of relationship between kid and provider (In case of informal scholarship)
Check out the "Application Requirements" section of the family portal (linked in the previous heading) for more information.
Frequently Asked Questions
1. How Long Does It Take to Process the Application?
According to Maryland's government website, the approval time is 30 days.
2. How Much Does the Child Care Scholarship Program of Maryland Cover?
It depends on your family size and income. Once your application is approved, you'll be informed about all the finances. If you're receiving vouchers for more than one child, you'll get sibling benefits on co-payment.
3. Can I Send My Kid to Any Daycare With Child Care Scholarship?
No, your kid can attend only those daycares that are a part of Maryland's Excel Program. Don't worry; there are many quality home and center-based daycares in the program.
Conclusion
Congratulations! You now know how to apply for daycare vouchers in MD. You're ready to submit your application.
We hope this article has simplified the process and made things a bit clear. Thank you so much for staying with us till the end.