How to Get Daycare Vouchers in 4 Simple Steps (For Any US State)
You know daycare vouchers are the solution to your problem. This is the way you'll get assistance paying for childcare. But you don't know how to get them. Is it right? If yes, then this article is for you.
Every state has its own terms and conditions and processes for receiving and processing applications. But no matter in which state you are, you'll have to go through the following 4 steps to get a daycare voucher.
Checking eligibility
Collecting documents
Filling out the form
Submitting and waiting
We're also mentioning all state's official websites so you don't have to search anymore. Just stick with us, and let's see how to get daycare vouchers in 4 simple steps.
Disclaimer: Every state has a slightly different approach to handling childcare subsidy programs. We're discussing a general process and not getting into exact numbers and details as they differ for every state. But what we're discussing will make 90% of the things clear to you. To get the exact information visit your state's official site. We have listed all the US state sites in the article.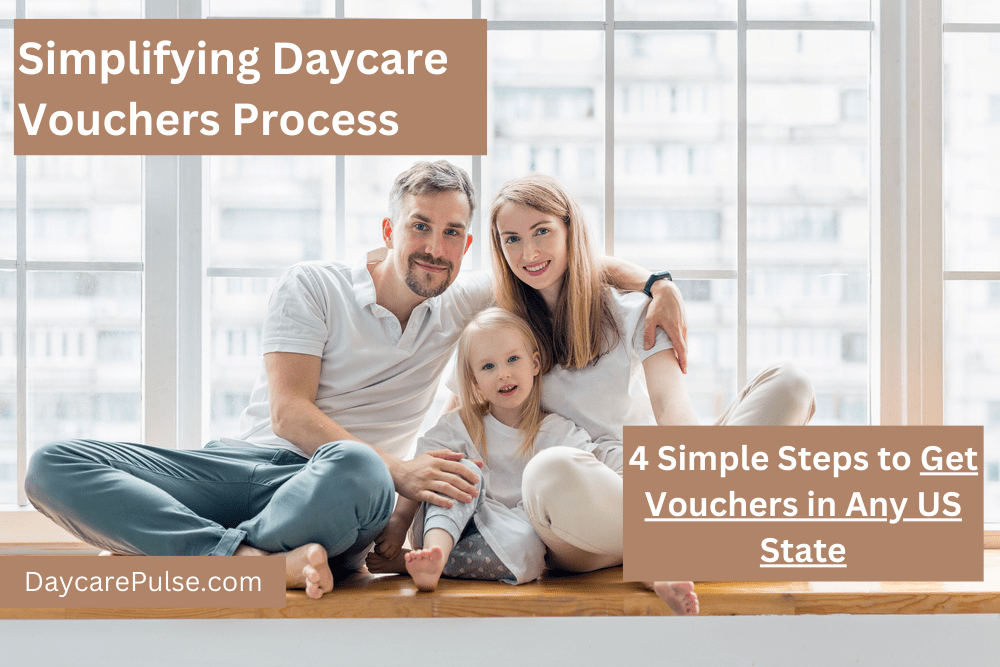 4 Steps to Get Daycare Vouchers
Let's start from the very beginning. If you don't want to read the whole thing, skip to your desired section.
What Are Daycare Vouchers?
Daycare vouchers are subsidies or financial assistance offered by the government or some organizations. They're given to low-income households or families with special needs children. The purpose is to ensure quality early care for every kid and to make it affordable for parents.
This facility has many names, like child care assistance, child care subsidy, daycare vouchers, and child care vouchers. But they all are actually the same thing.
Let's now see how childcare subsidies work.
How Do They Work?
Childcare assistance works in a simple way.
The program covers a certain percentage of your child's daycare expenses which is directly paid to the provider. Yes, you don't receive the subsidized amount. The remaining pay, which is usually 10 to 20 percent, is co-payment, which means it's the amount that parents chip in.
Often you don't start receiving the funds immediately after your application is approved; rather, you're put on a waiting list. This happens when the program doesn't have sufficient funds.
In such cases, the department waits for the government to release funds. As soon as the funds are released, they're distributed among the waiting parents. Or if some enrolled children leave the program, it leaves space for new kids.
Keep in mind that waiting lists are usually very long. As childcare is getting expensive, more people need assistance and are applying more than ever before. Some states prioritize people based on certain factors and those who are desperately in need. This criterion is different for every state. For more information on this, visit your state's website.
Not all daycares accept vouchers. So, if you're paying with childcare vouchers, ensure your provider accepts them. We'll talk more about this later in the article.
How to Get a Child Care Subsidy Voucher? The Application Process
Every state has its own methods and management techniques. So, the application process will have minor differences based on your location. But you'll have to go through the following 4 stages to get a daycare voucher.
1. Check the Eligibility
Every state has some requirements and eligibility criteria. The first and most important step is to check if you qualify for a child care subsidy.
For this, you can navigate your way to the eligibility section of your state's website. Or simply write the following in the search bar, and you'll directly land on the right page.
"[Your state's name] child care voucher eligibility criteria". For example, California child care voucher eligibility criteria.
Here are some general requirements that almost all states have.
You're working, trying to find a job or attending college.
Your child is under the age limit for child care assistance which is usually 12 to 13 years.
Your income is equal to or below the state's requirements for offering grants.
You're living in the state you're applying to.
Your child is a US citizen or a qualified alien.
2. Get the Required Documents
If you qualify for the childcare assistance program, let's start preparing for the application. Check the document requirements of your state and start collecting those documents.
You might need them in soft or hard copy, depending upon your state's application method. If they take online applications, scan your documents and save them in soft copy.
Some general documents that you might need are,
Your ID
Proof of your income
Proof of your address
Your child's birth certificate
You might also need information about your care provider, like the name, charges, and number of care hours. So it's best to choose a daycare before applying for the program.
3. Fill Out the Form
3rd step is to start filling out the form. You can easily find the application form on your state's website.
Your state will use 4 of the following ways to receive subsidy applications.
Through a portal: Like Maryland and Florida. You have to create your account there and simply fill out the form and submit it through the portal.
Through email: Some states take online forms through email.
By visiting: In some states like North Carolina, you'll have to go to the office to submit your documents and fill out the application form.
Through Fax: This isn't common, but this option is still available.
The application forms are often a bit lengthy and might take you 15 to 20 minutes to complete.
4. Submit and Wait
Lastly, you have to submit the application form and wait for the answer. Once your application is approved, the department will inform you of the expense distribution, meaning co-payment and subsidized amount. You'll either start receiving funds immediately or you'll be put on a waiting list.
Maintaining Subsidized Child Care Once You Have It – Requirements
People often ask how long they can use a childcare voucher or do daycare vouchers expire.
Vouchers don't expire. You can use them for how long your subsidy is, which is often 6 or 12 months. After this time, you'll have to reapply if you still need grants.
Let's say you're reapplying, but your income increases, and now your earnings are over the financial limit of your state. It means you no longer qualify for child care subsidy, and now you won't receive funding.
You should also update the departments if any of the following changes.
Your address
Your phone number
Your income
Child care provider
Number of care hours
Any new addition to your family
How Much Does Child Care Subsidy Cover?
We can't tell you the exact amount. It depends on factors like
Your state
Your income
Family size
Your specific situation
Any special or medical needs
Some people pay $20 to $30 a month as a co-payment. The state covers the rest. This is also possible that you don't have to pay anything. The state covers 100% of your child's care expenses. But this is not so common, and it depends on a person's situation.
You will get to know all these numbers when you receive your approval letter.
Who Offers Child Care Vouchers?
Mostly childcare vouchers are offered by the government. But there are some organizations and NGOs that also help low-income households in paying for child care. Just Google "Child Care Subsidy [Your state name]".
Often there are grants for specific people like the military. Government has a separate voucher program for military families.
Which Daycares Accept Vouchers?
You cannot send your kid to any daycare if you're using subsidies. You can only enroll your child in daycares that accept vouchers. And which daycares accept vouchers? Let's see.
Only those centers can accept vouchers that are enrolled in the government's child care assistance program. Every state has its own name for this enrollment program, but they all are the same.
The daycare has to register with the program, and only then can they accept vouchers. There are certain requirements for daycares to participate like they should be licensed and follow the basic safety and hygiene guidelines.
And don't worry; this won't limit your options. Many parents think they won't get quality care and good providers like this. But it's not true. These government programs have many care providers in every area. And they all follow the state's guidelines to ensure quality care for your child.
Visit Your State's Official Website
Here are the links to all the US states' official government sites.
Frequently Asked Questions
People have tons of questions about daycare vouchers, the application process, and eligibility according to their own unique situations. We can't cover all the questions here.
Contact the relevant departments or visit their office to get first-hand knowledge of your circumstances.
1. Can You Get a Daycare Voucher Before Your Child's Birth?
In most states, no. You can't get daycare vouchers before your child's birth. You'll need your baby's information, like their name, age, and birth certificate, for the application.
2. Can You Get Daycare Vouchers Without Child Support?
Yes, you can get daycare vouchers if you don't have a childcare provider at the moment. But you'll have to choose before applying.
The application might ask for your provider's information. Plus, they'll need to know the charges and hours of care needed to calculate the exact co-payment and grants. If you have decided on a daycare, you can ask them for information, and they'll happily provide you.
3. How Can I Get More Money for Daycare?
The best way to get more money for daycare is to get vouchers if you qualify for them. If not, then search different organizations if you fit their eligibility criteria.
Other than vouchers, you can ask your employer if they offer any childcare benefits. Often companies are associated with certain daycares and pay for your daycare fee from your salary. So you don't have to pay tax on that money.
4. How Do I Continue Receiving Subsidy Benefits?
You can continue to receive subsidy benefits as long as you're eligible. The most changing parameter that puts many families out of grants is income. Check the government's financial limit criteria from time to time and see if your income is below the mentioned amount.
Timely submit the updated information to the department whenever they ask. Often the grants are stopped if the parents don't update the government.
5. I'm Not A US Citizen. Can I Get Daycare Vouchers?
The policies in this matter are different in every state. But mostly, the parents aren't required to be US citizens to get childcare assistance. The kid should be a citizen or a qualified alien.
Conclusion
This was our detailed guide on how to get daycare vouchers. There are a lot of questions left unanswered. As we said, people have a ton of confusion and queries depending on their situation. It's not possible for us to cover all of that.
But the solution is simple. Go to your state's website. Find the contact information and reach out to them. It's best if you can ring them a call or pay them a visit instead of waiting to get a reply to your email.
We hope we were able to simplify and clarify things for you.
Thanks for reading and staying with us till the end.