How to Get Daycare Vouchers in Florida?| A Complete Guide
Yearly childcare expense for 2 kids in Florida is more than the college fee. In such a scenario, childcare assistance is the best help for a low-income household. Don't know how to get daycare vouchers in Florida? Don't worry; we got you.
In Florida, you can get childcare assistance through the government's official program, the "School Readiness Program" offered by Early Learning Coalition (ELC).
Let's clearly discuss the eligibility criteria, income requirements and application process so you can apply for childcare vouchers right after reading this article.
Disclaimer: All the information mentioned here is sourced from the official government websites. However, the rules and eligibility criteria often change. Please use this Florida map to quickly visit your county's website for up-to-date and first-hand information.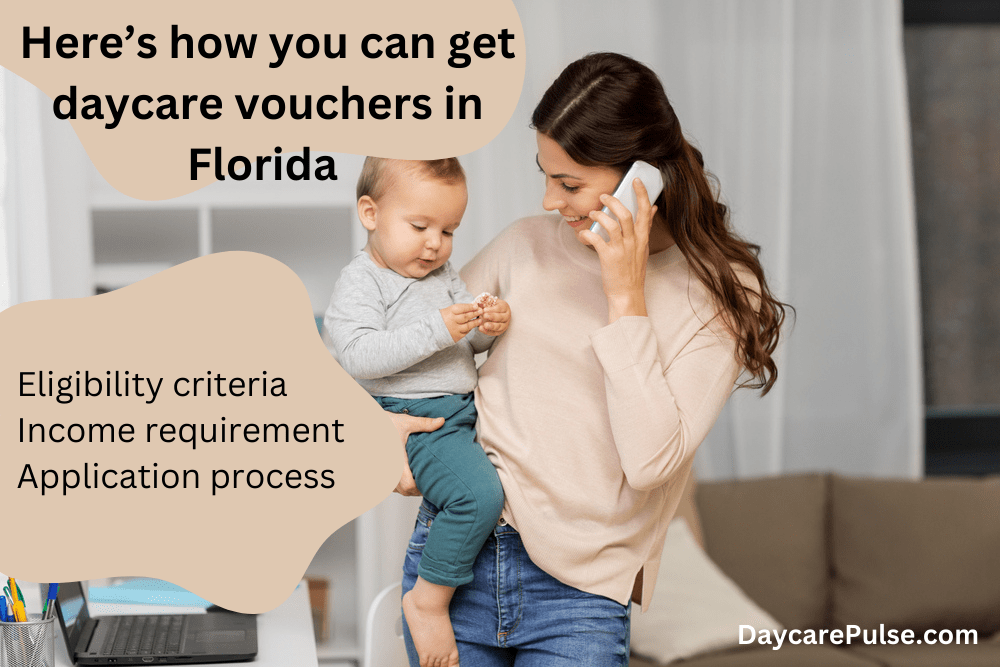 Get Daycare Vouchers Through School Readiness Program in Florida
School Readiness is the official childcare assistance program for low-income families in Florida. According to Florida's official fact sheet, 209,801 children were funded through this program in the year 2020-2021.
This program aims to ensure quality care and early education for every child regardless of their parent's financial situation. Government funds a big chunk of your childcare cost, and you must chip in a small percentage (usually 10 to 12%) called a copayment. You pay this amount directly to your daycare provider.
Let's see how to get daycare vouchers in Florida in 2 simple steps.
Step 1: Eligibility Criteria
According to a Flyer issued by the Early Learning division of Florida, 2 main categories of people can claim daycare vouchers through the School Readiness Program.
Working parents or full-time students who need temporary assistance and meet the requirements.
Families with kids at risk of abuse, homelessness, and abandonment.
Based on these points, you can claim daycare vouchers in Florida if you're a:
Working parent/family with low income
Parent with special needs kid
Low-income migrant family
Victim of domestic violence
Low-income farmer
Attending college
Teenage parent
Homeless
If you're a working parent or a full-time student, here are 3 main requirements that you should meet to apply for the School Readiness program.
You're spending 20 hours per week in work or your education.
Your gross income is equal to or below 150% of the federal poverty level (FPL) for your family size.
You'll have to contribute copayment according to your income and family size.
What Is the Income Limit for Childcare Assistance in Florida?
As mentioned above, your income should be equal to or below 150% of the FPL index, depending on your family size. You can continue to receive the allowance until you're on 85% of the State Median Income (SMI).
Here's the most recent sliding fee scale issue by the government of Florida in 2020.
Step 2: How to Apply for School Readiness Program?
The application process is 100% online and pretty simple. Here's a step-by-step process and all the resources you'll need to apply for a daycare voucher in Florida.
Visit the family portal and create your account.
Press the button saying "Apply for School Readiness".
Your enrollment process will be started. Fill in the required fields and submit it.
You'll receive all updates and notifications regarding your application through email.
If you want a comprehensive video tutorial from making your account to filling out and submitting the form, Florida's Early Learning Division has a perfect resource for you. This video will guide you through each step.
How Much Will the School Readiness Program Cover?
The ELC daycare voucher will cover the maximum cost of your childcare. However, we can't give you the exact figure because the amount depends on the kid's age, educational requirements, daycare hours, parents' income, and family size.
You'll get to know all the finances for your child during the application process.
Your Application Might Be Put on a Waiting List
"Will I immediately start receiving funding once my application is approved?"
It depends. If funds are available, you'll start receiving them immediately. However, this usually doesn't happen. There are waiting lists. If there are no funds at the moment, you'll be put on a waiting list.
How Long Will I Have to Wait?
There's no exact answer to this. According to the official site, sometimes funds come unexpectedly, or some kids leave the program making room for new ones.
But whenever the funds are received, they're immediately released to the eligible parents. Here's a priority list the Department of Early Learning Division follows for fund release.
Conclusion
This was all about how to apply for daycare vouchers in Florida. We hope your confusions are cleared, and you're ready to apply for an ELC daycare voucher.
Thank you for staying till the end.