How to Apply for Daycare Vouchers in NC? A Step-By-Step Guide
How to apply for daycare vouchers in NC? Am I even eligible? What's the application process? How much does the voucher cover? We're answering all these questions in this article today.
In North Carolina, you can get daycare vouchers through the government's assistance program called Child Care Subsidy.
Let's dive deep and see everything about NC's Child care Subsidy program. We're also discussing finances and giving you all the resources you need.
Disclaimer: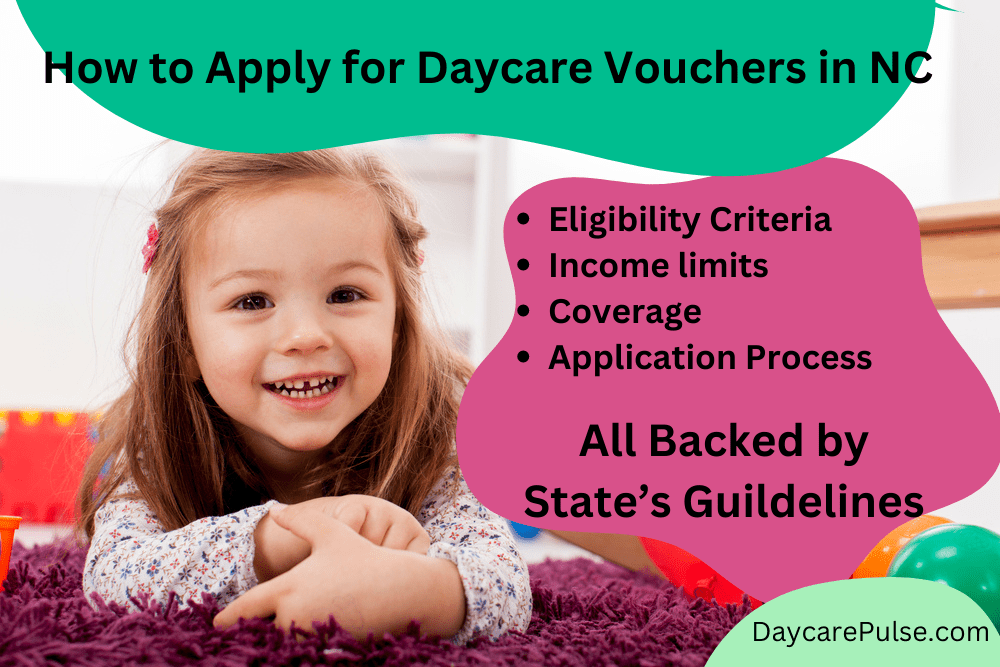 How to Get Daycare Vouchers Through the Child Care Subsidy Program?
North Carolina's division of child development and early education offers an assistance program to low-income parents. It's called the Child Care Subsidy program.
According to the fact sheet issued by the NC's childcare department for the year 2020-2021states that 59,653 kids received funds each month through this program. The funds are received from the federal and state government.
If you meet the eligibility criteria, you can apply for childcare vouchers. Once your application is approved, you can pick a daycare participating in the Subsidized Child Care program.
How much does it cover?
We can't tell you the exact amount as it depends on a lot of factors like:
Family size
Your income
Cost of childcare
The type of funds used for the assistance
But to give you an idea, the state pays 90% of the childcare cost, and the remaining 10% is up to you. You'll be able to calculate your childcare cost when we'll discuss the financial eligibility criteria in the next heading.
Eligibility Criteria to Apply for Daycare Vouchers in NC?
According to the Division of Child Development and Early Education (DCDEE), you are eligible for the program if your family meets one more of the following points.
Your child has developmental or special needs
You're working or actively trying to find work
You're attending educational programs or college
Your child is receiving child protective services
Your child needs care to support child welfare services
Your family is experiencing a crisis
You should meet the financial criteria (we'll discuss this in the next heading)
The website states that the policies are different regarding child protective or child welfare services. And you should call your county for more information.
Income Limits
Here are 2 charts shared by DCDEE showing the maximum monthly gross income for every family size. Your monthly income should be less than the number mentioned here.
Also, you can now calculate your child's childcare payment that you'll have to pay. It's 10% of your monthly gross income.
For 0-5 years of age of children and all children with special needs200% Federal Poverty Level is Used at the Initial Application
Family Size
Maximum Gross Monthly Income
1
$2,265
2
$3,052
3
$3,838
4
$4,625
5
$5,412
6
$6,198
7
$6,985
8
$7,772
9
$8,558
10
$9,345
11
$10,132
12
$10,918
For children 6-12 years of age and no children with special needs133% Federal Poverty Level is Used at the Initial Application
Family Size
Maximum Gross Monthly Income
1
$1,506
2
$2,029
3
$2,552
4
$3,076
5
$3,599
6
$4,122
7
$4,645
8
$5,168
9
$5,691
10
$6,214
11
$6,738
12
$7,261
Assuming you're applying for the first time, we only mentioned the new applicant charts. If you're already receiving funding, but your income has increased, check the website we've linked at the start of this heading. You'll find a chart helping you determine if you can continue to receive funds.
How to apply for the Child Care Subsidy Program in NC?
If you meet the eligibility criteria, let's see how to apply to North Carolina's Child Care Subsidy program. All the information is taken from the official website of DCDEE.
Go to your local county's website. You'll apply from there. Here's a county search portal by DCDEE. Just select your county and select the reason for contact. You'll see their contact number, address, email, and web address at the bottom of the page.
Contact your local county. They'll inform you where you've to go to submit your application. They'll also let you know all the documents you must bring. In case of a critical situation, they'll schedule an appointment for you so they can guide you better.
During your visit, the workers will check with the help of your documents if you're eligible.
There's a 1-month timeframe to determine the eligibility of a candidate.
If you're eligible, you'll receive a childcare voucher indicating that your child is now receiving assistance.
If they require any additional documents, you'll be given time to submit them, and the process will then continue.
Conclusion
This was our guide on how to apply for daycare vouchers in NC. We hope we were able to simplify the process for you. And you're now ready to call your county to apply for the Child Care Subsidy program.
Thank you so much for reading. For any further questions, you can always visit your county's website or skip the hassle and ring them a bell.