Tylenol is a common over-the-counter medication used to treat fever and pain in children.
But can daycare give Tylenol to children?
The answer is yes, but only with written permission from the child's physician or legal guardian. The daycare must also have a written policy on giving medications to children, and the staff must be trained in how to administer medications safely.
Parents should also provide the daycare with a signed medication consent form for each medication that your child takes.
This blog post will discuss the legal and safety considerations involved in giving Tylenol to children in daycare. Keep on reading to make an informed decision for your child's safety!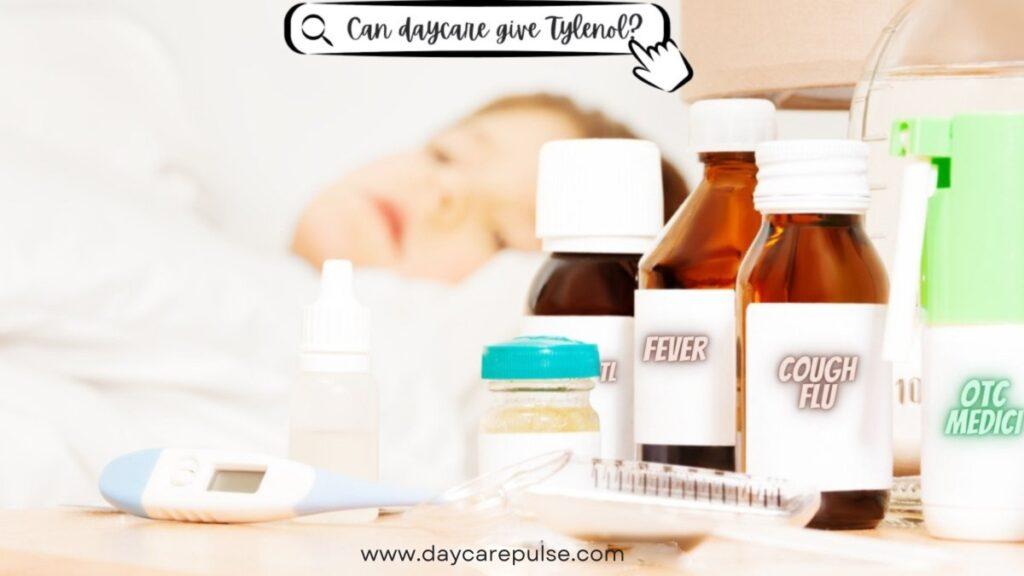 Can Daycare Give Over-the-counter Medicines?
The answer to this question depends on a number of factors, including the type of medication being administered, the age and medical history of the child, and any existing laws in your area.
Many daycares can give over-the-counter medicines to children if there is a doctor's note or prescription from the parents. However, it is important to consult your state or local government to determine if this practice is permissible in your area.
You might also want to read: Can Daycare Give Medicine?
Remember 2 essential considerations about medication in daycare:
1. First Aid Training
While administering any form of medication to young children, it is critical to be aware of the dose requirements and safety concerns. To ensure safety and eliminate all doubts, daycares should receive pediatric first aid training or hire a certified nurse as part of the daycare staff.
You might also want to read: Best First Aid Kit for Daycare
2. Parents Approval
Another strategy to keep children safe is to obtain parental consent before administering certain over-the-counter medicines that may be necessary for the future in an emergency, such as a delayed pick-up while a kid is suffering from fever or discomfort.
In case of long-term use, ask parents to provide written approval from a health care practitioner that specifies the medical necessity, medicine dose, and duration of treatment.
Is Children's Tylenol Over-the-counter?
Yes, Children's Tylenol is over-the-counter. It is a pain reliever and fever reducer that is available in liquid form for children. It typically considered as safe and effective medication for children.
Tylenol is available in different strengths, so it is important to choose the right one for your child's age and weight. You should strictly follow the doctor's prescription and directions on the label.
Is Tylenol Safe?
As an over-the-counter medication that is regularly used by both children and adults, it is critical to be informed of any potential hazards related to this drug.
While there is no conclusive answer to whether Tylenol is safe for children or can induce allergic responses because it relies on several factors, including the child's age, medical history, and current health state.
So the best advice I can give you is to always visit a qualified doctor before taking over-the-counter medications.
Allergic Reactions
Acetaminophen is known to have rare but following reactions, according to Healthline:
Difficulty breathing or swallowing.
Swelling of your face, lips, throat, or tongue
Hives
Severe itching
Peeling or blistering skin
Tylenol is, however, advised to be avoided by children who have a history of allergies or asthma, as allergic responses can occur in rare situations.
Before administering this medicine to any kid with a known allergy or asthma history, visit your doctor for advice on whether this medication is safe for your child and what dose requirements should be followed.
You might also want to read: When to Keep Baby Home From Daycare?
Pill Vs. Syrup
While Tylenol comes in various forms, the most prevalent include oral pills, capsules, liquids, and syrups. It can be used alone or with other pain and fever treatments.
Syrups and liquids are generally advised for children over the age of two. A competent health practitioner should be consulted for further confirmation and a final decision.
Alternatives for Different Countries
Over-the-counter medicines such as Tylenol (acetaminophen) are used to treat pain and fever in children around the world. But many Asian countries use different brand names for acetaminophen.
Some popular alternatives to Tylenol in the US include ibuprofen and acetaminophen/codeine. These drugs vary in dosing and safety guidelines, so they should never be taken as self-medication.
Some other popular alternative brands include Advil, Motrin, Aspirin, and Aleve. These drugs may be available over the counter or with a prescription, depending on the country where you live.
1. Availability of Tylenol
Availability of Tylenol in different countries may also vary, depending on local laws and regulations. So, suppose you are a caregiver looking for an effective and safe way to treat pain and fever in children who live in a country outside of the US. In that case, it is essential to check with your healthcare provider or local pharmacy about the availability of Tylenol in your area.
2. Alternate Brands
Tylenol is widely used in many states. But there may be other alternatives available in different countries with a different brand names. Another commonly known version of acetaminophen is Paracetamol. Tylenol's available alternatives in other states are Mapap or Panadol.
Conclusion
Since kids get exposed to different seasonal diseases in daycare, Tylenol may be an effective and safe method of treating pain and fever in children. However, it is critical to be informed of this medicine's potential risks and side effects.
You might also want to read: How Long is Hand, Foot and Mouth Contagious for Daycare?
At the end of the day, being a responsible adult, it is vital to take the time to research Tylenol and consider consulting your child's pediatrician before giving any medicine. We wish you all the best in keeping your little ones safe and healthy!
Disclaimer
The information in this blog is based on the author's experience and expertise. No medical claim is being made here, and neither the company nor the website would be liable for any consequence.