How Often Daycare Change Diapers: A Parent's Guide
Are you a parent with a young child starting daycare? Wondering how often diapers need changing each day? If this question has been keeping you up at night, fear not!
This blog post provides practical solutions and addresses concerns related to daycare diaper changing schedules. It offers insights into the frequency of diaper changes and shares essential cleanliness tips for your child's health and comfort.
In this blog post, we aim to address your concerns and provide comprehensive information on diaper changing at daycare. By the end, you'll feel informed, relaxed, and confident in the excellent care your child will receive.
So, relax and let this post ease your mind.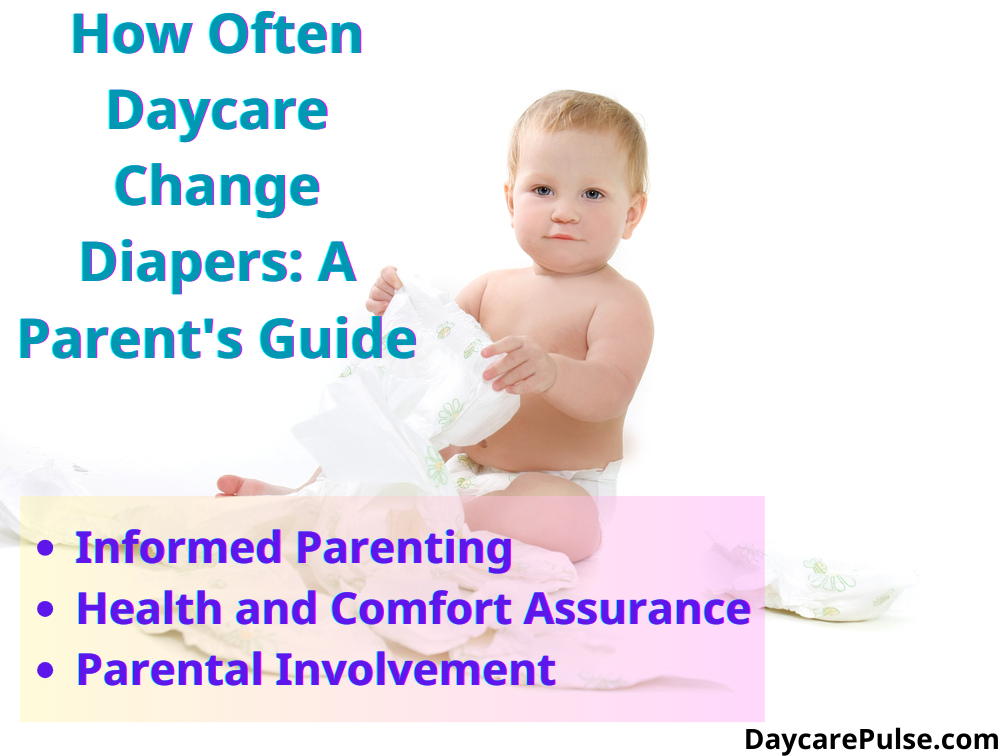 How Often Do Daycare Providers Change Diapers?
Daycare Diaper Changing Schedule
It's a question that many parents have – how often do daycare providers change diapers? The answer may vary depending on the provider, but there are some general guidelines to keep in mind.
Infants: Infants require frequent diaper changes due to wet diapers. Change diapers every 2-3 hours or as needed, especially during nap time.
Toddlers: Toddlers, like infants, also should have their diapers checked regularly. A general guideline is to change their cloth diapers every 3-4 hours or sooner if needed to encourage potty training.
Preschoolers: For older kids, diaper changes are less frequent compared to infants and toddlers. Still very important to check diapers regularly. A general guideline for preschoolers is to change their diaper every 4-6 hours or as needed.
On-Demand Diaper change
Aside from the general guidelines, daycare providers must be alert in monitoring each young child for indications of wet diapers.
Every child is unique with a different rate of urination, hence, a particular child might need a diaper change every half hour, while others might go 2 hours without needing a change.
If a child's diaper becomes wet before the scheduled time, it should be changed immediately to prevent discomfort and potential health issues.
Hence, even if the general diaper changing schedule is set, daycare providers must recognize that each child's needs may necessitate changes more frequently.
Reasons Why Daycare Change Diapers Less Frequently
In some daycare centers:
Diapers may be changed less frequently if the daycare provider can't keep the diaper area clean and dry. They could include using absorbent materials like cloth or disposable under pads to help keep the child's skin dry.
Daycare providers may choose to change diapers less frequently if they are limited in terms of time or resources.
In these cases, daycare providers should still strive to check the diaper every two hours and change it as soon as possible when needed.
Allergies or Skin Sensitivities
If a daycare provider notices that the child has developed a skin irritation or other allergy due to prolonged contact with soiled diapers, they should act quickly to address it.
Tips for Safe and Hygienic Diaper Changing
Some quick tips for changing diapers in a hygienic way are:
They should begin by washing their hands before and after each diaper change and wearing disposable gloves if necessary.
Daycare providers should ensure that the area is cleaned with an appropriate cleansing agent.
The child's bottom is wiped with a clean cloth or disposable wipes.
Daycare providers should also be aware of any specific instructions given by the parents regarding their child's allergies or skin sensitivities.
Benefits and Risks of Diaper Changing
Benefits of Changing Diapers More Often
One of the main benefits of changing diapers more often is that it can help keep children comfortable by reducing their exposure to wetness and soiled material.
Daycare providers can reduce the risk of diaper rash and other skin irritations.
Reduces the risk of the spread of germs by changing diapers more frequently.
Risks Associated With Not Changing Diapers Often
Delaying diaper changes can lead to several unpleasant and potentially dangerous risks.
Increasing the chances of skin irritation.
It can also increase the risk of infection or contamination from fecal matter.
Daycare providers may be liable for any accidents or illnesses that occur as a result of delaying diaper changes.
Daycare providers may also face legal action if they are found to have neglected their duty of providing a safe and hygienic environment for the children in their care.
In light of this, daycare providers should strive to change diapers as often as needed to ensure the safety and comfort of all children in their care.
Parent's Attention Toward Diaper Changing in Daycare
Signs for Diaper Change Need
Parents can tell if their child's diaper needs to be changed by looking for signs of wetness, soiling, or discomfort. If the diaper is saturated with urine or feces, it should be changed immediately.
Ensuring Regular Diaper Changes at Daycare
Parents can ensure that their child's diaper is being changed regularly at daycare by:
Discussing the daycare's policies and procedures with the daycare provider.
They should inquire about how often diapers are checked when they are typically changed.
Provide any special instructions regarding their child's allergies or skin sensitivities.
You may also want to read: https://www.daycarepulse.com/do-daycare-change-diapers/
FAQs
Change Diaper Before or After Feeding?
Other great time to change your child's diaper is before and during the feeding time. Take advantage of the child when they are calm for checking diaper.
If you breastfeed your child check the diaper during the feeding and if you feed formula milk then check before giving the bottle.
How Long Can I Leave a Wet Diaper On?
The length of time a wet diaper can be left on depends on the age and size of the child. Generally speaking, for infants up to 12 months old, it is generally recommended that diapers are changed every 2-3 hours or when they are visibly soiled.
For older children, diapers may not need to be changed as frequently.
Should I Change Diaper if Baby Is Sleeping?
When it comes to changing diapers while a baby is sleeping, daycare providers should use their judgement. If the diaper is not overly soiled or wet, daycare providers may opt to leave it on and check again in a few hours.
Daycare providers should always take steps to make sure the baby is still comfortable while they are changing their diapers.
This could include talking to the baby in a calming manner and using techniques such as swaddling or gentle rocking to help them sleep uninterrupted during the diaper-changing process.
What is the Diaper Rule at a Daycare?
The diaper rule at a daycare can vary but typically, daycare facilities ensure regular diaper changes to prevent diaper rash and ensure the hygiene of the children under their care.
In an infant room, diaper changes in daycare occur every two hours or sooner if the child has soiled their diaper.
This regular diaper change schedule prevents discomfort and reduces the risk of diaper rash, ensuring that each child remains comfortable and healthy throughout the day.
Conclusion
Daycare providers should prioritize frequent diaper changes to ensure the safety and comfort of all children in their care.
Remember, different daycares may have varying policies and procedures for diaper changing, so it's important to check with the provider to ensure compliance.
Great job!