Do Daycare Change Diapers: Ensuring Proper Diaper Changes
Are daycare workers simply trying to avoid getting dirty or something more is going on? Finding the right answer can take a while but here are some important points to remember when you take your child to the daycare.
Yes, daycare has a responsibility to change your child's diaper. They should be checking the diaper every 2 -3 hours. I have discussed in my article: the daycare diaper policy and some useful tips to follow.
Please keep reading for tips and how often diapers should be changed in daycare for your child's happiness and health. Let's take a closer look.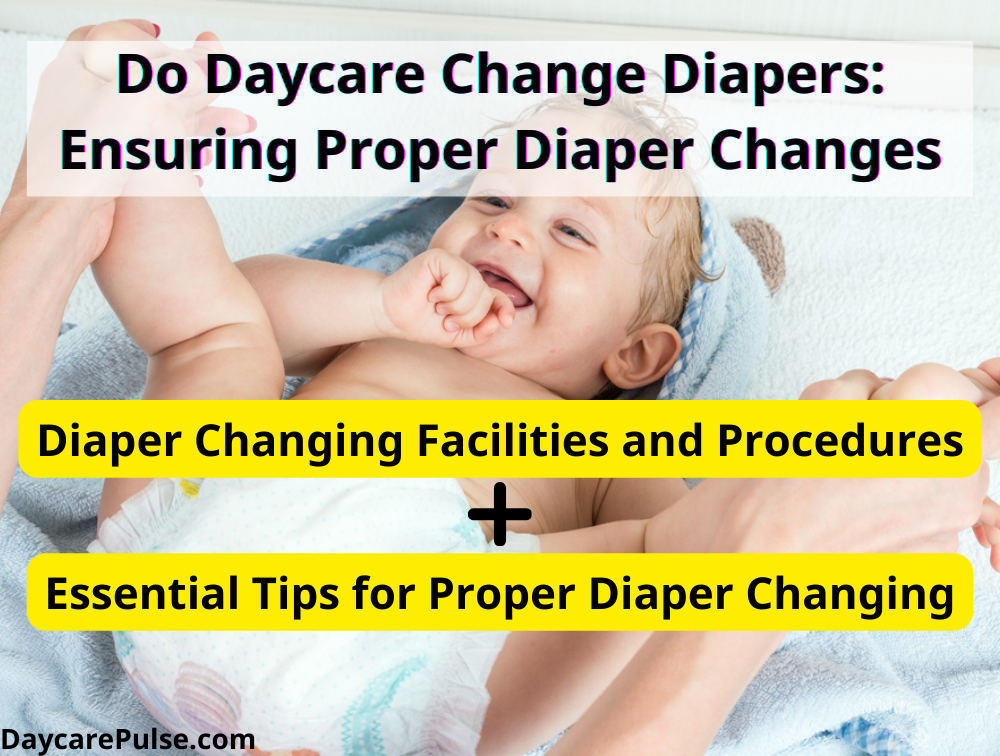 Daycare Diaper Changing Policies
Hygiene Protocols
Always wear new disposable gloves for each change.
Sanitize the changing area before and after every use.
Use clean disposable wipes during the change.
Seal used diapers in plastic bags to control odors.
After the change, discard gloves and thoroughly wash hands.
Following these rules helps prevent the spread of germs and keeps our little ones healthy.
Staff Training and Supervision
Staff must complete a comprehensive training program.
Annual refresher courses are recommended.
Staff should be assessed during training.
Supervisors should monitor loyalty to protocols.
Immediate actions should be taken for violations.
Communication with Parents
Parents will be informed of daycare's diaper changing policies upon enrollment.
Changes to policies will be communicated through written notice and email.
Incidents related to diaper changing should be immediately notified to parents via phone call or text.
Parents' specific diapering preferences will be strictly followed by the staff.
Updates regarding diapering supplies will be timely communicated through email or written notices.
Regular parent-teacher meetings will be held to address concerns or suggestions regarding diaper changing policies.
Diaper changing policies will always be accessible on the daycare's website.
Diaper Changing Facilities and Procedures
Diaper Changing Basics
A clean, well-lit, and adequately ventilated diaper changing area should be designated.
Diaper-changing tables should be stable, of appropriate height, and equipped with safety straps to prevent falls.
All necessary supplies should be within arm's reach but out of children's reach.
Staff should always wear disposable gloves during the diaper changing process to minimize the spread of germs.
After each diaper change, the area should be thoroughly cleaned and sanitized.
Used diapers should be disposed of in a covered, foot-operated, lined trash bin.
Hand hygiene is paramount after each diaper change, both for the staff member and the child.
Staff should ensure children's privacy during diaper changing.
Diaper changing should never be done in food preparation or eating areas.
Diapering Supplies
Diapers: Ensure a good supply of diapers, suitable for the size and weight of each child. Both disposable and cloth diapers can be used based on parents' preference.
Wipes: Hypoallergenic, unscented baby wipes should be available for cleaning.
Diaper Cream: A zinc oxide-based diaper cream or ointment should be on hand to prevent diaper rash.
Disposable gloves: Staff should have access to disposable gloves to maintain hygiene during diaper changes.
Changing pads or liners: These help to keep the changing table clean and are replaced or cleaned after each use.
Hand Sanitizer: For use by the staff after each diaper change, even though washing hands is the best practice.
A covered foot-operated bin: For the disposal of used diapers and gloves.
Clean clothes: In case the child's clothes get soiled during the diaper change.
Procedure
Preparation: Staff should ensure all necessary supplies are readily available: a fresh diaper, wipes, cream, fresh clothes (if needed), and a disposable glove for the diaper changer.
Safety First: After preparing, staff should ensure the child's safety by placing them on the changing table and securing any safety straps.
Changing the Diaper: With gloves on, remove the soiled diaper, fold it inward, and set it aside. Clean the child from front to back using baby wipes, and place the used wipes in the soiled diaper.
Disposal and Cleaning: Wrap up the dirty diaper and wipes tightly, then dispose of them in the foot-operated bin. Replace the soiled liner on the changing table with a clean one.
Fresh Diaper: Apply creams as directed by parents or health guidelines, then change the diaper and dress the child.
Clean Up: Clean and sanitize the changing area, dispose of gloves, and wash hands thoroughly. Also, ensure the child's hands are clean.
Monitor Child: After the process, monitor the child to ensure their comfort and return them to their play area.
Document: Note the time and details of diaper change for communicating with parents.
Emergencies and Protocols
Diaper Rash: In case of severe diaper rash, the staff should immediately notify the parents and follow any specific care instructions provided by them.
Soiled Clothes: If the child's clothes are soiled, they should be replaced with clean clothes. The soiled clothes should be placed in a sealed plastic bag and given to the parents at pick-up time.
Allergic Reactions: If a child has allergic reactions to the diaper, wipes, or cream, stop using the product and inform the parents. Use alternative products as instructed by the parents.
Diaper Supply: If the diaper supply is running low for a child, the parents should be notified at least a day in advance.
Staff Illness: If a staff member is ill, they should not be assigned diaper changing duties to prevent the spread of germs. A healthy staff member should take over these responsibilities.
Fire/Evacuation: During a fire or evacuation, staff must follow the daycare's evacuation plan to move all children away from the area. Diaper changing should not hinder the evacuation process.
COVID-19 Protocols: Staff should adhere to updated protocols for hygiene and social distancing in response to COVID-19, as advised by health authorities.
How Often Should Diapers Be Changed in a Daycare Setting?
Diaper-changing frequency may vary depending on the type of diaper used and the child's age. Diapers in daycare should be changed or checked at least every 2 -3 hours or more frequently if necessary.
For example, infants typically require diaper changes more often than toddlers.
Caregivers should be aware of signs that a diaper change is needed before the two-hour mark. These signs may include:
Fussiness
Redness
Discomfort.
If a caregiver notices any of these signs, they should change the diaper immediately to ensure that the child is comfortable and clean.
Ask Questions to the Daycare
Before enrolling your child in a daycare program, parents should be aware of the diaper-changing policy. Ask questions about the procedure and observe it during a visit.
It is also important to ask whether the caregivers follow the recommended safety precautions when changing diapers, including washing their hands, wearing gloves, and using disposable wipes.
Parents should inquire about the daycare's diaper-changing system to ensure regular changes throughout the day. It's also important to know if the facility has an ample supply of diapers, wipes, and other necessary materials.
If a Daycare Center Doesn't Change Diapers Correctly
It can be concerning if you've run into a daycare center that needs to change your child's diapers correctly. Fortunately, there are steps you can take to make sure your little one is getting the best care.
Have a candid but respectful conversation with the daycare staff about what protocols should be in place for diaper changes.
Ask specific questions about the frequency of diaper changes, who performs them, and whether casual observation is allowed.
If you still not satisfied with their response, consider speaking to the daycare director or contacting licensing authorities to ensure they meet basic standards.
Remember, as parents, and it's our job to advocate for our children and ensure they receive proper care.
Ensuring Proper Diaper Changes at Your Child's Daycare: 4 Esential Tips
Parents can ensure that their child's daycare center changes diapers correctly by following simple steps.
They should ask the daycare provider about their diaper-changing policy and ensure it is followed properly.
Parents should also observe the process during a visit to the facility and ensure that caregivers wear gloves, wash their hands before and after changing diapers, and clean the area around the diaper with wipes or cotton balls.
It is also important to check in with other parents who use the same daycare services and get their opinion about diaper-changing practices. If there are any concerns, it may be necessary to contact the administrator and discuss them.
If the issue persists, parents may need to look for a different daycare provider who follows proper guidelines for diaper changing.
FAQs
What are the benefits of having an effective diaper-changing policy at daycare centers?
An effective diaper-changing policy at daycare centers benefits caregivers and children.
It helps to ensure that dirty diapers are changed promptly and regularly, reducing the risk of spreading infections and illnesses.
It can help keep the daycare center cleaner and reduce the time spent cleaning messes. It can also make diaper changing easier for caregivers since they will have a clear procedure to follow each time.
An effective diaper-changing policy can help instill good hygiene habits in children from a young age. It can be beneficial for their overall health and well-being, as well as the health of those around them.
By having an effective diaper-changing policy, daycare centers can ensure that all children are kept safe and healthy. It can have long-term benefits for both the children and the center.
When to change the size of diapers?
It's easy to tell when to change the diaper size if you notice the following:
Regular leaks.
Red marks on the child's skin.
Diaper rash.
Unable to close diaper tabs.
Tight waistband.
How often do cloth diapers need changing?
Some types of diapers, such as cloth or disposable, may require different changing frequencies. Cloth diapers need to be changed more often than disposable diapers, as they can become soiled quickly and cause irritation when left on too long.
How often do daycare change diapers?
Daycare centers typically change diapers every two to three hours, ensuring that no baby remains in a wet or dirty diaper for an extended period of time.
The frequency of diaper changes, however, can vary based on a child's age, dietary intake, and overall health.
Additionally, any time a caregiver notices a baby's diaper is soiled, they should immediately replace it with a fresh diaper to prevent discomfort and potential health issues.
This approach ensures that the child remains clean, comfortable, and free from diaper rash or other hygiene-related complications.
You may want to read: https://www.daycarepulse.com/how-often-daycare-change-diapers/
Why do daycares change diapers standing up?
Daycares often adapt to changing diapers while the child is standing up due to several reasons.
Firstly, as children grow older and become more active, they may not always be willing to lie down for a diaper change.
Standing diaper changes can be quicker and less disruptive, allowing the child to get back to play faster.
Secondly, standing diaper changes can also be more hygienic, as it reduces the likelihood of the child touching a wet or dirty diaper during the change.
It also enables caregivers to teach children about personal hygiene and independence, preparing them for potty training.
Lastly, standing up during a diaper change can reduce the discomfort that may come from wearing a wet or dirty diaper.
However, it's important to remember that each child is unique, and what works for one might not work for another.
Hence, caregivers should always remain flexible and sensitive to each child's needs during diaper changes.
Conclusion
Proper diaper changes, including wet diapers, at daycare centers are crucial for the health and well-being of children.
As parents, it's essential to be proactive in ensuring that your child receives adequate care, hygiene, and regular changes while at daycare.
Open communication, observation, and proactive action by parents can ensure a safe and healthy daycare environment for their child.
Collaborating with your daycare center is crucial in ensuring your child's well-being. Remember, it takes a village to raise a child, so don't hesitate to speak up and advocate for the best care possible.
Working together to keep our children happy, healthy, and thriving! Remember these tips for proper diaper changes at your child's daycare. Your little one will thank you! Happy parenting! 😊