How to Make Daycare Cot Sheets?
If you manage a daycare center, you know that providing children with comfortable and safe sleeping areas is essential. Making daycare cot sheets can be a great way to ensure your daycare cots are cozy and inviting for young ones. It's a fun activity.
Here we will provide step-by-step instructions on making daycare cot sheets, helpful tips on selecting the right fabric, plus cleaning daycare cot sheets.
The article covers – a checklist, materials required, sewing and stitching.
So let's get started!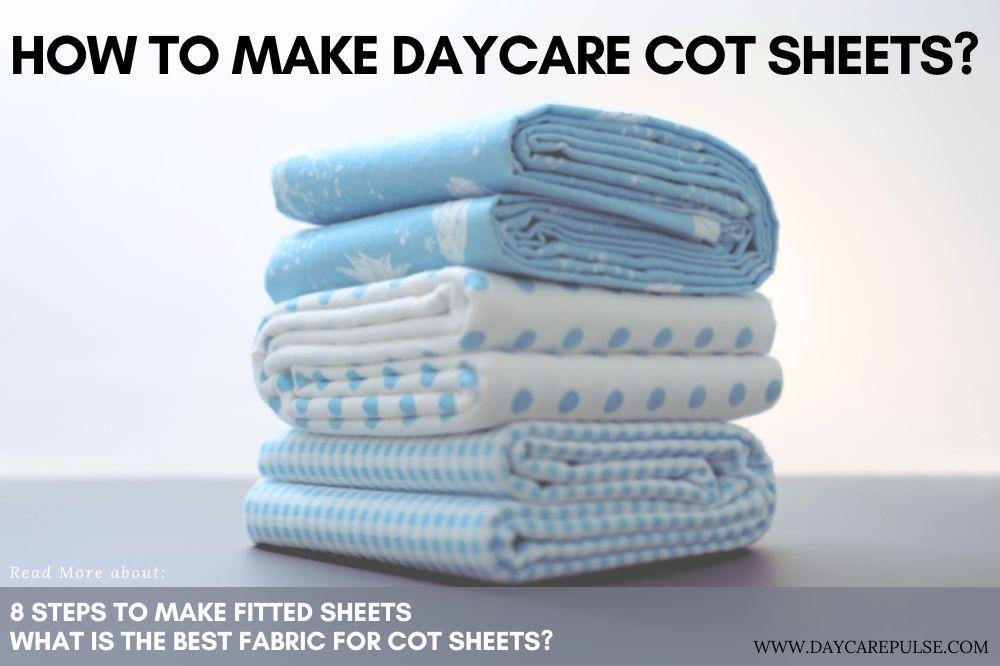 8 Steps to Make Fitted Cot Sheets
Gather Supplies – You will need access to a sewing machine and materials such as fabric, thread, scissors, measuring tape, and pins.
Measure the Fabric – Determine the size of the daycare cot sheets you need to make and measure the appropriate amount of fabric for each sheet.
Cut the Fabric – Cut out the fabric pieces according to your measurements using scissors.
Pin the Pieces Together – When you have cut all the pieces for each daycare cot sheet, line up two matching sides with the right sides facing each other and pin them together.
Sew Around the Edges – Once the pieces are pinned, sew around the edges with a sewing machine. Leave an opening at the top of each sheet to allow for stuffing.
Turn Inside Out – After sewn all the pieces together, turn the daycare cot sheets inside out using your hands or a wooden spoon to push out the corners.
Stuff with Polyester Fiberfill – Using polyester fiberfill, stuff the daycare cot sheets until they are soft and comfortable.
Sew Up Opening – Once you have stuffed the daycare cot sheets, sew up the opening left at the top of each sheet.
Making daycare cot sheets is simple and can be completed with a few basic supplies. Following these steps, you can easily create comfortable, cozy bedding for daycare cots. With the help of this guide, you will be able.
Dimensions For the Cot Sheets
Size of a Fitted Cot Sheet
The size of a fitted cot sheet generally is 30 inches wide and 53 inches long/length. Ensure your sheet measurement doesn't exceed; otherwise, it won't fit perfectly.
Size of a Standard Cot Sheet
Regarding daycare cot sheets, the dimensions will vary based on the size of the cots. Typically, daycare cots are between 24-27 inches wide and 52-53 inches long.
When you measure fabric for daycare cot sheets, please add an extra 1/2 inch around each edge for a seam allowance. This will ensure that the daycare cot sheets are snug and secure on the daycare cots.
What Is the Best Fabric for Cot Sheets?
A cot sheet has to be comfortable and soft fabric. Mostly cotton fabric is used for making cot sheets as these are more breathable and easy to clean/wash. It's long-lasting and good for babies with sensitive skin.
For the winter season, you can select flannel cotton fabric as:
It retains heat and keeps the cot cozy because of its fuzzy finish.
Breathable texture.
Unlike cotton, these fabrics are the best options; flannel cloth doesn't shrink.
If you are worried about spillage in the cot that messes up the sheets, then look for waterproof fitted sheets to stay safe from food/water accidents.
How to Clean Cot Sheets?
Keeping daycare cot sheets clean is essential to ensuring the health and safety of daycare children.
You should use hot water and a gentle detergent or machine-washable cleaner.
If possible, avoid using bleach, as it can damage the fabric over time.
It is important to ensure daycare cot sheets are completely dry before use to prevent the growth of bacteria and mold.
To extend the life of daycare cot sheets, you should regularly inspect them for tears or other damage. If any daycare cot sheet becomes excessively worn or torn, it should be replaced immediately.
FAQs
Are Cot Sheets and Crib Sheets the Same?
No, daycare cot sheets and crib sheets are not the same. Crib sheets are typically designed for babies and toddlers up to three years old and usually feature elastic corners that help secure them in place.
In contrast, daycare cot sheets are designed for daycare children aged three years old or older and do not feature elastic corners. Daycare cot sheets are typically larger than crib sheets and must be able to fit around the daycare cots.
Will a Crib Sheet Fit a Toddler Cot?
Crib sheets may not fit daycare cots, as the sizes and shapes of each type of bedding can vary significantly. Crib sheets are generally smaller than daycare cot sheets, so it is unlikely that a crib sheet will fit properly on a daycare cot.
Daycare cots often have different types of mattresses incompatible with crib sheets. Therefore, daycare cot sheets should always be used when providing bedding for daycare cots.
Conclusion
Daycare cot sheets are essential to every daycare center. With the right tools and supplies, you can easily create comfortable and cozy daycare cot sheets for children to enjoy.
By measuring carefully, selecting durable fabrics, and regularly cleaning daycare cot sheets, you can ensure the health and safety of daycare children. With this guide, you can confidently create daycare cot sheets that will last for years.
This is the end of our guide on how to make daycare cot sheets. We hope these tips and instructions helped create comfortable and safe daycare cot sheets for daycare centers.