11 Daycare vs. Babysitting Differences : Happy Kids
Hey, Daycare Parents!
Have you ever thought about the difference between sending your child to daycare or having a babysitter at home?
Daycare offers structured learning and socialization for children, while babysitting provides individualized care in a home setting.
In this blog post, I have discussed 11 Differentiating Deciding Items Between Daycare vs. Babysitting, a Comparison Table of Pros and Cons, and a guide on conditions for choosing daycare and babysitter for your kid.
So that your kid gets primary care and learning opportunities, keep reading and help your kids in the best possible way!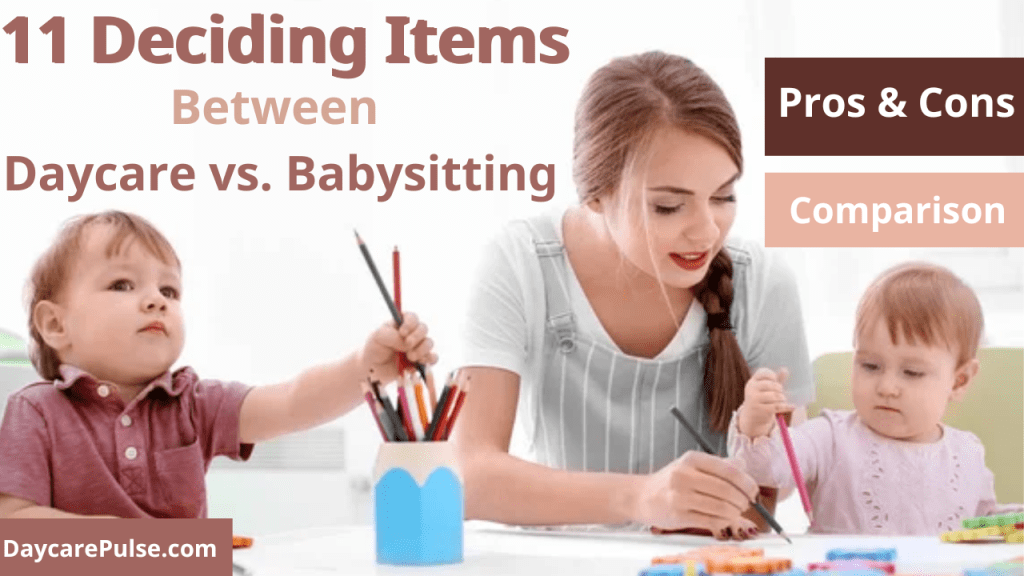 11 Differentiating Deciding Items Between Daycare vs. Babysitting
Here are 10 items to help you choose one tailored to your needs.
1. Childcare Setting in Daycare vs. Babysitting
Daycare is structured childcare setting, often in a facility. It's like a bit of school for kids. Imagine a place with classrooms, play areas, and trained caregivers to look after your child.
On the other hand, babysitting is more like having a trusted friend or relative come to your home to take care of your child. It's informal and happens in your comfort zone.
2. Early Childhood Education in Daycare vs. Babysitting
Another essential factor to consider is early childhood education. Daycare centers often have a curriculum and educational program for young children.
While babysitters may have a different level of training or experience in teaching young children.
Read on : Early Childhood Education vs Daycare: Smart & Happy Kids
3. Caregiver-to-Child Ratio in Daycare vs. Babysitting
There are rules about how many kids a caregiver can look after in daycare. It's designed to ensure each child gets proper attention. It's like a mini-classroom with one or more teachers for a group of children.
With babysitting, it's a one-on-one deal. Your child gets all the attention from the babysitter. It's like having a personal guardian for your little one.
4. Socialization Opportunities in Daycare vs. Babysitting
Daycare is fantastic for socializing. Kids interact with their peers, play together, and learn critical social skills. It's like a little community where your child can make friends.
Babysitting is more personal. It's excellent for one-on-one bonding, but your child might miss the more significant group interactions.
Check : Daycare vs. Montessori: 7 Important Factors to Consider Plus Pros & Cons List
5. Cost Considerations in Daycare vs. Babysitting
Daycare often involves fixed costs like tuition and additional fees. Think of it like paying for a school. The prices are usually monthly.
Babysitting is flexible but can be hourly. You pay for the necessary hours, which suits short-term or irregular care.
6. Scheduling Flexibility in Daycare vs. Babysitting
Daycare usually has set hours, like a job. It's great if you have a regular 9-to-5 work schedule.
Babysitting is like having an on-call helper. You can schedule it when you need it, even during odd hours. It's like having a personal assistant for your child.
7. Personalized Attention in Daycare vs. Babysitting
Babysitters offer a lot of personalized attention. Your child's needs are the main focus. It's like having a personal tutor for your child.
Daycare centers have a group to look after, so the attention may be less individualized due to the group dynamics.
8. Quality and Trust in Daycare vs. Babysitting
Daycare centers are regulated, licensed, and monitored by authorities. It's like sending your child to a certified school.
When hiring a babysitter, screening and building trust is essential. It's like inviting someone into your home, so trust is vital.
9. Child's Age and Needs in Daycare vs. Babysitting
Daycare centers might provide more structured care with specialized staff for younger kids or those with special needs.
For older kids who need less supervision or children with unique requirements, babysitting can be a better fit.
Also read : Daycare vs. Preschool: Best Child Care Selection Guide
10. Parent's Work Schedule and Lifestyle in Daycare vs. Babysitting
If you have a regular 9-to-5 job, daycare can align well with your schedule.
But babysitting might be a better match for your lifestyle if you work irregular hours or night shifts or just prefer the comfort of your home.
11. Recommendations and References in Daycare vs. Babysitting
When choosing differences between daycares and babysitting, it's a good idea to seek recommendations and references. Talk to other parents who've used these services.
Consider visiting the centers in person for daycare to see the environment and meet the caregivers. It's like a job interview for your child's caretakers.
Which One Should You Choose: Daycare (Child Care Providers) or Babysitter?
Are you torn between daycare and a babysitter for your little one? It's a common dilemma for parents.
And the choice often boils down to your family's unique circumstances and preferences.
Let's break it down.
You can check: Types of Regulated Child Care
Choose Daycare Providers If:
Structured Work Schedule – If you have a regular 9-to-5 job, daycare can be your superhero. It perfectly fits your structured work schedule, offering care during office hours. It's like having a reliable partner in the childcare game.
You may also need to know : Are Daycares Open on Holidays? 6 Holiday Childcare Options
Child Benefits from Socialization – Is your child a social butterfly? Daycare is like a little social club for kids. They mingle with peers, make friends, and learn essential social skills. It's like an early crash course in friendship.
Preference for a Structured Learning Environment – If you want your child to experience a structured and educational setting, daycare is your go-to choice. It's like a mini-school where they can learn and play in a structured way.
Value in a Regulated and Licensed Setting – Daycares are regulated and licensed, giving you peace of mind. It's like sending your child to a certified school; you know they're in good hands.
Now, let's flip the coin.
Do you know the difference between childcare and daycare? Read on Daycare vs. Child Care: What's the Difference?
Choose a Babysitters If:
Irregular Work Schedule – A babysitter is your flexible ally if your work hours resemble a rollercoaster with unpredictable twists and turns. They can adapt to your ever-changing schedule like a pro.
Child Needs Personalized Attention – Does your child thrive on one-on-one attention? Babysitters are like personal tutors for your child, tailoring their care to suit your little one's unique needs.
Desire for In-Home Comfort and Familiarity – If your child finds comfort in the familiarity of home, a babysitter brings the care right to your doorstep. It's like having a guardian angel in your living room.
Preference for Control over Caregiver Selection – With a babysitter, you have more say in choosing who looks after your child. You can pick someone you trust, like a friend or relative, to provide that personal touch.
Remember, there's no one-size-fits-all answer here. It depends on your work schedule, your child's personality and needs, and your family's preferences.
To stay educated you can check : Informal In-Home Child Care
Pro Tip: Legal Difference Between Babysitting and Daycare
Understanding the legal differences between babysitting and daycare is crucial regarding childcare options. Let's shed some light on this important aspect:
Babysitting
Babysitting is often considered informal childcare. In most places, there are no specific legal requirements for individuals offering babysitting services. However, this doesn't mean you can hire anyone without due diligence.
Vetting Matters – Even though babysitters might not be subject to formal regulations, it's crucial to vet and trust the babysitter you choose thoroughly. Check references, conduct background checks, and ensure they have the necessary skills and experience to care for your child.
Payment Arrangements – Payment for babysitting services can vary widely, but it's usually a private agreement between you and the babysitter. Discuss rates, hours, and expectations upfront to avoid misunderstandings.
Daycare:
Daycare, on the other hand, operates as a formal childcare facility. It is often subject to licensing and regulations imposed by state or local authorities. These regulations are designed to ensure the safety and well-being of children in their care.
Regulatory Oversight – Daycare centers are typically required to adhere to specific standards regarding staff qualifications, child-to-caregiver ratios, health and safety protocols, and more. Regular inspections and monitoring ensure compliance with these regulations.
Read more : How to Look Up Daycare Violations?
Structured Contracts – Daycare often involves structured contracts, tuition fees, and set hours of operation. This formal arrangement clarifies expectations and responsibilities for parents and providers.
Comparison Table of Pros & Cons: Daycare vs. Babysitting
Here is the comparison table of the pros and cons of daycare and babysitting.
| Aspect | Daycare | Babysitting |
| --- | --- | --- |
| Pros | Structured environment. | Flexibility in scheduling. |
| | Socialization opportunities. | Personalized attention. |
| | Regulatory oversight. | Familiar home setting. |
| | Learning and curriculum. | Control over caregiver. |
| | Reliable, consistent care. | Potential cost savings. |
| Cons | Fixed hours and location. | May lack structured learning. |
| | Higher cost for full-time. | Limited socialization. |
| | Less individualized care. | Need to vet caregivers. |
| | May not align with your child needs | Requires a trusted network. |
Frequently Asked Questions
1. When Does Babysitting Become Daycare?
Babysitting becomes daycare when it crosses certain legal and structural thresholds.
In most places, if you regularly care for multiple children (often beyond a specific number) or operate as a business, you may need to meet daycare regulations.
However, it's essential to check your local laws, as these regulations can vary significantly.
2. Is Babysitting a Good Child Care Experience?
Yes, babysitting can be valuable childcare experience. It involves caring for children, ensuring their safety, and meeting their needs.
Babysitters often gain skills in handling various situations and working with different age groups.
This experience can be beneficial if you're considering a career in childcare or related fields.
3. Babysitter vs. Nanny?
Babysitters and nannies both provide childcare, but they differ in terms of responsibilities and time commitment.
Babysitters are typically hired for short-term or occasional care, while nannies offer more consistent, full-time care.
Nannies may also have additional responsibilities like housekeeping or meal preparation depending on the arrangement.
Read on Nanny Vs. Daycare | Deciding Right Childcare
4. How Many Kids Can You Babysit Without a License?
The number of kids you can babysit without a license varies by location.
Generally, most places allow you to care for a small number of children (usually around 1-3) without needing a license.
However, it's essential to check your local regulations, as they can differ significantly from one area to another.
Conclusion
In the daycare vs. babysitting debate, there's no one-size-fits-all answer.
Your choice should be based on your family's needs, your child's age and personality, your work schedule, and your personal preferences.
The key is to ensure your child's safety, well-being, and happiness. Research local regulations and trust your instincts when making this critical decision.
When chosen thoughtfully, childcare providers (daycare providers) and babysitters can provide excellent care for your little one.
Child care can be daunting, but with the proper research and recommendations from others, you'll find the perfect fit for your family.