34 Easy and Quick Craft Ideas for Daycare
Crafts are the most fun part of daycare for kids. But it looks like you're stuck with it. Don't worry. We're here to give you ideas.
We're sharing 34 craft ideas for daycare that are budget-friendly and kids will love. They're categorized into 3 categories, paper crafts, recycling crafts, and arts and paintings. You can choose the ones that match your needs and kids' interest.
The best part is that these crafts are easy and quick to make. You don't need any fancy or expensive materials. You can use things that you already have at home or buy them from the dollar store.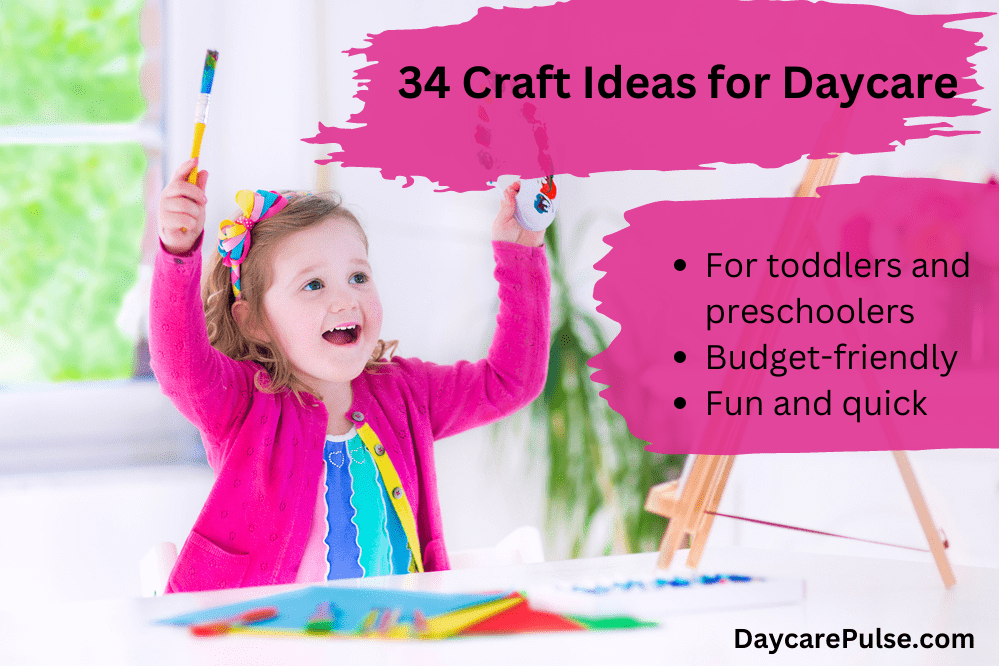 20 Craft Ideas for Daycare
Paper Crafts
1. Moving Paper Snake:
This simple and easy paper snake is best for toddlers. It catches their attention as it moves. All you need is
Paper
Gluestick
Scissors
Marker
Follow the tutorial and make a moving paper snake with kids.
2. Mini Basketball Game:
Here's a cool and fun craft-cum-game for 4 to 5 years of kids. And the best part is you only need one sheet of paper for this. Follow this tutorial to make the court and the basket. Crumble a small piece of paper to make the ball. And the last step is to play and enjoy.
3. Easter Bunny:
This easter bunny is best for preschoolers. It's easy to make, and the final result is so cute. You'll need
Paper
Thread
Glue
Markers
Googly eyes (optional)
You can make it with kids from scratch or prepare the basic structures yourself and decorate the bunnies with kids.
4. 3D Ice Cream:
Who doesn't love ice cream? So let's make a 3D ice cream craft.
Make a paper cone.
Wrap a styrofoam ball in a thin felt sheet.
Glue the ball on the cone, and your 3D ice cream is ready.
An easy alternative to styrofoam is to crumble a paper sheet and make a ball with it. You can create multiple scoops of different sizes like this.
5. DIY Umbrella:
You can make an origami umbrella in just 3 steps.
Start with a circle and fold it thrice.
Give it the umbrella shape.
Prepare the shaft and stick it to the umbrella.
And you're done.
It's a must-try craft with kids, for it's extremely easy to make.
6. Moving Paper Duck:
Now, let's make a moving paper duck.
Start with a paper strip and glue its edges together to make a cylinder.
Make another one a bit larger.
Glue the smaller one on top of the large one. This will be the body of our duck.
Draw and cut the duck's webbed feet and glue them on the bottom of the body.
Make a beak with a piece of paper and glue it on the small cylinder.
Draw eyes, and your duck is ready.
Check out this easy video tutorial: Moving paper duck
Recycling Crafts
7. Tree With Pencil Shavings:
This craft really engages kids. They can do it themselves, so it requires less supervision. Here's how this craft goes.
Draw a tree on paper.
Glue the pencil shavings to make the leaves.
Spread glue on the trunk and fill it with tea or coffee powder or just color it.
8. Caterpillar Egg Carton Craft:
Don't throw those egg cartons. Save them and use them for this activity in your next daycare session. You don't have to buy any special material. All the things will be lying around in your classroom. Here's what you'll need:
Egg cartons
Paint and brushes
Straw or pipe cleaner
Markers
It's a fun project, and the best part is to let the kids decorate the caterpillar and see their creativity.
9. Egg Carton Snowman:
Let's see another egg carton craft for daycare. This time we're making a snowman.
Using 3 cells, you can make the body of the snowman.
Cut a circle from cardboard and glue it with another cell to make the hat.
Paint both parts and glue them together.
Make the hands with a pipe cleaner and glue them on the snowman.
Draw the snowman's face, and you're done.
10. Toilet Roll Rocket:
Next on the list is a rocket made of toilet paper roll. You only need a toilet paper roll, colored paper, glue and scissors.
Cover the roll with a paper sheet.
Make a cone from a circular piece of paper.
Cut out the details for the rocket.
Glue everything on the toilet paper roll, and the rocket is ready.
11. Toilet Paper Cars:
These toilet paper cars are for preschool-aged kids. It's a fun project that'll fully involve kids.
Start by covering the paper roll with a colored paper sheet.
Cut a square in the middle. (Do it yourself, don't let kids do this part)
Cut a circle out of cardboard and make it the steering.
Make tires in the same way.
Glue everything on the roll.
12. Egg Carton Chicks:
This one is a quick and easy project.
Just cut out the cells from the egg carton and glue 2 cells together.
Print them in your desired color.
Make eyes and paper beak, and your egg carton chick is ready.
13. Castle With Toilet Paper Roll
This toilet paper roll castle is pretty similar to the car but easier and more kids friendly.
Cover the roll with a paper sheet.
Cut out a door at the bottom.
Make windows with felt or paper and glue them on the roll.
Make a cone-shaped roof with a circular piece of paper.
14. Paper Plate Honey Bee:
This paper plate honey bee by Simple Everyday Mom is a good project for 3 to 6 years of kids. No specific supplies are needed. You'll only require
Paper plate
Colored papers
Glue
Scissors
Pipe cleaners
Black marker
Follow the step-by-step guide to make the honey bee.
15. Leaf Face Paper Plate:
Collect some leaves with the kids, and let's start the craft. Paint the paper plate and glue the leaves to make the leafy head. Make eyes and face with paper and markers, and a leafy paper plate is ready.
16. Toilet Paper Owl:
This toilet paper owl by Box Yourself is an easy and fun craft for daycare. The kids can show their creativity by decorating and painting the owl. Perfect for both toddlers and preschoolers.
Painting Crafts And Activities
17. Solar System:
We love this painting idea by made with happy. The technique is to use carrots to paint. It's a simple solar system painting, but the carrot part makes it fun.
This is an excellent activity to teach kids about the solar system as they paint it.
18. Salt Painting:
Salt painting is a fun technique, and kids love it. Draw the design of your choice on a black paper sheet. Cover it with glue and pour lots of salt on it. Next, use watercolors and just touch the tips of the brush to the salt, and it'll absorb the colored water.
19. Easy Sponge Painting:
This sponge painting technique is suitable for both toddlers and preschoolers. It's easy, and there's very less chance of messing it up.
Write each kid's name with tape, then let the kids paint the entire page with a sponge. Remove the tape at the end, and your painting is done.
20. Hand Painting:
Again, this technique works for both preschoolers and toddlers. Paint the kids' hands and print them on a sheet of paper. Now you can make cool things like ducks and fish. Or just write the kid's name under it, and that'll be cool too.
10 More Creative Painting Techniques for Daycare:
Fun Science has shared 10 amazing painting techniques for kids in this video. They have used bubble wraps, leaves, potatoes, fingers, spoons and much more, so do check it out.
4 Easy and Quick Daycare Craft Ideas
1. Decorating Stones
Go on a small hunt with kids and collect small stones. Paint them to make different characters or animals, or just decorate them as you like.
3. Playdough Stress Ball
We love this easy and quick DIY stress ball by One Little Project. It's just a 2 step process, but kids love playing with the squishy stress ball. This activity is perfect for toddlers.
4. Craft Stick Snowflake
This easy craft stick snowflake by First Palette is a must-try. Just glue the sticks in a snowflake shape and then use buttons, pom pom, stickers, glitter, paint or whatever you like to decorate it.
Caution: Be mindful of choking hazards while doing this craft with toddlers.
5. Paper Crown
Here's another quick and cool craft by "First Palette". To make this paper crown, just print the template from their website, cut the shape and glue both ends together. Decorate the crown and make the kids feel special.
Frequently Asked Questions
1. What crafts do toddlers like?
For toddlers, go with sensory crafts and games, easy painting techniques that don't require precision, like stencil painting. Easy folding origami and stamp painting also engage the kids.
2. What crafts do preschoolers like?
Preschoolers are all ready to explore and try new things. So give them all types of crafts, paintings, science experiments and activities. They enjoy all of them.
Conclusion
We hope you liked these craft ideas for daycare. All of them are super fun and engaging for kids.
Thank you for reading till the end.