5 Steps Daycare Cleaning Guidelines: Must Have Cleaning Checklists
Hello daycare owners! Do you wake up every day with a heart full of excitement and anticipation, ready to welcome the laughter and joy of little ones into your nurturing space? As you watch them play, learn, and grow, there's no doubt that you prioritize their safety and well-being above all else. 
In this comprehensive guide, I have explored the best practices, uncommon terminology, and the perfect cleaning policy tailored to your daycare, ensuring you create a haven that fosters growth and development, all while adhering to state guidelines. Here are 5 steps to get started.
Prioritize daily cleaning
Understand the differences between cleaning, sanitizing, and disinfecting
Craft comprehensive checklists
Emphasize weekly deep cleaning.
Conduct monthly assessments and staff training.
Let's dive into 5 Daycare Cleaning Guidelines, where I have curated daycare must-have daily, weekly and monthly cleaning checklists, best cleaning products checklist, tips for effective daycare cleaning, in addition to do's and don'ts of daycare cleaning. So that emotions meet best practices, your daycare facility becomes a symbol of love, safety, and pure happiness.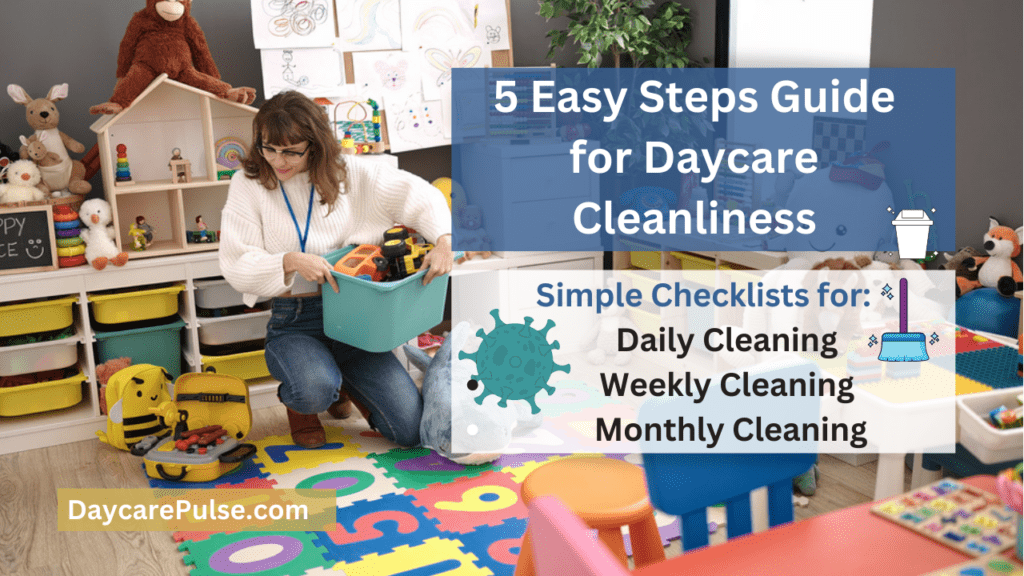 5 Steps Guide for Daycare Cleaning, Sanitizing And Disinfecting
Here is 5 steps guide for daycare cleaning, sanitizing and disinfecting.
Step 1: Know the Difference between Cleaning, Sanitizing and Disinfecting
Cleaning: Removing dirt and debris.
Sanitizing: Reducing germs to safe levels.
Disinfecting: Killing a wide range of pathogens.
Step 2: Create a Comprehensive Cleaning Policy
Craft a detailed policy for daily, weekly, and monthly tasks.
Cover toys, surfaces, ventilation, and storage areas.
Ensure nothing is overlooked for a pristine environment.
Step 3: Daily Cleaning and Sanitizing
Prioritize daily cleaning and sanitizing routines.
Clean toys, play areas, and frequently touched surfaces.
Encourage proper handwashing for a healthy space.
Step 4: Weekly Deep Cleaning and Disinfecting
Allocate time for weekly deep cleaning and disinfecting.
Steam-clean carpets and sanitize high-touch areas.
Create a germ-free zone for child safety.
Step 5: Monthly Maintenance and Staff Training
Conduct monthly inspections for fine-tuning.
Identify areas needing extra attention.
Provide staff training for consistent and effective cleaning.
Following these 5 steps, your daycare will become a nurturing haven where children can explore, learn, and grow safely and hygienically.
10 Steps Cleaning Policy for the Daycare According to State Guidelines
Here are 5 perfect cleaning policies for daycare.
Step 1: Familiarize Yourself with State Guidelines
Review and understand the specific cleaning requirements outlined in the state guidelines for daycare facilities.
Read on state guidelines for Center of diseases and preventions
Step 2: Establish a Cleaning Schedule
Create a detailed cleaning schedule that includes daily, weekly, and monthly tasks.
Allocate sufficient time for each cleaning activity to ensure thoroughness.
Step 3: Use Approved Cleaning Products
Choose cleaning products that meet the state-approved standards for daycare facilities.
Ensure they are safe for children and effective against germs and pathogens.
Step 4: Pay Special Attention to High-Touch Areas
Focus on cleaning and disinfecting high-touch surfaces like doorknobs, light switches, and play equipment.
Regularly sanitize toys and objects that children frequently handle.
Step 5: Maintain Proper Ventilation and Air Quality
Ensure proper ventilation throughout the daycare facility to improve air quality.
Clean air vents and filters regularly to reduce the spread of airborne particles.
Step 6: Implement Hygiene Practices
Encourage proper handwashing among staff and children with soap and water for at least 20 seconds.
Provide hand sanitizing stations at convenient locations within the daycare.
Step 7: Train Staff on Cleaning Protocols
Educate all staff members on the daycare's cleaning policy and state guidelines.
Conduct regular training sessions to ensure everyone follows the protocols correctly.
Step 8: Maintain Detailed Records
Keep thorough records of cleaning activities, including dates, times, and tasks completed.
Document any incidents or issues that require attention or resolution.
Step 9: Regularly Inspect and Assess
Conduct routine inspections to evaluate the effectiveness of the cleaning policy.
Make any necessary adjustments or improvements based on the assessments.
Step 10: Stay Informed About Updates
Stay up-to-date with any changes or updates to state guidelines related to daycare cleaning.
Adjust the cleaning policy accordingly to remain compliant with current regulations.
By following this Perfect Cleaning Policy according to State Guidelines, your daycare facility will provide a safe and hygienic environment for children to thrive and grow while adhering to the highest standards of cleanliness required by the state.
Differences Between Cleaning, Sanitizing, and Disinfecting
Here are some differences between cleaning, sanitizing and disinfecting.
| | | | |
| --- | --- | --- | --- |
| Aspects | Cleaning | Sanitizing | Disinfecting |
| Objective | Removes dirt and debris | Reduces germs to safe levels | Kills a wide range of pathogens |
| Method | Uses soap, water, and friction | Utilizes chemicals or heat | Utilizes chemical disinfectants |
| Level of Effectiveness | Lower compared to sanitizing and disinfecting | Moderate effectiveness against germs | High effectiveness in killing germs |
| Common Applications | Cleaning floors, wiping surfaces | Sanitizing kitchen utensils | Toys Disinfecting bathroom fixtures, medical equipment  |
| Health Impact | Promotes cleanliness | Reduces the risk of infections | Reduces the spread of diseases  |
Daycare Cleaning Checklist
Here's the Must-Have Cleaning Checklist for a daycare facility, organized into daily, weekly, and monthly cleaning tasks:
Daily Cleaning:
Clean and sanitize toys, play equipment, and high-touch surfaces.
Wipe down doorknobs, light switches, and other frequently touched areas.
Sweep and mop floors in all play areas and shared spaces.
Empty and sanitize diaper pails regularly.
Disinfect changing tables and diaper-changing areas.
Clean and sanitize bathroom fixtures and sinks.
Encourage proper handwashing for children and staff.
Weekly Cleaning:
Deep clean and sanitize all toys and learning materials.
Steam-clean carpets and rugs in play areas.
Wipe down and disinfect bookshelves and storage areas.
Clean and disinfect kitchen areas, including sinks and countertops.
Dust and sanitize window sills, vents, and fans.
Wash and sanitize all bedding and linens used by children.
Monthly Cleaning:
Conduct a thorough facility inspection for maintenance issues.
Sanitize all playroom and classroom furniture.
Clean and disinfect electronics, such as tablets and computers.
Wash and sanitize pillows and soft toys.
Inspect and clean HVAC filters and air vents.
Provide staff training on updated cleaning protocols and best practices.
By following this Must-Have Cleaning Checklist, your daycare facility will maintain a clean, safe, and hygienic environment for the children's well-being and their parents' peace of mind.
Best Cleaning Products for Daycare Checklist
Here is a list of best cleaning products checklist for daycare.
Child-Safe Disinfectant Sprays
Non-Toxic All-Purpose Cleaners
Antibacterial Wipes
Microfiber Cleaning Cloths
Gentle Laundry Detergent for Toys and Linens
Natural Air Fresheners
Hand Sanitizer Stations
Do's And Don'ts for Daycare Cleaning
Consider these do's and don'ts for daycare cleaning.
Do's:
Follow State Guidelines for Cleaning
Use Child-Friendly Cleaning Products
Wash Hands Thoroughly Before and After Cleaning
Disinfect Frequently Touched Surfaces Regularly
Clean and Sanitize Toys Daily
Have Adequate Ventilation in Play Areas
Don'ts:
Don't Use Harsh Chemicals Around Children
Avoid Using Fragrances that May Trigger Allergies
Don't Neglect High-Touch Areas
Avoid Mixing Cleaning Chemicals
Don't Skip Regular Cleaning and Sanitizing Routines
7 Tips for Effective Daycare Cleaning
Note down these 7 practical tips for daycare cleaning.
Establish a Detailed Cleaning Schedule
Involve All Staff Members in Cleaning Duties
Use Color-Coded Cleaning Tools to Prevent Cross-Contamination
Educate Staff on Proper Cleaning Techniques
Prioritize Cleaning During Non-Play Hours
Implement Regular Inspections and Quality Checks
Encourage Parents to Support a Clean Environment
You may also like to read: How to Clean Daycare Cots?
5 Best Ways to Clean Toys in a Daycare: Soft Surfaces
Here are 5 ways to clean toys in daycare.
Hot Water and Soap Soak: Submerge toys in hot, soapy water for thorough cleaning.
Disinfectant Wipes: Use child-safe disinfectant wipes to clean toys between uses quickly.
Steam Cleaning: Using a steam cleaner to sanitize stuffed toys and delicate items.
Dishwasher-Safe Toys: Place dishwasher-safe toys on the top rack for effective cleaning.
Toy Cleaning Stations: Set up designated areas for parents and staff to clean toys before and after playtime.
Frequently Asked Questions
1. What is Daycare Infant's Room Cleaning Checklist?
Sanitize Changing Tables and Diapering Areas
Clean and Disinfect Toys and Play Mats
Wipe Down Crib Rails and Surfaces
Launder Bedding and Linens Regularly
Disinfect High Chairs and Feeding Equipment
Maintain Proper Ventilation and Temperature
2. What Disinfectant Do Daycares Use?
Daycares typically use child-safe disinfectants approved for use in childcare facilities. Common disinfectants include non-toxic, EPA-registered products effective against germs and pathogens.
3. How Do You Keep a Daycare Clean? 
To keep a daycare clean, follow these key steps:
Establish a comprehensive cleaning schedule.
Use child-friendly cleaning products.
Regularly sanitize high-touch areas.
Clean and disinfect toys daily.
Encourage proper handwashing and hygiene.
4. How Can I Keep My Daycare Germ Free?
Regularly clean and sanitize toys, surfaces, and high-touch areas.
Encourage proper handwashing for staff and children.
Use child-safe disinfectants approved for daycare use.
Implement adequate ventilation and air quality control.
Conclusion: 
Maintaining a clean and germ-free daycare environment is essential for the health and well-being of the children in your care. You create a safe and nurturing space where children can thrive and grow by following proper cleaning protocols, using appropriate disinfectants, and prioritizing hygiene.