Do your daycare doors look boring now, and do you want creative ideas to keep daycare doors decored?
Let's dive into the 5 daycare door themes that can embellish and excite the daycare environment accordingly. Feel free to go with one that suits you the best!
Animal Themes
Nature Themes
Sporty Themes
Artistic Themes
Seasons Themes
I have creative yet practical ideas to make your daycare doors stand out. I have curated 5 fabulous theme suggestions and 5 benefits of decorating daycare doors to fill parents and kids with excitement and happiness!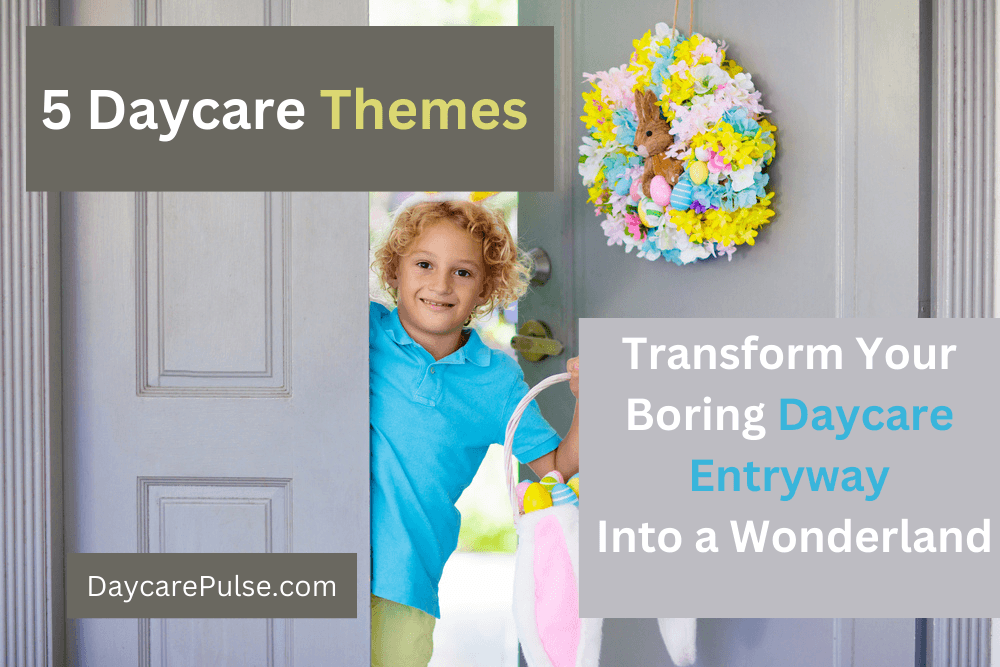 5 Daycare Door Ideas
I have many stunning ideas for a truly remarkable entrance for your tiny tots that will make every parent feel welcome.
From instructional wall hangings to one-of-a-kind artwork, let me show you how to transform decorative doorways into a standout feature in any childcare environment!
If you want to decorate daycare walls.

You can read my detailed blog on Daycare Wall Decoration Ideas.
1. Animal Themes
If you're seeking to make your daycare's doorway come alive with charming characters, many options can bring joy and smiles.
From enchanting cartoon figures such as Mickey Mouse or Winnie the Pooh to wild animals like lions or elephants, wall stickers are a great way to introduce inviting personalities to your entrance.
Transform your childcare entrance into an animated and thrilling safari adventure with wall stickers and cutouts of wildlife like zebras, giraffes, monkeys, and lions!
Create a unique entryway that will keep children mesmerized for hours on end.
Welcome kiddos to a picturesque farm scene with wall decals and cutouts of classic barn animals such as cows, pigs, horses, ducks – and many more!
Create an inviting atmosphere where children can dream grand adventures while having the time of their lives.
Transform your daycare entrance into an aquatic paradise by adorning its walls with shimmery decals and cutouts of captivating ocean creatures!
Immerse the kids in a magical world filled with giant whales or jovial seahorses, providing them with endless fun and excitement.
Rainforest Animals Theme:
Let your creative side liberate itself with wall decals of the breathtakingly vivid rainforest, home to many extraordinary creatures!
Adorn your entryway with colorful parrots and toucans, or give it an even more majestic feel by featuring jaguars and sloths. Let these fantastic animals ignite your imagination today!
2. Nature Themes
If you want to bring the great outdoors into your daycare's entrance, why not explore nature-inspired themes?
From breathtaking mountain views and glorious sunsets to enchanting forests and majestic deserts, you can decorate your door with natural beauty in countless ways!
Transform your entrance into a picturesque forest! Adorn the walls with decals of tranquil trees and radiant blossoms, then complete the illusion by adding cutouts of joyous birds or frolicking squirrels.
With nature's beauty enveloping you, your daycare will feel like an enchanted woodland!
Transform your daycare into an enchanting fairytale world with captivating wall cutouts of flourishing flowers!
From delicate daisies to vivid poppies, the vibrant colors will create a cheery atmosphere that makes every child feel welcome. Usher in a bright and cheerful ambiance – it's easy when surrounded by nature's beauty!
Transform your daycare into a magnificent paradise by adorning its entrance with reflective decals of blissful clouds and azure skies!
With stunning cutouts of fluttering butterflies or soaring birds, you'll be able to craft an awe-inspiring doorway that will give every child the sensation of entering a realm full of boundless potential.
Bring a ray of sunshine into your entrance with wall decals and cutouts featuring the beauty of rainbows! Add twinkling stars, luminous moons, or even fantasy unicorns to create an ethereal atmosphere that will make children feel like they're entering an extraordinary world.
No matter what kind of door you're looking for, you're sure to find the perfect design that captures the imaginations of children and adults alike. Get creative and see what delightful door ideas you can come up with!
Related: 7 Daycare Door Ideas Fall
3. Sports Themes
Transform your daycare's entrance into a world of exciting sports with themed wall decals and cutouts! Why not opt for basketball hoops or soccer fields if you want something competitive?
Or, if the kids are more creative, embrace their imaginations by introducing baseball bats, footballs, and tennis rackets.
With these vibrant ideas at the door to your daycare center, you will produce an unforgettable entryway that both children and adults can appreciate guaranteed hours of fun included!
Help your daycare's entrance feel like the grandest stadium with football-inspired cutouts and decals! From teams to flags, from helmets to whistles, you'll be able to decorate your door with everything that makes this sport so beloved.
Create a fascinating courtroom that kids will adore! Decorate the walls with decals of champions and cutouts of basketballs, hoops, and jerseys. The brilliant colors in this theme are sure to bring life, enthusiasm, and delight to any daycare center.
Transform your daycare center's entrance into a unique professional soccer field with stylish wall decals and cutouts!
Make sure to include flags, jerseys, goals and referees for a more beautiful driveway that will excite each child as they venture inside. Your doorway can be the most impressive in town – ready for every small athlete to explore this big world of sports!
Transform your entryway into a classic American ball field with wall decals and cutouts that are baseball inspired!
You can create an impressive entranceway that kids will adore, from teams to stadiums, bats to bases. Let them feel like they're walking through the gates of their favorite team's arena every day, and make sure you'll remember it for years to come.
4. Artistic Themes
For art and craft you can check Daycare Painting Ideas. Here are great artistic ideas to make your daycare door unique. Use wall decals and cutouts to create a mural that is full of vibrant colors and shapes.

You can also use stencils or even paint by numbers kits for the kids to get creative with – possibilities are endless! Create an environment that invites children's imaginations to run wild and explore their creativity.
Geometric Shapes and Patterns
Transform your daycare entrance into a beautiful canvas by displaying wall decals and cutouts of bold geometric shapes!
From hexagons to stars, from squares to circles – you'll be able to create a captivating doorway that will distinctly ignite each individual's imagination as they pass through.
Realize your creative dreams – with these vibrant designs.
Add a unique touch to your daycare's entrance with abstract art wall decals and cutouts! Whether you're looking for bold, vibrant colors or mesmerizing shapes, you can create an unforgettable experience for the kids as they enter.
Let their imaginations run wild each time they come through the doors; let them craft stories in their minds with every passing glance.
Give the children at your daycare an exhilarating surprise with cutouts and decals of their beloved cartoon characters!
Spice up the walls, glass doors, or any other surfaces with iconic shows like SpongeBob Squarepants; or classic animations like The Lion King – they'll be delighted. With these vibrant designs to welcome them each morning, you can rest assured that youngsters will be eager for a thrilling experience!
Surprise and delight your daycare kids with wall decals of their favorite celebrities! Let them feel like they've stepped into the glitz and glamour of Hollywood as they enter your doors.
You can opt for sports or music stars, fashion models, politicians or famous TV personalities – it's sure to make a lasting impression!
5. Seasons Themes
Delight your daycare with season-specific decals and cutouts! From spring florae to autumn foliage, from winter snowflakes to summer sun – you can craft a remarkable experience for each child as they enter.
This is an excellent way to spur appreciation of the four seasonal changes in children – giving every entryway its distinctiveness.
Transform your daycare entrance into a summer wonderland! Decorate the walls with vivid wall decals of ice creams, popsicles and beach umbrellas.
Kids will be enthralled by these bright colors that set an inviting mood as soon as they walk in – making them feel right at home! Your entryway will surely be unforgettable when you infuse it with this delightful summer theme.
Welcome the kids to your daycare center in the most memorable way with wall decals of falling leaves and autumn shades.
Create a cozy feeling as soon as they cross through your doors – bring in a warm, inviting atmosphere filled with the beauty of fall. From pumpkins and hay bales to acorns and scarecrows – you can make your entryway the most cherished spot to enter daily!
Transform any room into a magical winter paradise with fabulous wall decals and cutouts! As soon as your children step in, they'll be wrapped up in an enthralling world of snow-covered trees, icicles, glistening snowflakes and more.
Give them a chance to create lasting memories that will bring joy today – and fill their hearts with warmth for years to come.
Bring spring's beauty to your daycare entrance with wall decals and cutouts!
Give kids a warm welcome as they enter with delightful blooming flowers, vibrant butterflies and lively birds – setting the perfect tone for a fun-filled day ahead.
Let them feel the joys of each new season – by engaging their young minds with these captivating springtime designs!
Read on : 25 Theme Ideas for Daycare| Ready-to-use Free Printables
5 Benefits of Decorating Daycare Doors
Lets dive into 5 benefits of decorating daycare doors.
1. Create Lasting Impressions
An excellent first impression is essential for your daycare center, and decorating the doors is a great way to do so!
It helps show parents that you care about providing their children with a safe environment where they can learn and grow.
2. Stimulate Creativity
Bright, vibrant designs on your daycare doors will encourage creativity among young minds while bringing joy into the classroom atmosphere.
Your decorations will make the learning experience more enjoyable for everyone involved!
3. Stimulate Imagination
With the addition of vivid cutouts and decals around your daycare entrance, you can instigate a stimulating atmosphere in which kids are encouraged to use their creativity and explore their surroundings.
It is an essential component of learning development!
4. Increase Safety
Decorating your daycare's doorways adds a decorative touch and provides enhanced security protection. Making it more straightforward to distinguish which door belongs to the organization deters unwanted visitors from entering the premises unnoticed.
5. Showcase Your Flair
Let your personality and style shine through the entrance of your daycare by decorating its doors with vibrant colors and patterns that represent who you are!
Not only will this create an inviting atmosphere, but it is also a great way to set your facility apart from others.
Conclusion
Decorating your daycare doors is a great way to leave a lasting impression on parents, inspire creativity in children, increase safety and showcase your unique style. Imagine the wonder and delight kids will have when they enter their daycare!
From summer-inspired designs to wintery landscapes, use each season as an opportunity to create something new that will help make it feel like a home away from home.