Winter Bulletin Board Ideas for Daycare
Winter bulletin boards are a great way to bring festive cheer to your daycare.
With some creativity, you can create a winter wonderland that will capture your kids' imagination. So for the winter bulletin board, go for:
Snowcapped landscapes
Warm & cozy Imagery
Winter legacies to inspire
Vibrant colors for fun
Your winter wonderland could get done in no time!
All you need is a cup of freshly brewed coffee and these 12 simple yet festive board décor ideas. No matter what size or budget your daycare has, you'll find an idea on this list that's perfect for you.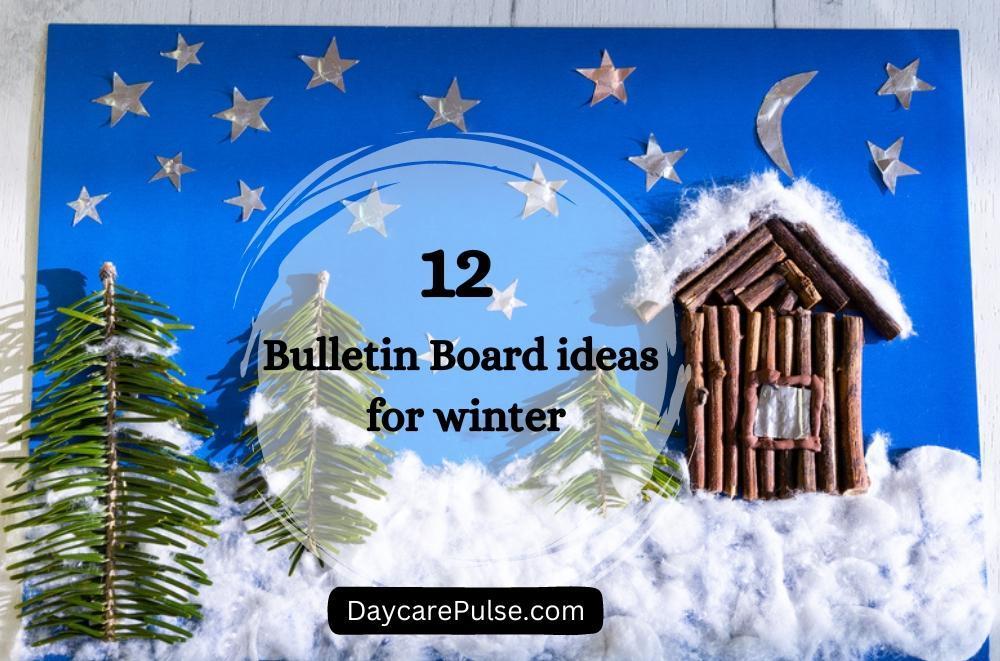 12 Design Ideas for Winter Daycare Bulletin Board
1. Snowman
Snowman is a winter staple!
How to Make It: To make a fun snowman bulletin board, gather white foam sheets and cut them into circles of various sizes. Draw eyes, noses, and mouths on each circle using markers or paint. To complete your snowman, paste cotton on the body to give a fake snowy look.
Once all the pieces are ready, stick them together using glue or staples! Add a colorful scarf or hat to your snowman for an extra touch of winter cheer.
You can even use glitter or sequins to bring the design alive.
2. Shovel Snow
Your bulletin board could incite easy-to-do outdoor fun inspiration in kids.
How to Make It: Make a Shovel Snow bulletin board using recycled materials like old cardboard boxes, cotton balls, and glue.
Cut the cardboard to form the Father and kid figures with shovels. Make a path using cardboard again and create snow heaps on the sides of the path using cotton balls.
And Tada! Your winter kindness and fun board is ready.
You might also want to read: 12 Gift Ideas for Daycare Friends
3. Winter Treats
Food adds coziness to the whole winter. So why not use it for a warm and delicious bulletin board?
How to Make It: Add posters of kids helping mothers make hot chocolate drinks. You can add posters of kids baking cookies, and roasting marshmellows over a bonfire. Did I miss the winter fun treat, "The snow ice cream"?
You may also want to read: Daycare Birthday Treat Ideas
Another way to use winter treats on bulletin boards is by adding recipes. Simply paste a large-sized cocoa cup or fun-shaped cookie cut-out and add the simplest recipe under each.
4. Winter Scavenger Hunt
A Winter Scavenger Hunt bulletin board can be a great way to get children out of the house and explore their surroundings.
How to Make It: Create wintery scenes on a bulletin board using construction paper, cotton batting, glitter, markers, and other art supplies. Then, add partially hidden items to each scene.
Ask kids to hunt those things to win a prize. And motivate them to play this game with their parents as well.
You might also want to read: Fall Bulletin Board Ideas for Daycare
5. Winter Sports
To bring winter to its full potential for children, you must infuse it with some sporting activities.
How to Make It: To create a bulletin board dedicated to winter sports, gather pictures of kids playing fun winter activities like skiing, ice skating, snowball fighting, and snowboarding. Then cut out the pictures and paste them on construction paper or cardstock paper.
You can also use stickers of snowmen to add more cheer. Remember to include words describing each activity on the board.
You might also want to read: 5 Best Daycare Door Ideas
6. Christmas Preparation
Winter joy is incomplete without the festive spirit of Christmas.
How to Make It: To create a vibrant and holiday-inspired bulletin board this winter, start by cutting out crafts to form stunning paper wreaths, gift boxes, and pine trees.
Then include intricately handcrafted paper stars and snowflakes for the backdrop and festive icons such as Santa Claus and reindeer!
These simple steps allow you to bring your seasonal decorating vision to life easily.
You might also want to read: What to Give Daycare Teacher for Christmas?
7. Winter Gear
Winter is all about staying warm and cozy! You can use this opportunity to teach little ones about dressing appropriately for the season.
How to Make It: Gather winter items like hats, scarves, sweaters, mittens, and boots that fit infants. Then, hang them on the board with a few colorful ribbons or strings. You can also use fabric markers to draw snowflakes and other winter icons on the board.
This bulletin board will teach infants to recognize their own seasonal clothing and prepare for the winter outdoors.
8. Baby Clause
Create a special winter bulletin board for infants by using pictures of their cute little faces!
How to Make It: Print out baby photos and cut the heads in circles. Then add red hats, white beards, and rosy cheeks to create a "Baby Clause!" Hang these mini Clauses with ribbons and let the little ones enjoy their fun photographs. Add a message saying – "Merry Christmas!"
Remember to add some glittery snowflakes in the background. Then, sit back and enjoy kids being amused by their board.
You might also want to read: Christmas Gift Ideas for Daycare Classmates
9. Fake Snow Sensory Board
Toddlers and infants love sensory activities. This winter, you can bring the joy of snow indoors!
How to Make It: To create a Fake Snow Sensory Board, start by cutting out colorful shapes such as snowflakes, igloos and penguins. Then, glue them to a board or poster board. Make sure to leave some room in between each shape.
You might also want to read: Daycare Wall Decoration Ideas
Once the backing is ready, use white paint to create a winter wonderland! Add fake snowflakes using cotton batting or cotton balls. Finally, hang the board in an area that is easily accessible for infants and toddlers.
Let them explore the different textures of fake snow and enjoy all the fun shapes.
10. Winter Landscape
Winter doesn't have to be dull – make sure your classroom reflects that!
How to Make It: First, let's start with colors.
Incorporate bright blues and whites to represent a wintry snowscape. Include warm shades such as yellow, orange, and red for a radiantly festive look of Christmas. Include trees and decorated streets.
Kids Would Love It!
Try adding twinkle lights to your bulletin board décor. Use them seldom to keep the spark alive.

You would also like to read: Spring Bulletin Board Ideas for Daycare
11. Classic Holiday Stories
It's time to craft new winter stories!
Get creative with picture posters and tell classic tales like Gingerbread Man and Frosty the Snowman on your bulletin board.
How to Make It: Let's create a bulletin board celebrating classic holiday stories. Cut out colorful pictures of characters and hang them on your bulletin board with festive ribbons. Choose the right colors and sizes of characters to make them pop.
Lastly, add the characters' names and quotes from these books to finish the look.
You might also want to read: Daycare Birthday Board Ideas
12. Winter Wilderness
Transform your bulletin board into an enchanting winter wilderness!
How to Make It: Gather images of snow-covered trees, mountains, and other natural elements to create a captivating background.
Accentuate the scene with colorful ribbons or strings, then add pom-poms for mini snowflakes cascading down from above.
Remember to include animals like reindeer and penguins to add the warmth of life. To complete your masterpiece, create a starry night sky using glitter.
You might also want to read: Summer Bulletin Board Ideas for Daycare
Online Shops for Summer Daycare Bulletin Board Ideas
Life is busy, I totally get that. Therefore, I have found some effortless ideas for you as well. Take a look and shop whichever rhymes best with your imagination.
Christmas & Holiday Hearth Board from Amazon.
Chilling with my Snowmates from Etsy
Sweater weather from Etsy
Photo craft winter board from Etsy
Winter wonderland from Walmart
Conclusion
Sometimes it only takes a little hint for us to bring forth our creativity.
I am sure these ideas will help you create an impactful display in no time! Not only will these vibrant displays lift holiday spirits, but they can also be a powerful learning tool.
If you're looking for more seasonal themes to capture the attention of infants and toddlers alike, check out my other blog posts.
You would also like: Bulletin Board Ideas for Daycare
Do let me know if you enjoyed reading this blog or not!