Guide How to Choose the Right Infant Daycare for Your Baby
I know you must be stressing out about finding the work-life balance while having the new responsibility of an infant. You must be getting calls from work, and you are getting anxious about the health being of your kid when you are not around.
Do not worry. I understand your problem, and I am standing by your side. For instance, I have looked for 14 essential things to consider while choosing perfect care for your infant.
Those things include Licensing, Safety Measures, Qualified Caregivers, Caregiver-to-Child ratio, Type of Daycare and many more items to look into while choosing the right infant daycare for your baby.
Keep scrolling and explore 14 Things For Choosing the Right Daycare For Infant, 7 Red Flags of Bad Daycare Centers, Pros and Cons and Questions to Ask Daycare Providers for Newborns to make informed decisions for your peace of mind. And the happiness of your infant.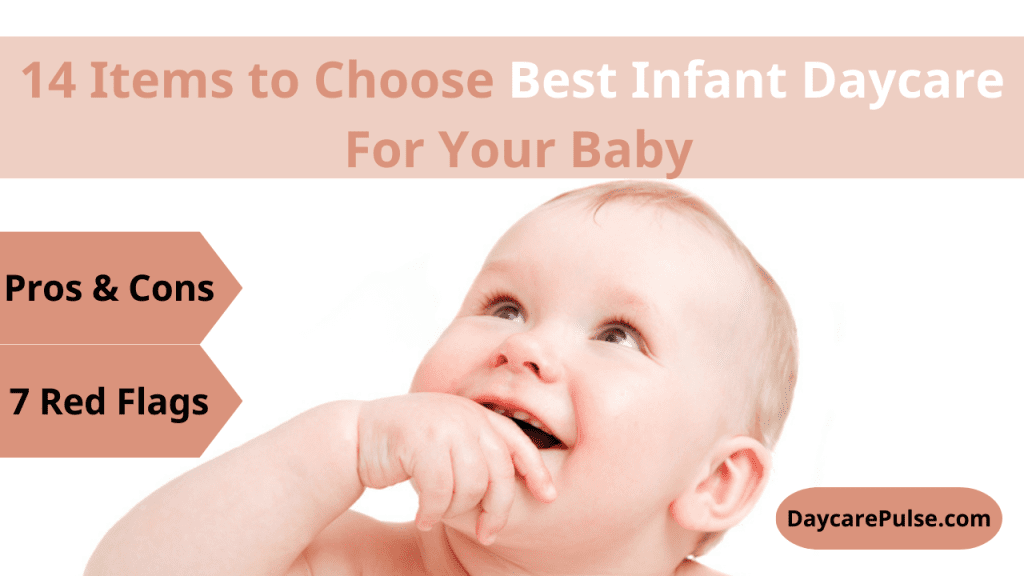 14 Things For Choosing the Right Child Care For Infants
Choosing the right daycare for your baby is a big deal. I get it. As parents, our hearts are wrapped up in the well-being of our little ones.
To help you make this critical decision, here are 14 crucial factors to consider when selecting the perfect daycare for your infant.
1. Licensing and Certification
Emotions run high when you leave your baby in someone else's care. One way to ease those concerns is by ensuring the daycare is licensed and certified.
This means it meets the safety and quality standards set by regulatory authorities. A licensed daycare gives you peace of mind, knowing they've met specific criteria to keep your baby safe and secure.
2. Safety Measures
Safety is non-negotiable when it comes to your precious bundle of joy. Ask about the daycare's safety protocols and measures, including how they handle emergencies.
Are there fire exits, smoke detectors, and first aid kits?
Ensure the environment is childproofed, and the staff is trained to respond to various situations. It's all about ensuring that your baby is in the safest of hands.
Check: How to Check a Daycare Background
3. Qualified Caregivers
It's natural to be a little anxious about who will be looking after your infant. Check the qualifications and experience of the caregivers.
Do they have expertise in infant care?
Please find out about their backgrounds and training. Knowing that your baby is cared for by compassionate and skilled individuals will ease your heart.
4. Caregiver-to-Child Ratio
Infants thrive on one-on-one attention. So, you'll want to ensure that the daycare maintains a low caregiver-to-child ratio.
This way, your baby can receive the individualized care and attention they need.
It's all about ensuring your little one isn't lost in a sea of other kids and their needs are met promptly and lovingly.
Related: What Is the Ratio of Child to Staff in Daycare?
5. Type of Daycare
Every parent and child is unique, and what works for one family might not work for another.
Think about what type of daycare suits your family's needs best. There are in-home daycares that offer a cozier atmosphere, center-based daycares with structured programs, and family daycares with a more homey feel.
What feels suitable for your family?
Check: How to Find Daycare?
6. Cleanliness and Hygiene
When it comes to your little one, hygiene is a top priority. It's perfectly natural to be concerned about cleanliness in a daycare.
Ask about their cleaning routines, diaper-changing procedures, and how often toys and surfaces are disinfected.
A clean environment helps reduce the risk of infections and keeps your baby healthy, happy, and smiling.
7. Age-Appropriate Activities
You want your infant to thrive and explore, even while you're at work. Find out if the daycare offers age-appropriate activities that support your child's development.
These could include sensory play, tummy time, and gentle interactions encouraging early learning and curiosity.
A daycare that nurtures their little minds and bodies is a true gem.
8. Open Communication
One of the most complex parts about being away from your baby is not knowing what they're up to.
Look for a daycare that believes in open communication. Will they inform you about your baby's daily activities, feeding, naps, and any milestones achieved?
Feeling connected, even when apart, is reassuring for you and your infant.
9. Positive References
What better way to soothe your parental worries than hearing from other parents who've been in your shoes?
Ask for references from families who have experience with the daycare.
A daycare's reputation within the community is like a warm hug, telling you that others have entrusted their precious little ones and had positive experiences.
10. Location and Hours
The practical side of things matters, too. Consider the location of the daycare. Is it convenient for you?
Does it fit with your work schedule? Choose a location that makes drop-off and pick-up less hassle and hours that align with your daily routine.
After all, it would help if you had a daycare that's as adaptable as your life.
You may also like to read: Can You Do Daycare One Day a Week?
11. Budget and Fees
Providing the best care for your infant also needs to align with your budget. Ask about the daycare's fees and any additional costs.
Clarify what's included in the fees and whether there are any payment plans or financial assistance options available.
It's essential to choose a daycare that not only meets your child's needs but also fits comfortably within your budget.
Check: How to Get Cheap Daycare?
12. Daily Schedule and Routine
Your infant thrives on routine, and you want to ensure their daycare can provide that consistency. Inquire about the daily schedule and routine. What does a typical day look like for your child?
Are there designated times for play, naps, feeding, and learning activities?
A structured routine can help your baby feel secure and at ease in their new environment.
13. Emergency Response Plan
It's tough to think about emergencies, but it's necessary. Ask about the daycare's emergency response plan.
Are the staff trained to handle various situations, such as accidents or sudden illnesses? Are there clear procedures for contacting parents or seeking medical attention when needed?
Knowing your baby is in safe hands, even in challenging moments, is a tremendous relief.
Related: How to Look Up Daycare Violations?
14. Flexibility and Backup Plans
Life can be unpredictable, and sometimes, you may need a bit of flexibility.
Discuss the daycare's policies on late pick-ups, unexpected changes in your schedule, or days when your baby is unwell.
Also, inquire about their backup plans in case a caregiver is absent. A daycare that understands the occasional hiccups and has a plan is genuinely supportive.
Do you know: What to Look for in a Daycare?
7 Red Flags of Bad Daycare Center
Recognizing these red flags is crucial for making an informed decision about your child's daycare. Trust your instincts and prioritize your child's safety and well-being.
1. Inadequate Facilities
One of the major red flags of a wrong daycare center is inadequate facilities.
If the environment appears run-down, unclean or lacks essential safety measures like fire exits, smoke detectors, and childproofing, it's a cause for concern.
Your child's safety and well-being depend on a secure and comfortable setting.
2. Poor Communication
Effective communication is vital between daycare staff and parents.
Suppose the daycare needs more transparency and doesn't share information about your child's activities. If you respond to your inquiries promptly, it can be smooth and manageable.
Trust is built on open and honest communication.
3. Negative Reviews
The experiences of other parents can be a powerful indicator of a daycare center's quality.
If you come across negative reviews or hear unsettling stories from other families, it's a warning sign.
Pay close attention to any consistent complaints or recurring issues in these reviews.
4. Excessive Use of Electronic Devices
A daycare center should prioritize active and interactive play, learning, and socialization, not prolonged screen time.
Suppose you observe that the staff relies heavily on electronic devices to occupy the children or as a means of communication.
In that case, it may indicate a need for more engagement in essential hands-on activities.
5. Unorganized Records and Documentation
Proper record-keeping is essential in a daycare center. If you notice that records related to your child's activities, health, or daily routine are disorganized or incomplete, it could be a sign of negligence.
Accurate documentation is crucial for your child's well-being and development.
6. Limited or No Parental Access
Parents should feel welcome and encouraged to visit the daycare center anytime.
If the daycare restricts parental access or doesn't allow you to drop in unannounced, it may indicate a lack of transparency or even something more concerning. An open-door policy fosters trust.
7. Inadequate Privacy and Security Measures
Your child's privacy and security are paramount. If you observe lax security measures or a lack of privacy for the children, it can be a significant red flag.
Proper measures, such as controlled access, privacy screens during diaper changes, and secure storage of personal information, should be in place to protect your child.
Read on: Is daycare good for kids?
Pros and Cons of Daycare for Infants
When considering daycare for your infant, it's essential to weigh these pros and cons against your family's specific needs and values to make the best decision for your child's well-being and your circumstances.
Here's a table outlining the pros and cons of daycare for infants:
Read on: Will Daycare Ruin My Baby?
| Pros of Daycare for Infants | Cons of Daycare for Infants |
| --- | --- |
| Social Interaction: Infants can develop social skills and make friends. | Limited One-on-One Attention: Due to the group setting, individual attention may be less. |
| Early Learning: Many daycares offer age-appropriate activities that promote early learning. | Separation Anxiety: Both infants and parents may experience separation anxiety. |
| Trained Caregivers: Daycare staff often have training in child development. | Potential Exposure to Illnesses: Infants may be more susceptible to illnesses in a group setting. |
| Structured Routine: Daycares provide a consistent daily schedule. | Limited Flexibility: Strict pickup and drop-off times can be challenging for working parents. |
| Preparation for School: Infants learn to adapt to a structured environment, which can ease the transition to school. | Costs: Daycare can be expensive, impacting the family budget. |
| Parental Peace of Mind: Parents can focus on work with the assurance that their child is in a safe environment. | Limited Control: Parents have less control over their child's daily routine. |
| Opportunity for Independence: Infants learn to explore and gain some independence. | Adjustment Period: It may take time for infants to adapt to the new environment. |
| Community and Social Development: Infants are exposed to diverse peer groups. | Varied Quality: The quality of daycares can vary significantly. |
| Networking: Parents may connect with other parents and build a support network. | Potential Values Clash: The daycare's values may not align with the family's values. |
Questions to Ask Daycare Provider for Newborns (Infants)
Here are 10 essential questions to ask a daycare provider when considering their services for your newborn:
What is the caregiver-to-child ratio for infants, and how do you ensure individualized attention for each child?
Can you provide information about the qualifications and experience of the caregivers looking after my newborn?
How do you handle feeding and nap schedules for infants, especially if my baby has specific needs or preferences?
What is your approach to soothing and comforting fussy infants, and how do you ensure their emotional well-being?
Can you share your daily routine and activities designed for newborns to support their early development?
How do you manage health and safety, including illness prevention and hygiene practices, in the daycare?
What is the process for informing parents about their child's daily activities, milestones, or any concerns that may arise?
What is your policy on parental visits and access to the daycare facility during operating hours?
How do you handle emergencies or medical issues that may arise with infants, and what is your communication plan in such cases?
Can you provide references from other parents who have entrusted their newborns to your care or share any testimonials from satisfied families?
Asking these questions will help you gain a better understanding of the daycare provider's approach and ensure that it aligns with your expectations and concerns as a parent of a newborn.
Frequently Asked Questions
Is Daycare Safe for Infants?
Daycare can be safe for infants if the facility adheres to strict safety and hygiene standards.
Licensing and certification ensure specific safety measures are met.
It's essential to research daycare options, visit facilities, check references, and trust your instincts when choosing the right daycare for your infant's well-being.
Did you know: What Do Infants Do at Daycare
Are Characteristics of a Good Daycare Worker?
Good daycare workers exhibit patience, kindness, empathy, and a genuine love for children.
They should also possess qualifications in early childhood education and training in infant care.
Effective communication, organization, and a nurturing and stimulating environment are essential traits.
What Are the Characteristics of a Good Daycare Worker?
Good daycare workers exhibit patience, kindness, empathy, and a genuine love for children.
They should also possess qualifications in early childhood education and training in infant care.
Effective communication, organization, and a nurturing and stimulating environment are essential traits.
How Does Daycare Take Care of Sick Children?
Daycare centers have policies in place for handling sick children. Typically, children with contagious illnesses are separated from others to prevent the spread of infection.
Parents are usually informed and asked to pick up the sick child promptly. Some daycares may require a doctor's note for the child to return after an illness, ensuring that the child is no longer contagious.
It's important to communicate openly with the daycare about your child's health and any specific needs they may have.
How Does Daycare Help in Early Childhood Development?
Daycare exposes children to a group setting, helping them develop essential social skills.
They learn to interact with peers, share, cooperate, and manage emotions.
Building positive relationships with caregivers and other children fosters emotional resilience and a sense of belonging.
Conclusion
In conclusion, daycare plays a vital role in the early childhood development of children. It offers a structured and nurturing environment that fosters social, emotional, cognitive, and physical growth. From building social skills and fostering independence to preparing children for formal schooling, daycare centers provide a valuable foundation for a child's future.
By exposing children to a diverse and stimulating environment, daycare helps them develop a well-rounded perspective and cultural awareness. Moreover, it offers support and guidance to parents, creating a collaborative approach to child-rearing and early education.
Choosing the right daycare is a crucial decision, as it directly impacts a child's formative years. It's essential to consider a daycare center that aligns with your family's values and priorities, ensuring your child receives the care and opportunities necessary for a strong start in life.
Ultimately, daycare can be a powerful tool in nurturing the growth, development, and well-being of our youngest generation, setting them on a path toward a bright and successful future.