10 Daycare Event Ideas | Bring joy to children, Happy Parents
Hello, daycare owners! Are you searching for fresh and exciting event ideas to captivate the imaginations of your little ones? Organizing events can be quite a task, demanding time and creativity.
I have got your back! Here is a compiled list of fun-filled activities to make your next daycare gathering an absolute smash hit!
10 exciting daycare events ideas you can offer at your child care. From all of them, here are a few of the daycare event ideas mentioned below.
Educational Adventures
Creative Expressions
Festivals & Celebrations
Exploring Nature & Environment
Culinary Creations Daycare
From picnicking in the park to hosting an outdoor movie night, there is something for everyone, no matter what size group you have.
Keep reading for 10 recommended daycare event ideas categorized for different age groups, a guide to promoting childcare events and children's overall growth and development. Plus, the benefits of daycare events will help bring some joy into your children's lives and keep parents happy.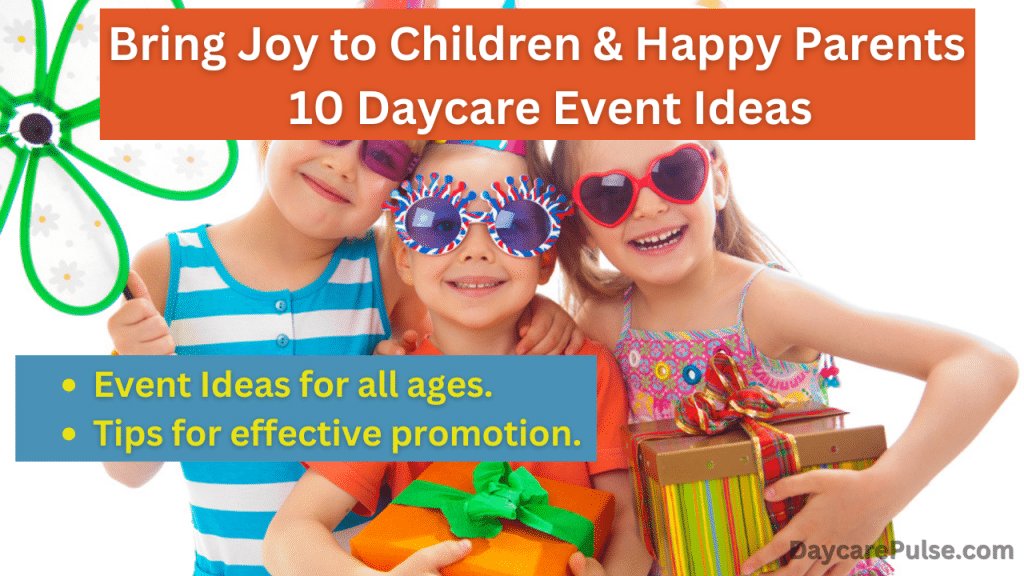 10 Daycare Event Ideas
Engaging and well-planned childcare events enhance children's overall growth and development. Here, we'll delve into the significance of 10 daycare event ideas, focusing on the first category:
1. Educational Event Ideas
To entice up the daycare events ideas game. I have curated interesting educational ideas to keep kids and parents having fun.
Daycare Event Idea #1: Science Fair to Foster Curiosity
Kids can explore various captivating experiments, like making volcanoes erupt or creating rainbow milk. It's a hands-on learning experience that encourages curiosity, critical thinking, problem-solving, and presentation skills.
Imagine their excitement as they witness chemical reactions and physical phenomena. This event isn't just educational; it's a day of wonder and discovery.
They can also embark on a science-themed treasure hunt, solving puzzles related to scientific principles, and even participate in a "Mad Scientist" costume contest to get creative with lab coats, goggles, and wacky hairstyles.
Daycare Event Idea #2: Imaginative "Wizard of Oz" Adventure
Follow the yellow brick road on a magical journey! Kids will learn about geography by mapping out the Land of Oz and creating their own Emerald City and costumes inspired by their favorite characters. This adventure fosters storytelling, crafts, and endless imagination.
They can reenact scenes from the beloved story, enhancing their creativity and public speaking skills. Additionally, you can organize a treasure hunt with clues related to the Oz story, leading children on a thrilling adventure to find hidden treasures, and making the day even more special.
Daycare Event Idea #3: Nature Scavenger Hunt
It's time for an outdoor adventure! During our Nature Scavenger Hunt, children will search for hidden treasures in nature, like colorful leaves, unique rocks, or even insects. It's not just fun; it's a fantastic way to connect with the environment, learn about different plants and animals, and stay active.
As they explore, they'll develop observational skills and a deeper appreciation for the world's biodiversity. They'll also discover the joy of physical activity while running, analyzing, and searching for nature's treasures.
To make the day more exciting, you can incorporate a "Natural Art" activity where kids use the items they find to create unique artwork, fostering creativity and teamwork.
Daycare Event Idea #4: Storytelling Day
Let's step into the world of stories! Children will enjoy interactive storytelling sessions where they can take on different roles from their favorite tales. They can also create storybooks or act out scenes, promoting teamwork and imagination.
To add flair to the day, you can arrange a mini "Storytelling Competition" where kids can prepare and perform short stories, boosting their confidence and public speaking abilities. This competition will make storytelling day even more special.
Daycare Event Idea #5: Science Day
Get ready to explore fascinating science topics, from chemistry to astronomy! It's all about hands-on learning and experimentation. Our Science Day sparks curiosity and a love for STEM (Science, Technology, Engineering, and Mathematics), making learning a blast.
Kids will have the chance to mix colorful chemicals, create miniature volcanoes, and explore the mysteries of the universe.
Science Day isn't just about facts and figures; it's about inspiring wonder, encouraging discovery, and planting the seeds of future scientists. To enhance the experience, you can set up a "Science Carnival" with interactive booths where kids can participate in hands-on experiments and demonstrations.
Daycare Event Idea #6: Cultural Day
Travel the world without leaving the daycare! Cultural Day allows kids to explore different traditions, savor diverse foods, and learn greetings in various languages. Celebrating diversity, cultural understanding, and respect for different backgrounds is a fantastic opportunity.
They'll sample cuisines from around the globe, try on traditional clothing, and learn about customs from different parts of the world. Cultural Day isn't just about fun activities; it's about appreciating diversity and promoting a sense of belonging within a global community.
To make the day even more unique, you can host a multicultural dance and music performance, encouraging kids to showcase their moves and talents inspired by diverse cultures.
Daycare Event Idea #7: Recycling Day
Get ready to explore the world of recycling and sustainability! Children will learn about the importance of environmental responsibility and reducing waste. Recycling Day instills eco-friendly habits in young minds and empowers them to make environmentally conscious choices in their daily lives.
To make the day even more engaging, you can create a "Recycling Relay" game where children sort recyclables into the appropriate bins, teaching them about recycling categories.
Additionally, you can organize a "Trash to Treasure" craft session, where kids use recycled materials to create art or useful items, turning recycling into a creative adventure.
Daycare Event Idea #8: Health & Fitness Day
Get ready to promote healthy habits and an active lifestyle! Our Health & Fitness Day is all about teaching children the significance of physical fitness, nutrition, and overall well-being. It's a day packed with fun activities that encourage positive habits that can last a lifetime.
To make the day special, organize a "Nutrition Relay" where kids learn about healthy food choices and engage in fun, food-themed challenges. You can also set up a mini "Fitness Olympics" with various sports and physical activities, promoting teamwork and friendly competition.
To add a touch of mindfulness, introduce a "Yoga and Meditation" session, helping children manage stress and improve mental well-being. Creating a "Healthy Snack Bar" where kids can assemble their nutritious snacks will make the day both educational and enjoyable.
2. Creative Expressions Daycare Event Ideas
Nobody can stop you from being creative. Dive into amazing creativity-enhancing daycare event ideas.
Daycare Event Idea #1: Arts & Crafts Fair
Unleash the artist within at our Arts & Crafts Fair! Children have the chance to explore various art forms and create something truly unique. It's a day that fosters artistic expression, imagination, and collaboration.
To make the day even more unique, host a "Crafting Marathon" where kids can work on multiple projects throughout the day, from painting to sculpting.
You can also arrange a "Masterpiece Gallery" showcasing the children's artworks, allowing them to feel like true artists with their exhibition. Don't forget a "Creative Costume Parade," where children can strut their stuff in imaginative outfits they've crafted themselves.
Daycare Event Idea #2: Music and Dance Day
Get ready to groove to the rhythm of creativity! Music and Dance Day is all about self-expression through movement and music. Children can explore their love for melodies and dancing in a fun and interactive way.
To make the day even more special, organize a "Musical Showcase" where kids can perform their favorite songs or musical pieces. Encourage them to compose their own songs and choreograph dance routines for a mini talent show.
Incorporate a "Musical Instrument Petting Zoo," allowing children to explore and play various instruments, igniting their passion for music. It's a day filled with laughter, movement, and harmonious melodies.
Daycare Event Idea #3: Photography Day
Capture moments and imagination on Photography Day! It's an excellent opportunity to introduce children to the captivating world of photography and help them document unique moments from their perspective.
To make the day even more engaging, explore the idea of a Photography Day where kids become little photographers. Discuss the educational aspects of teaching children about photography and offer tips for setting up a mini photo studio and props for creative shots.
This hands-on experience will encourage their creativity and provide a tangible way to preserve memories. You can also arrange a "Photography Exhibition" where children's photos are displayed, allowing them to showcase their newfound skills.
Daycare Event Idea #4: Puppet Show
Get ready for an enjoyable puppet show that fosters imaginative play and storytelling! Puppetry is a fantastic way to engage children's imagination and creativity.
To make the day even more unique, emphasize the value of puppetry in nurturing storytelling. Provide ideas for creating puppets and simple puppet theater setups, allowing children to bring their stories to life.
Share tips on involving children in crafting their puppet characters, fostering a sense of ownership and creativity in their performances.
Daycare Event Idea #5: DIY Toy Day
Let's get creative and hands-on with DIY Toy Day! Children can make their own toys from everyday objects, encouraging resourcefulness and imaginative play.
To make the day even more exciting, explain the concept of a DIY Toy Day, where kids create their toys. Discuss the benefits of hands-on toy making in enhancing creativity and problem-solving skills.
Offer toy-making project ideas, from simple paper crafts to recycled materials, and watch as children turn their ideas into tangible playthings. Encourage them to design and build their mini toy worlds, fostering creativity and innovation.
3. Festivals & Celebrations Daycare Event Ideas
Jump into festivals and celebrations to let kids know about their beauty and keep them excited.
Daycare Event Idea #1: Multicultural Fair Showcasing Diversity
Celebrate the rich tapestry of cultures at your daycare with a Multicultural Fair! It's an event that promotes diversity, cultural understanding, and appreciation for different traditions.
To make the day even more special, encourage parents and children to share their cultural traditions, music, and stories.
Showcase diverse cuisines, music, and arts from around the world, creating a mini global village within your daycare. This immersive experience allows children to learn about and respect people from various backgrounds while celebrating our shared humanity.
Daycare Event Idea #2: Halloween Party and Magic Show
Get the children in the spirit of Halloween with a fun, spooky party! Halloween Party and Magic Show is all about creating a memorable and enchanting day for kids.
Create a spooktacular event with costumes and decorations to make the day even more exciting. Organize a magic show with a professional magician, adding an element of wonder to the festivities.
Plan trick-or-treating and games for the little ones, making it a day filled with fun, surprises, and a touch of magic. Encourage children to unleash their creativity by designing their costumes, making it a costume extravaganza.
Daycare Event Idea #3: Christmas Party
Embrace the holiday spirit with a festive Christmas party! Christmas Party is a time to celebrate togetherness and the magic of the holiday season.
To make the day even more special, decorate your daycare with festive ornaments and arrange a visit from Santa Claus with gifts for the children. Craft holiday-themed art and crafts projects, allowing kids to create their own ornaments and decorations to take home.
Christmas Party is all about spreading joy and creating cherished memories during this magical time of year. Organize a "Christmas Carol Sing-Along" where children can learn and perform traditional carols, adding a musical touch to the celebration.
4. Exploring Nature & Environment Daycare Events Ideas
Daycare Event Idea #1: Garden Day
Let the children explore the wonders of nature in a garden setting! Garden Day is an opportunity for kids to learn about gardening, the environment, and the importance of nurturing living things.
Plan a day of planting flowers, herbs, or vegetables to make the day even more exciting. Discuss the importance of caring for the environment and how gardening can contribute to a greener planet.
Garden Day encourages children to connect with the natural world and discover the joy of watching plants grow. You can incorporate a "Garden Scavenger Hunt" where children search for specific plants and insects, adding an element of discovery to the day.
Daycare Event Idea #2: Nature Walk
Step into the great outdoors with a Nature Walk! Children will explore the wonders of the natural world, connect with the environment, and develop a deeper appreciation for the beauty of nature. It's an opportunity to provide a sensory-rich experience in a natural setting.
During the walk, you can enhance their experience by preparing a "Nature Scavenger Hunt" checklist, encouraging kids to find specific plants, animals, or natural features.
To make the walk even more exciting, you can invite a local naturalist or environmentalist to lead the walk, providing insights into local flora and fauna. This interaction will add a touch of expertise to the day and deepen their understanding of the natural world.
5. Culinary Creations Daycare Events Ideas
You can also organize culinary creations and daycare events at your daycare.
Daycare Event Idea #1: Virtual Parent-Child Cooking Class
Engage parents and children in a virtual cooking class where they can prepare simple and healthy recipes together. It's a fun and educational way to promote the importance of good nutrition and family bonding.
Encourage discussions about food and nutrition to make the day even more unique. Parents and children can work together to create delicious dishes while learning about the ingredients and their nutritional value.
It's a day of culinary exploration and shared experiences that strengthen family connections. Consider having a "Cooking Competition" where parents and children team up to create their culinary masterpieces, adding a fun and competitive element to the event.
Daycare Event Idea #2: Breakfast with the Bunny and Egg Hunt
Celebrate Easter with a delightful breakfast picnic and egg hunt! It's a time to embrace the holiday spirit and enjoy outdoor fun.
Arrange an outdoor breakfast picnic and egg hunt to make the day even more exciting. Children can make bunny ears to wear and participate in egg decorating activities. You can also offer easy craft projects, such as decorating paper eggs or making bunny baskets, to add a creative touch to the festivities.
Breakfast with the Bunny and Egg Hunt brings joy and excitement to the Easter season. Consider having a "Bunny Hop Race" where children can race in their bunny ears, adding a playful twist to the event.
6. Family & Community Connections Daycare Events Ideas
Arranging family events at daycare is a win-win. Explore these family and community daycare event ideas.
Daycare Event Idea #1: Grandparents' Day Celebration
Offer a special day to honor grandparents and their importance in children's lives. Plan activities that involve grandparents, like storytelling sessions or creating keepsake crafts to commemorate the day.
To make the day even more unique, create a welcoming atmosphere where grandparents and grandchildren can bond over shared experiences. This day celebrates the intergenerational connections that are so meaningful in a child's life.
Consider having a "Generations Talent Show" where grandparents and children can showcase their talents, whether it's singing, dancing, or telling stories, creating a heartwarming and memorable event.
Daycare Event Idea #2: Mother's Day Tea and Crafts
Celebrate Mother's Day by hosting a tea party and craft session. It's an opportunity for children to show their love and appreciation for their mothers through creative expression and quality time.
Host a tea party with little ones and their mothers to make the day even more unique. Craft handmade gifts and cards to express love and gratitude.
This day celebrates the special bond between mothers and children and provides cherished memories for all. Consider having a "Mother-Child Talent Show" where mothers and children can showcase their talents, adding a touch of entertainment and laughter to the event.
Daycare Event Idea #3: Birthday Celebrations
Make each child's birthday a special day to remember. Celebrate children's birthdays with themed parties, including games, cake, and decorations. It's a time to make each child feel truly special on their big day.
Personalize each celebration according to the child's interests and favorite themes to make the day even more special. This personalized touch adds a sense of uniqueness and joy to their birthday experience.
Consider having a "Birthday Parade" where children and caregivers dress up in birthday-themed costumes and march in a mini parade, creating a festive and memorable celebration.
You can also decorate daycare for birthday event celebrations. To read more about birthday celebrations, please check my blog post about Daycare Birthday Ideas: Complete Activity, Shopping List & Gifts Guide
7. Active Play & Entertainment Daycare Events Ideas
Organize entertainment and fun daycare event ideas.
Daycare Event Idea #1: Outdoor Play Day
Invite children to explore the outdoors and get active with fun games. Get them moving and grooving in the great outdoors, encouraging teamwork and creativity with outdoor games.
To make the day even more special, provide a variety of outdoor activities and challenges that cater to different interests and abilities. This promotes an active lifestyle and a love for nature.
Consider organizing an "Outdoor Sports Tournament" where children can compete in various outdoor games like soccer, frisbee, and relay races, fostering friendly competition and physical activity.
Related: Outdoor Daycare Ideas: 11 Unique Daycare Outdoor Activities – DaycarePulse.com
Daycare Event Idea #2: Winter Carnival of Games and Activities
Create a winter wonderland of games and activities that excite children about the winter season. Include snowman building, snowball toss, and crafts that celebrate the magic of winter.
To make the day even more unique, involve families and caregivers in the festivities. Hosting a family snowman-building competition or a winter-themed art showcase can create a sense of togetherness and strengthen the daycare community.
Consider having a "Winter Costume Parade" where children and caregivers dress up in their favorite winter-themed costumes, adding a touch of creativity and excitement to the event.
You may also like to read: Winter Bulletin Board Ideas for Daycare – DaycarePulse.com
Daycare Event Idea #3: Sports Day
Encourage children to participate in sports and physical activities. Develop young athletes through sports and games, teaching teamwork and sportsmanship values.
Organize a "Mini Olympics" for a day of sports and fun to make the day even more special. Provide a platform for kids to showcase their athletic talents and compete in various sports events.
Consider having a "Sports Day Carnival" where children can enjoy sports-themed games and activities like a basketball toss or a soccer shootout, adding an element of fun and competition to the day.
Daycare Event Idea #4: Magic Show
Astonish the children with a magical show to capture their imaginations. Feature a professional magician with fun illusions and entertaining performances that engage young minds.
To make the day even more unique, offer interactive participation during the magic show. Involve parents in the show for added entertainment and create a sense of community.
Consider having a "Magic Workshop" where children can learn simple magic tricks and perform them for their peers, allowing them to become budding magicians themselves.
8. Physical Activity Daycare Event Ideas
Arrange physical activities at your daycare to make events more interactive.
Daycare Event Idea #1: Outdoor Play Day
Encourage physical activity and active play for the children. Get kids moving and grooving outdoors, enhancing teamwork and creativity with outdoor games.
To make the day even more special, provide opportunities for children to discover and explore their natural surroundings. Arrange a "Nature Scavenger Hunt" where children search for specific items in the outdoor environment, fostering curiosity and a deeper connection to nature.
Consider having a "Nature Art" activity where children create nature-inspired artworks using materials they find during the outdoor play day.
Daycare Event Idea #2: Sports Day
Promote teamwork and sportsmanship values through group activities. Organize a mini Olympics for a day of sports and fun, teaching coordination, balance, and friendly competition.
To make the day even more unique, involve children in planning and organizing sports-related challenges and games. This empowers them to take ownership of the event and enhances their leadership skills.
Consider having a "Sportsmanship Pledge" where children pledge to demonstrate good sportsmanship throughout the day, fostering a positive and inclusive atmosphere.
Daycare Event Idea #3: Dress-up Parade
Get the kids moving creatively and interactively. Let their creativity shine through imaginative costumes, enhancing social skills as they interact in character.
To make the day even more unique, encourage children to create and design their costumes using recycled materials and craft supplies. This not only promotes creativity but also eco-friendly practices.
Consider having a "Character Showcase" where children present their dressed-up characters and share short stories or facts about their chosen roles, adding an element of storytelling and self-expression to the event.
9. Social & Community Daycare Event Ideas
Arrange social and community daycare events at daycare. They can include:
Daycare Event Idea #1: Family Picnic
To make the day even more special, encourage families to bring their favorite dishes for a potluck-style picnic, celebrating diverse culinary traditions.
Provide outdoor games and activities for families to enjoy together, promoting social interaction and unity.
Consider having a "Family Talent Show" where families can showcase their talents and create memorable moments of laughter and entertainment.
Daycare Event Idea #2: Book Exchange
Foster a love for reading and literacy with a Book Exchange event. Encourage children and families to share their favorite books, promoting a sense of community and a passion for storytelling.
Host reading circles where children and caregivers can read stories together to make the day even more special. Create a cozy reading nook with cushions and blankets, making it a welcoming space for reading adventures.
Consider organizing a "Storytelling Contest" where children can tell their favorite stories or create their own, nurturing their storytelling skills and imagination.
Daycare Event Idea #3: Pet Day
Celebrate the joys and responsibilities of pet ownership with Pet Day. Invite families to bring their furry, feathery, or scaly friends for pet-friendly fun and learning.
Organize pet-themed activities, such as a "Pet Fashion Show" where children and their pets can strut their stuff in creative outfits to make the day even more special. Provide opportunities for children to learn about pet care, safety, and responsible pet ownership through interactive workshops.
Consider having a "Pet Parade" where children can proudly showcase their pets to the daycare community, fostering a sense of pride and responsibility.
10. Recreational & Fun Daycare Event Ideas
Try arranging recreational and fun daycare event ideas. They can include.
Daycare Event Idea #1: Theme Days
Immerse children in a world of imagination with Theme Days! Create a magical atmosphere where each day revolves around a different theme, sparking creativity and curiosity.
To make the day even more unique, involve children in planning and decorating according to the chosen theme.
Encourage them to brainstorm ideas and contribute to the theme's execution. Consider having themed games and activities, such as a "Pirate Treasure Hunt" on a Pirate-themed day, making each day an exciting adventure.
Daycare Event Idea #2: Cooking Class
Inspire young chefs with a cooking class that introduces them to the culinary world. Teach them basic cooking skills, encourage creativity, and nurture an appreciation for good food.
To make the day even more special, focus on kid-friendly, delicious, and easy to prepare recipes. Incorporate elements of nutrition education, helping children understand the importance of balanced meals.
Consider having a "Junior Chef Cook-Off" where children can showcase their culinary creations and compete in friendly cooking challenges, making it a day of delicious fun.
Daycare Event Idea #3: Board Game Day
Engage children in the world of strategy, teamwork, and fun with a Board Game Day. Encourage them to explore board games promoting critical thinking and social interaction.
To make the day even more special, provide a wide selection of board games suitable for different age groups.
Organize tournaments or team-based challenges, allowing children to collaborate and develop strategic thinking. Consider having a "Board Game Design Workshop" where children can create their board games, fostering creativity and problem-solving skills.
Daycare Event Idea #4: Movie Day
Create a cinematic experience for the children with a Movie Day. Screen age-appropriate films that entertain, educate, and spark discussions.
To make the day even more unique, turn the movie screening into an interactive experience. Include discussions before and after the movie to encourage critical thinking and understanding of the film's themes. Consider having a "Movie Snack Bar" where children can prepare their movie snacks, adding a tasty element to the movie day experience.
With these daycare event ideas, you can create a vibrant and engaging environment that encourages learning, creativity, and community among children and their families. Each event offers unique opportunities for growth, fun, and memorable experiences.
Daycare Event Ideas For Different Age Groups
Here are some daycare center event ideas for different age groups.
1. Infants (Ages 0-12 Months):
In the delicate world of infants, sensory play takes center stage. They engage with the world through their senses, so providing various sensory experiences is key.
You may also like to read: Activities to do with infants in daycare
Sensory Play:
Texture Exploration – Soft blankets, smooth toys, and textured mats allow infants to explore tactile sensations, fostering early sensory development.
Light and Shadow Play – Incorporate overhead projectors or light boxes with different colored transparent materials. This visual stimulation captivates their senses and promotes curiosity.
Music & Movement:
Lullaby Hour – Create a serene ambiance with soft music and gentle rocking, promoting a soothing experience.
Instrument Exploration – Safely introduce baby-friendly instruments like rattles and drums. This encourages auditory development as they discover different sounds.
Tummy Time Events:
Mirror Play – Placing mirrors at their eye level during tummy time promotes self-recognition and exploration.
Interactive Mats – Mats adorned with various objects encourage physical movement and exploration.
Storytime:
Soft Picture Books – Utilize brightly colored fabric books to engage their visual senses and initiate a love for storytelling.
Voice Play – Vary your tones, pitches, and rhythms while reading to stimulate language development.
Nature Connection:
Outdoor Stroller Tours – Gentle walks around gardens or parks introduce infants to the sights and sounds of the natural world.
2. Toddlers (Ages 12-24 Months):
As toddlers take their first steps into the world, physical play, creative expression, and exploration become their guides.
Physical Play:
Obstacle Course – A safe setup of soft objects for climbing over, under, and around boosts gross motor skills.
Dance Party – Energetic music sets the stage for movement and coordination.
Creative Expression:
Finger Painting – They can explore their creativity through edible, safe paints.
Dress-up Day – Encourage imaginative pretend play by letting them choose costumes.
Educational & Exploration:
Animal Day – Introduce soft stuffed animals to teach toddlers about different creatures.
Shape and Color Day – Engage them in activities recognizing different shapes and colors.
Social Interaction:
Playgroup Sessions – Facilitate guided play with peers to nurture social skills.
Puppet Shows – Simple stories using puppets entertain and encourage interaction.
Nature Activities:
Sand & Water Play – Provide opportunities for tactile exploration with a sandbox or kiddie pool (always supervised).
Nature Walks – Explore safe outdoor spaces like gardens to connect with nature.
Sensory Exploration:
Sound Jars – Jars filled with various items (such as rice or bells) produce different sounds, stimulating auditory senses.
Sensory Bins – These bins are filled with safe materials like cooked pasta, water beads, or foam pieces, offering tactile exploration.
3. Preschoolers (Ages 2-4 Years)
For pre-schoolers, arrange these interactive activities.
Arts and Crafts Workshops:
Themed arts and crafts sessions – Utilize child-friendly art supplies for painting, drawing, and craft projects.
Outdoor Nature Scavenger Hunts:
Hunts in gardens or parks – Create lists of items like pinecones, feathers, or different types of leaves for them to discover.
Structured Group Games for Social Development- Promote teamwork and cooperation through structured group games like "Duck, Duck, Goose" or "Simon Says."

Pro Tip: Set clear rules and roles to help preschoolers learn about cooperation and following instructions.
How to Promote Daycare Events Effectively?
To ensure successful daycare center events, focus on promoting and hosting events effectively.
You may also like to read: How to Promote Your Daycare Business – DaycarePulse.com
1. Utilizing Social Media Platforms
Social media is a powerful tool for reaching parents and the local community. Use platforms like Facebook, Instagram, and Twitter to create a buzz around your daycare events. Share engaging event posts with eye-catching visuals, and use relevant hashtags to increase discoverability.
Consider running social media contests to encourage sharing and engagement. Engage with comments and messages promptly to build a sense of community.
2. Local SEO
Optimizing your daycare center's online presence for local searches is crucial. Explain how this can significantly impact your event's visibility.
For example, a well-optimized Google My Business listing can ensure your center shows up at the top of the results when parents search for "daycare near me." Share before-and-after examples of how improving your SEO increased event registrations.
3. Networking
Building relationships with local businesses, schools, and parents can boost your daycare event's success. Collaborations and partnerships can expand your reach and create a sense of community support.
Share stories of how partnering with a local bakery for event catering or involving nearby schools in educational activities led to successful events.
Attend local community events and join associations like the Chamber of Commerce to establish connections. Explain how mutual support can lead to shared marketing efforts and event attendance.
4. Newsletters & Testimonials
Effective communication and trust-building are vital for daycare event promotion. Newsletters keep parents informed, while testimonials build trust in your daycare center.
Showcase well-designed newsletters that highlight upcoming events and include snippets of parent testimonials sharing positive experiences.
Encourage collecting testimonials from satisfied parents and display them on your website and promotional materials. Regularly send informative newsletters with event updates and important information.
5. Creating Eye-Catching Posters and Flyers
Visual appeal is essential for marketing materials. Design eye-catching posters and flyers that grab attention and convey the essence of your daycare events. Consider using bright colors, cheerful images, and clear, concise messaging. Show examples of effective signs and flyers from daycare centers to inspire creativity.
6. Collaborate with Local Businesses
Collaborating with nearby businesses can be mutually beneficial. Explain how such partnerships can help both parties. For instance, hosting joint events with a local bookstore or toy store can attract a broader audience.
7. Host an Open House
Hosting an open house event serves various purposes. An open house event serves multiple essential purposes in promoting your daycare center effectively.
It provides parents with a valuable opportunity to gain a firsthand understanding of what your daycare center offers. They can meet your dedicated staff, explore the facility, and have their questions and concerns addressed directly.
Read more: Open House Ideas for Daycare: Unique Ideas, Tips And Guide – DaycarePulse.com
8. Organize Special Events Around Holidays
Highlight the significance of holiday-themed events in creating a celebration and community at your daycare center. Suggest ideas for events tied to holidays like Halloween, Thanksgiving, and Christmas. These could include costume contests, themed arts and crafts, or seasonal treats. Share heartwarming stories of holiday celebrations at daycare centers to spark creativity and excitement.
9. Organize Special Events Around Holidays
Host fun activities like costume contests themed arts and crafts, or even serve seasonal treats during holidays like Halloween, Thanksgiving, and Christmas. And when you share heartwarming stories about past holiday celebrations at daycare centers, it can really get everyone excited and in the spirit.
10. Offer Parent Workshops
Now, let's dive into the idea of parent workshops. These sessions are all about providing valuable knowledge and engagement for parents. Picture topics like child development, helpful parenting tips, and ensuring safety for your little ones.
When you hear stories from parents who've attended these workshops and how it's helped them, you'll see how it's not just about education but also about building a close-knit community where trust and reputation grow stronger.
5 Tips to Maximize Engagement At Daycare Events
Regarding daycare events, engagement is the key to creating memorable experiences for children and their families.
To ensure your daycare events are not just successful but also filled with joy and learning, consider the following strategies:
Build Daycare Activities List – Create a comprehensive list of activities and pick the ones that will work best for each event. Start by developing a diverse and well-rounded list of daycare activities. Ensure they cater to various age groups, from infants to school-aged children. Include activities that promote physical development, creativity, and cognitive growth.
Explore Daycare Project Activities – Project-based activities are excellent for engaging children in hands-on learning. Explore science experiments, art projects, and thematic projects that align with your daycare's curriculum. Encourage children to work collaboratively, fostering teamwork and problem-solving skills.
Curate Childcare Event Ideas List – Create a comprehensive list of childcare event ideas that can be integrated into your daycare's calendar. Ensure these events are fun and align with your educational goals.
Examples include holiday celebrations, cultural diversity events, and themed learning days.
Organize Kid-Friendly Event Ideas – Develop kid-friendly events that cater to the interests and developmental stages of the children. Consider events like dress-up parades, storytime sessions, or puppet shows that captivate their imagination. For example, Incorporate elements of play and creativity into life to maximize engagement.
Have Fun Daycare Activities – Daycare events are opportunities for fun and learning. Utilize resources like science experiments, games and puzzles to create interactive experiences. For instance, set up a miniature obstacle course or organize a dance challenge. Ensure that each child feels safe, valued, and encouraged to participate. For example- Utilize fun props and costumes, music, and games to keep children engaged.
10 Daycare Event's Benefits
Daycare events offer many advantages that contribute to a child's holistic development. Here are some key benefits:
Holistic Development Through Events – Events provide varied environments and experiences that foster children's growth. It includes physical, cognitive, and social development as they interact with peers, engage in activities, and navigate different settings.
Emotional Development – Events often foster an environment where children can freely express their feelings and emotions. They learn to cope with different situations, manage their emotions, and empathize with others.
Importance of Play – Play-based events stimulate creativity, imagination, and problem-solving skills. They also enhance motor skills and foster an attitude of fun-filled learning.
Cultural Sensitivity and Global Awareness – Through events that celebrate diverse cultures, traditions, and holidays, children gain exposure to global perspectives. This helps in developing respect for diversity and cultural sensitivity.
Reinforcement of Learning – Events that tie into educational themes help reinforce what children have learned. They provide practical, hands-on experiences that enrich their understanding and retention of topics.
Encouraging Independence – Participating in events often involves tasks encouraging children to be self-reliant. They learn to take charge, make decisions, and build confidence and independence.
Strengthening Bonds with Families – Daycare events allow families to get involved and engage in their child's learning journey. Such occasions strengthen the bonds between families, children, and the daycare center.
Connecting with Nature – Outdoor events and nature-based activities foster a love for the environment. They promote awareness about sustainable practices and the importance of preserving nature.
Natural Connection – Events involving physical activities or interaction with natural environments give children a break from structured learning. It cultivates a genuine connection with their surroundings and promotes holistic wellness.
Safety Considerations – Safety is paramount in daycare events. They teach children the importance of safety rules and the steps to take in emergencies. It instills a sense of responsibility and prepares them for handling real-world situations.
Frequently Asked Questions
What Is Included in a Daycare Activities List For Childcare Services?
A daycare activities list comprises a diverse range of activities that cater to children across various age groups.
These include games promoting physical development, arts and crafts stimulating creativity, and activities fostering cognitive and social growth.
How Can I Create a Daycare Projects List for Deeper Learning?
Creating a daycare projects list for deeper learning involves incorporating activities that align with your daycare's curriculum and promote hands-on learning.
These can include science experiments, art projects, and thematic activities encouraging children to explore and discover new concepts.
What Are the Benefits of Organizing Daycare Events in Daycare Centers?
Organizing daycare events provides many advantages to a child's holistic development.
These events foster emotional and physical development, reinforce learning concepts, encourage independence, strengthen family bonds, promote cultural sensitivity and global awareness, connect children with nature, and instill safety considerations. You may charge a small fee from the parents.
What is a Nature Scavenger Hunt?
Nature scavenger hunt is an outdoor activity and unique experience that engages children in exploring their natural surroundings.
It encourages them to observe, identify, and gather natural objects such as flowers, leaves, and stones.
Conclusion
Daycare events are essential for a child's progress, learning, growth, and fun. Through varied activities that cater to children's developmental stages and interests, they can explore different environments and express themselves freely.
Create Family Events and foster a connection with nature. Daycare centers should ensure that these events are safe and engaging childhood experiences. Raise Funds and Awareness for Your Events.
Parents and families build lasting bonds with their peers and cultivate a natural connection with their surroundings. Events also provide an opportunity for daycare centers to reinforce the learning concepts taught in the curriculum.