Daycare Payment Policy – Easy & Time Saving Guide
Hey there, fellow daycare owners! 🌟
I know that running a daycare and taking care of those adorable little ones is incredibly rewarding and heartwarming. It's a labor of love, and we're all in this together, right? 🤗
But let's be real, we all face our fair share of challenges. Sometimes, those challenges can feel like you're juggling a bunch of colorful, spinning plates! 🎪
So, let's chat about some of the tricky situations we might find ourselves in and how we can navigate through them with a smile on our faces.
You're a daycare provider who loves taking care of adorable little ones, but you are in a difficult situation. Here are some common issues:
Daycare payment policy… It's the compass that guides fair financial dealings in the world of childcare. But where do you begin?
How do you convey your daycare payment policy in a way that's clear, professional, and friendly?
Where can you find templates to make this process a breeze?

Well, don't worry, start this journey with a roadmap to make it all super easy for you!
We'll help you navigate the ins and outs of creating a policy that strikes the perfect balance between professionalism and warmth when communicating with parents.
I'll explain 8 essential elements that should be included in a daycare payment policy, give you a template and why it is essential.

After reading this blog you will, set clear expectations, ensure financial stability, and foster professionalism within the daycare environment.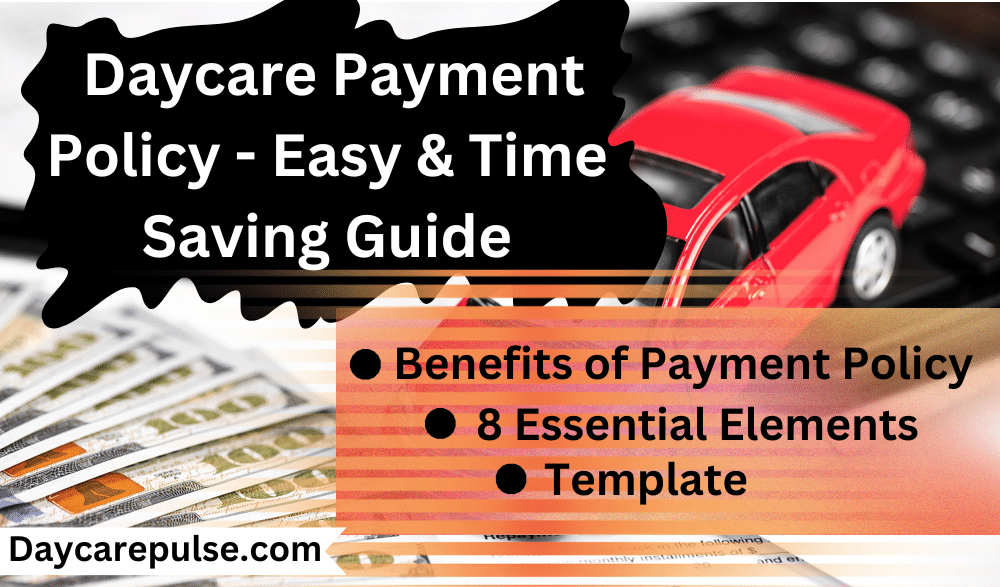 8 Important Items to Include in Daycare Payment Policy
Item #1: Daycare Payment Policy Introduction
Description of the Daycare Service
Begin your payment policy by providing a brief description of the daycare service you offer. Include details about your hours of operation, age groups accepted, and any unique features or educational programs.
For Example: Our daycare service, ABC Kids Care, offers a nurturing and safe environment for children from six months to eight years old. We operate from Monday to Friday, from 7:00 am to 6:00 pm.
We offer a rich, stimulating curriculum tailored to different age groups, ensuring holistic development of your child. Our exceptional staff are experienced and trained in early childhood education, and our facility is equipped with age-appropriate toys and equipment.
Furthermore, we also provide nutritious meals and snacks throughout the day. Our unique features include a focus on play-based learning and an emphasis on developing social and emotional skills.
Purpose of the Payment Policy
The purpose of the payment policy is to provide a clear, concise framework for all monetary transactions between the daycare provider and parents or guardians.
It aims to define the terms and conditions related to payments, ensuring the smooth operation of our daycare services. This policy is meant to foster a mutually beneficial relationship by clarifying financial responsibilities, thereby minimizing potential disputes and ambiguities.
It also ensures the financial stability of the daycare, allowing you to maintain the high standard of care you are committed to providing.
Item #2: Payment Details
Due Dates
Payments for our daycare services are due on the first day of each month. The fees must be paid monthly in advance, ensuring smooth operation of the daycare activities.
Parents or guardians can choose to pay through a variety of payment methods, including direct debit, credit card, or cheque.
Accepted Methods
Our daycare center provides various child care services, and we accept cash payments, checks, bank transfers, major credit/debit cards, as well as online payments via platforms like PayPal for tuition and fee payments.
We do not accept foreign currency or money orders. Please ensure that all checks are made payable to our daycare. We highly encourage setting up automated payments to ensure timely and hassle-free transactions.
Rate Changes
Our daycare center reserves the right to alter the rates at any time, with a notice period of 30 days. Any changes in the rates will be communicated via email or a letter sent home with the child.
These changes may be in response to inflation, increased operational costs, or enhancements in our services.
Sibling Discounts
We offer a sibling discount policy to families enrolling more than one child in our daycare. The first child is billed at the regular monthly rate, and each subsequent child from the same family receives a 10% discount on their monthly fee.
Please note, sibling discounts cannot be combined with any other promotional offers or discounts.
Item #3: Extra Costs and Fees
Late Payment Procedures
Late fees can be a concern for both parents and providers.
If payment is not made within this time, a late fee of 5% of the outstanding balance will be added to your account. We kindly ask parents and guardians to contact our office in advance if they anticipate a late payment so we can discuss potential solutions.
Please note that consistent late payments may result in a review of your child's enrolment status.
Non-Payment Procedure
Non-payment may lead to suspension and eventual termination of services.
After a month of non-payment, the child's enrollment at our facility may be suspended until all outstanding fees are paid. Should non-payment persist for two months, it could result in termination of services.
Extra Charges
We strive to provide a comprehensive service at our daycare, but there may be occasions where additional services are required beyond our standard offering.
These might include field trips, special activities, or extended care hours. Costs for these services are not included in the regular monthly fee and will be charged separately.
Please note, these charges must be paid separately and cannot be combined with regular monthly fees.
Returned Check Fees
In the unfortunate event that a check is returned due to insufficient funds, a fee of $25 will be applied to your account. This is to cover the cost of bank fees and administrative expenses associated with handling the returned check.
Repeated instances of bounced checks may necessitate a discussion regarding alternative forms of payment.
Item #4: Attendance Details
Holidays and Vacations
Despite holidays and vacation periods, the monthly fees remain constant. This is because our expenses, including staff salaries and operational costs, continue to incur regardless of these breaks.
Your monthly payment reserves your child's spot at our daycare and ensures the continuity of quality care and staffing. In such cases, please discuss with our administration team well in advance to explore potential accommodations or solutions.
Attendance and Absence
Our policy maintains that no refunds will be given for absences due to illness, vacation, or other reasons. The monthly fee reserves your child's spot and supports our operational costs.
This allows us to plan our staffing and activities accordingly. We appreciate your understanding and cooperation in this matter.
Item #5: Initial and Ongoing Fees
Deposits and Registration Fees
Initially, parents or guardians will be required to pay a one-time, non-refundable registration fee to secure a spot for their child in our daycare. The exact amount will be clearly indicated during the time of registration.
Additionally, a deposit equivalent to one month's fee is required at the outset. This deposit will be held and applied to the final month of your child's enrollment with us, provided all account balances are clear.
Refund/Overpayment
In the event of an overpayment, the excess amount will be credited to your account and applied against future payments.
If you prefer a refund, please contact our administration team to initiate a refund process. Refunds typically take 3-5 business days to process and will be issued using the original method of payment.
Item #6: Service Termination
Termination Policy
We require a minimum of one month's notice in writing prior to termination of services. This allows us ample time to fill the vacant spot. If notice is not provided, parents or guardians will be obligated to pay for the subsequent month.
This applies even if the child does not attend during this period. In the event we terminate our services, we will give the same one month's notice, except in cases of severe behavioral issues or non-payment of fees, where immediate termination may be warranted.
Item #7: Privacy and Agreement
Confidentiality
We are committed to maintaining the highest degree of confidentiality in regards to the personal and financial details of our clients. All financial information will be kept strictly confidential unless required by law.
We respect the privacy of our clients and recognize the importance of keeping their information secure and protected.
Signatures
Upon agreeing to the terms of this policy, both parties – the daycare provider and the parent/guardian – must provide their signatures as a symbol of acknowledgment and acceptance.
This signed document will serve as a binding agreement and will act in the best interest of both parties.
Item #8: Policy Management
Review and Update
Our daycare payment policy is subject to periodic review and potential updates to conform with the changing needs of our daycare service, changes in the law, or shifts in our operational strategies.
Parents and guardians will be notified of any policy changes through our official communication channels, such as email or parent-teacher meetings. It's vital to keep your contact information updated with us to ensure you receive all important notifications.
How Do I Create Daycare Payment Policy? Template
Here's an example table outlining a daycare payment policy.
| Payment Policy Overview | Description |
| --- | --- |
| Accepted Payment Methods | Cash – Check – Credit/Debit Cards – Online Transfers |
| Tuition Schedule | Weekly or Monthly Options – Due Dates and Frequency |
| Registration Fee | One-time Fee at Enrollment – Covers Administrative Costs |
| Deposit | Refundable/Non-refundable – Secures Child's Spot |
| Late Payment Penalties | Late Fees – Grace Period – Additional Charges for Delays |
| Absence | Payment Policy for Child Absences – Handling Sick Days |
| Holidays | Billing During Holidays – Vacation Periods |
| Discounts and Offers | Sibling Discounts – Referral Bonuses – Special Enrollment Offers |
| Termination of Services | Notice Period for Termination – Refund Policies |
| Billing Inquiries | Contact Information for Billing Queries – Resolution Process |
| Payment Records | Providing Payment Receipts – Transparent Payment History |
Feel free to customize this table to fit your specific requirements and design preferences. Tables can be a great way to present information clearly and attractively.
Why is Daycare Payment Policy important?
Clear Expectations/Transparency: It sets clear financial expectations between the daycare provider and the parents or guardians, minimizing the potential for misunderstandings or disputes.
Financial Stability: By ensuring timely payments, it helps the daycare maintain financial stability, which is crucial for ongoing operations, paying staff, and providing quality care.
Consistency: A standardized policy ensures that all parents and guardians are treated fairly and consistently, reducing potential claims of favoritism or discrimination.
Professionalism: Having a structured payment policy in place showcases the daycare's professionalism and commitment to organized business practices.
Resource Management: Predictable income allows the daycare to better manage resources, plan for future activities, and maintain or improve facilities.
Minimizing Conflicts: Clearly outlined procedures for late payments, non-payments, and other financial issues can help reduce conflicts and provide a framework for resolution if issues arise.
Legal Protection: In cases of disputes, a signed and agreed-upon payment policy can serve as a legal reference, providing protection to the daycare provider.
Operational Efficiency: By detailing payment methods, schedules, and related processes, it can streamline administrative tasks and reduce time spent on financial management.
Frequently Asked Questions
Where Should I Keep My Daycare Payment Policy?
It is recommended to keep your Daycare Payment Policy in a secure online location such as an internal database or cloud-based storage, where it can be accessed easily and securely by both the daycare provider and any parents or guardians.
This ensures that all parties have access to the policy and are aware of their obligations. It also minimizes potential disputes due to changes in the policy, as all stakeholders can always access the latest version.
When Should I Give or Discuss the Daycare Payment Policy?
The Daycare Payment Policy should be discussed and agreed upon prior to the commencement of services. This ensures that both parties are aware of their respective rights and responsibilities, providing a legal reference in cases of disputes or misunderstandings.
Additionally, it is important to review the policy periodically with parents or guardians to make sure all parties are up-to-date on any changes or updates.
Ensuring that all parties are familiar with the policy and its contents is essential for successful implementation and upholding of payment terms.
Regularly communicating the policy to parents or guardians serves as a reminder of their financial responsibilities and allows them to make informed decisions about enrolling their children in daycare services.
It also helps build trust between the parent/guardian and the daycare provider.
How Does the Daycare Center Ensure the Security and Privacy of Payment-Related Information?
Ensuring the security and privacy of payment-related information is crucial for both daycare centers and parents. Here's how a daycare center can address this concern in its payment policy:
Secure Payment Handling
Encrypted Transactions: Ensure that all payment transactions, whether online or in-person, are encrypted to protect sensitive data from unauthorized access during transmission.
Secure Payment Systems: Implement trusted and secure payment processing systems that comply with industry standards for data security, such as Payment Card Industry Data Security Standard (PCI DSS) compliance.
Limited Access: Restrict access to payment information to only authorized personnel who require it for processing and accounting purposes.
Privacy Safeguards
Data Minimization: Collect only the necessary payment information required for transactions and billing, minimizing the storage of sensitive data.
Data Retention: Clearly outline the retention policy for payment-related information, specifying how long data will be stored and when it will be securely disposed of.
User Authentication: Implement secure login systems with strong password requirements to ensure that only authorized individuals can access payment data.
Regular Audits: Conduct regular security audits and assessments to identify vulnerabilities and address any potential risks to payment information.
Communication and Notification
Privacy Policy: Include a clear and concise privacy policy in the daycare's payment policy document, explaining how payment data will be handled and protected.
Consent: Obtain explicit consent from parents to collect and store payment information, making them aware of the purpose and duration of data retention.
Data Breach Response Plan: Develop a clear plan for responding to potential data breaches, including notification procedures for affected parties and relevant authorities, as required by data protection regulations.
Compliance with Regulations
Legal Compliance: Ensure that the daycare center complies with applicable data protection and privacy laws, such as the General Data Protection Regulation (GDPR) or the Children's Online Privacy Protection Act (COPPA), if applicable.
Staff Training: Train staff members on data security and privacy protocols to prevent accidental mishandling or data breaches.
By addressing these security and privacy measures in the daycare payment policy, the daycare center can demonstrate its commitment to safeguarding payment-related information and provide parents with the assurance that their data is treated with care and diligence.
Are There Any Provisions in the Payment Policy for Unexpected Circumstances, Such as Temporary Closures or Emergencies?
Including provisions in the payment policy for unexpected circumstances, such as temporary closures or emergencies, is a responsible approach to provide clarity and fairness to both parents and the daycare center. Here's how such provisions can be addressed:
Temporary Closure Due to Emergencies or Unforeseen Events
Notification: Clearly state the procedure for notifying parents in the event of a temporary closure due to emergencies, such as inclement weather, natural disasters, or unexpected facility issues. This may include text messages, emails, phone calls, or announcements on the daycare's website.
Billing during Closure: Specify how billing will be handled during temporary closures. Options might include a credit or refund for the days the daycare center is closed due to circumstances beyond its control.
Make-Up Days: Consider whether you will offer make-up days or alternative care options for the days when the daycare is closed unexpectedly. If so, outline the process for scheduling make-up days.
Extended Closure or Disruption of Services
Termination of Services: Address the policy for extended closures that prevent the daycare from providing services for an extended period. Explain how and when services may be terminated or paused temporarily without penalties.
Billing Adjustments: Detail how billing will be adjusted during extended closures or disruptions. This may involve pro-rating fees or temporarily suspending billing until services can resume.
Communication: Emphasize the importance of ongoing communication between parents and the daycare center during extended closures to keep parents informed of developments and plans for reopening.
Emergency Evacuation Plans
Safety Protocols: Highlight the daycare's commitment to the safety of children during emergencies and the existence of emergency evacuation plans.
Alternative Care: If applicable, provide information about any arrangements for alternative care locations or contacts in case of evacuation or facility closure.
By incorporating these provisions into the payment policy, both parents and the daycare center can navigate unexpected circumstances with clarity and understanding, fostering trust and cooperation during challenging times.
Conclusion
Daycare Payment Policies are key for successful daycare operations, ensuring clear expectations between the provider and parents or guardians.
The policy should be discussed prior to commencement of services and should be reviewed periodically to ensure all parties are aware of their rights and responsibilities.
A well-structured policy can help minimize potential conflicts, build trust with customers, ensure financial stability, and provide protection to the daycare provider in cases of disputes.
Thank you for taking the time to read about Daycare Payment Policies! We hope this information was useful and that it helps you create or update your own policy. Have a great day!