Budget Friendly Daycare Gift Ideas: 50+ Ideas
Are you a daycare parent looking for the perfect gift ideas for your daycare friends, daycare providers, and daycare staff who take great care of your child?
It can be challenging to narrow down your selection and find something that they will genuinely appreciate.
Finding that perfect present can be tricky. Right!
To help give you some fun ideas, I have compiled a list of fantastic daycare gifts that'll surprise and delight anyone who works with children, including Personalized Expressions of Thanks, Customized Stationery, Handmade Personalized Gifts, Soft and Sensory Gifts and many more.
I have written daycare gift ideas, 5 best tips to choose a perfect gift while staying on budget, and 10 factors to consider for daycare that will surely bring a smile to your loved one's face.
So, reading my blog post would create a win-win situation for you if you want to foster good relations, express appreciation and create a positive environment in childcare for your kid.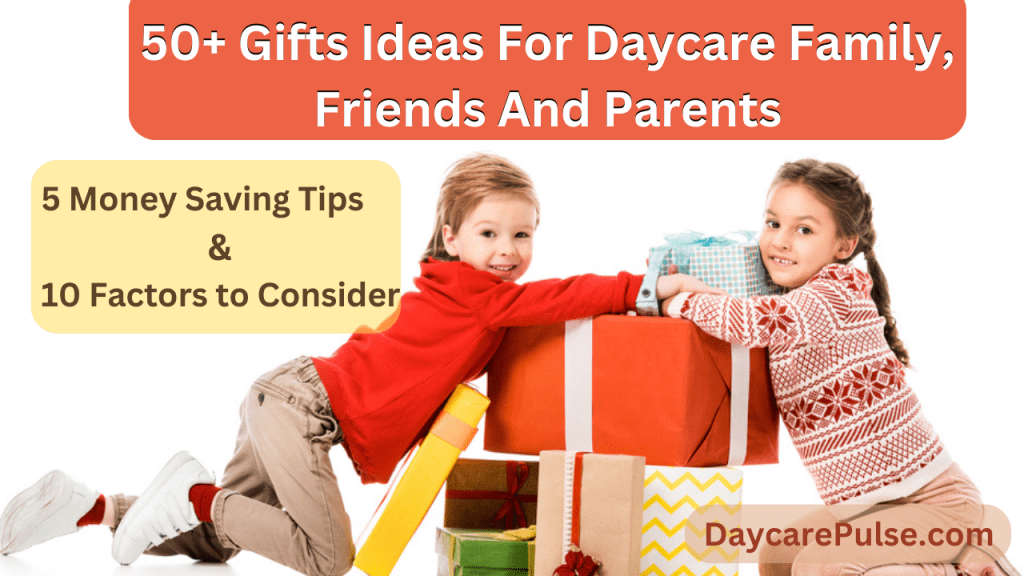 Budget-Friendly Daycare Gift Ideas
Here are some additional ideas that can come in handy while picking the perfect gift for your daycare family and friends:
Daycare Gift Ideas For Parents
Nothing says "appreciation" quite like a personalized gift. They show the recipient that you've gone the extra mile to create something just for them. Here are a couple of thoughtful options:
Custom Thank-You Card – A handmade card is a small token that can express big feelings. Consider making a custom thank-you card with your child's help.
It could include a heartfelt message of gratitude, a memorable photo, or even a poem. This is a thoughtful way to thank daycare parents for their efforts and dedication.
Personalized Photo Album – Photos capture moments that we can cherish forever.
A customized photo album with snapshots of the children at daycare could make a touching gift.
It serves as a delightful reminder of those cheerful, playful moments at the daycare.
Pro Tip: Just seek other parents' permission to include photos of their children.
Gift Basket of Healthy Snacks – Fill a basket with nutritious snacks like nuts, dried fruits, popcorn, and more! This is the perfect way to show how much you care about their health.
Homemade Treats – Homemade presents carry a personal touch that store-bought items can't match. Consider baking cookies and granola or even preparing a jar of homemade jam or honey. These treats convey your effort and are sure to delight the recipient.

Personalized Child's Artwork – Gift your daycare parents a piece of art created by their child. It could be a painting, a clay sculpture, or even a collage of pictures. This unique and meaningful gift preserves the child's creativity for years.
Daycare Gift Ideas For Teachers
A personalized stationery set can make an excellent gift for daycare teachers. They can use it to take notes, write memos, or even send letters to parents and students!
Here are some ideas:
Personalized Teacher Stationery Set – A personalized stationery set can be a wonderful gift for daycare teachers.
These sets often include customized notepads, pens, and sticky notes, which are handy for a teacher's daily tasks.
You could consider embossing the teacher's name or initials on the stationery items, making the gift even more special.

Product Link
Custom-Made Classroom Bulletin Board – A custom-made bulletin board adds a personal touch to the classroom.
You can choose a design that fits the teacher's style and personality or get creative with unique decorations. Either way, this gift is sure to brighten up the classroom!

Read More : 10 Best Daycare Provider Gifts : Appreciate Daycare Teachers
Wall Decals or Classroom Wall Art – A classroom's ambiance can significantly influence a child's mood and learning motivation.
Wall decals or classroom wall art can add a vibrant touch to the learning space, making it more visually appealing for the children.

Educational and Inspirational Posters – Posters are excellent visual aids in a classroom setting.
Educational posters can cover various subjects, from alphabets and numbers to science and geography concepts.
Inspirational posters, on the other hand, feature motivational quotes or life lessons that can instill positive values in children.

Product Link
Online Course or Workshop – Numerous online platforms offer specialized early childhood education and child development courses.
Enroll your daycare teacher in an online course or workshop that aligns with their interests or professional goals.
This gift shows your appreciation and supports them in their career growth.

Subscription to a Professional Development – Professional development platforms provide educators with resources, webinars, and interactive content to enhance their teaching skills.
A subscription to a leading platform like Coursera, LinkedIn Learning, or Khan Academy offers daycare teachers access to a vast library of courses, enabling them to learn at their own pace and convenience.
Daycare Gift Ideas For Friends
Handmade gifts carry their charm, expressing sincerity, affection, and a personal touch. They are perfect for gifting to daycare friends, signifying a bond of mutual respect and friendship. Here are some ideas:
Hand-Painted Friendship Mugs – Gift your daycare friends a hand-painted mug with a unique design reminiscent of your shared experiences or common interests.
Each time they sip their morning coffee or afternoon tea, they would be reminded of you and the special bond you share.

Product Link
Personalized Friendship Bracelets or Keychains – Personalized friendship bracelets or keychains make a delightful gift, symbolizing the enduring friendship between you and your daycare friends.

You could have their names, initials, or a special message engraved on the bracelets or keychains, making it truly personalized and meaningful. These gifts are not only practical but also serve as a constant reminder of your cherished friendship.

Product Link
Photo Collage or Scrapbook – A photo collage or scrapbook of memorable moments spent at daycare can be a heartwarming gift. Collect photos of shared experiences, candid shots, and special occasions, and arrange them creatively in a scrapbook or collage.

To add a personal touch, you can include short notes, quotes, or captions that narrate the story behind each photo. This keepsake will surely bring a smile to their face each time they flip through the pages.

Product Link
Personalized Puzzle – A personalized puzzle featuring a cherished photo transforms a simple picture into an interactive memory. You can choose a memorable group photo or an image with special meaning for your daycare friends.

Each time they assemble the puzzle, they'll be reminded of the shared moments that the image represents. It's a fun, creative, and thoughtful gift that combines nostalgia with an engaging activity.

Product Link
Read More At : 12 Gift Ideas For Daycare Friends: Tips On Buying
Personalized Handwritten Note – The personal touches that truly make a gift special. A handwritten note accompanying your gift adds an element of sincerity and thoughtfulness that is hard to replicate. It can convey appreciation, share a treasured memory, or express your best wishes.
Daycare Gift Ideas For Infants 0-2
Infants rapidly develop and explore, making soft and sensory toys an ideal gift. These toys stimulate their senses and help them understand the world around them. Here are a few suggestions:
Plush Toys with Different Textures – Plush toys with various textures can stimulate infants' tactile senses, encouraging them to touch, grasp, and explore.
Soft toys with crinkly parts, different fabric textures, or even teething corners can provide many sensory experiences, helping the baby develop their sense of touch and understanding of other materials.

Product Link
Sensory Balls and Teething Toys – Sensory balls, with their unique surfaces, bright colors, and sometimes even sounds, captivate babies' attention, contributing to developing their visual, tactile, and auditory senses.
Teething toys, on the other hand, offer relief during teething periods while also promoting motor skills as infants learn to hold and manipulate the toys.
Choose easy-to-clean and safe options for babies to put in their mouths. These gifts can be fun and practical additions to an infant's daily routine.

Product Link
Customized Baby Photo Frames – A personalized photo frame can hold the precious moments of a baby's life. Choose a design that resonates with the baby's personality or the theme of their nursery.
You could incorporate their name, birth date, or a heartfelt message. Each time the parents look at the framed picture, they'll be reminded of these beautiful early days.

Product Link
Handprint or Footprint Kits – Handprint or footprint kits are another great way to preserve memories. These kits allow parents to take an impression of their baby's tiny hands or feet, creating a keepsake that lasts a lifetime.
You could opt for kits with a frame to display the image proudly. This sentimental gift gives parents a fun and engaging activity with their baby.
Daycare Gift Ideas For Toddlers 2-5
Educational toys and creative supplies can stimulate a child's imagination, enhance their cognitive abilities, and provide a platform for them to express themselves.
They can be both fun and instrumental in a child's developmental growth. Here are a few ideas:
Educational Board Games – Board games have come a long way from just being a source of entertainment. Educational board games can help toddlers improve their cognitive and problem-solving skills.
And learn about different topics like animals, colors, numbers and more. These games can be an interactive and fun way to learn.

Product Link
Building Blocks and LEGO Sets – Building blocks and LEGO sets encourage imaginative play and the development of fine motor skills.
While assembling blocks, toddlers learn about different shapes, colors and patterns. It also enhances their spatial and constructive thinking. A LEGO set or building blocks could be a gift that offers endless possibilities for creativity and fun.

Art Supplies (Crayons, Markers, Paper) – Art supplies like crayons, markers and paper provide a canvas for toddlers to express their creativity.
Drawing and coloring can improve their hand-eye coordination, stimulate their imagination, and offer an excellent outlet for self-expression.
You could gift an art set with different art supplies, encouraging them to explore various art forms and techniques.

Product Link
Customized Name Puzzle – A customized name puzzle offers a fun challenge for toddlers and helps them learn and recognize the letters of their names.
It's an engaging way to introduce them to the alphabet while creating a unique keepsake. Choose puzzles made of child-safe materials, and consider adding a cute design or personal touch, like their favorite color or character, to make it even more special.

Product Link
Personalized Storybooks – Personalized storybooks bring magic to a child's reading time. Seeing their name woven into the story makes them feel special and deepens their connection with the book.
It also encourages a love for reading from a young age. Opt for stories that align with the child's interests or teach valuable lessons. This wonderful gift fosters both learning and imagination.

Photo Collage of Classroom Memories – A photo collage of classroom memories encapsulates preschool years' joy, friendships, and learning experiences.
Gather photos of their classmates, fun activities, projects, and special events, and arrange them into a heartwarming collage. The child and the parents will surely cherish this visual snapshot of their preschool journey for years.
Daycare Gift Ideas For School-Age Kids Ages 6-12
Educational and STEM gifts for school-age children can offer a fun, engaging way to learn and explore.
These gifts encourage critical thinking, creativity, and a love for learning, bringing an element of discovery and adventure to their playtime. Here are a few exciting options:
Science Experiment Kits – Science experiment kits are an excellent choice for budding scientists. They allow kids to carry out various experiments at home, fostering their curiosity and scientific thinking.
Whether it's a chemistry set, a crystal growing kit, or a DIY biology lab, these kits make science concepts tangible and enjoyable, sparking a lifelong interest in the subject.

Product Link
Educational Books and Puzzles – Books and puzzles can be fun and enlightening, making them fantastic educational gifts. Choose books that are age-appropriate but challenging, covering a range of topics.

Puzzles, on the other hand, help enhance cognitive skills, problem-solving abilities, and spatial understanding. Opt for educational puzzles that teach geography, mathematics, or science concepts to combine learning with play.

Product Link
Coding or Robotics Kits – With the growing importance of technology and programming, coding or robotics kits are a significant investment in a child's future. These kits introduce children to the basics of coding and robotics in a fun, interactive way.


They can build robots, program them to perform tasks and learn about software and hardware fundamentals. It's a creative and innovative gift that will keep them engaged and learning.

Product Link
Customized Art Supplies (Sketchbooks, Paint Sets) – Customized art supplies like sketchbooks or paint sets can inspire creativity in older children.

Personalized Stationery and School Supplies – Personalized stationery and school supplies such as notebooks, pens, or lunchboxes make a practical yet exciting gift. Having their name, initials, or a personal design on their school gear not only serves as a lovely surprise but can also make their belongings easily identifiable.

Sports Equipment (Balls, Bikes, Skates) – Sports equipment like soccer balls, bikes, or inline skates can be personalized to make them one-of-a-kind.

You could customize the kit with the child's name or their favorite sports team logo.

Personalized sports equipment provides an avenue for physical activity and promotes a sense of ownership and responsibility as they care for their gear. This gift can encourage an active lifestyle and provide hours of outdoor fun.

Product Link
Daycare Gift Ideas For Christmas
Festive classroom decorations can boost the holiday spirit, making the learning environment fun and engaging. Here are some ideas for Christmas decorations:
Christmas Ornaments – Decorating the classroom with Christmas ornaments can add a festive touch. From snowflakes to reindeer, there are many options to choose from.

Consider ornaments made from child-safe materials, and involve the students in decoration. This beautifies the classroom and encourages teamwork and creativity among the students.

Product Link
Holiday-themed Posters and Wall Decals – Holiday-themed posters and wall decals can transform the classroom into a Christmas wonderland.
Opt for colorful posters depicting Santa Claus, elves, or winter landscapes. On the other hand, wall decals can include snowflakes or Christmas trees. These decorations can spark discussions about Christmas traditions and the holiday's significance.

Product Link
Classroom Christmas Tree – A classroom Christmas tree is a timeless decoration that is open to be contributed by kids. Choose a child-safe artificial tree and let the students hang ornaments, tinsel, and lights.
This communal activity can instill a sense of ownership among students in their classroom and deepen their understanding and appreciation of Christmas traditions.

Product Link
Blankets, Scarves, or Mittens – Gifting blankets, scarves, or mittens can be a thoughtful gesture to help your loved ones keep warm during the cold season.
Opt for items made from high-quality materials like wool or cashmere for extra warmth and comfort. Personalize these gifts with their initials or a pattern that reflects their style to make the gift even more special.

Product Link
Hot Cocoa Kits with Marshmallows – A hot cocoa kit with marshmallows can be a delightful treat that brings warmth and joy.
This DIY kit can include a high-quality cocoa mix, marshmallows, and even a festive mug. It's a tasty treat and a fun, interactive gift that adds coziness to cold winter evenings.

Product Link
Scented Candles for a Festive Atmosphere – Scented candles can create a cozy, festive atmosphere at home with their soft glow and delightful fragrance.
Opt for pine, cinnamon, or vanilla for Christmas that evoke the holiday spirit. These candles can provide a sensory experience that complements the festive decor and adds to the holiday ambiance.

Product Link
Read More At : Christmas Gift Ideas For Daycare Classmates
Homemade Cookies and Treats – Homemade cookies and treats are a heartfelt gift that brings a personal touch to the holiday season.
The whole family can enjoy these sweet treats from gingerbread men to sugar cookies in Christmas shapes. Packaging these homemade goodies in a festive tin or box adds a special touch.

Holiday Gourmet Treat Baskets – A holiday gourmet treat basket is a versatile gift that can include various festive food items.
From high-quality chocolates and unique candy canes to specialty cheeses and fine wines, these baskets delight gourmet lovers. Opt for a beautifully decorated basket that can be used as a centerpiece or decoration after the treats are consumed.

Festive Baking Kits for Families – Consider festive baking kits for a more interactive gift. These kits can include all the ingredients to make classic Christmas cookies, gingerbread houses, or even holiday-themed cupcakes.
Accompanied by easy-to-follow instructions, these kits provide a delicious treat and a fun and engaging activity for the entire family to enjoy together.

Product Link
Related : Daycare Birthday Treat Ideas | Birthday Food for Toddlers
Daycare Gift Ideas For New Year
As we usher in a New Year, inspirational and motivational gifts can be a thoughtful gesture to inspire positivity and optimism. Here are a few ideas:
Inspirational Quote Calendars – An inspirational quote calendar can remind you daily of positivity and resilience. Each month can feature a different quote that motivates and encourages recipients to make the most of their day.

Opt for calendars with beautiful artwork or photography that complements the selections for a visually appealing and uplifting gift.

Product Link
Motivational Wall Art – Motivational wall art can be a constant source of inspiration in a home or workspace. Choose from an array of designs featuring powerful quotes or affirmations.
You can also personalize the art with quotes that resonate with the recipient. From framed prints to canvas art, various options suit any decorating style.

Personalized Vision Boards – A personalized vision board can be a creative and empowering gift. Vision boards visually represent one's goals and dreams, keeping them front and center.
You could customize a vision board starter kit with the recipient's name and include a range of stickers or cut-outs related to their aspirations. This gift can inspire focus and motivation throughout the year, helping recipients manifest their goals.

Personalized Calendars – A personalized calendar can be both practical and sentimental. You can customize the calendar with photos, quotes, or important dates specific to the recipient, making it a unique and thoughtful gift. It's a great way to keep track of the year while adding a personal touch to their daily routine.

Family Organizational Planners – A family organizational planner can be the perfect gift for households bustling with activities. These planners provide columns or spaces for each family member, helping track individual schedules and movements. Opt for a planner with extra space for notes, reminders, or grocery lists, adding to its utility.

Product Link
Goal-Setting Journals – Goal-setting journals can influence individuals who want to set, track, and achieve their goals. These journals often include actionable steps, motivational quotes, and progress tracking, making goal achievement a more structured process.
A beautifully designed, high-quality journal can inspire consistent use, reminding recipients of their aspirations as they enter the New Year.
Daycare Gift Ideas For Birthdays
Celebrating birthdays is a universal tradition, and it's always a joy to make the birthday person feel special. Here are some unique birthday gift ideas:
Birthday Cards and Decorations – A heartfelt birthday card can convey your warm wishes and make the celebrant feel special. Personalize it with heartfelt messages or fun memories for an extra touch. Birthday decorations like banners, balloons, or themed decor can bring excitement to the celebration and are gifts that contribute to the overall festive experience.

Special Treats and Cupcakes – What's a birthday without some sweet treats? Cupcakes are a delightful gift that adds to the birthday cheer. You can choose the birthday person's favorite flavors or get them custom-decorated. Special treats like gourmet chocolates or personalized candies can also be a hit.

Classroom Birthday Party Supplies – Celebrating their birthday in the classroom with friends is an unforgettable experience for children.
Gifting classroom party supplies, like mini party hats, goodie bags, birthday badges, and miniature games, can make a child's school birthday celebration all the more exciting. Always ensure that gifts are age-appropriate and meet school guidelines.

Product Link
Read More At : Daycare Birthday Ideas: Complete Activity, Shopping List & Gifts Guide
Daycare Gift Ideas For Appreciation Day
Teachers play a significant role in shaping our lives, and Teacher Appreciation Day is a beautiful opportunity to express our gratitude for their efforts. Here are some personalized and customized gift ideas:
Customized Teacher-Themed Jewelry – Jewelry can be a beautiful and thoughtful gift. Consider customized teacher-themed jewelry such as pendants, bracelets, or brooches that feature educational symbols.
These pieces can be engraved with the teacher's name or a special message, adding a personal touch.

Product Link
Engraved Bookmark with an Inspirational Message – A personalized bookmark can be a fitting gift for teachers who love to read.
Opt for a high-quality metal or leather bookmark, and get it engraved with an inspirational message or a quote about teaching. They'll be reminded of your appreciation whenever they open their book.

Customized Teacher-Themed Phone Case – A customized phone case featuring teacher-themed designs can be a fun and practical gift.
You could opt for plans that include educational symbols, quotes about teaching, or even a doodle of a classroom scene. Remember to choose the correct model for the teacher's phone!

Personalized Framed Class Photo – A framed class photo can be a cherished memento for any teacher. Consider having the frame engraved with the school year and class grade to personalize it.
You could also have each student sign or leave a small message on the mat inside the frame. This gift will serve as a lasting reminder of a particular group of students.
Gym or Fitness Class Membership – A local gym or fitness class membership can be a generous gift. It offers teachers a chance to take some time for themselves, stay fit, and unwind from the stresses of the job.
Choose a venue that provides a wide range of activities for a comprehensive fitness experience.

Fitness Tracker or Smartwatch – A fitness tracker or smartwatch can be an excellent tool for tracking physical activity, heart rate, sleep patterns, etc.
These devices can motivate teachers to stay active and monitor their health, reminding them of their wellness goals.

Product Link
Healthy Snack Subscription Box – A subscription to a healthy snack box can be a fun and tasty way to support a teacher's healthy lifestyle.
These boxes often include a variety of nutritious snacks, offering a convenient option for busy teachers who might need more time to prepare healthy snacks at home.

Product Link
Personalized Water Bottle – A personalized water bottle is both practical and thoughtful. It can be customized with the teacher's name or a motivating quote, making hydration a more personalized experience.
Choose a high-quality, insulated bottle that conveniently keeps beverages at the desired temperature.

Product Link
Daycare Gift Ideas For Daycare Last Day
To express gratitude to daycare providers on their last day, consider gifting something that promotes outdoor fun. Here are a few ideas:
Beach Toys and Towels – A set of vibrant beach toys can provide endless fun in the sand for children and adults alike.
Pair it with a comfortable and stylish beach towel, which is both a practical and thoughtful gift. Choose towels with fun patterns or whimsical prints for a memorable touch.

Product Link
Outdoor Sports Equipment – Encourage physical activity and outdoor play with sports equipment.
A durable football, a colorful frisbee, or a kite can provide hours of entertainment. This gift supports healthy activity and promotes social interaction and skill development.

Summer Reading Kits – A summer reading kit can spark creativity and a love for reading. It can include age-appropriate books, bookmarks, reading lights, and perhaps a comfortable outdoor blanket for reading under the shade of a tree. This thoughtful gift can make summer reading adventures more enjoyable and memorable.

Personalized Year-End Photo Albums – A personalized year-end photo album can be a delightful gift. Fill it with photos of memorable moments from the year, capturing the growth, learning, and fun experienced by the children. Have the children decorate the album cover or include their handprints for an added personal touch.

Handcrafted Thank-You Cards – Handcrafted thank-you cards allow children to express their gratitude in their unique way. Each child can create a card with their drawings and messages. These tokens of appreciation are sure to be treasured by the daycare provider.

Customized Class T-Shirts – Customized class t-shirts can be a fun and lasting memento. Have a t-shirt designed with the daycare's name, logo, or a design the kids come up with. You could also include the names of all the children in the class. These shirts are a wonderful keepsake and a way to foster community and belonging.
Daycare Gift Ideas For Seasons
Explore all 4 seasons of gift ideas.
For Spring
Gifts related to gardening can be the perfect way to welcome the Spring season. These presents serve as a celebration of growth and renewal, fostering a connection with nature. Here are some thoughtful gift ideas:
Gardening Tools and Kits – A set of high-quality gardening tools or a complete gardening kit can be a delightful gift for any green thumb. These kits usually include essential items like trowels, pruners, gloves, and a watering can, all neatly packed in a convenient storage box.

Product Link
Flower or Vegetable Seeds – Giving flower or vegetable seeds can be a thoughtful way to encourage outdoor activity and cultivate a love for gardening.
Opt for a variety of easy-to-grow plants suitable for the recipient's local climate, and consider including annual and perennial varieties for a continually evolving garden.

Personalized Garden Markers – Personalized garden markers can add a charming and practical touch to any garden. These markers can be engraved or painted with the names of different plants, making it easy to identify what's growing where.
They can also be customized with the gardener's name, a favorite quote, or a cheerful illustration, turning a functional tool into a lovely keepsake. Choose markers made of durable materials like metal or painted wood to withstand outdoor conditions.

Springtime Wreaths for the Classroom – A vibrant Springtime wreath can bring a touch of freshness and cheer to the classroom.
Opt for wreaths featuring colorful flowers, cheerful birds, or other Springtime elements. A DIY wreath-making kit can also be a fun and creative gift.

Colorful Spring-Themed Wall Art – Brighten the classroom walls with Spring-themed wall art.
Choose prints or posters with colorful depictions of blooming flowers, chirping birds, or sunny landscapes. These can serve as charming decorations and inspire lessons about seasons, nature, and art.

Floral or Butterfly-Themed Stationery – Stationery with Spring-themed designs can make everyday tasks a little more pleasant.
Consider notebooks, pens, sticky notes, or notecards adorned with florals or butterfly motifs. Not just visually appealing, these items can also encourage organization and creativity.

Product Link
For Summer
Embrace the summer season with gifts that provide refreshment and delight. Here are some gift ideas that perfectly encapsulate the spirit of summer:
Gourmet Ice Cream or Gelato – Gourmet ice cream or gelato can be a heavenly treat during the hot summer months.
Opt for unique flavors to give the recipient a taste adventure, or stick to classic selections for a sure hit. Consider including a set of stylish ice cream bowls and spoons to make the gift even more special.

Product Link
Summer Fruit Baskets – Brimming with fresh, juicy summer fruits can be a refreshing and healthful gift.
Choose a variety of fruits such as watermelons, peaches, berries, and cherries to offer a mix of different flavors and nutrients. A well-presented fruit basket can also be a vibrant centerpiece for summer gatherings.
Iced Tea or Lemonade Kits – An iced tea or lemonade kit can be a thoughtful gift that helps beat the summer heat. A basic kit could include:

High-quality tea leaves or lemonade mix.
A durable pitcher.
A set of drinking glasses
Consider including natural sweeteners, flavored syrups, and a stylish serving tray for a more premium gift. These kits can provide refreshing drinks all summer, transforming a simple hydration routine into an enjoyable daily ritual.

Outdoor Sports Equipment – For those who enjoy physical activity and games, outdoor sports equipment can be a fun and beneficial gift.
This might include a Frisbee, beach volleyball, or a paddleboard set. For children, consider outdoor toys and games that promote physical activity, like a jump rope set or a pogo stick.
Summer Reading Kit – A summer reading kit can provide hours of entertainment and enrichment. This could include popular or genre-specific books, a comfortable reading pillow, and a protective book cover for outdoor reading.
You might also have a stylish bookmark and a robust, insulated water bottle to ensure hydration while diving into a good book. The kit is a thoughtful gift and a means to foster a love for reading and learning.
For Winter
Winter is a time to get cozy and enjoy the warmth indoors. These gift ideas are perfect for making those chilly winter days and nights a little more comfortable and enjoyable:
Personalized Fleece Blankets – A personalized fleece blanket can be a warm and thoughtful gift. With the recipient's name or initials embroidered, this blanket becomes more than just a cozy comfort item; it's a personal keepsake.

Opt for a high-quality, soft, and durable fleece that can withstand multiple washes without losing its snug appeal.

Warm Winter Slippers or Socks – Give the gift of toasty toes with warm winter slippers or socks. Choose soft, friendly materials, such as wool or fleece. For an added touch, look for slippers or socks in the recipient's favorite color or adorned with a fun, wintery design.

Product Link
Winter-Themed Board Games – A cozy winter evening indoors can become a fun-filled family event with a suitable board game. Opt for winter-themed games that bring a touch of the season's charm to the game night.
Games like "Winter Wonderland," "Snowman Dice," or any other board game with a winter theme can enhance the indoor experience, creating lasting memories amidst the winter chill.

Festive Holiday Ornaments – Gifting beautiful holiday ornaments can add a touch of sparkle and joy to the recipient's home.
Choose classic designs like snowflakes, reindeer, and Santa Claus, or choose something unique, like personalized ornaments bearing the recipient's name or a special message. These ornaments can become cherished keepsakes that enhance the holiday spirit year after year.

Handmade Holiday Cookies or Treats – Nothing says 'holiday season' like a box of handmade cookies or other festive treats.
You might consider traditional recipes like gingerbread cookies or sugar cookies with colorful icing.
Present them in a decorative box or tin for a truly delightful gift. These edible delights offer a warm, personal touch, showing your care and consideration.

Winter-Scented Candles – Scented candles can create a cozy and festive atmosphere, making them an ideal gift for the holiday season.
Look for candles with winter-inspired scents like pine, cinnamon, peppermint, or vanilla.
Apart from their delightful aroma, these candles can also serve as charming decorations, adding warmth and ambiance to any indoor space.

Product Link
For Fall
Autumn is a season filled with vibrant colors and fun outdoor activities, making it an ideal theme for children's literature. A curated set of fall-themed children's books can be a delightful gift for young readers.
Curated Set of Children's Books – A curated set of books with Autumn themes and colorful illustrations can be an educational and entertaining gift. Titles like "Leaf Man" by Lois Ehlert, "Fletcher and the Falling Leaves" by Julia Rawlinson, and "There Was An Old Lady Who Swallowed Some Leaves!" by Lucille Colandro, captures the essence of the season, teaching children about the changes in nature that occur during Autumn.

Personalized Bookmarks – To complement the book collection, consider gifting customized bookmarks. These can be embellished with the child's name or a favorite quote.
You could choose bookmarks with seasonal designs like falling leaves, pumpkins, or pinecones. This small gesture will remind the recipient of your thoughtfulness and add a special touch to storytime.

Product Link
Outdoor Activities Book – Fall is also an excellent outdoor activity and exploration time. You might gift a book full of fun activities for kids best enjoyed in Autumn weather.
This collection of books, bookmarks, and activity guides will create an excellent fall-themed gift that encourages learning and exploration. It's sure to bring joy and excitement as kids discover all that Autumn has to offer

Dried Autumn Leaves – Start with a collection of dried autumn leaves. These vibrant leaves can be gathered from local parks or backyards during the fall season, providing various colors and shapes. Each leaf acts as a unique canvas, ready to be transformed into a one-of-a-kind artwork.

Acrylic Paints and Canvases – Next, include high-quality acrylic paints in your kit. These paints are versatile, easy to work with and come in a broad spectrum of colors. They are ideal for leaf painting as they adhere well to the leaf surface, allowing the colors to pop against the natural backdrop.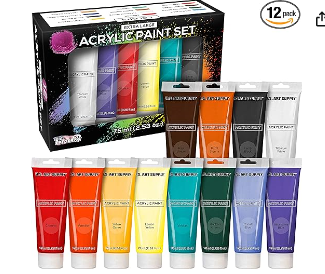 Creative Fall Leaf Art – This Autumn Leaves Art Kit can make for an engaging and thoughtful gift, encouraging the recipient to unleash their artistic abilities while celebrating the colors and textures of the fall season.
Daycare Gift Ideas For Gift Exchange
Creativity and imagination fuel a child's development, promoting cognitive growth and emotional expression. Here are some unique, artistic gifts that are perfect for a daycare gift exchange:
Personalized Puzzle Piece Keychains – Adding a personal touch to a helpful item can make it a cherished keepsake.

Personalized puzzle piece keychains are practical and symbolic, representing each child's unique role in their daycare community.

Each keychain can be customized with the child's name or initials, adding an element of ownership and identity to the gift.

DIY Tie-Dye Kits – Encourage creativity and hands-on learning with DIY tie-dye kits. These kits offer a fun and exciting activity that allows children to express their artistic flair.

Each kit comes with non-toxic dyes in various vibrant colors, rubber bands, and instructions, providing everything the children need to create their custom tie-dye masterpiece.

Product Link
Hand-Painted Pebble Paperweights – Turn ordinary pebbles into extraordinary art pieces with hand-painted pebble paperweights.

You can paint these or, for fun, include paint and brushes for the children to do it themselves. The resulting pebble paperweights serve a dual purpose, functioning as a colorful desk accessory and a constant reminder of the fun they had creating it.

Mini Educational Board Games – Transform playtime into an educational experience with mini-educational board games. These games can help children learn and practice essential skills such as problem-solving, strategy, and teamwork in a relaxed and enjoyable setting. You could consider games that teach numbers, alphabets, or basic geography.

Kid-Sized Gardening Tools and Kits – Introduce children to the joy of gardening with kid-sized gardening tools and kits.
These kits can include a small spade, rake, watering can, and even some seeds to get the little ones started on their gardening journey. Gardening is fun and educational, teaching kids about plant life cycles, responsibility, and the environment.

Interactive Pet Toys – It can be an excellent gift for children, allowing them to engage and connect with their furry friends.
These toys can keep pets entertained and offer a fun way for children to interact and play with them. Just ensure the toys are safe and suitable for the pet in question.
These fun and playful gifts are enjoyable and educational, making them ideal for a daycare gift exchange.

Product Link
10 Things to Keep in Mind While Buying Gifts For Daycare
Keep these things in mind while buying gifts for daycare:
1. Consider the Recipient
Knowing your recipient's preferences is crucial. Remember, in a daycare setting, the recipients could be teachers, friends or children. Gathering information about their interests and hobbies will help you choose a gift they will truly appreciate and enjoy.
2. Think Practical
Practical gifts are often more appreciated than decorative or ornamental ones. Consider buying items with a purpose, such as art supplies, books, educational toys, games, etc.
3. Look for Quality
When shopping for daycare gifts, look for quality materials and construction. Durable yet safe materials should be your top priority when selecting a gift for children.
4. Aim for Fun and Engaging
Fun and engaging gifts will make for memorable daycare experiences. Consider buying items that stimulate the senses and provide an opportunity to learn or engage in imaginative play.
5. Go Personalized
Personalized gifts can add a special touch to any present. Customize an item with a name or message to make it a special keepsake.
6. Keep Age in Mind
When choosing gifts for daycare, consider the age of the recipient. Ensure that your toy is appropriate and safe for their age group.
7. Cultural and Sensitivity Considerations
When choosing gifts, it's crucial to consider cultural sensitivity. The daycare environment is a melting pot of diverse cultures, traditions, and beliefs. Ensure that the presents you select do not contain any symbols, images, or messages that could be considered inappropriate or offensive.
8. Safety Considerations
Safety is an essential consideration when buying daycare gifts. Ensure that all items are made of non-toxic materials and meet the safety standards for children.
9. DIY and Handmade Gifts
DIY and handmade gifts are a great way to show care and appreciation. Consider creating something yourself or getting the children involved in a creative activity, such as painting, drawing, or crafting.
10. Gift Receipts
Including a gift receipt with your present is always a good idea. This allows the recipient to exchange or return the item if unsatisfied.
5 Tips to Get Affordable Gifts For Daycare
Consider these 5 tips to get affordable gifts for daycare:
1. Shop Online
Shopping online can be a great way to find affordable gifts for daycare. Many websites offer discounts and sales, which can help you save money on your purchase.
2. Budget Setting
Before you start shopping, determine your budget limitations. This will help guide your gift choices and prevent overspending. Consider participating in group contributions if available, as they can help offset costs.
3. Personalization
Tailor the gift to the daycare provider's preferences to ensure it is well-received. A meaningful, personalized gift often means more than something expensive and generic.
4. Handmade Options
If budget is a concern, consider crafting a DIY gift. Not only can this be a cost-effective option, but it also allows for a high degree of personalization. Involving your child in creating the gift can add an extra layer of thought and care to the present.
5. Group Gifting
For more expensive items, consider organizing a group gift. This involves coordinating with other parents to pool resources, allowing you to afford a better or more substantial contribution. This can also help build a sense of community among the parents.
Frequently Asked Questions
What to Buy Daycare Kids?
When choosing gifts for daycare kids, consider fun and educational items. Interactive toys, books, and art supplies are always good choices.
Educational board games can help enhance their cognitive skills, while kid-sized gardening kits can spark an interest in nature. Always remember to ensure that the toys are safe and age-appropriate.
Do You Buy Gifts for Daycare Teacher Appreciation Week?
Appreciating daycare teachers' hard work and dedication is a grand gesture. Personalized items, such as a custom-made tote bag or a mug with their name on it, can be a unique token of appreciation.
Alternatively, consider practical gifts like stationery or a gift card to a favorite local restaurant or store.
What Are Gift Basket Ideas?
Gift baskets are a great way to provide multiple gifts in one package. Some ideas for daycare gift baskets include arts and crafts supplies, educational toys, books, and snacks or treats.
You can also consider themed baskets with items related to a specific topic. For example, a science-themed basket could include binoculars, field guides and bug-collecting equipment.
Conclusion
In conclusion, choosing the right gifts for daycare can be a thoughtful process that requires you to consider the recipient's preferences, the practicality of the estate, its quality, and how fun and engaging it might be for the child or teacher.
Consider age appropriateness, cultural sensitivity, safety, and whether a handmade gift might be more meaningful.
Lastly, always wrap the present well and include a gift receipt. Whether you're buying for a daycare child or a teacher, these tips will ensure that your gift is well-received and appreciated.