What Can You Take to Daycare For Baby?
Are you preparing for your baby's first day at daycare? If so, you may wonder what items to bring with you. Don't worry! I have curated the perfect checklist of essential items to help ensure your little one is prepared and ready for their big day.
Your baby deserves to be comfortable, happy, and safe at daycare. Here are 5 tips on what to pack for your baby's daycare bag.
Diapers and wipes. Obviously!
A change of clothes. (optional)
Blankets or small stuffed animals. (optional)
Rattle, teether, or pacifier. (optional)
Bottle with formula or breastmilk if applicable.
I have curated 7 items simple checklist and 3 most needed items for daycare for you to follow. Check out this guide for daycare packing that includes every baby supply you need!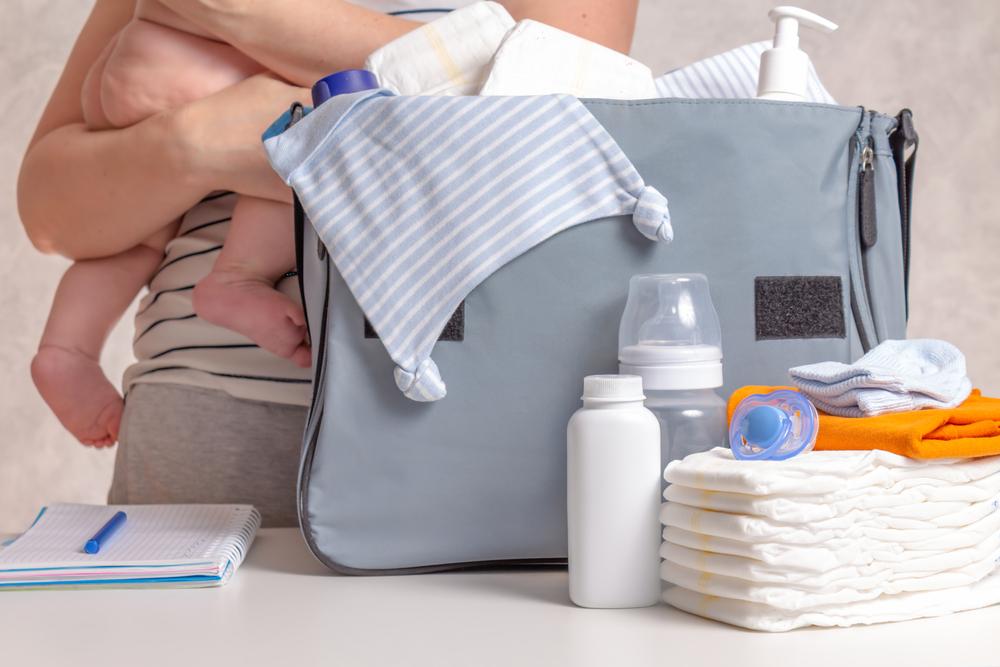 7 Must Haves Checklist For Daycare
Check out this checklist for daycare and save yourself from hassle.
1. Diapers
When packing diapers for daycare, you can label with a number or letter. It saves time and is also suitable for your child's cognitive development.
You can store diapers in an easily accessible container that can fit into your diaper bag. Label the containers with the same numbering system used on the diapers so you know where to grab them when packing up and going home.
2. Wipes
Wipes are a must-have for any daycare. You can use them to clean your baby's hands, face, and bottom, as well as toys, high chairs, and tables. If you ignore this item, it will be the one thing you wish you had when picking up your child after school!
Wipes are also suitable for cleaning dirty hands. You don't want other children getting sick or spreading germs because of unclean hands at preschool or daycare centers.
3. Outfits/Clothes
When it comes to clothing for your baby, you need to think about comfort first. You will want outfits that will be easy for you or the caregiver at daycare to put on and take off.

Try looking for clothes with snaps or zippers that you can unzip entirely to quickly change them without disturbing the baby's sleep.
Note: Try picking out clothes that you can wear multiple times before washing for example try picking dark color clothes which do not get dirty earlier. It will save you time (and money!) when laundry day comes around!
4. Pacifiers
Pacifiers are a great way to calm your baby down when they are fussy and also a great way to help them fall asleep. Pacifiers are especially important for breastfed babies since their sucking reflex helps them maintain milk flow from their mother.
If you're worried about nipple confusion, ask your baby's pediatrician whether using a pacifier will be okay or if you should hold off until you continue breastfeeding.
Check out the amazing blog on How to Label Pacifiers for Daycare?
5. Teethers
Teething can be painful for babies, who don't have much control over where they put objects into their mouths (yet).
If you have some extra time on your hands, make your teethers out of things like frozen fruit, simply wash and peel an apple or banana, then cut it up into small pieces with the skin still on; freeze these pieces until they're solid; pop them out of the tray/plate/whatever device you used to freeze them in and use as needed (this usually takes less than 10 minutes).
Alternatively, buy some ready-made teethers at your local pharmacy/baby specialty store just remember that all food items need proper cleaning before use with children under 6 months old!
6. Formula or Snacks
You may want to bring some of your own baby's food or formula with you for many reasons. If your child is a picky eater, it will be nice to have something familiar that smells and tastes like home. Do you breastfeed your baby read on How Much Breastmilk To Send To Daycare?
In addition, if they are having a tough time adjusting at daycare, it can help them feel less anxious if they know that the next time you see them after work , they'll get to eat their favorite treat.
However! Be careful when bringing in any kind of food item. You don't want anything that will spoil or contaminate other children's germs in daycare itself.
And unfortunately, these two things happen all too often at childcare facilities because there isn't always adequate staff supervision and handwashing facilities available to keep everyone safe from getting sick!
Check out my blog about How Many Bottles To Bring To Daycare?
7. Blanket
Blankets are an essential item for daycare. They are great for naps, playtime, and cuddling. The more blankets you bring to daycare, the better.
3 Needed Items For Daycare
When you go to the daycare center, your baby will need the following items.
Diapers (and wipes) – newborns go through 12-20 diapers daily. The average cost of diapers is $0.20- $0.30 each, so you can expect to spend $2-$4 daily on diapers alone. It can add up quickly!
Outfits/Clothes – babies grow fast, so you'll buy new clothes often if you don't have an extensive stash at home already. One piece of clothing costs about $8+, which can also quickly become expensive! If you can make some clothes or purchase used ones from thrift stores instead of buying new ones, it could save quite a bit of money in the long run!
Read on What Should Baby Wear to Daycare?
Excess Amount Of Things– It's also important to remember that most daycares ask parents not to send any excess amount with their children since they don't want kids getting overwhelmed by what they have available during nap time. It's best to send enough outfits/clothing without going overboard too much."
FAQs
1. What Should I Pack For My Baby To Wear At Daycare?
The best thing you can do is to make sure your child is comfortable. Ensure they have a clean diaper, socks, and clothes. However, if you're worried about germs, bring an extra set of clothes in case of accidents.
2. How Often Should I Change My Baby's Diaper?
As soon as your baby starts having bowel movements (pooping), you should change their diaper after each one. Your baby will also need a fresh diaper every time they wake up from sleep (or when they pee!). But don't worry too much about timing.
Please make sure you change their diapers often enough that they don't feel wet or uncomfortable. If your baby is making it through a whole day without any accidents, you can skip some changes during the day.
3. What Should I Take For My Child's First Day Of Preschool or Daycare?
It is when you want to ensure your child has everything they need for their first day at school. You will want to pack extra clothes and any medications your child might need throughout the day.
You must also include a snack and water since most children will be hungry and thirsty after being out all day. If your child has special dietary needs or allergies, it is also important to pack food that also meets those needs.
Conclusion
The most important thing to remember is that your baby will be happy in daycare as long as they are comfortable. It is also important to bring items that will help them feel secure and familiar with their surroundings. The items listed above can help you prepare for your child's needs at daycare.