Toddler Vegetarian Lunch Ideas for Daycare
Toddlers in daycare require balanced meals full of healthy nutrition to ensure they grow and thrive. A vegetarian diet is an ideal way to make sure your toddler gets the essential nutrients needed.
This article will examine how a vegetarian diet can benefit toddlers and provide delicious lunch ideas for daycare!
Introducing a vegetarian diet to your toddler is an excellent source of important vitamins and minerals and can cultivate positive eating behaviors from the start. Providing various vegetables will spark children's curiosity for new flavors—an invaluable quality that'll masterfully support them as they grow up!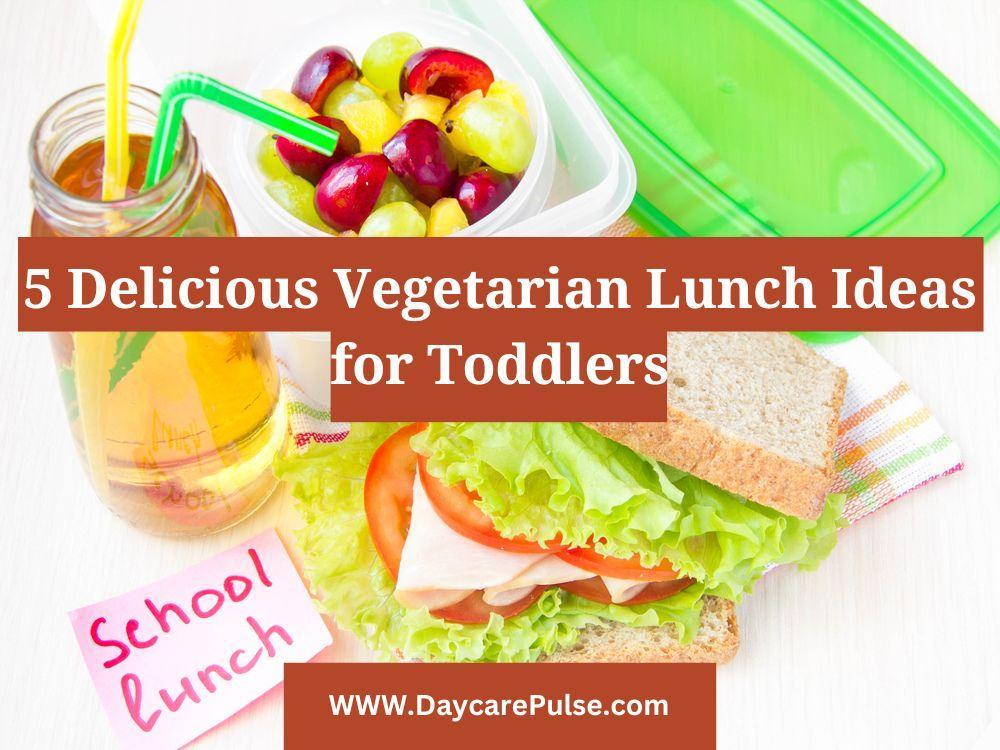 5 Delicious Vegetarian Lunch Ideas for Toddlers
Packing a nutritious, vegetarian lunch for your toddler doesn't have to be difficult!
Here are some delicious and delightful ideas that will excite even the pickiest of eaters during daycare lunchtime:
1. Grains, Pulses and Legumes
For toddlers, a well-rounded and nourishing lunch should include grains such as quinoa, brown rice or barley. Furthermore, pulses like lentils provide an excellent source of protein.
You can whip up delectable veggie burgers by combining cooked beans with whole wheat breadcrumbs before baking them in the oven for added flavor!
2. Dairy and Dairy Alternatives
For a wholesome and tasty lunch, yogurt and cheese are excellent calcium sources for toddlers. Alternatively, if you'd like to go dairy-free, nut milk or plant-based yogurts with added calcium can make an equally delicious option!
3. Fruits, Vegetables and Salads
When selecting nourishing lunches for toddlers, the choices are endless! Craft a delicious fruit salad with apples, oranges, strawberries, blueberries and kiwi – serve over Greek yogurt for an added protein boost.
Alternatively, opt for energizing vegetable-based salads or roasted veggie dishes such as squash or sweet potatoes. Whichever option you choose, your little one will enjoy these tasty treats!
4. Smoothies and Shakes
Give your toddler's lunch a nutritious boost by serving a smoothie or shake made with banana, almond milk, oats and cashews. It's sure to be an instant hit!
5. Plant-Based Protein Alternatives
Enjoy delicious dishes with plant-based protein alternatives such as:
Tofu, Tempeh or Seitan.
Veggie wrap of roasted vegetables.
Lettuce and Soy mayo for lunch.
Or satisfy your craving for tuna salad without the fish by blending chickpeas, avocados and lemon juice to create vegan "tuna" salad.
For more Lunch and Snacks menu ideas.
Types of Vegetarian Diets
If you're looking for vegetarian meal ideas for your toddler in daycare, there are several options to consider! From plant-based proteins and grains to dairy substitutes and fruits & veggies, here's a list of some delicious meals that your little one is sure to love:
Lacto-vegetarianism
This vegetarian lifestyle excludes all varieties of meat and eggs but still permits dairy products, including cheese and milk.
Lacto-ovo Vegetarianism
This vegetarian way of eating includes dairy products, eggs, and plant proteins like legumes and lentils.
Veganism
This plant-based diet eliminates all animal derivatives, including dairy and egg products.
Flexitarian
A flexitarian lunch for toddlers in daycare is occasional animal-based proteins like free-range eggs and wild fish.
From oatmeal with honey & nuts, veggie sushi, or seasonal vegetable salads topped off with delicious grilled fish, plenty of nourishing meal possibilities will satisfy even the pickiest eaters!
Regardless of your daycare toddler's vegetarian diet, endless nutritious lunch ideas can be catered to their particular needs. With imagination and enthusiasm, you can ensure they have daily delectable yet healthy meals!
6 Meal Planning Tips for Toddlers
Planning when thinking about daycare and lunch ideas is essential to guarantee that your toddler gets all the necessary nourishment and exudes excitement for mealtime. Meal prepping helps you avoid a monotonous menu while providing balanced daily nutrition.
1. Nutrient-Rich Foods
Offer your toddler a variety of nutrient-filled foods for daycare lunches to boost their energy and support healthy growth.
Introduce wholesome carbohydrates like whole grains, legumes, and starchy vegetables as key fuel sources.
Provide proteins such as nuts, seeds, dairy products or tofu that development aid.
Remember fruits and veggies, essential ingredients providing vitamins and minerals while also supplying dietary fiber!
2. Variety of Flavors
Experiment with various flavors to ensure your daycare lunches are always delicious and enjoyable. Adding spices like:
Turmeric.
Ginger.
Garlic.
Curry.
You could also combine multiple food groups to create something special – such as delicious noodle bowls full of cooked vegetables and plant-based proteins!
3. Favorite Foods
Try incorporating their favorite foods to make daycare lunches more enjoyable for your toddler.
Whether it be something like cheese or hummus, introduce these beloved snacks into their meals creatively; consider grating cheese over steamed vegetables or crafting quesadillas!
Not only will this make lunchtime fun and exciting, but they'll also have a healthy and delicious meal to look forward to each day.
4. Variety of Meals
Make daycare lunches engaging and enticing by switching up the menu!
Sandwiches with nut butter.
Salads packed with beans and nuts.
Warm soups made from vegetables.
If you're feeling adventurous, consider experimenting with international cuisines such as Indian, Mexican or Chinese dishes for a truly unique experience.
Meal preparation for toddler's daycare lunches can be simple. By integrating nutrient-rich food sources, a broad range of flavors, beloved foods and various dishes, you can guarantee that your child will always enjoy their lunch menu while still keeping it nutritious!
5. Making Mealtime Fun and Engaging
Make mealtime more exciting for your little one by transforming it into a fun experience! Plan an outdoor picnic or set up lunch on the floor.
Allow them to construct their daycare lunches with various ingredients and watch as they engage in nutritious eating habits. This is sure to make mealtime both enjoyable and beneficial for your toddler.
6. Consider Food Allergies and Intolerances
When preparing daycare lunches for your toddler, you must be aware of any potential allergies or intolerances. If they are allergic to a certain food group, make sure that it is not included in their lunch and double-check with the staff that there are no allergens present in the meal.
I want you to know that these precautions will ensure maximum safety when feeding your child at daycare.
Conclusion
Eating vegetarian can be an advantageous and delectable way to nourish your toddler. By blending whole grains, dairy substitutes, fruits, and vegetables creatively, you'll supply them with the necessary nutrients for balanced meals that are nutrient-rich and delicious!
For parents considering vegetarianism for their toddlers, it is important to ensure that essential nutrients such as protein and calcium are adequately met. If you have any doubts or concerns about your toddler's nutritional needs, seek advice from a qualified pediatrician or dietitian immediately.
Let your child's imagination run wild, and experiment with various vegetarian meals to fuel their bodies all day long! With so many flavorsome lunch options, you're sure to find the perfect combination that nourishes and excites your toddler.
Happy lunching!