How to Start a Home Daycare in Nebraska| From A to Z
Disclaimer: This article is for information purposes. To get more information, visit the official site of the Nebraska Department of Health and Human Services.
Are you thinking of starting a home daycare in Nebraska? Or have you made a solid decision to start it? 
No matter which category you belong to, your first step is going to be licensing. You'll need to comply with all the department's requirements and get your license before you operate.
This article will help you with the step-by-step information you're looking for. And the best part is you don't have to scroll through giant legal documents. We've already done the heavy lifting for you.
Let's jump into the details and start our guide.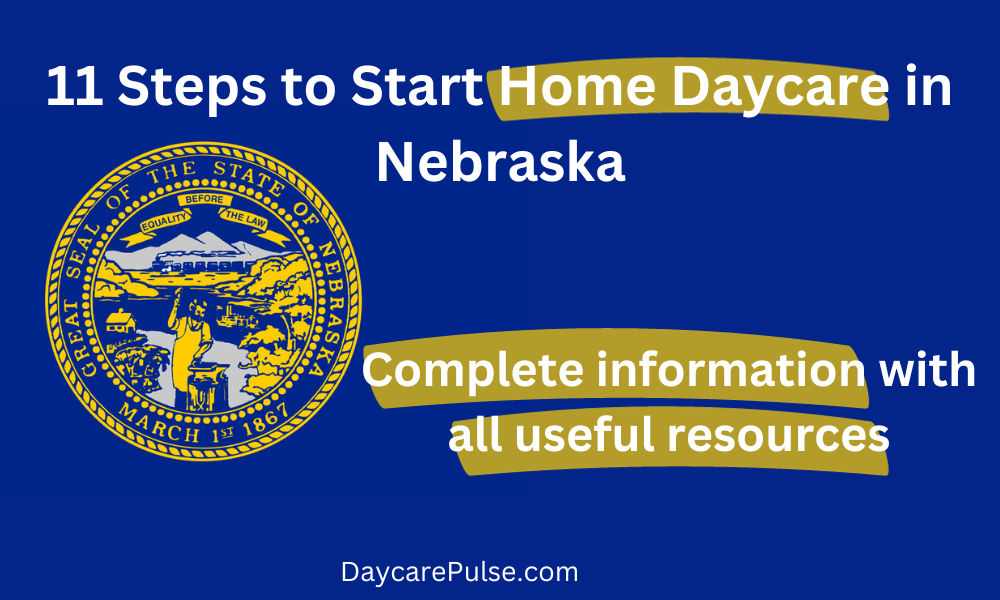 Startup Cost
Your major expenses will be:
Toys
License
Training
Furniture
Inspections
Liability insurance
Your average cost will come around $1300 to $3000 depending on how much furniture and setup material you need and where you buy it.
Nebraska State Requirements
The Nebraska Department of Health and Human Services regulates all daycares and related affairs.
In Nebraska, if you're providing care to 3 or fewer children in your home, you're license-exempt. But a home daycare business takes more than 3 kids hence, they need a license.
Orientation
Nebraska offers a 2-hours orientation to new providers, which covers all the basics they need to know. The orientation is a mandatory part of the training process.
Action Item: DHHS offers this orientation in downloadable slides. You can get them here.
Eligibility Criteria
You must be 19 years or older
You should be a US citizen or a qualified alien
You shouldn't have a criminal history
You must follow all the regulations of the department
Classification
Nebraska DHHS divides home daycares into 2 categories.
Family Child Care Home I
Family Child Care Home II
Both have the same licensing requirements and procedures. The only difference is of number of children you can have and the place of operation. You can only operate Family Child Care I from your residence. However, the second one can be operated from your house or in a separate building.
All the information about Family Child Care Home I and Family Child Care Home II is taken from their respective rule book. We recommend you go through this document as it entails all the licensing requirements and details.
Max children under the care
In Family Child Care Home I, you can have a maximum of 8 or in certain conditions (like your home size and children's age), you can have up to 10 kids.
In family child care home II, you're allowed to have up to 12 kids max.
Background Checks
Registry Check
You (the applicant) and all the household members will need to get a check for the following 3 registries.
Central registry of child abuse and neglect: For members 13 years or older
Central Registry of Adult Protective Services (APS): For members 18 years or older
State Patrol sex offender registry: For members 18 years or older
The department will conduct the first 2 checks itself. You will have to complete the State Patrol sex offender check before applying for a license.
Action Item: To get your State Patrol sex offender check, visit Nebraska Sex Offender Registry
Criminal History Record Check
You (the applicant) and all the household members 19 years or older will have to get their criminal history records checked. You can get this check done through Nebraska's State Patrol or through any other law enforcement agency.
If you have lived in Nebraska for less than 12 months, you will have to get a criminal history record from the previous state.
Action item: Here's the link to get your criminal history record checked.
Training Requirements
Pre-License Training
Before applying for the license, you'll have to complete the following training.
Orientation
CPR (through programs approved by the Nebraska Board of Emergency Medical Services)
First Aid
Post-License Training
You'll need to complete the following training programs within 3 years of your licensing date.
Sudden Infant Death Syndrome (SIDS)
Shaken baby syndrome
Safe sleep
Child abuse and neglect reporting
Business training module for family child care homes
There's another training called Nebraska's Early Learning Guidelines Training. It has 7 different areas related to child care. You'll have to complete one domain within 4 years of your license and 1 domain annually after that.
DHHS accepts approved equivalents of 2 of these trainings. Here is the list of accepted alternate programs.
Annual Training
After pre-service training, you'll have to complete 12 clock hours of annual training starting from your licensing year. All the post-license training is counted in annual training.
Action Item: To register for these training programs, you can visit Nebraska's official training portal, Early Childhood Training Center (ECTC).
Daycare Licensing Application Information for Nebraska
Nebraska's application process for hoke daycares is completely in paper form. You'll have to submit your application along with the mentioned documents to the following address.
DHHS – Division of Public Health
Licensure Unit – Children's Services Licensing
P.O. Box 94986
Lincoln, NE 68509-4986
Documents
Zoning Approval
Proof of liability insurance
First aid and PR certificates
Sketch of indoor and outdoor areas used by kids
Proof of Residence (only required for Family Daycare I)
Result of Criminal History Record Check (done through Nebraska State Patrol)
You can expect a response within 60 to 90 days. And there's a $25 fee for the application process, which you'll have to pay through check or money order. DHHS doesn't accept cash. If the application is denied, your fee will be refunded.
Action Item: Here are the application forms for Family Child Care I and Family Child Care II. Fill them out and send them with all required documents to the address mentioned above.
For more information, you can check DHHS's official licensure document.
Register the Business With the State of Nebraska
There are various business structures having their own pros and cons. Consult an attorney before selecting your business structure.
Most home daycare owners who want to expand their business in the future opt for sole proprietorship or limited liability company (LLC). If you're just providing services and not hiring anyone, you don't need to register.
For more information, read Nebraska's official page for registering your business.
Action Item: Once you have finalized your business structure, use Nebraksa's One-Stop Business Portal to get all the details and procedures.
Liability Insurance
You'll need liability insurance to get your license. It's mandatory, plus it saves you in case of any mishap.
On average, liability insurance costs around $1500 to $3000.
Inspections
Pre and Post Licensing Inspections
Your first inspection will be announced after submitting your application. The department will check for compliance with all the rules and regulations. You'll also receive a fire safety inspection.
After you get your license, you'll get one unannounced visit within 60 days.
Annual Inspection
You'll receive 1 unannounced visit from the department annually.
Complaint Investigation
The department will conduct investigations if they ever receive any complaints.
For all types of inspections, if the authorities find any violations, they'll make a follow-up visit within 60 days to check for your compliance.
The Subsidies Provided to Daycare Businesses
Nebraska offers the following grants and subsidies to home daycare providers.
Child care start-up and expansion grant​
Emergency mini-grant
Quality improvement grant​​
Each subsidy is for different purposes and has its own requirements. If you meet any one of the eligibility criteria, you can apply for the funding.
To get more information on Subsidies provided to home daycares in Nebraska, visit DHHS's official page for childcare grants.
Daycare Setup
Indoor
Have a minimum of 35 square feet of space per kid.
You should display your license clearly in a place visible to everyone.
Your classroom should have enough toys for every kid to play.
Kids under 3 years of age shouldn't get any toys that can cause choking hazards.
You should have a first-aid kit at an accessible place with all the necessary items.
Outdoor
There should be an outdoor space of 50 square feet per kid.
Your outdoors should be clean and free from any insects, stagnant water waste and dirt.
You'll have to install a fence if there's any water body, street traffic, or any other danger to kids.
In the absence of a fence, you should always be available with the kids under four years of age. Older kids can be alone, but you'll need to supervise them.
In a fenced area, the same rules apply, but the age limit is 2.
Marketing
At this point, you're done with all the paperwork. Now it's time to attract some customers.
Do what's convenient for you. If you want to go with pamphlets, go for it. If you want to do social media, that's great. But one thing that you must do is list your daycare in Google My Business. Whoever will search for home daycare in your area, your center will pop up.
Staff and Training Requirements
You can hire staff and volunteers, and you'll need at least one substitute who can look after the kids in your absence. Following are the requirements for hiring any staff member or volunteer.
The member must be at least 16 years old.
They should get their background checks done.
Only staff members need to complete 12 hours of clock training. If working less than 20 hours per week, they should complete six hours of annual training.
Staff working more than 20 hours per week will need to complete a Health Information Report within 30 days of employment.
Conclusion
And we have come to the end of our guide on how to start a home daycare in Nebraska.
If you still have any questions, we recommend you contact DHHS on their toll-free number (800) 600-1289. They'll provide you with first-hand information so you can start as soon as possible.
Best of luck with your first home daycare!