Summer Camp Ideas For Daycare| 100 Fun Activities For Kids
Facing a creative block and looking for summer camp ideas for daycare? We got you.
We're discussing 100 summer camp games and activities in different categories. Means there's something for everyone.
At the end of this article, your creative block will end, and your neurons will start firing more ideas. So let's keep on reading.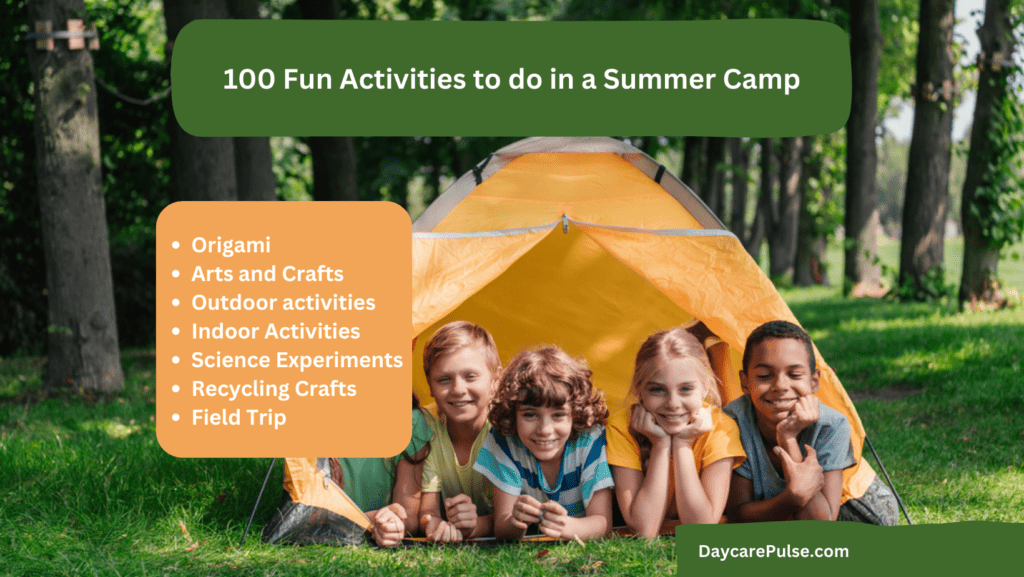 100 Summer Camp Activity Ideas For Daycare
1. Origami
Origamis are fun and easy to make, and they involve all ages of kids. Dealing with young toddlers, go with simple ones. Have 6 to 7 years of kids? There are a few complex paper origamis for them too.
Here are 12 origami summer camp activity ideas.
2. Arts and Crafts
Next is the kids' favorite, arts and crafts. All kids love painting and drawing. So here are 14 fun and creative arts and crafts for summer camp.
Hand painting: Use your hands to paint.
Paint a thumb tree: Draw a tree trunk and print the thumb to make leaves.
Splatter painting: Let's take it outdoors. Dip the brush in the paint and splatter it on the paper.
Make and play with slime: Make a DIY slime and play with it.
Face painting: Face paint the kids. It's fun, and they love it.
Make characters on your fingers and play with them: Paint or draw characters on your fingers and play with them.
Make recycling crafts.
Stone painting: Collect small stones and decorate them with paint.
Decorate jars and coasters: Use Sharpies, paint, paper cuttings, stickers or whatever you like.
Draw characters with googly eyes: Googly eyes can be fun. Give a pair to each kid and let them draw characters with them.
Hand printing of all kids with their names: Take a big chart paper and print every kid's hand with their name. It's a fun group activity to do.
Leaf print painting: Collect different types of leaves. Paint them and print them on a paper. You can teach kids about different leaf types as well.
Decorate a door, wall, fence, sidewalk or whatever you have.
3. Outdoor activities
Summer is incomplete without the outdoors. Let the children out in the sun and enjoy these 15 fun outdoor games and activities.
Treasure hunt: Hide a small treasure like candies or toys and let kids find it.
Small picnic in the park.
Tug of war.
Color finding: One kid will name a color, and everybody will have to find that color and touch it before the kid comes and catches them. The one who gets caught will name the color next. And if no one gets caught, the same kid will have a turn again.
Freeze tag.
Race competition.
Paly with the ball.
Play a sport.
Make camps and act like you're camping.
Make a parachute: Make a DIY parachute and play with it.
Collect flowers and make a bouquet.
Plant seeds.
Hurdle race.
Frisbee.
Musical chairs.
4. Indoor Activities
What are some indoor games for kids in summer camp? Try these 10 in-house games that are not only fun but will help kids learn as well.
Make lemonade.
Board games.
Make groups and let them make a story with a few words.
Play a question game: Divide kids into 2 groups and ask questions to each team one by one. The one with the most correct answers wins the game. You can include riddles and general knowledge questions.
Play stick man.
Truth or dare.
Play never have I ever.
Play, put a finger down.
Decorate cupcakes.
Play with dough.
5. Science Experiments
Science projects will be the most interesting part of your summer camp. Kids love to see the magic of science, and you can entertain and teach them at the same time.
Enjoy the following easy science experiments that are suitable for summer camps.
Here are 10 easy science experiments for kids by Raising da Vinci. Our favorite ones are
Empty bottle smoke creation
Bouncy, shiny egg
Secret messages
Moving balloon
Attract water with static energy
Play with liquid metal
Blow balloons with baking soda and vinegar
Here are 5 more fun experiments. Our favorite ones are the following 2, which are safe to do with kids.
Disappearing water (2nd experiment)
Anti-gravity water (3rd experiment)
6. Water activities
Summer without water games and activities? No way. Try these 6 water games to make your summer camp interesting and fun for kids.
Water gun fight: The one who gets wet loses the game.
Dodge the water balloon: Blindfold the kids, and they should dodge the moving water balloon.
Arrange an outdoor splash pad.
Blindfolded water dump: Blindfold 5 to 6 kids and make them sit or stand in a line. Every kid will have a bucket. The first kid will have a full bucket. He'll dump the water in the next kid's bucket, and the chain will continue. In the end, see how much water the last bucket gets.
Sponge dump. It's like a race. Dump the sponge in a bucket of water. Run towards the empty bucket and squeeze the sponge to collect water. The one who collects the most water in a limited time wins.
Play water balloon pinata.
7. Recycling Crafts
Here are 10 recycling crafts for kids. You can recycle straws, paper cups, egg trays, shoe boxes, and more. This gives you a good chance to teach kids the importance of recycling.
8. Field Trip
Let's see some field trip ideas for summer camp.
Picnic in the park
Museum
Science museum
Zoo
Camping
Kids movie
Aquarium
Local farm
Go on a small hike
Visit animal shelter
Pool
Beach
Summer Camp Theme Ideas
You can have a themed summer camp as well. They're fun, and all the activities and learning will follow the theme.
Here are the 9 most popular summer camp theme ideas.
Science theme
Space theme
Arts and crafts
Recycling
Outdoor theme
Animal theme
Ocean theme
Insect and bug theme
Garden theme
Frequently Asked Questions
1. How Do You Structure A Summer Camp?
Here's a brief overview of how you can structure a summer camp.
Know the age group
Plan activities and games
Decide the days and timings
Set prices
2. How Do You Make Summer Camp Interesting?
The key to making summer camp fun and interesting is to have fun activities, games and learning. Keep kids engaged in fun learning projects. And consider their age while planning.
3. What Activities Do They Do At The Camp?
Summer camp offers various indoor and outdoor activities and fun learning games. A lot of summer camps make a 1-day field trip as well.
Conclusion
This brings us to the end of summer camp ideas for daycare. We hope you enjoyed the article and got some ideas for your summer camp.
Thank you for reading!