Daycare Graduation Ideas: 11 Unique Graduation Day Celebration Ideas
Are you a daycare owner feeling overwhelmed by the seemingly endless list of plans to make for your graduating daycare kids?
From creative decorations to fun activities and delicious finger foods, we'll give you all the ideas for a genuinely memorable daycare graduation celebration. I have curated 11 daycare graduation ideas.
Theme Selection
Graduation Ceremony Planning Schedule
Decorations and Props
Personalized Certificates and Diplomas
Memory Books or Yearbooks
Graduation Caps and Gowns
Interactive Activities and Games
Celebratory Treats and Refreshments
Graduation Photo Opportunities
Parent Involvement Projects
Graduation Day Gifts or Favors
Get ready to make daycare graduation day memorable with these 11 exciting celebration ideas! Additionally, discover 5 unique tips to create an unforgettable day.
From planning a well-organized schedule to ensuring children feel proud of their achievements, these ideas will help create cherished memories. Let's make the graduation day joyful and memorable for everyone involved.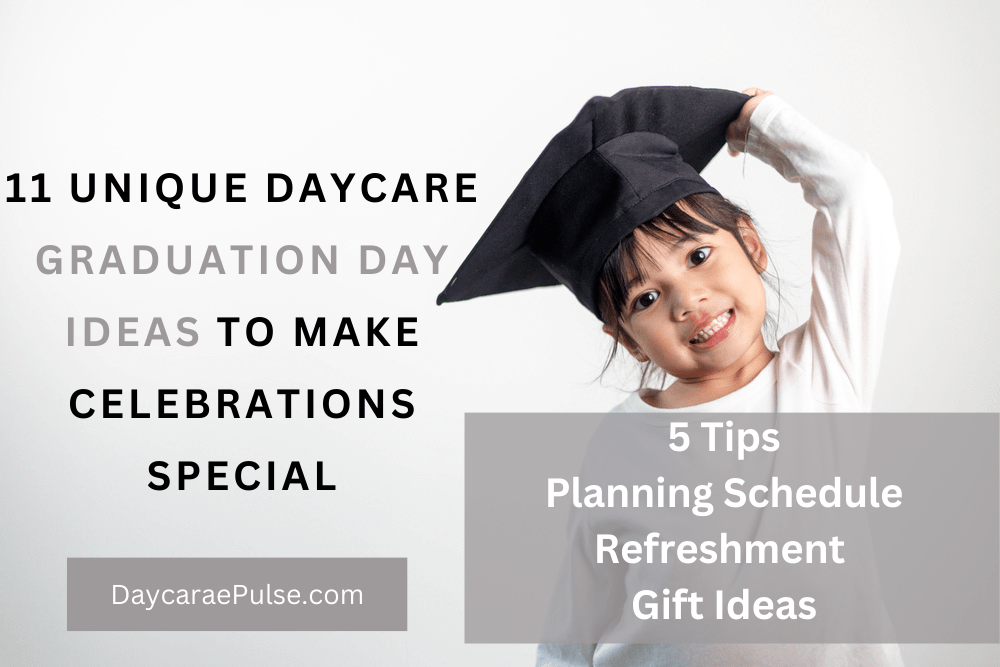 11 Daycare Graduation Celebration Ideas
Graduating from daycare is a significant milestone for little ones and a proud moment for parents and caregivers alike. To make this occasion truly memorable, planning a special celebration is vital. I have curated 11 daycare graduation celebration ideas that evoke joy, nostalgia, and a sense of accomplishment.
We've covered you, from theme selection to personalized certificates, interactive activities, and celebratory treats!
1. Theme Selection
"Adventure Awaits": Embark on a journey theme, symbolizing the exciting future that awaits the graduates.
"Flying High with Dreams": Inspire dreams and aspirations with a theme centered around aviation and reaching for the sky.
2. Graduation Ceremony Planning Schedule
| Task | Date |
| --- | --- |
| Distribute invitations | [Date] |
| Book venue | [Date] |
| Schedule rehearsal | [Date] |
| Finalize program details | [Date] |
| Set up decorations | [Date] |
Venu
Local community center: Provides ample space for attendees and a celebratory atmosphere.
Park: Celebrate outdoors amidst nature with a designated area for the ceremony.
Schedule
| Time | Activity |
| --- | --- |
| 10:00 am | Group photo sessions and interactive activities |
| 10:15 am | Children's performances |
| 10:45 am | Awarding of certificates and diplomas |
| 11:00 am | Group photo session and interactive activities |
| 11:30 am | Refreshments and treats |
Decorations and Props:
Balloons, streamers, and banners in vibrant colors match the chosen theme.
Table centerpiece with a graduation cap, diploma, and a small photo collage showcasing memorable moments.
Personalized Certificates and Diplomas:
Handcrafted certificates and diplomas for each graduate.
Include their name, daycare name, graduation date, and a heartfelt message recognizing their accomplishments.
Memory Books or Yearbooks:
Compile a collection of cherished moments throughout the year, including photos, quotes, and anecdotes.
Create a timeline of events and milestones using tables to showcase the journey.
Graduation Caps and Gowns:
Small graduation caps and gowns for the graduates.
Use a table to showcase a comparison between traditional graduation attire and the adorable daycare versions.
Interactive Activities and Games:
Photo booth with props related to the theme.
A memory-sharing circle where children and parents can share their favorite daycare memories.
"Guess the Future Career" game, where children dress up as their dream profession, and parents guess their choices.
Celebratory Treats and Refreshments:
Graduation-themed treats such as diploma-shaped cookies, cupcake caps, punch with floating fruit slices, juice boxes etc.
Provide a variety of options to cater to different dietary restrictions.
Graduation Photo Opportunities:
Set up a designated area with a backdrop and props for professional or DIY photo opportunities.
Encourage parents to capture candid moments of their graduates' special day.
Parent Involvement Projects:
ProjectInstructionsGraduation SlideshowCollaboratively creates a slideshow with photos of the children's daycare journey. Personalized KeepsakesDesign and decorate graduation keepsakes, such as customized photo frames or bookmarks. Artwork and Display Board Contribution Ask parents to contribute children's artwork and create a display board showcasing their talents.
Collaboration on DIY Projects:
Provide step-by-step instructions for collaborative DIY projects, making participation easy for parents.
Incorporate tables or bullet-pointed lists for clear instructions and materials needed.
Encouraging Parents to Participate in Graduate Decorations:
Share ideas for parents to contribute to decorations, such as creating a display board with photos and artwork from the children or designing personalized banners and posters.
Graduation Day Gifts or Favors:
Personalized keychains with the child's name and graduation date.
Custom-made bookmarks with inspirational quotes or daycare memories.
5 Tips For Making Graduation Day Celebrations Special
Here are the 5 tips for making graduation day celebrations memorable.
1. Personalized Touches:
Customize certificates and speeches for each graduate.
Recognize specific achievements and milestones.
2. Engaging Activities:
Plan interactive games, performances, or talent showcases.
Keep the celebration lively and entertaining.
3. Meaningful Mementos:
Create memory books or time capsules.
Provide personalized graduation keepsakes.
4. Memorable Photo Opportunities:
Set up photo booths with props and backdrops.
Encourage capturing precious moments throughout the event.
5. Inspirational Speeches or Guest Speakers:
Invite speakers to share motivational words and experiences.
Inspire graduates as they embark on their next chapter.
Remember, these tips will help make the graduation day celebrations unique and memorable for everyone involved.
Frequently Asked Questions
1. What Are Some Preschool Graduation Ideas?
Creative themes for preschool graduation, such as "Exploring the World" or "Adventures in Learning."
A mini ceremony with speeches from teachers and parents, awards presentations, and recitation of graduation vows.
Decorations featuring colorful balloons, streamers, and banners that match your chosen theme.
Interactive activities like a memory-sharing circle or guessing games keep children entertained.
Graduation caps and gowns for each graduate are customized with their name and daycare logo/name.
It has personalized certificates and diplomas that include the child's name, date of graduation, daycare name/logo etc.
Refreshments such as diploma cookies or cupcake caps to celebrate everyone's accomplishments.
Photo booth area set up with props related to the chosen theme for capturing fun memories on camera!
2. What Should I Include in a Graduation Gift?
A memorable graduation gift can include a variety of items, such as:
A personalized keepsake with the graduate's name or photo.
An inspirational book reminding them to stay positive and reach their dreams.
A meaningful memento, like a photo collage or time capsule filled with special memories from daycare.
Gift cards to their favorite stores or restaurants.
Customized accessories like keychains or bookmarks with the graduate's name and graduation date.
Sentimental items, such as a handwritten letter from teachers or parents, includes particular messages of encouragement and best wishes for their future.
3. Give Some Preschool Graduation Songs Recommendations.
Here are some preschool graduation songs ideas.
"Brand New Day" by Wiz Khalifa
"I Believe I Can Fly" by R. Kelly
"It's a Great Day to Be Alive" by Travis Tritt
"Don't Stop Believin'" by Journey
"The Climb" by Miley Cyrus
"Good Riddance (Time of Your Life)" by Green Day
"Brave" by Sara Bareilles
"Forever Young" by Bob Dylan
"You Raise Me" by Josh Groban
Conclusion
Graduation day is a unique and memorable occasion for everyone involved. With the proper planning, you can create an unforgettable celebration that honors every graduate's accomplishments. We hope our tips have helped help you plan your graduation event!
From creative themes to personalized keepsakes, make sure to include thoughtful touches throughout the day so that each child feels celebrated and appreciated on their big day. Don't forget to capture precious moments with family-friendly photo opportunities as well! Graduating from preschool is no small feat – let's give these graduates something special they will never forget!